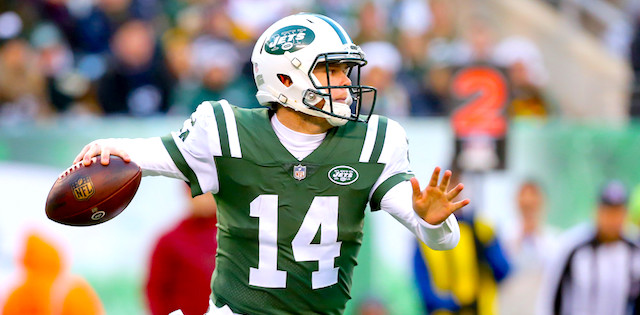 This week, instead of looking at players from different teams, we are going to look at one team. Or at least a group of players considered a team according to their uniform.
The New York Jets are terrible. The blame does not fall entirely on the players. Adam Gase is a bad coach, and he never should have gotten the job. And maybe this offseason, the team will do the right thing; hire a good coach, and let him pick his own staff. Chris and Woody Johnson have been unable to get out of the way as owners of the team. They think they know how to run the team better than football minds. Sure, they might be great businessmen, and as much as football is a business, it is also still football. It has become pretty clear by the product on the field and the behavior on the sidelines, they have no idea when it comes to this field of business.
Let's now look at three of the main players we need to worry about the rest of the season for the bumbling New York Jets.
Editor's Note: Get any rest-of-season NFL Premium Pass for 50% off. Our exclusive DFS Tools, Lineup Optimizer and Premium DFS Research through the Super Bowl.
Sign Up Now!
His regression this season is not entirely his fault. Ok, so getting a disease only high school lovebirds get is probably on him, but it is tough to perform with such a destructive coaching staff in place.
The issues with the coaching staff explain a lot of his struggles, but concerningly not all of them. With weapons like Le'Veon Bell, Robby Anderson and Jamison Crowder it is not unreasonable to expect more than 213 yards and one touchdown per game on average this season. Throw in his nine interceptions and the season is an unmitigated disaster.
Things do not look to get better anytime soon for the second-year starter from USC. The likelihood of Gase remaining the coach there for the rest of the season means this season needs to be written off by both fans and critics of Darnold. Games coming up against the Giants, Redskins, and Dolphins notwithstanding, you still want no part of him the rest of the season. Much like the Jets team as a whole, forget about him the rest of the season and start anew with him in 2020. By then, he should have a better coach in place. Maybe Todd Monkin or even Matt Rhule, the coach they should have hired this year.
The year started off slowly for Bell, but this was to be expected after he sat out 2018 in a contract dispute. Add in the fact his new coach came out and immediately said he did not want him, and things got off on a bad foot.
Even with all the turmoil, there were those out there who thought he would be the same old player on a new team. Many others, like myself, felt he was a product of a great offensive line in Pittsburgh and would struggle in 2019. As with most things, the truth is somewhere in the middle. Maybe slightly more towards the latter.
After disappointing through the first seven games, this week was supposed to be his coming-out party against the 31st ranked Dolphins run defense. In reality, he was still subpar with 121 combined yards on 25 touches but no touchdowns. It was great to see him get 17 carries and eight receptions. It shows he is still the bell cow when healthy. But there is now another concern. This week he has had an MRI on his knee and the findings were concerning enough that the Jets went out and signed free agent Josh Adams as security.
While this could certainly be precautionary, it also means the Jets could try to limit his work for a bit to get him healthy for the stretch run. The stretch run to what? I have no idea. Even if he is fully healthy, even with the solid upcoming matchups, he is at best an RB2 for the rest of the season. The key to a great running back being great is to be on a good offense. The Jets clearly do not have that at this point, and it affects the entire team, but perhaps no one more than Bell and his fantasy owners.
Robby Anderson, Wide Receiver
We saw the connection Darnold and Anderson were cultivating last season in New York. We hoped that would continue to grow this season. Before the illness to Darnold, it looked somewhat promising, which is why we kept ahold of Robby through the sickness.
Anderson is clearly the deep target on the team, and he is also on the field for over 90% of offensive snaps on a weekly basis. This means the opportunity for production is there.
Interestingly, when on the field with Darnold this season, Anderson has not had less than six targets in a game. However, he has only gone over the 100-yard mark once, and only over 80 yards one other time. Jamison Crowder, perhaps unsurprisingly, has taken a major bite out of his numbers, and more surprisingly, so has Demaryius Thomas in the last few weeks.
After Darnold returned and Anderson had five receptions for 125 yards and a touchdown against Dallas, we thought, great the connection is there. However, since that game, Anderson has games of 10, 43 and 33 yards respectively on a total of seven catches. Yes, two of these games were against the Patriots and Jaguars, but for a number one receiver on any team, these numbers are terrible.
At this point, if you are still holding onto Robby Anderson, it is time to get out. There are other players out there whom you can pick up for a playoff run. Someone on a better team who could provide more upside. Or even a player like Auden Tate, who has shown a weekly ability to get you double-digit points. Who knows exactly how A.J. Green will look when he returns? Especially with Ryan Finley and not Andy Dalton behind center.
More Weekly Lineup Prep