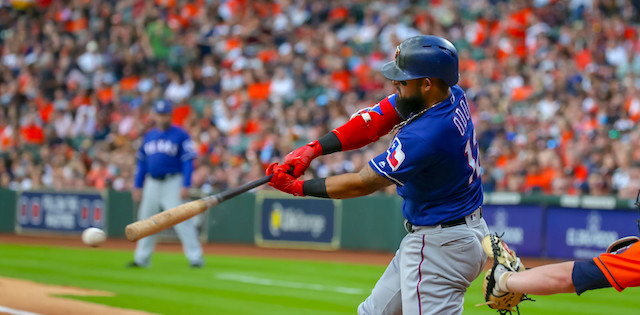 While some teams are in full rebuild mode, other teams are consolidating and improving for the big push at the end of the season. Now is the perfect time to take advantage of a fire sale and acquire some useful players. Use your assets to contend now by managing your draft picks and minor league players smartly. While you don't want to sell the entire future for a small chance, it also isn't wise to horde your stockpile and let opportunities pass you by. The 2018 season is not over so let's make the right moves to get you over the tipping point and into contention.
Improving your team for the stretch run is very important and can be done in a couple of ways. You either find gems on the waiver wire or trade for players that have fallen from grace enough to give you a buying opportunity. In this article, we will discuss players with an impact that can be acquired to improve your team's ability to contend for the top spot. Also, look to our waiver wire articles to find players on hot streaks, whose performance can help cover any categorical holes.
In the previous two articles, we identified players that dynasty rebuilders will be selling.  Part 1: Rebuilding Off The Waiver Wire/Part 2: Rebuilding Using Veterans To Your Advantage. In addition to the players suggested below, peruse these articles to identify other players that can help you down the stretch.
Editor's Note: Get any full-season MLB Premium Pass for 50% off. Exclusive access to our Draft Kit, premium rankings, projections, player outlooks, top sleepers, dynasty and prospect rankings, 15 in-season lineup tools, and over 200 days of expert DFS research.
Sign Up Now!
Get Off The Bubble (Players To Buy)
Daniel Murphy (1B/2B, WAS)
Murphy had a .322 batting average with 23 HR and 93 RBI in 2017. Despite that all-star season, he might be obtainable from a discouraged owner. He missed 63 games to start 2018, recovering from knee surgery he had in October 2017. When he returned in mid-June, Murphy struggled and hit .200 in 52 plate appearances. He bounced back to hit .347 in July. Murphy now has four homers, 23 RBI, and .280 AVG In 127 plate appearances. Even at 33 years old, Murphy continues to crush righties with a .303 average. He still has work to do to raise his batting average against lefties (.206) closer to his career average of .279. Murphy has yet to start driving the ball like he normally does with a hard-hit rate at a meager 16.8%. Since returning from the injury, he has geared his approach more toward contact (90.8% ) with a 4.4% swinging strikes and an excellent strikeout rate of 8.9%. He continues to be reliable in high leverage situation, hitting .333 with 10 RBI. Murphy has a demonstrated track record of superior performance. Bet on that and acquire him so he can help your situation, either competing for a title in head-to-head leagues or moving up the roto standings.
Rougned Odor (2B, TEX)
Odor is batting .271 with 14 homers, 44 RBI, and nine stolen bases. The numbers look mediocre, but what they do not tell you is the hard work Odor had to put in to get them to this level. He had a rough start to the season, hitting only .239 in the first half. However, Odor has turned into a beast, hitting .377 with eight homers and 20 RBI in the second half already. He seems to have left his early season troubles behind and it is likely his fantasy owners have taken notice so a buy-low opportunity won't be available. However, with the rollercoaster performances of Odor, it shouldn't be too expensive.
As with most hitters, Odor enjoys the hitter-friendly confines of Globe Life Park with a .298 average at home compared to a .239 on the road. He is so comfortable at home that he hits the ball harder there as well (50.1%). Additionally, Odor will probably not get much credit for his improved plate discipline this year, which is made even more impressive considering his early season struggles. He has increased his walk rate to 8.5%, up from 4.9% in 2017. Odor has reduced his swinging strikes to 10.4% and he is chasing fewer pitches outside the zone (35.7%). Barring some explosive increase in performance, don't expect Odor to hit 30 homers for his third consecutive season though. There are 20 home games left for the Rangers, providing plenty of opportunities for Odor to increase the productivity of your roster even if you're unable to get him at an extremely discounted rate.
Chris Archer (SP, PIT)
Chris Archer is having another disappointing season and one that makes some wonder what he displayed to make people think he was an ace. Well, everything may not be pretty, but I will tell you exactly why you should look to acquire Archer. This season, he is 3-5 in 18 games with an underwhelming ERA of 4.49. The positive is that his fielding independent pitching (FIP) sits at 3.76. Archer is having real issues against left-handed hitters with a .291 batting average allowed compared to his career average of .242. Righties, on the other hand, are hitting .262 against Archer this year. Also, his BB/9 remains elevated at 3.09 and he is allowing a 40.3% hard-hit rate.
Even with all his stumbles, Archer has consistently provided big innings and even bigger strikeouts. His 9.69 K/9 isn't where it normally sits but it has been improving the last couple of months, with an 11.90 K/9 in July. Archer's strikeout rate will likely continue to increase now that he is in the National League and gets to face a pitcher spot instead of the DH. Archer has other stats that point toward the positive; he has a career-high 13.7% swinging strikes and is getting hitters to chase outside the strike zone quite frequently (32.4%).
Archer's substandard performance earlier this year likely represented a point of frustration with his owners and an opportunity to buy. The trade to the Pirates likely brought awareness and lifted the hopes and expectations of some managers. His performance in his debut soured some of those expectations to create another buying opportunity for you. With that in mind, send an offer to find out the price.
Robbie Ray (SP, ARI)
Robbie Ray has not been the dynamite ace-to-be he was in 2017 when he dominated opponents and ended up 15-5 with 2.89 ERA and 218 strikeouts. In 2018, he is 3-2 in 14 starts with a 4.92 ERA. Even the humidor could not work its magic for Ray; he has been better on the road (2.57 ERA) than he has at home (7.18 ERA). Ray also has 95 strikeouts in 71 innings. The strikeouts (11.99 K/9) are always a benefit of owning Ray, but this year it is accompanied by a terrible 4.67 BB/9. Another concern is he is also allowing more contact than last year, both inside (85%) and outside (51.1%) the zone.
Ray has made some improvements as the season progressed. He has a 43.9% hard-hit rate on the season but has lowered it in the second half (37.7%) compared to the first half (47.3%). Even his first pitch strikes (62.3%) are an increase from 2017. Also, Ray has been deadly against same-sided hitters, allowing only a .136 batting average against left-handed hitters. However, righties are batting .282 against him.
Similar to Archer, Ray provides plenty of strikeouts but currently is issuing too many walks. The disappointing numbers that Ray has put up give an opportunity to buy at a discounted rate. There is no doubt that he can help guide your team to success.
Yu Darvish (SP, CHC)
Let's be upfront about Darvish. He is working his way back from injury and is feeling more confident. But, Darvish is reserved more for the manager that is already near the top and is willing to take a risk that could pay off exponentially. Yu Darvish just signed a six-year, 126 million dollar contract and the first year has been filled with injuries and uncharacteristic performance, which is not a good sign for Cubs fans. Fortunately enough, the fantasy community doesn't worry about contracts in most leagues, just the performance. Darvish has been on the disabled list since 23 May and is currently recovering from a right elbow impingement. He is already throwing bullpen sessions and if he doesn't have any issues, should return soon.
When he has been on the mound this season, it hasn't been what we always expect from Darvish. He has a record of 1-3 in eight starts with a 4.95 ERA. If you look at his FIP (4.85), you won't find promising signs either. Darvish is having a mediocre season and when we look at the underlying numbers we can clearly see some of the items that are causing problems. He had success against right-handers; they are batting .192 against him. However, Darvish was worse against left-handed batters (.273). Even his BB/9 (4.73) is abnormal for Darvish. The hope is that his subpar season is a result of the injury. Once that is rectified, Darvish can return to provide a serious jolt to your fantasy roster.
More Fantasy Baseball Trade Advice