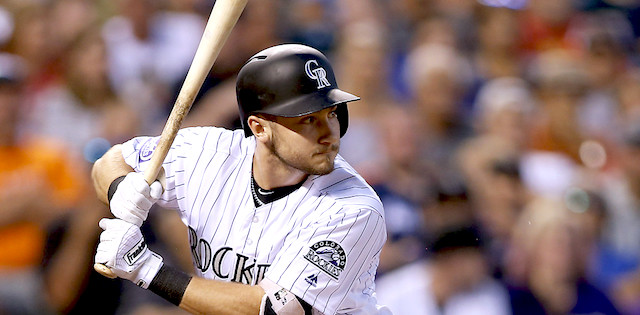 Continuing our 2019 prospect preview series, the stop today is at the keystone - second base. As noted in the other pieces so far on the position, second base offers a ton of variety in terms of the player profiles, future roles, and proximity to the Majors. In general, though, the players on this list tend to be carried by hit tools and speed, with power not being as prevalent with the current crop. And yet, with the increased power in the pro game, there is no reason that the power will not improve as these young prospects progress in their development process.
What does stand out from the list is the average defensive profiles that seem to be sticking at second, with the top gloves staying at shortstop even this early in their career. This demonstrates an apparent shift in the professional game, where an average glove, but some production will place a prospect at second if needed. Luckily for fantasy owners, this trend means that playing time is not a question for those on this list, and fantasy impact is tied to the carrying tools identified below.
Read along to see who you should target, draft, and acquire to grab the next wave of prospects at the spot. With many slated to enter positional battles this spring, owners might be able to cash in sooner than the ETAs suggest.
Featured Promo: Want a free RotoBaller Premium Pass? Check out these sports betting promo offers from the top sportsbooks! All new sign-ups get a free bonus offer on their first deposit, and a free year of RotoBaller's Premium Pass for all sports ($450 value)!
Sign Up Now!
Top Second Base Prospects For 2019
This list below is geared towards 2019 redraft leagues and looks at the top MLB prospects and rookies who have the best chance to rise to the major leagues at some point in 2019 and provide fantasy baseball value this season.
To be clear, this is not our list of the top overall prospects in baseball. You can find those longer-term rankings in our dynasty prospects rankings and articles section, which take a look at the top prospects at each position regardless of their age or expected ETA in the majors.
ETA: Already debuted
Hampson has already become a fantasy darling this draft season, shooting up draft boards as he seems to have the inside track to a starting gig to begin the 2019 campaign for the Rockies. The speed is the carrying tool with a 70 grade on most sites, and production on the basepaths to back this up. In 2018, for example, he stole 36 bases in 96 games in the minors, putting him on a 50-plus pace for a full season. The batting line is also able to support the speed, with an average that never dipped below .300 in the minors.
Add that to a .377 OBP floor, with a double-digit walk rate and this looks like an excellent player to target in fantasy drafts. Hampson grades out as average with the glove, and this should keep him at second with the other supporting tools. The steals are key for impact fantasy value, but the rest of the profile makes him a legitimate starting player for the Rockies for years to come. Currently going at an ADP of 199, owners will need to grab him soon before the price goes even higher.
ETA: Already debuted
As the closest prospect to the Majors, outside of those who have already debuted, Urias has a shot to start the year with the Padres at second if all breaks right this spring. Urias is a well-regarded prospect, but there are real flaws that owners should take into account when building their team. First, even with some power in the minors, scouting reports put his in-game power at well below average. So, do not expect much pop, especially when taking into account the park situation at Petco. Second, Urias does strike out a bit for a contact hitter with K rates close to 20% at every step up the ladder.
If the Majors push this closer to 25%, there could be some issues in replicating the heavy-contact approach that he has shown so far. And yet, even with all of this, the hit tool is excellent, with grades between 60 and 70 across the industry. Owners should be interested but hedge their bets for instant fantasy impact. For the long run, Urias will be a solid second base option, but will not be pushing for All-Star appearances unless the overall profile changes. 
ETA: Late 2019
After only two years in professional baseball, and being drafted ninth overall in 2017 by the Brewers, Hiura has shot through the system with strong seasons. Last year, at Double-A, he slashed .272/.339/.416 with six homers and 11 steals in 73 games. The batting line was way down from his .320 mark the level below, but should not be a concern for owners.
Hiura might have the highest floor of all the players on this list, with a plus hit tool that generates both power and average. Grading out as an average fielder at the keystone, Hiura will need the bat to produce to keep him in the lineup; however, the defense is not poor enough to harm his long-term chances with the team. Projected to debut late in 2019, Hiura should be in a battle next spring to start the year at second for the Brew Crew.
ETA: Already Debuted
According to early reports out of Spring Training, Lowe will very much be in the mix to begin the year with the Rays, even if in a part-time role. In 43 games last year, Lowe flashed some of his potential with a .233/.324/.450 slash with six homers and two steals. The batting line is misleading due to the sample size, but the slugging percentage shows what owners are getting with this player. Also, with a .273 BABIP during his time with Tampa Bay, there is some bad luck baked into the overall performance.
The hit tool is appealing, with 28% of his hits going for doubles, and 18% for homers. This is a bat with pop and should be one of the top doubles hitters in the league when he gets extended playing opportunities. Think Jason Kipnis, in his prime, if Kip could actually play the outfield. The positional flexibility adds another nice piece for fantasy owners. With plans to play him at second and in the outfield, Lowe will provide a good utility piece for any bench.
ETA: July or later 2019
Lopez capped off a solid 2018 campaign with a promotion to Triple-A and got 57 games under his belt there. Over that stretch, he slashed .278/.364/.417 with seven homers and six steals. Add in the close to 1:1 BB:K and Lopez looks ready to make the final jump this season. He is expected to return to Triple-A to begin the campaign. However, the Royals having little to no plans to compete, so expect Lopez to be given a shot sooner than later. A good time table would be right after the trade deadline when Whit Merrifield moves to a contender off the back of his new contract.
Lopez is another prospect who does not excel at any one tool but relies on being roughly average at each to turn his overall profile into a valuable paying option. The bat grades out a bit above average, with a 55 grade at some sites, so there is some helium there. The glove is a good fit as well and gives fantasy owners a reasonable floor on playing time when he gets there. Lopez is a safe pick, and with playing time, will do more good than harm to a fantasy team.
ETA: Mid-season 2019
White is a player that the fantasy community is low on relative to others at the spot, and while he might lack the ceiling of other prospects, the floor makes him fantasy worthy today. Ending the season at Double-A in the Oakland organization, the trade to Texas in return for Jurickson Profar offers a real chance to get to the Bigs quickly and take advantage of that park for fantasy impact. Slated to appear at Triple-A for Texas, White could be up this year, but should, at the very least, be competing for a bench spot in 2020. The 2018 stat line was encouraging, with a .306/.388/.450 slash line and nine homers to go with 18 steals.
Projecting into this year, expect the steals to tick down a bit while the power shows up, cementing his spot at the keystone. The steals have been there over his time in the minors, but the efficiency dropped from 71% in 2017 to 64% last campaign. When that number needs to be over 75% for real value, the approach should change with the growth of the hit tool. White is a name to target if owners miss out on the top players on the list, as he should have a real role on a club in a rebuild sooner than later.
ETA: Late 2019
A year ago, Rengifo was a PTBNL in a deal that moved C.J. Cron from Los Angeles to Tampa Bay. Today, he might be one of the hottest prospects in the game, shooting from unranked by Baseball America, to a top-150 on some lists. While there are still questions on his long-term value, a superb showing at Triple-A caught the attention of this writer. In 46 games at the top step in the minors, Rengifo slashed .274/.358/.421 with an 11.6% walk rate and six steals. Add in a 14.2% K rate, consistent with his others stops in the minors, and plate skills underly a hit tool that should hit for average, even if there are questions on the pop.
Looking to the tool grades, Rengifo seems to be a solid player in all categories, but nothing stands out, other than the previously discussed approach at the plate. This will limit his ceiling, but even if he slots into a utility role longterm, there is value. While not a comparison for the skills, this could be the next Marwin Gonzalez or Profar-type player to grace the fantasy community. With the growing importance of that role, do not draft Rengifo as a second baseman, but expect the impact to come from lots of spots.
ETA: Late 2019
The son of a Hall of Famer, Biggio does not have the same profile but has grown into his role enough to be a valuable piece for the fantasy community. Spending all of 2018 at Double-A, Biggio slashed .252/.388/.499 with 26 homers and 20 steals. The power is elite for the level, but the overall batting line leaves much to be desired. And yet, if he can keep a .250 average with 20/20 potential, then all of a sudden Biggio looks to be a solid starter in fantasy roto leagues. The concern will be that previous to last year, his batting line was closer to .230 than .250, but the improvement with the step up is encouraging nonetheless.
The other saving skill was a 17.8% walk rate, which led the level, showing that batting average might be a bit misleading for the overall capabilities. With questions abound, Biggio is a player that owners need to at least be familiar with for long term growth. In terms of team value, when Biggio is slotted behind players like Bo Bichette and Vladimir Guerrero Jr., the supporting cast should be there to make him play up a bit in terms of runs and overall production. More of a 2020 target, Biggio still should get a shot this year if the production continues.  
ETA: Late 2019
Fantasy owners might notice this name from past outfield rankings, and yes, this is the same player, but a positional switch occurred over the previous season. The tools are there, but a production dip in 2018 holds back this prospect from a higher ranking on the list. At High-A last campaign Jones managed a .245/.335/.375 slash line with two homers and 11 steals. When the hit tool grades out, at best at 55, the declining average is a real concern. And yet, being only 20 years old, there is time and experience to come, so owners can wait for the production to emerge at a consistent clip. He has also posted K rates exceeding 20 percent, which also adds a red flag to the profile.
At the same time, with a positional switch, there are a bunch of other factors that might have taken away from the batting production, and again, to sound like a broken record, be patient with this toolsy player. The good news last year was a .321 batting average in the AFL, so it was not altogether a lost season. Owners in dynasty drafts can add him in late rounds, as there is a real shot that the tools click and he emerges as a top prospect at the keystone. However, do not expect the upside without changes. If the Angels falter out of the gate, Jones has as good a shot as anyone to get an extended look to pave the way for Jo Adell and company.
ETA: Mid to late 2019
Diaz splits opinions around the industry, as, at the time of his trade to the Marlins, he was considered a top-150 player in the game. Now, after a few down campaigns, the prospect luster has disappeared with the batting production. For example, after a mid-season promotion to Triple-A, Diaz slashed .204/.281/.358 with three homers and four steals. The decline in production came after a 10/10 season with a slash line of .245/.365/.418 at Double-A. And yet, he still shows up on this list due to his proximity to the Majors, and the current state of the Marlins team as a whole.
If Diaz can recover some of the offensive production that made him a name to know in seasons past, there is still reason to think that he can be a fantasy asset. While the batting line expectation should be in the .240-.250 range, there is 20-plus power in the bat, and 12-plus steals speed in the legs. If he meets those marks, Diaz will be top-12 at the position. This will give him a starting spot on most fantasy teams, or at the very least, a top-end MI option. While expectations should be low for Diaz, he is likely guaranteed a spot to play at soon as the offensively-challenged Marlins need someone to play at the position. Also, the Marlins need to show that the Christian Yelich trade was not a complete loss.
More MLB Prospects Analysis