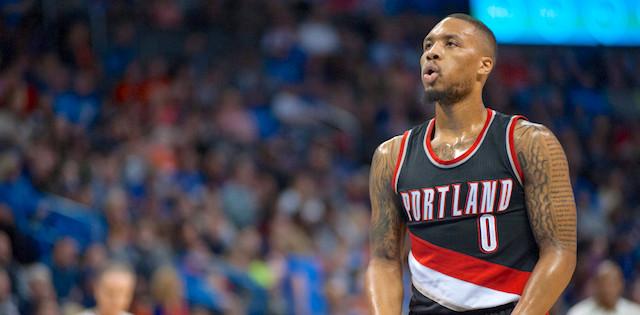 I am quite possibly more excited for this NBA season than I have been for any previous season since I was a kid. I grew up watching the golden age of the NBA in the '80s and '90s and have been an NBA fan ever since. But this season is hopefully going to be like none other before because I am more immersed in covering the NBA as a content creator than ever before.
Last year, I was surprised to win the award for best fantasy basketball writer from the Fantasy Sports Writers Association. It was a thrilling experience and I felt validated for all the hours I spent in front of spreadsheets and breaking down statistics. Now, I feel the pressure to produce even better NBA content than I have before (mainly pressure I am putting on myself, admittedly).
So it's been with great earnestness that I dug into my rankings this season and I wanted to bring you a unique 150 that you're not likely to find anywhere else in the industry. I wasn't afraid to take some stands here on players, moving guys up and down quite a bit from where they're ranked elsewhere. In addition, I will highlight a couple of guys that I'm either higher or lower on than the current consensus ADP (Yahoo! and ESPN). And so here they are, my top-150 9-Category draft rankings for the 2022-2023 fantasy basketball season.
Upgrade To VIP: Win more with our NBA and DFS Premium Pass, get expert tools and advice from proven winners! Will Priester (@ChiefJustice06) from RotoGrinders joins the RotoBaller team in 2023-24 with his exclusive DFS picks, Prop picks and more. Gain VIP access to our Lineup Optimizer, Research Station, DFS Cheat Sheets and VIP Chat Rooms.
Go Premium, Win More!
Fantasy Basketball 9-Category Head-to-Head Rankings
My Guys - Players I'm Higher On
I am higher than the Yahoo/ESPN consensus ADP rankings on the following players
Dejounte Murray (PG/SG, ATL) - Consensus Ranking: 18, TD Ranking: 8
So here's a great example of where I am going against the grain and conventional wisdom. Most are worried that Murray's move to Atlanta will hurt his value as he now has to share the court with a usage hog, Trae Young.
But honestly, I'm really excited to see what he can do now that he's playing for a contender and likely playing a more up-tempo style of basketball in Atlanta. Even if his scoring takes a small hit, most of his value comes from his huge rebounding, assist, and steal totals and his efficiency.
I think his peripheral stats will still be there and that this experiment with him and Trae playing together could really work. Both guys love to play with the ball in their hands, but I don't think either of them NEEDS to and can also play off the ball. Plus, they'll likely have their minutes staggered so that one of them is on the floor at all times. Murray is a top-10 player in 9-cat and really only hurts you in threes and blocks - stats you can get from specialists later on in drafts.
Anthony Edwards (SG/SF, MIN) - Consensus Ranking: 28, TD Ranking: 18
I didn't even mention Tyrese Haliburton, who I have way ahead of the field and who I just took at #6 overall in a 30-team industry dynasty league, but it's clear that I like some of these young stars this year and I want to get out in front of the breakout. We saw somewhat of a breakout from Edwards last year, when he really began to emerge as the second top scoring option for Minnesota behind KAT, but that just feels like we are still scratching the surface.
It's tough ranking a player who is pretty reliant on scoring this high, but we saw other good signs last year like increased efficiency and some more defensive stats. He went from 19 PPG to 21 last year and I think he's going to end up with 23-25 PPG this year as he continues to evolve his offensive game and assert himself on the offensive end. This is becoming his team in Minnesota.
Al Horford (PF/C - BOS) - Consensus Ranking: 91, TD Ranking: 68
There are some other Big Al lovers out there in the business but I am probably one of the biggest. Even with the emergence of Robert Williams, I still drafted Horford in most of my leagues last year and was rewarded with a top-50 season.
Now Williams is hurt (again) and out for at least 2-3 months. When Horford plays center and doesn't have to compete for shots, boards, and assists with Williams, he puts up really solid, well-rounded lines. He might be old and boring, but I expect another solid season from Horford as he has shown no signs of decline and his style of play is not reliant on amazing athleticism. His longevity is truly impressive and a testament to his conditioning and preparation every year. Draft him in the middle rounds with confidence.
Brandon Clarke (PF/C - MEM) - Consensus Ranking: 130, TD Ranking: 84
Wanna know something cool? Brandon Clarke's per-36 averages last season were 19-10-2.5 with a steal and two blocks - on 64% shooting from the field. Those numbers would make him a top-25 player easily if he ever actually played 36 minutes a game - which he won't.
Memphis plays a deep rotation, especially during the regular season and Clarke only played around 20 minutes per night off the bench. He played closer to 25 minutes per game in the playoffs and gave us a glimpse at what even a modest increase in minutes would do to his numbers as he went 12-7-2-1-1.
Jaren Jackson Jr. is not going to miss a chunk of the time here at the beginning of the year. His timetable is very murky, though, and it could be only a month or up to two months before he's back. He's young, but my guess is that Memphis is ultra-cautious in bringing Jackson back and that we get a whole lot of Clarke here to start the season. He's a super safe pick with upside if he can earn more minutes even once Jackson is back.
Stay Away - Players I'm Lower On
I am lower than the Yahoo! consensus on the following players
Russell Westbrook (PG - LAL) - Consensus Ranking: 68.5, TD Ranking: 129
Remember, if you play in a points league, then by all means you can go after Westy late and hope that can pile up some counting stats and possibly bounce back from his worst season as a pro. If you play in 9-cat leagues, just don't draft Westbook - DON'T DO IT!
He ranked 229 last year in 9-cat value and was only a positive value in points, rebounds, and assists. Points and rebounds are pretty easy to find and usually come from players with solid FG% and lower turnovers. Westy is such a drag on percentages and turnovers, can't make threes, and is simply not worth the headache.
Ja Morant (PG - MEM) - Consensus Ranking: 13.5, TD Ranking: 28
Listen, I love Morant as a real-life player and he is absolutely must-watch TV when he's playing. But he has yet to show that he's a dominant fantasy player. He finished just inside the top-50 last year in overall 9-cat value and he's really only helping you in points, assists, and FG%. I just can't justify taking him in the second round when there are so many other more well-rounded players available.
Julius Randle (PF/C - NYK) - Consensus Ranking: 50, TD Ranking: 79
After turning in a huge year for the Knicks in the 2020-2021 season, Randle saw his numbers decrease across the board and his shooting percentage drop all the way to 41% last year. He's basically becoming Westbrook but as a big man, since his value is mainly only derived from counting stats and he is now hurting you in percentages and turnovers. He's massively overvalued on every site's default rankings, let someone else draft him.
Lonzo Ball (PG - CHI) - Consensus Ranking: 82.5, TD Ranking: 112
This ranking has nothing to do with Lonzo's ability and everything to do with this injury situation. He's a fine fantasy player who was off to a really solid start in Chicago before the injury. But the latest update from the Bulls sounded ominous and he was quoted as saying he can't even run or jump yet. The longer this injury drags on, the less confident I am that he plays until 2023 and you simply can't stash him and hope for the best with where he's being drafted. If he slips down to the 10th round or later, then I could see stashing him then, but I would rather be drafting healthy players who I know can contribute from the jump.
Color-Coded Draft Rankings
These rankings are the same as the ones above, but a different view with some color-coding:
Download Our Free News & Alerts Mobile App
Like what you see? Download our updated fantasy basketball mobile app for
iPhone
and
Android
with 24x7 player news, injury alerts, lineup notifications & DFS articles. All free!
More Fantasy Basketball Analysis