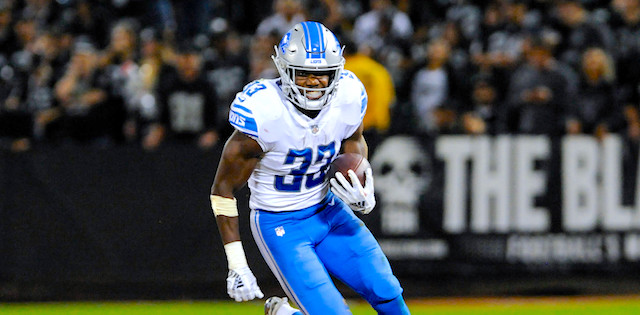 The Detroit Lions aren't known for their prowess as a running team. Since Barry Sanders retired, here are the players who have led the team in rushing yards in a season: Greg Hill, James Stewart, Shawn Bryson, Kevin Jones, Kevin Smith, Jahvid Best, Mikel Leshoure, Reggie Bush, Joique Bell, Ameer Abdullah, and Theo Riddick. Their last 1000 yard rusher was Bush in the 2013 season. Things haven't been great in the Motor City.
Enter: Kerryon Johnson. The Lions chose the former Auburn Tiger in the second round of this year's NFL Draft and after a little uncertainty about his role early, he's emerged as the Lions best running back. In Week 7, Johnson rushed for 158 yards, his second 100 yard game of the season. Before Johnson, the last 100-yard rusher for the team was Reggie Bush in that 2013 season. Yikes!
Let's check out the game tape on Johnson, as well as some background information and analytics to support what the tape is showing.
Editor's Note: Get any full-season NFL Premium Pass for 50% off. Our exclusive In-Season Lineup Tools, Lineup Optimizer and over 150 days of Premium DFS Research.
Sign Up Now!
Background Information
Kerryon Johnson already basically had his breakout, back in Week 3 when he rushed for 101 yards, and even though he hadn't put up huge numbers since then, his per play yardage has looked encouraging:
Over five yards per carry in every game since the season-opening loss to the Jets is good! It's shutting up some of the doubters who thought Johnson wasn't a good pick for the Lions (hi, it's me. I thought that.)
Johnson's biggest issue this year has been opportunity. Sunday was the first time that Detroit had him on the field for over half of their offensive plays, and even after that Week 3 performance he saw a snap share of just 37 percent the following week. His fantasy value is lowered by his lack of utilization, but that could be changing based on this week.
Kerryon Johnson's Game Tape
Let's get Johnson's big, 71-yard run out of the way first, since it's the highlight from Sunday that everyone has already seen. The Ringer's Danny Kelly wrote about the play here, and had this to say about the play, as well as some interesting stats from the game:
On that field-flipping play, Johnson hit 21.21 miles per hour—the third-fastest speed on a rush attempt this year, according to NFL Next Gen Stats—and took the Lions to the Dolphins' 20-yard line and into scoring range.

[...]

Detroit racked up 35 rush attempts for 248 yards, the most for any Lions team since 1997, against a strong Dolphins front that had come into the week ranked 10th in rush defense DVOA. Johnson finally got a bigger piece of the offensive pie, carrying the ball a career-high 19 times for 158 yards.
Johnson looked fast to the naked eye on that play, but I didn't realize at the time just how fast he was. Let's take a look at the play itself:
Johnson's speed on this play is immediately evident, but I'm most intrigued by what happens right at the line of scrimmage. There's a pretty tight window for Johnson to get through to make this happen, and you have to applaud his vision for making that happen. So far this season, Johnson ranks fifth in breakaway run rate at 10.1 percent, which means that 10.1 percent of his carries have gone for 15 or more yards. Johnson has big play ability, and it's made more impressive that he's playing behind a fairly mediocre offensive line -- the Lions rank near the middle of the league in most line metrics this season.
Anyway, let's look at some of Johnson's other plays, starting with a 24 yarder in the first quarter.
Johnson's burst is on display again here, and he makes a good cut behind the line to create space to bounce outside. Good blocking on the play adds a lot here too, and that's enabled by the formation that the Lions run. You don't see a ton of sets with three guys in the backfield, and especially not when two of them are bigger blockers, but this play introduces some trickery -- you know pretty fast it's a run, but with a guy from both sides running up to the line to block, it takes a split second to realize which way Johnson is heading, which helps him make the play.
Here's a play that is not a big play:
Johnson runs against light fronts a lot -- 39.1 percent of the time -- so seeing how he fares on a play where there are essentially seven guys in run protection and an eighth pretty close by guarding the slot can be productive, and here we see Johnson charging straight ahead, keeping his legs churning, gets yards after contact...it's a pretty good four-yard run.
Per Next Gen Stats, Johnson actually is second in the NFL in rushing efficiency -- he doesn't waste time behind the line and is instead a pretty pure north-south runner. His combination of size and speed means he's able to hit the hole quickly while also having the strength to push defenders forward. Now, he's not LeGarrette Blount, who remains active at the goal line for the Lions because he's more of the prototypical goal-line back, but Johnson did see five carries inside the 20 this week after having just three total coming into this week. If the original story was that Johnson would see carries between the 20s, this week suggests that the team is becoming more comfortable working him in closer and closer to the goal line.
By the way, while I'm talking Next Gen Stats, here's Johnson's carry chart from that same site:
Something I've been paying attention to lately is variety; I want a running back who's carrying the ball in a variety of ways, who is used inside and outside and on both sides and can be relatively effective in all these situations. This week's carry chart passes that test.
The Fantasy Impact
The Lions have a lot of mouths to feed and not a great track record of using their running backs effectively. Matthew Stafford attempted 22 pass attempts on Sunday, his fewest since Week 2 of last season. In fact, the last time Stafford threw the ball under 20 times in a game was September 12th, 2010, when he attempted 15 passes before exiting with an injury. And...that's it. The only time! Detroit's offense has always revolved around Matthew Stafford throwing a ton of passes, so the fact that he's thrown under 30 times for two consecutive weeks is already an anomaly.
But Johnson has so many good things going for him, and it really seems like the Lions are trending towards Johnson being the primary back in a way that doesn't necessarily suggest bell cow, but does suggest that he'll be the most involved runner on this team. I'd be shocked if Blount out-touches him again barring injury, and while I'd like to see more goal-line utilization -- really the one thing that I find myself still pretty concerned about -- I also have to acknowledge that it's unlikely to happen as long as Blount remains on the team, even if it seems like Johnson can handle that facet of the game.
Ultimately, I see Johnson as a solid RB2 most weeks going forward. I don't think the usage is consistent enough for him to jump into that top-12 for me on a weekly basis, but Johnson's speed and efficiency offer fantasy owners a really solid RB2, something that's really important with how this season has gone for the running back position.
More Fantasy Football Analysis