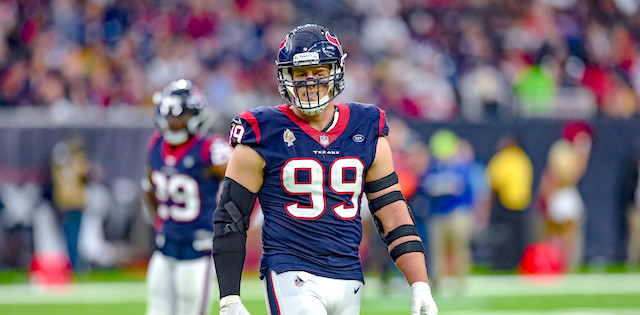 The Houston Texans haven't been in the NFL for long, with the franchise starting back in 2002. It's been a short enough time that I can personally remember watching their first game ever, a 19-10 win over the Dallas Cowboys.
But despite the short time the team has existed, there's been some really talented players who've come through NRG Stadium. While those players haven't necessarily translated into major success for the team, the team has had some good postseason moments, many of which were spearheaded by the players on this list.
Below, you'll find our picks for the five best players in Houston Texans franchise history, as well as five more honorable mentions at the end. Did we get it right? Do you have hot takes about the Houston Texans franchise? If so, let me know on Twitter: @juscarts
Editor's Note: Our incredible team of writers received 13 award nominations by the Fantasy Sports Writers Association including Baseball Writer of the Year, Football Writers of the Year, Golf Writer of the Year and many more! Be sure to follow their analysis, rankings and advice all year long, and win big with RotoBaller!
Read More!
#1. J.J. Watt
There's a clear top two when it comes to the Houston Texans, and the order of those top two really depends on what you value. The highs for defensive end J.J. Watt are higher than the highs for wide receiver Andre Johnson, but Johnson has the longevity factor working in his favor. Overall, I'm giving the edge to Watt, who recently announced he'd be retiring from the NFL.
Watt played 128 regular season games for the Texans, recording 101 sacks, 16 fumble recoveries, and a pair of pick-sixes in that span.
There were a good number of Texans fans who questioned the Watt pick back in 2011. Heck, I was one of them—I wasn't a close watcher of the Big Ten at the time, so I wasn't really sure what J.J. Watt was all about.
But he became a treasure for Houston, both on and off the field. Watt was the AP Defensive Player of the Year three times with the Texans and made it all the way to the No. 1 spot on the NFL Top 100 in 2015. He's second in NFL history in career tackles for loss.
#2. Andre Johnson
In 2002, the first year of the Houston Texans, rookie quarterback David Carr was throwing the ball to guys like Corey Bradford and Jabar Gaffney, so in 2003 the team decided to get him a real weapon by drafting Miami wide receiver Andre Johnson.
Johnson didn't fix Carr. But what Johnson did do was play 12 years for the Texans. In that time, he led the NFL in receptions and receiving yards twice, and receiving yards per game three times. In five of his seasons with Houston, Johnson averaged 90 or more receiving yards per game.
He was First Team All-Pro in 2008 and 2009 and made seven Pro Bowls. Johnson is the best offensive player in Texans history, and it isn't really all that close when you factor in both the heights he reached and his longevity.
#3. Arian Foster
Andre Johnson was the No. 3 pick in the 2003 NFL Draft. The second-best offensive player in Texans history, running back Arian Foster, went undrafted in 2009 and started his career as a backup for Houston.
But in his second NFL season, Foster exploded, leading the league in rushing yards and rushing touchdowns, kicking off three years in a row with over 1,000 yards and over 10 touchdowns. After an injury-shortened 2013 season, Foster bounced back in 2014 with another 1,000-yard season before injuries once again derailed his career.
Foster played seven seasons with the Texans. Only four times did he play in double-digit games. But man...those four seasons. He made the Pro Bowl in each of them. He doesn't have the longevity that Andre Johnson had, but those four seasons were some of the best individual seasons of the 2010s.
I understand that ranking Matt Schaub fourth on this list might seem like a stretch to a lot of people, but relative to the rest of this franchise's history, the Schaub era was Houston's high point. And while Schaub was never the most physically gifted player, he was a high-end starting quarterback for multiple years, something Houston's only ever had one other time, and that other time...we don't talk about it.
The Texans acquired Schaub in 2007 from the Falcons, trading two second-round picks and swapping firsts with Atlanta for the promising then-backup. He spent seven seasons as the Texans' starter, with the team finishing over .500 in four of those years. In 2009, he led the NFL in passing yards, throwing for 4,770 yards and 29 touchdowns.
While he's most notorious for how his Texans career ended, as he threw pick-sixes in four consecutive games in his final year with Houston, he deserves more credit for how he provided the Texans with reliability under center. As anyone who watches this team knows, that's always been an issue.
#5. Duane Brown
One common issue over the course of the Texans' existence is the offensive line issues. Back in 2002, rookie quarterback David Carr was sacked a record 76 times, for instance.
While Houston had some decent players on the line in the early days, it wasn't until they drafted left tackle Duane Brown in 2008 that the team really found a high-end tackle. Brown—who is still in the NFL at the time this was written, playing for the New York Jets—started every game he played for Houston. He was a First Team All-Pro in 2012 and has been named to the Pro Bowl five times, with the first three of those coming when he played for the Texans.
Honorable Mentions: Brian Cushing, DeMeco Ryans, DeAndre Hopkins, Mario Williams, Jonathan Joseph
Download Our Free News & Alerts Mobile App
Like what you see? Download our updated fantasy football app for iPhone and Android with 24x7 player news, injury alerts, rankings, starts/sits & more. All free!


Win Big With RotoBaller
Be sure to also check out all of our other daily fantasy football articles and analysis to help you set those winning lineups, including this new RotoBaller YouTube video:


More Fantasy Football Analysis