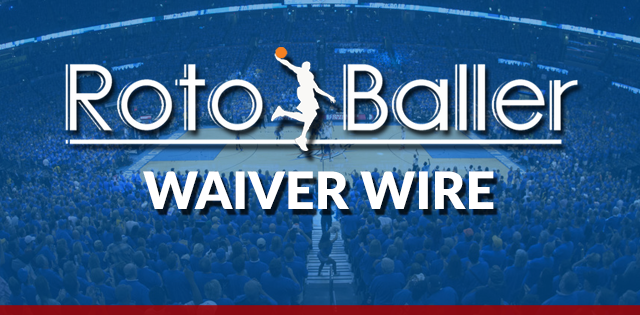 Alright, it's another edition of the Drop List!
It's playoff time, so get that dead weight off of your roster! Let's clean some things up and win you some titles!
Below is our weekly fantasy basketball drop list, a look at players who are can be dropped in some or all formats. Every Thursday, we'll look at why it's fine to move on from certain players based on their recent play. Remember: every league is different, so make sure you evaluate what options you have to replace these players before you actually drop them.
Editor's Note: Our incredible team of writers received five total writing awards and 13 award nominations by the Fantasy Sports Writers Association, tops in the industry! Congrats to all the award winners and nominees including NBA Writer of the Year, Best NFL Series, MLB Series, PGA Writer and Player Notes writer of the year. Be sure to follow their analysis, rankings and advice all year long, and win big with RotoBaller!
Read More!
Players to Consider Dropping or Replacing
44% rostered
Brown's still going to be a good player for the Thunder, but the inconsistency right now is too much. Sure, his last game saw him record a double-double with 12 points and 11 rebounds, but in the two previous games, Brown had totalled zero points.
His minutes are also down, as he's played 20 or fewer in three consecutive games. This just isn't the way you want to see a guy trending when it's playoff time. That big Pacers game was also aided by the Pacers not really having any healthy bigs to deal with Brown, so take those numbers with a grain of salt.
51% rostered
The Pistons have moved into "we're going to be resting veteran players" mode, which is why over the last five games, Plumlee has played just twice. Sure, he came up huge in a loss to Dallas, delivering those who still trusted him in fantasy with 13 points, 16 rebounds, and seven assists, but considering one of those rest days wasn't even on a back-to-back and the Pistons want to get Isaiah Stewart a lot of minutes, I think you can go ahead and move on from Plumlee unless you're really desperate for a big man. When he plays, he'll likely give you solid minutes -- though against Washington he played just 16 minutes and had two points, so maybe there's not even a guarantee of good numbers when he is active.
49% rostered
Late-season injury to a veteran player on a rebuilding team? Ross has missed the last three games with back spasms and I just don't see any reason for Orlando to rush Ross back.
He's averaging 15.6 points, 3.4 rebounds, 2.3 assists, and 1.9 threes per game on the season, so if you want to hold on a little longer because of his upside, that's fine. But on my end, I just don't really see a reason that the Magic would say "alright Terrence, go play basketball for our 18-41 team even though you're dealing with back issues."
23% rostered
Flynn was benefitting from injuries in Toronto, but the team appears to be healthy now. That mean that Flynn went from playing 30-plus minutes per night to play just 11 against the Nets. He finished that one with five points, one assist, and one steal. Not, uhh, great stuff from the rookie.
There's talent here, but Flynn needed opportunity to be worth a roster spot in season-long leagues. Now that the whole Raptors core of Kyle Lowry, Pascal Siakam, OG Anunoby, and Fred VanVleet are back in the lineup, those opportunities are gone. Similarly, Chris Boucher is on the "yeah, you can also move on from me" list as well.
47% rostered
Another injury-related drop. Hachimura has missed the last two games with a knee issue and is already ruled out for Friday. Washington has surprisingly found themselves fighting for a play-in spot as they're the 10th seed right now, so they aren't incentivized to sit their young players down the stretch to keep them healthy.
But even if we assume Rui will be back soon, the five games before his injury saw him average 6.8 points, 4.4 rebounds, 0.8 assists, 1.2 steals, and 0.2 threes per game on 33.3 percent shooting, as well as a 12.5 percent mark from deep.
So even when he's on the floor, Hachimura hasn't been consistently producing. For that reason, this injury feels like a final straw for his 2021 fantasy value. He's still going to be a solid player long term, but I just don't think he's helpful enough for the fantasy playoffs.
10% rostered
The Jamal Murray could have been huge for Monte Morris' value, but then Morris suffered a hamstring injury that has kept him out for the past two games.
Hamstrings are a notoriously tough injury to deal with, as they tend to linger. Denver can win games without Morris, so I'd expect Mike Malone to be fairly cautious in terms of how they deal with Morris. Malone has said as much, saying "I don't think he's going to be back for a little while."
Looks like Facundo Campazzo is going to be getting a ton of minutes going forward in Denver.
Download Our Free News & Alerts Mobile App
Like what you see? Download our updated fantasy basketball mobile app for
iPhone
and
Android
with 24x7 player news, injury alerts, lineup notifications & DFS articles. All free!
More Fantasy Basketball Analysis