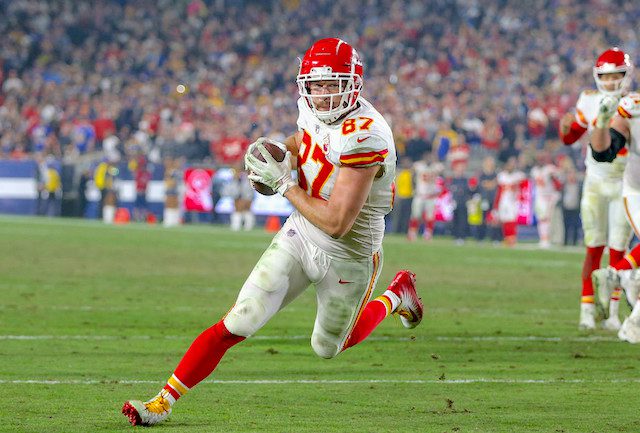 For the first time since 2015 with New England and Seattle, we have two teams making the Super Bowl who have each won it over the last six years. That's pretty impressive, especially considering that one of these teams in particular has gone through a complete facelift since their last appearance.
As for the Chiefs, this team is very similar to their previous Super Bowl teams. Say what you will about Patrick Mahomes getting it done without his receiving options, but it's clear the recipe for success is simple. Put Patrick Mahomes with one of the best offensive coaches of all time, arguably the greatest TE of all time, and a defense that is top 10 in the fewest yards allowed, and you're going to win games. Oh, and don't forget the impact of having the referees in your back pocket.
On the other side, this Philly team has a lot of new faces in new places. It's an exciting team built on young offensive stars and veteran studs on defense. We have a great mix of flashy talent and gritty linemen in this matchup, paving the way for an exciting Super Bowl. My name is Ellis Johnson, and for the second year in a row, here's your RotoBaller SuperBowl Matchup Preview. If you don't like articles, check out my shorter versions on TikTok @FiresideFantasy_FF.
Featured Promo: Want a free RotoBaller Premium Pass? Check out these sports betting promo offers from the top sportsbooks! All new sign-ups get a free bonus offer on their first deposit, and a free year of RotoBaller's Premium Pass for all sports ($450 value)!
Sign Up Now!
Philidelphia Eagles vs. Kansas City Chiefs
*UPDATED* ✅Correct; ❌Incorrect; Final = ✅9-6❌
Game time: 6:30 pm EST
Date: February 12th, 2023
Location: State Farm Stadium, Phoenix, Arizona
The Super Bowl LVII Narratives
In case you weren't aware, Travis and Jason Kelce are brothers. Just like that, the laziest headline has taken the front page for this Super Bowl (or should I say Kelce Bowl). Although their family is fantastic and the fact they're facing each other on the biggest stage is all fine and dandy, let's break down something more interesting. For the first time in NFL history, two black quarterbacks are facing off in a Super Bowl. In a league that has so much history, it's incredible that this moment has finally come, and will likely repeat in the near future.
Kansas City Chiefs' Story
Arguably the biggest story here is the beloved Head Coach Andy Reid. After spending years with the Eagles, he might be the first opposing head coach to actually have respect from this fan base. Despite all of his clock management woes, it's clear that we are watching one of the best offensive minds of all time take the biggest stage. Although his track record in Championship and Super Bowl games is slightly disappointing, there is no doubt that he is a true offensive genius.
We can argue what comes first, offensive coaching or performance, but the fact is that Travis Kelce just put up one of the best TE seasons in NFL history. Sure, Mahomes winning the AFC championship without JuJu Smith-Schuster and Mecole Hardman has gained a lot of attention, but how quickly do we forget that Travis Kelce is the true number-one option on this team? This season he put up the fourth most yards in a season AND the eighth most touchdowns at the position of all time. That doesn't sound like Mahomes beat the Bengals without any weapons to me…
Kelce wasn't the only one on this Chiefs team to have a record-setting season. Mahomes also put up the fourth most passing yards in a season of all time, and will likely earn himself his second MVP award. With this kind of production coming from the offense, the fact that Chris Jones is in the running for defensive player of the year is icing on this illustrious cake. It's easy to get tired of greatness when it has become routine for this Chiefs team, but there is no doubt that we are on the verge of seeing the next great NFL dynasty if they can pull off a second Super Bowl in four years.
Philadelphia Eagles' Story
As for the Eagles, they have a fiery Head Coach of their own. Nick Siriani has definitely made his fair share of fans and foes over the last few weeks. Despite his off-the-wall antics pushing some away, there is no doubt that he has helped turn this team around. The same thing goes for the front office of this organization. Just a few years removed from taking Jalen Reagor over Justin Jefferson, they have made some of the best free agents and trades over the last few years. 
Specifically, on the defensive side, their moves have been a huge success. Recently they brought in defensive stars such as Darius Slay, James Bradbury, C.J. Gardner Johnson, and Haason Reddick to pair with stalwarts such as Fletcher Cox. I think a huge success might even be an understatement, as this defense led the league in interceptions and sacks, and is five sacks away from the all-time record. 
It's not just the defense though, this team went into the season projected to have the best offensive line, and they proved it all season. Plus, let's flashback to a few years ago and the decision to move on from Carson Wentz for Jalen Hurts. Even though they whiffed on Reagor, sticking with Dallas Goedert, drafting DeVonta Smith, and acquiring A.J. Brown has definitely made up for it.
What is probably the most important aspect of this team is their rushing attack. Miles Sanders led the way with a career-best 1269 rushing yards. Pair this rushing prowess with Hurts' 51 rushing yards a game, and this Chiefs defense has its work cut out for them. Spoiler alert, but I think the Eagles rushing attack is the most glaring discrepancy between these two teams, so let's see how they match up positionally.
Quarterback Matchups for Super Bowl LVII
Patrick Mahomes (QB, KC)
As mentioned earlier, Mahomes has had a phenomenal season. The list of active QBs to make an AFC Championship game in each of their full seasons' consists of only Joe Burrow and Patrick Mahomes. Obviously, Mahomes has been in the league longer, making this more impressive purely from a quantitative perspective. Plus, this is his third Super Bowl appearance in six years, a mark that has only been set by Tom Brady.
Mahomes is the perfect combination of Josh Allen's flashy plays, and Joe Burrow's ability to win the big games, making him the best QB in the league right now. Most likely his ankle will still be less than 100% in this game, however, he was a perfect 16 of 16 against the Bengals on passes outside of the pocket. Add an extra two weeks to his recovery, and I'm sure he'll be ready to go this weekend. 
Prop Pick: Over 0.5 interceptions -110 ❌
Jalen Hurts (QB, PHI)
It's been an incredible season for the young star. In fact, he reminds me a lot of Lamar Jackson. After showing his rushing prowess in his rookie and sophomore seasons, it was clear that his passing would need a lot of improvement. Well, just like Jackson who won the MVP in his second season, Hurts took a huge step forward in the passing game. Despite missing two games due to injury, he finished 10th in the league in passing yards, passed for 22 touchdowns, and rushed for another 13. If it wasn't for his injury, I truly think he'd steal this season's MVP award from Mahomes.
Plus, as the starter this season he is 16-1. That record speaks for his consistency all season and how dominant this team has been. Many people want to discredit this young man as his playoff wins have been against Daniel Jones, Brock Purdy, and Josh Johnson, however, he's shown that whether he is passing or rushing, he's the true leader on this team.
Prop Pick: Anytime rushing TD +110 ✅ (He had three)
Ellis' Advantage: Chiefs. He's the best in the game right now and is playing in his third Super Bowl. As much as I love Hurts, there are only two QBs in this league that outshine him. Unfortunately for him, they both played last week in the AFC Championship, forcing my hand to give Mahomes the edge in this one.
Rushing Matchups for Super Bowl LVII
Kansas City Chiefs
We're addressing these teams' entire rushing attack since both teams use an RB-by-committee approach. For the Chiefs, this committee consists of the rookie sensation Isaiah Pacheco and athletic powerhouse Jerrick McKinnon. Seriously, do you remember how incredible Mckinnon's athletic measurables were?
Before suffering a serious injury after signing with the 49ers, he was in line to become one of the most electric backs in football. As per PlayerProfiler here are Mckinnon's percentiles coming into the NFL: 40-yard dash 95th, Speed Score 92nd, Burst Score 98th, agility score 94th, Bench Press Score 99th. That's remarkable.
As for Pacheco, his measurables don't jump off the page like Mike Giesicki or Mckinnon, but if you've watched him run you know how dangerous he can be. Personally, he reminds me of a younger LeSean McCoy. Despite being smaller, his agility and fast feet seem to power through tackles and maintain his balance.
I'll be honest, this write-up makes this duo seem unstoppable, however, that was the opposite of what we saw this season. Although this team used a combination of these two, with Clyde Edwards-Helaire and Ronald Jones, they averaged the 11th fewest rushing yards per game and under a rushing touchdown per game on the season. Statistically, this ground game has been on the verge of average all season. 
Prop Pick: Mckinnon Under 20.5 rushing yards -110 ❌
Philadelphia Eagles
From a mediocre rushing attack to the best in the league, that's what we get to see this Super Bowl. Here's a statistic that blew my mind, the Eagles averaged 2.1 rushing touchdowns per game in 2022. For perspective, the Lions averaged the second most with 1.4 per game. That's wild. Lots of this has to do with Jalen Hurts' unstoppable QB sneak and 13 rushing TDs, but still, their RBs combined for 18 rushing touchdowns. For the sake of this comparison, I'm not going to talk about Hurts' rushing and focus on the RBs. 
Miles Sanders led the way for this backfield with over 1300 total yards and 11 rushing touchdowns. Behind him was a combination of Boston Scott and Kenneth Gainwell. I believe these two are both very underrated as Austin Ekeler proclaimed Boston Scott as the best goal-line back in the league, and Gainwell is currently leading this team in postseason rushing yards. While this trio compliments each other, the one thing they have in common is sharing an incredible offensive line. With Lane Johnson back, this line is a force to be reckoned with.
Prop Pick: Gainwell Over 19.5 rushing yards -110 ✅
BONUS: Eagles Over 148.5 total rushing yards -115 ❌
Ellis' Advantage: Eagles. This is the biggest discrepancy in this game, in my opinion. In fact, these rushing attacks aren't even close. The Eagles don't only boast the best back on either team (Miles Sanders), but they also have a superior line. Plus, we can't forget what Hurts can do on the ground. 
Receiver Matchups for Super Bowl LVII
Kansas City Chiefs
I'm purposely calling this top pass catcher and not WR, solely because of how dominant Travis Kelce is. As I mentioned in the intro, you can get out of here with the "Mahomes has no weapons" garbage. He has Travis Kelce and that's all you need. As an impact player, he is just as powerful as  Ja'Marr Chase and Justin Jefferson. I've already discussed that this season he was eighth all-time in touchdowns at the position and fourth all-time in yards. As for the matchup, the Eagles were middle of the pack in yards allowed and allowed the eighth fewest touchdowns to the TE position. However, Kelce is no ordinary TE so you can go ahead and throw those matchup stats out the window.
Prop Pick: Kelce first Chiefs TD scorer +650 ✅
Philadelphia Eagles
A.J. Brown is quietly one of the most respected WRs in the league. Although his name doesn't often come up when discussing the top WRs in the league, he's never far behind. In fact, I don't think he should be behind at all. A.J. Brown is the closest thing we have to a prime Julio Jones in my opinion. His physicality both at the catch and after is second to none. He is a big play threat on any play and is arguably the most physically dominant WR in the game right now. In his one year as an Eagle, he set a franchise record in receiving yards and was second in the league in receiving touchdowns. As we saw in Tenessee, his big play ability pairs perfectly with a dominant ground game. The Chiefs allowed the ninth-most receptions and second-most touchdowns to the WR position on the season. To open their game against the 49ers, we saw Brown getting fed until the game was out of hand. If the Eagles can establish the run early, it's only a matter of time before Brown makes a 30+ yard play.
Prop Pick: Brown Over 5.5 receptions +140 ✅
Ellis' Advantage: Chiefs. No matter how dominant I think Brown is, Kelce might be the biggest X factor in the league. His impact on opposing defenses and his chemistry with Mahomes make him the most dangerous player on the field in these kinds of games.
2nd Receiver Matchups for Super Bowl LVII
Kansas City Chiefs
This rag-tag group of lads was led by Juju Smith-Schuster. Despite not having a WR crack 1000 yards, Juju led the way with over 900 yards and three touchdowns. It's hard to analyze any of these Chiefs' WRs as all of their production seemed dependent on the game script. When Juju was needed, he managed to find success with multiple games of six-plus receptions. However, he also had games where he failed to tally three receptions. He now faces an Eagles team that allowed the fifth-fewest yards per game to opposition WRs. Juju is not the WR he was in the past, and if he plays through his current knee injury it's hard to see him playing a large role in this game. What it will come down to, is whether he will be able to make the plays when needed (like MVS's last game).
Prop Pick: Juju Over 3.5 receptions -115 (assuming he is healthy) ✅
Philadelphia Eagles
This comparison doesn't even seem fair. Devonta Smith was spectacular this season. The Slim Reaper is the perfect compliment WR to the physical A.J. Brown. His clean route running and magical hands live permanently in defenders' nightmares. In only his second season, he tallied seven touchdowns, nearly 1200 receiving yards, and was 9th at the position in receptions (95). The Chiefs have been vulnerable to the WR position all season and will have their work cut out for them against this duo.
Prop Pick: Smith Over 74.5 yards +160 ✅
Ellis' Advantage: Eagles. I almost wanted to call this a no-contest. That's not because this is a draw, but because there really isn't a competition. Take your pick of statistic and Smith dominates any of the Chiefs' options.
3rd Receiver Matchups for Super Bowl LVII
Kansas City Chiefs
Let's give Marquez Valdes-Scantling some props on carrying the team in the AFC Championship game. Despite being mediocre all season, the veteran really stepped it up when the team needed him most. I'm sure Rodgers was wondering why MVS couldn't have those kinds of hands in Green Bay, but that's another story. As their biggest WR acquisition of the offseason, MVS was relatively lackluster. He barely cracked the 50% catch mark and failed to hit 700 yards. However, if he can step up again in the playoffs, I'm sure Chiefs Kingdom will quickly forget his regular season stats.
Prop Pick: MVS Under 36.5 yards -110 ✅
Philadelphia Eagles
Dallas Goedert slides in here as the last positional difference maker. Although he is not Kelce, he is a very solid TE option. In fact, he was only behind Kelce in TE yards per game this season (60 yards per game). It seemingly took forever for Goedert to break out of Ertz's shadow and become the next great Eagles' TE. But this season, he certainly broke free. Although he missed five games this season, when he has been healthy he has been the perfect safety blanket for Jalen Hurts.
Prop Pick: Goedert anytime TD +187 ❌
Ellis' Advantage: Eagles. These two weapons are quite different in their styles, however, their production and importance to their respective teams speak for themselves. It's clear Goedert takes the win here.
Defense Matchups for Super Bowl LVII
Kansas City Chiefs
It would be disrespectful to start this section with anyone other than Chris Jones. After a long career with zero postseason sacks, he managed to have two against the Bengals. Most notably, the second came on a key third down late in the game. Other than Chris Jones and Frank Clark, there is nothing special about this defense statistically.
They allow the 10th fewest yards per game, the 15th fewest points per game, and the 13th fewest forced turnovers per game. It's not often you see a defense with this amount of mediocrity make it this far in the playoffs. I guess home-field advantage will help with that.
Prop Pick: Chris Jones UNDER 0.5 sacks +100 🔒 ✅
Philadelphia Eagles
Where to start? Take your pick, sacks, interceptions, yards allowed, and points allowed, the Eagles are elite at it all. Firstly, they are five sacks away from having the NFL record for most sacks in a season (they are currently third). Outside of leading the league in sacks, they also led the league in interceptions.
More specifically, C.J. Gardner-Johnson was tied for the league lead in interceptions despite missing five games. This team also allowed the fewest total yards per game (290.3 yards/game), had the fourth most takeaways (1.6 per game), and allowed the third-fewest points per game (18.8 points per game). It's a choose-your-own-adventure with this defense, but no matter what statistic you choose, you'll find that this defense is elite.
Prop Pick: Haason Reddick Over 4.5 Tackles and Assists +110 ❌
Ellis' Advantage: Eagles. The statistics speak for themselves. 
X-Factors for Super Bowl LVII
Chiefs
There is always talk about which players can perform on the road and who can't. For example, Amari Cooper and Ben Roethlisberger are notorious for their home-field prowess. However, has anyone ever asked how the referees do on the road? Outside of Mahomes being magic, the referees played the biggest role in getting the Chiefs to the Super Bowl. After all, I've heard Pheonix Arizona is notorious for its optometrists. If the Chiefs in black and white can finally see, it might be a long day for Mahomes and company.
Eagles
One thing I know for sure about State Farm Stadium is that there is no shortage of light posts. Unless the city wants to use up its grease stores, the Eagles fans should have a day. All jokes aside, the traveling Eagles fans can make a huge difference in this one. We have no experience of Mahomes playing on the road in the playoffs, and we don't have much experience of Mahomes playing at a neutral site. Let's see if these Eagles fans travel as well as they say. To quote the Wizard of Oz, (Mahomes and friends) we're not in Kansas anymore.
Game Picks for Super Bowl LVII
Chiefs +1.5 ✅, Under 51.5 ❌
I'll be honest, I've been notoriously bad at picking the Super Bowl. Although this is only my second year writing this article for RotoBaller, I've kept my own tally and haven't picked any of the last six correctly. Having said that, one thing all my picks have in common is that I typically pick who I feel is the best all-around team. Furthermore, I've been doing matchup breakdowns for RotoBaller for four years now, so even if you don't want to trust my pick, I stand by my analysis.
Believe it or not, although my gut was leaning toward the Eagles before writing this preview, I truly was on the fence. However, after looking at every position and analyzing the entire season of data, it's impossible not to give an advantage to the Eagles. Say what you will about their path to the Super Bowl, but the season speaks for itself. There are no Minnesota Vikings fraudulent statistics behind this team's success. As for the Chiefs, they are always dangerous as long as Mahomes, Andy Reid, and Kelce are together. I'm going to learn from my mistakes over the last six years, and not pick the better team. After all, we just saw the AFC Championship game, that sometimes the better team doesn't win. That's why I'm calling for Andy Reid to get his second Super Bowl against his former team.
A huge thanks goes out to RotoBaller for supporting my work and giving me the opportunity to do what I love. It's been an excellent season, and I want to thank all of you who followed my work. I will be writing off-season articles this summer and will be back to do the Thursday Night fantasy analysis for the fourth straight season in September. Have a great Super Bowl everyone, and please stay safe (especially you, Eagles fans).
Download Our Free News & Alerts Mobile App
Like what you see? Download our updated fantasy football app for iPhone and Android with 24x7 player news, injury alerts, rankings, starts/sits & more. All free!


Win Big With RotoBaller
Be sure to also check out all of our other daily fantasy football articles and analysis to help you set those winning lineups, including this new RotoBaller YouTube video:


More Fantasy Football Analysis