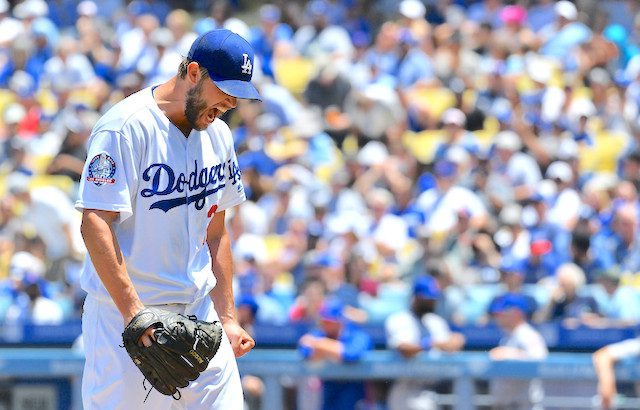 Unlike the fantasy football world, there are not a lot of casual baseball fans playing the fantasy game. Have you ever heard of a friendly office fantasy baseball league? Probably not. If you're playing fantasy baseball for any actual stake, you are most likely competing against people who know what they're doing - at least a little bit.
Because of this, sleepers and breakouts are harder to get on your team for really cheap price tags. Most players are savvy to the indicators and know which pitchers are likely to perform better in the future than they have in the recent past. Hidden gems do not stay hidden for long.
This is not to say that there are not many pitchers every year that end up pitching well above their price tag on draft day. It just means that those guys are harder to find because the obvious candidates end up getting drafted at a pretty fair price. What I want to do over the course of a few different posts here is try to spot some of these middle-to-late round pitchers that I think could pitch well above their price in 2022. My analysis here today is to look at one of the better indicators of pitcher talent - swinging strikes.
Featured Promo: Get any full-season MLB and DFS Premium Pass for 50% off. Exclusive access to our Team Sync platform, Premium articles, daily Matchup Rating projections, 15 lineup tools, DFS cheat sheets, Research Stations, Lineup Optimizers and much more!
Sign Up Now!
Why SwStr% Matters
First, let's examine the relationship between swinging-strike rate and the outputs we're interested in for fantasy purposes.
It is not surprising at all to learn that swinging-strike rate and strikeout rate are highly correlated:

You can hover over each dot to see who it represents, but what you see here is a linear relationship between SwStr% and K%. As your SwStr% goes up, so will your K%.
A less pronounced, but still existent relationship exists between SwStr% and WHIP:
You can see some serious outliers here (dots that are very far away from the trend line). No pitcher exemplifies this better than Blake Snell, who sits near the top of the leaderboard every year in swinging-strike rate. However his erratic control results in a bunch of walks (and the wildness probably helps his SwStr% at the end of the day), which can derail his WHIP.
The flip side of this is a guy like Adam Wainwright, who will never be in the top half of the league in SwStr%, but his pinpoint command and lack of walks keep his WHIP very low. There are different ways for certain players to not fall on the trend line, but you can still see a general downtrend here.
The final relationship we want to look at is ERA vs. SwStr%:
Once again we see a definite relationship, but a much flatter line than the K% vs. SwStr% gap. A lot of randomness goes into ERA, as you probably know, which prevents any single variable from being a very good predictor of it.
My point is that having a high SwStr% makes it much more likely for a pitcher to post solid seasons in the game of fantasy baseball. You will rarely find a fantasy ace not boasting one of the league's best swinging-strike rates. We should take this stat seriously, so let's dive into 2021 stats to see which pitchers excelled.
Overall Swinging Strike Rate
I'm not going to waste your time with the 2021 SwStr% leaderboard because it wouldn't be very helpful to see. The top five last year were Jacob deGrom, Tyler Glasnow, Clayton Kershaw, Corbin Burnes, and Shane Bieber. I'm not doing you any favors by telling you that those guys are good. Let's throw in some extra criteria and show off a leaderboard here. Looking outside of the top-50 ADP for 2022, here are last year's top-25 SwStr% pitchers:
We have a mixed bag of reasons why these pitchers are all going where they are in early drafts. Some have age and health concerns (Kershaw, Rodon, Maeda, Quintana, Kluber, Morton), others are young players with workload questions (McClanahan, Gray, Rogers, Javier), and then others got a bunch of whiffs but were otherwise quite erratic (German, Gray, Luzardo, Heaney, Snell, Gilbert, Kikuchi).
It is certainly not true to say all of these guys are being drafted too late right now because there are many more factors than just SwStr% at work here. This is to say that most of these names have the upside to really crush their draft prices if other things fall into place.
Some of the names that do seem to be under-priced to me right now:
Clayton Kershaw - Where he will pitch is still up in the air, but it's not like he's 40 (he's 33), and he has never been anything but a very good pitcher for any real stretch of time.
Patrick Sandoval - Going outside of the top 200, he could be one of the best picks of the draft if he can stay healthy and improve his command a bit. He was absolutely electric last year when on the bump.
Shane McClanahan - At pick 107, this isn't larceny, but nobody is going to be very surprised if this guy is a top-10 pitcher next year with how nasty he is and how well he pitched in his rookie year.
Yusei Kikuchi - An ADP of 320 is silly in my opinion. He showed a ton of encouraging signs (high whiffs, low walks, high groundball rate) and faced one of the toughest schedules in the league.
Individual Starts Standouts
Quite often in the starting pitching game, you will see upside flashed from time to time from a guy over the course of a season, but the final numbers don't look all that impressive. Pitching is a very tough thing to do, and often it can take a very talented pitcher a few years to work out some of the finer details before they can really step into ace-hood. I wanted to look at last year's best individual starts by swinging strike counts to see who could be ready to take that next step forward.
Here are the top 100 individual starts of the year by swinging strike totals.
We mostly see expensive pitchers here, but a few standouts remain.
Patrick Sandoval appears on the list four times.
Dylan Cease is here five times, and while he's not cheap anymore, it's certainly good to see him showcasing that whiff upside because he hadn't been able to do that in the Majors before last year.
German Marquez racked up 24 whiffs in Coors Field, so at least we know that it's possible.
Jesus Luzardo has had all kinds of issues in the Majors, but that shouldn't take much away from his perceived upside - he fools hitters a ton.
Jordan Montgomery remains a bit underrated and is still under the age of 30.
Be sure to follow the rest of our fantasy baseball articles and analysis. Thanks for reading!
Download Our Free News & Alerts Mobile App
Like what you see? Download our updated fantasy baseball app for iPhone and Android with 24x7 player news, injury alerts, sleepers, prospects & more. All free!


More Fantasy Baseball Advice