It's hard to believe that this week will mark the halfway point of the fantasy football season for most leagues. It's time to make the moves that will put your team over-the-top to dominate the remainder of your league. As a fantasy owner, you'll need to examine all of the circumstances around the players you are looking to deal or acquire. How is their schedule coming up, are they seeing enough volume to justify their fantasy production, are there any injuries that could potentially impact their fantasy output down the line?
One of the most overlooked factors is not only the health but also the performance of an offensive line. Anyone who is watching the games is able to tell which lines have come together to surprise like the Carolina Panthers and San Francisco 49ers. In certain instances, the performance on these lines can help tell you which players to target and which ones you might want to start to shop.
This week I'll take a look at the Los Angeles Chargers and Cleveland Browns match-up from week 6. The Browns were blown out in this game, but how did their line fare against the likes of Melvin Ingram and the rest of the Chargers pass rush? Melvin Gordon went off against the Browns, but can he continue to be an elite fantasy running back going forward? Those questions answered and more below.
Editor's Note: Get any rest-of-season NFL Premium Pass for 50% off. Our exclusive DFS Tools, Lineup Optimizer and Premium DFS Research through the Super Bowl.
Sign Up Now!
Offensive Line to Watch - Cleveland Browns
It's never easy to replace a legend and first-ballot Hall-of-Famer, but that's what the Browns have had to accomplish in the 2018 season after Joe Thomas retired. Things have not been easy for the Browns as a unit up front as they have given up the most sacks in the NFL through six games (26) and rank 28th in adjusted sack rate only above the Seahawks, Texans, Titans, and Bills. Rookie Desmond Harrison has stepped in admirably, but no one will ever be Thomas. He currently ranks 58th among tackles according to PFF, but has graded well in pass protection at a 73.9. An offensive line as a unit can only pass protect for so long as you'll see in these clips below. In back to back plays, the Browns give up sacks, but I could argue that these both were not the fault of the offensive line. On first and 10, the offensive line does its job; they stonewall the oncoming rushers, but the running back misses the block on the blitzer, causing Baker Mayfield to step up right into a sack.
During this next play on 2nd and 12, the offensive line does a great job in carrying out the play-action fake by being aggressive at the snap of the ball. This aggressiveness signals run to the defenders, but Mayfield cannot take advantage. He waits too long for the deep route concepts to develop instead of giving a glance deep and then checking down to his back out of the backfield to gain back some of the lost yardage from first down.
These plays demonstrate some of the strength that has been the pass protection from the Browns. The three high priced linemen in the middle (center J.C. Tretter, right guard Kevin Zeitler, and left guard Joel Bitonio) are each grading out over an 85 in pass protection according to Pro Football Focus. The issues have come in the running game for this unit as a whole. Only one player (Tretter) is currently grading over a 67 from PFF in run blocking and this shows with their unit performance. The Browns are currently 28th in Power Success rate according to Football Outsiders, meaning on short yardage runs of two yards to go or less they are only converting 50% of the time. That is just not good enough. Not only have they been unable to convert in short yardage situations, but nearly a quarter (23%) of the Browns rushing attempts have been stopped at or behind the line of scrimmage, again 28th in the league. Even when the Browns get the job done up front, there are missed opportunities. In this clip, there is a zone run to the left. Hyde presses the hole playside, but there is a substantial crease on the backside as right tackle Chris Hubbard does a great job walling off the defensive end. Hyde should see this and potentially break out the backside for a monster gain, instead of just five yards.
This offensive line has performed better than expected after replacing a legend at left tackle. There is some great potential in this offense with playmakers like Jarvis Landry and the emerging David Njoku. If Baker Mayfield can speed up his decision-making clock, the Browns could be a force to reckoned with through the air.
Fantasy Impact
Trust: David Njoku
All signs are pointing up for Njoku going forward after seeing at least seven targets in five of his first six games this season, including double digits in his last two outings. Baker Mayfield clearly trusts Njoku even though he's catching less than 60% of his target this season. Without Josh Gordon to take away some redzone targets, Njoku should be the main target in the redzone for the Browns along with Jarvis Landry. He is an every-week TE1 for the remainder of the season and potential trade target if you've been playing tight end roulette.
Cause for Concern: Carlos Hyde
There are some major issues with the run blocking for this offensive line. The good news for current Hyde owners is that he has seen all of the Browns 10 attempts inside the five-yard line, converting five into touchdowns. If he starts to lose some of that work to Nick Chubb in the near future, Hyde's touchdown upside, which has saved his fantasy production to this point will evaporate. He can be considered a low-end RB2 right now, but the potential is there for Hyde to be reduced to flex consideration going forward.
Offensive Line to Watch - Los Angeles Chargers
Heading into 2018, it was starting to look like one of those years for the Chargers. Hunter Henry was lost early in the offseason to a torn ACL and Jason Verrett once again went down for the season. For once, the Chargers offensive line has not been the M.A.S.H. unit it usually becomes midway through a typical season. Mike Pouncey has stabilized the center position, and is outplaying his brother in Pittsburgh. Pouncey is back playing at a Pro Bowl level, something we haven't seen since 2015. His 76.3 grade according to Pro Football Focus is fifth best in the NFL at the position. His consistency in both the run and pass game (no less than a 73.8 grade in either skill) has anchored an offensive line that is in the middle of the pack in the NFL versus its traditional spot near the bottom. You can tell the impact of Pouncey early in the game on this run to the left by Melvin Gordon where Pouncey easily gets to the second level of the defense allowing Gordon to break off a big gain.
Not only has Mike Pouncey played well at center, but Michael Schofield has held off Forrest Lamp for the starting right guard job. Schofield is currently the 22nd ranked guard according to Pro Football Focus at a 68.2 grade. He's been very good in pass protection grading out at a 72.9 and a solid run blocker grading out at a 62. He's been a pleasant surprise so far this season for sure.
There have been two clear weak spots on this offensive line. Those have been left guard in Dan Feeney and the revolving door at right tackle. Feeney has graded out as the 72nd (out of 73) guards according to Pro Football Focus and has struggled in both pass protection and run blocking, grading out below a 46 in each. We could certainly see Forrest Lamp take over for Feeney at some point in the near future if he becomes a larger issue. The other issue with the offensive line has been the right tackle spot. Joe Barksdale was the starter at right tackle in 2017, but has given way to Sam Tevi. Tevi has struggled in pass protection, plain and simple. In this clip he over-sets the edge rusher, allowing the defensive end to cross his face. Once Tevi is off-balance, Melvin Gordon needs to pick up the end who is about to be in Philip Rivers' face. Due to Tevi being out of position, the line stunt by the Browns gets home for a sack on 3rd and 10.
Even with the multiple issues up front, the Chargers offense has been humming along. The coaching staff understands the limitations of the offensive line and has schemed up ways to help protect Philip Rivers so he can take shots down the field. This deep touchdown to Tyrell Williams is set up by the consistent run game. The play-action fake, coupled with both tight end Virgil Green and fullback Derek Watt staying in to block, gives Rivers a clear alley to step up and deliver a strike for a deep touchdown. It is schemes like this that will keep the big plays coming for the Chargers.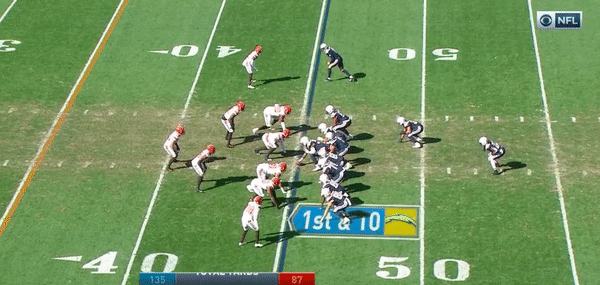 Fantasy Impact
Hold/Acquire: Keenan Allen
Allen's numbers have been fairly pedestrian up until this point with 434 yards and just one touchdown. Fantasy owners need to be patient will Allen because the production is going to come. Allen is still seeing 27% of the Chargers' team targets which is among the top-10 in the NFL. What was also intriguing was Allen's use in the running game this past week as the Chargers took a page out of the Rams playbook with jet sweep after jet sweep. I doubt Allen will average 4 carries per game, but to keep teams honest horizontally, the Chargers should continue to utilize Allen in this part of their playbook. He's a WR1 in all formats going forward and a potential nice buy-low candidate.
Top Five Offensive Lines
1) New Orleans Saints
2) Los Angeles Rams
3) Philadelphia Eagles
4) Detroit Lions
5) San Francisco 49ers
Bottom Five Offensive Lines
32) Buffalo Bills
31) Arizona Cardinals
30) Houston Texans
29) Minnesota Vikings
28) Tampa Bay Buccaneers

For any questions about offensive line play in the NFL, feel free to contact me @TheRealHalupka on Twitter.
More Fantasy Football Analysis