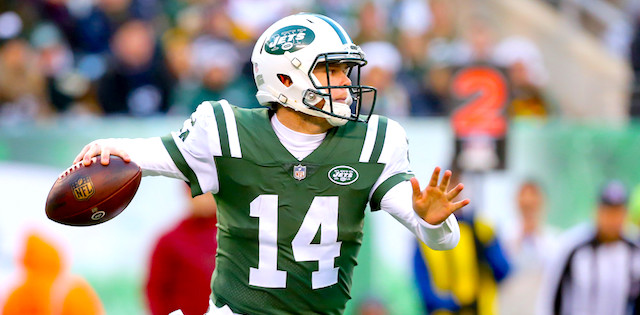 BALLER MOVE: Add in 2QB Leagues
OWNED IN: 13% of Leagues
ANALYSIS: Sam Darnold is finally back--or so he should be. Everything pointed to a Week 5 return, but Darnold himself and the Jets staff both deemed it too risky to push the sophomore to make an appearance this early. But Week 6 will see a change in the script and Darnold should be manning the team. Once he's back, the Jets will still have 12 games to play as they already completed their bye week. Not only will they have an extra game to play over most of the teams, but they will also have the 10th-best remaining SOS per RotoViz. Things look good for Darnold going forward.
Truth be told, Darnold is still a little bit of an unknown quantity. We're better off looking at his 2018 season rather than his lone 2019 outing. Last year, among quarterbacks with at least 12 games started, he ranked 21st out of 24 in passing yards and only Josh Rosen had a worse completion rate (57.73% to 55.22%). Darnold could only pass for 17 touchdowns and threw 15 interceptions to go with them, one of the worst ratios in the league. Since he doesn't carry much upside as a runner, all of his fantasy value has to come from the passing game.
Darnold's 2019 started with a bang, though. Darnold completed 28 of 41 passes for a much-improved completion rate of 68.29%, passed for 175 yards and score a touchdown through the air while not being intercepted. Digging a little deeper, though, some numbers might be a reason for concern: he averaged just 1.7 air yards per attempt and the average depth of his targets was a paltry 5.4 yards. Even with that, though, Darnold could make his game be worth buying with the tools he has around.
Le'Veon Bell is the main offensive weapon of the Jets all positions considered, so expect a ton of checks and short passes going his way for him to work the yardage downfield. Jamison Crowder is New York's slot receiver and he logged a season-high 17 targets in Week 1, profiling as a safety valve for Darnold. Robby Anderson's overall production should also improve with Darnold back as he is much better at throwing long balls than Luke Falk. All in all, Darnold should be a good player to add and keep stashed on your bench if you have room. When the most favorable part of the Jets schedule comes in the second half, you will want him, as New York will face Miami two times along with Washington, the Giants, Oakland, and Cincinnati.
Check out RotoBaller's famous fantasy football draft sleepers and waiver wire pickups list, updated regularly!