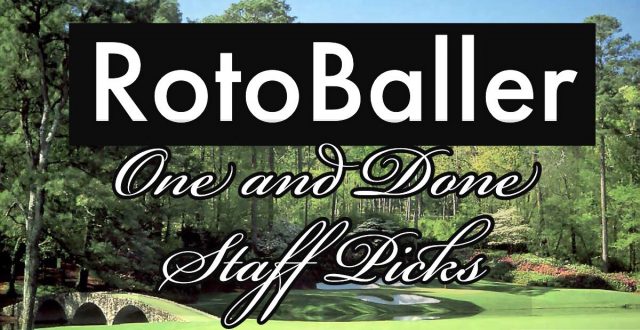 Here at RotoBaller, we are always searching for ways to give our readers the best fantasy sports content possible. With that goal in mind, we are very proud to announce the addition of a weekly PGA "One and Done" column. In this feature, our golf staff of Joe Nicely, Spencer Aguiar and Gianni Magliocco will provide their weekly golf picks every Wednesday. The purpose of this article is to present you with alternative options to consider and hopefully make your selection a much easier process weekly. With that plan in mind, let's get started!
After last weeks break, we're back at it at the Wells Fargo Championship. Coming into this week with plenty of momentum is Spencer, whose pick of Matt Kuchar at the RBC Heritage netted him a whopping $745k to vault him right back into contention in our contest. Joe and I fared poorly, but with Joe still buzzing off of his big win on Tiger at the Masters, the gauntlet has been thrown down to myself, and I'm glad to see the back of April, which has been a sloppy month selection wise.
The Wells Fargo Championship has been a happy hunting ground for big names in recent years, with Rory McIlroy, Jason Day and Rickie Fowler all recording victory here, so it'll be interesting to see what strategy the guys employ this week.
For an in-depth breakdown of the top DraftKings and Fanduel plays, check out Joe Nicely's weekly Horse For The Course that highlights the best fits for the week's course.
And you can also find out who the smart money is on by checking out Spencer Aguiar's PGA DFS: Vegas Report every week.
Editor's Note: Our friends at Fantasy National have built some incredible DFS Golf lineup tools including a Lineup Optimizer, Stat Engine, Ownership Projections and Course Breakdowns. They are by far the best daily fantasy Golf tools in the industry. Seriously. You can read all about them here and see screenshots. 
Wells Fargo Championship - Quail Hollow
7,554 Yards - Par 71 - Greens Bermuda
Quail Hollow is a long golf course, which was made even longer for the 2017 PGA Championship. Lengthy par-4's, and ultra-fast greens make this one of the toughest stops on Tour, and whoever triumphs this week will have undoubtedly earned that W. Rory McIlroy, Jason Day and Rickie Fowler's recent victories show that the cream often rises to the top here, and lets not forget Justin Thomas' win here at the PGA Championship either. Tee to green play will be the area to focus on this week, as consistency in this department is crucial to having a good week at Quail Hollow.
One and Done Selections
Joe Nicely - Rickie Fowler
Alternate - 
After completely striking out with Benny An two weeks ago at the RBC Heritage, I'm feeling a lot of pressure to get this one right. There are plenty of high-end options available in what's a top-heavy Wells Fargo Championship field and lots of guys that are worth consideration. Rory McIlroy seems like a natural selection with his two wins at Quail Hollow, but Rors is already off the board for me
My mind then goes to players like Jason Day and Justin Rose, both of whom have strong previous results in this event. While both are elite options, Day's health and Rose's recent inconsistency makes me hesitant to pull the trigger on either. Ultimately, I decided to go with a player that I really like, but one that never seems to be at the very top of my list. Rickie Fowler is about as consistent as they come. He's made 11 cuts in 11 starts this season with a win at the WMPO and a runner-up finish at the Honda Classic. The 'Orange One' heads to North Carolina off a top-10 effort at the Masters, and he's been nails at Quail Hollow throughout his career with a win here in 2012, a T5 in the 2017 PGA Championship, and a T21 in last year's Wells Fargo.
Rickie never seems to pop for me statistically - and that's honestly the case again this week - but he's the type of player that is simply really good at everything. With both Gianni and Spencer having already used Fowler in our OAD contest, I'm going to attempt to get a leg up on the guys this week. - Joe Nicely
Yearly Earnings - $3,305,943

Yearly Cuts Made - 12/15
Spencer Aguiar - Tony Finau
Alternate - Jason Day
After a one week break in the 'One and Done' contest, I finally get to register my $745,200 from Matt Kuchar's second-place showing at the RBC Heritage. Delayed payments from the American seem to have become the norm, but I can't complain too much in this situation. The nearly three-quarters of a million dollars is the most money ever paid out by the 40-year-old, and I didn't have to make a public statement like temporary caddie 'El Tucan' did to receive the money.
I am still way behind the eight-ball when it comes to Gianni's nearly 5.8 million dollars that he has earned through 15 events, but if I am being honest, the Wells Fargo Championship has me feeling like a child waking up on Christmas morning and finally getting to open my presents that have been sitting under the tree. For those of you that follow me weekly here at RotoBaller for the PGA DFS: Vegas Report, you are aware of the numerous times I have recommended Tony Finau. Unfortunately, his outright betting price is no longer conducive to warrant such weekly admiration during my article, but the 'One and Done' contest lets me have another platform to salivate over Finau's talent
The 29-year-old is long, straight and can hit it from all angles, and while it may sound like I am describing an X-rated Tinder profile that he uses, his game can only be defined using such crass terminology. It has been hard to avoid the big-hitting American the other nine times he has teed it up this season, but the time has finally come for me to unwrap Finau and all his glory. - Spencer Aguiar
Yearly Earnings - $3,449,871
Yearly Cuts Made - 14/15
Gianni Magliocco - Webb Simpson
Alternate - Paul Casey
Webb Simpson owns a house at Quail Hollow, but that's not the only reason why he should go well this week. Simpson has been excellent as of late, recording three top-20's in his last four starts and encouragingly at his previous outing he recorded his best tee to green performance of the year.
Simpson also has a quality record at this event, with two top-five finishes in recent times. He has missed the cut in two of his last three visits here, but last year he recorded a top-25 finish and the way he is currently hitting the ball, it'd be a surprise if he doesn't feature heavily over the weekend at the Wells Fargo. - Gianni Magliocco
Yearly Earnings - $5,744,505
Yearly Cuts Made - 13/15
Running Totals
Joe Nicely

Spencer Aguiar

Gianni Magliocco

Sony Open

Gary Woodland 

$11,520

Justin Thomas

$99,200

Kevin Kisner

$12,864

Desert Classic

Jon Rahm

$212,400

Jon Rahm

$212,400

Patrick Cantlay

$159,300

Farmers Insurance

Marc Leishman

$21,158

Patrick Cantlay

$0

Charles Howell III

$79,804

Waste Management

Hideki Matsuyama

$113,600

Webb Simpson

$76,917

Justin Thomas

$482,800

Pebble Beach

Chez Reavie

$31,160

Phil Mickelson

$1,368,000

Phil Mickelson

$1,368,000

Genesis Open

Xander Schauffele

$100,788

Hideki Matsuyama

$177,600

Dustin Johnson

$177,600

WGC Mexico Championship

Justin Thomas

$201,000

Xander Schauffele

$128,000

Tommy Fleetwood

$103,750

Honda Classic

Adam Scott

$0

Gary Woodland

$25,346

Adam Scott

$0

Arnold Palmer

Rory McIlroy

$294,613

Justin Rose

$19,474

Jason Day

$0

Players Championship

Sergio Garcia

$125,000

Tiger Woods

$77,625

Rory McIlroy

$2,250,000

Valspar Championship

Patrick Reed

$0

Sergio Garcia

$15,209

Henrik Stenson

$54,270

WGC-Match Play

Ian Poulter  

$108,429

Haotong Li

$167,000

Francesco Molinari

$712,000

Valero Texas Open

Tony Finau

$16,275

Rickie Fowler

$112,500

Tony Finau

$16,275

Masters

Tiger Woods

$2,070,000

Bubba Watson

$225,400

Rickie Fowler

$310,500

RBC Heritage

Beyond Hun An

$0

Matt Kuchar

$745,200

Brandt Snedeker

$17,342
Our friends at Fantasy National have created some game-changing DFS Golf tools, and you can read all about them here. They are hands-down the best daily fantasy Golf tools in the industry.Premium DFS Golf Tools and Lineup Optimizer
Golf DFS News and Player Outlooks