Here at RotoBaller, we are always searching for ways to give our readers the best fantasy sports content possible. With that goal in mind, we are very proud to announce the weekly PGA "One and Done" column will be back for the fourth season.
For an in-depth breakdown of the top DraftKings and FanDuel plays, check out Joe Nicely's weekly Horse For The Course which highlights the best fits for the week's course. And you can also find out who the smart money is on by checking out Spencer Aguiar's PGA DFS: Vegas Report every week.
Be sure to also read all of our other top-notch weekly PGA DFS and betting articles to help you win big!
One and Done Selections - The RBC Canadian Open
In this feature, our golf staff of Joe Nicely, Spencer Aguiar, Andrew Putters, Josh Bennett, Byron Lindeque and our special guest will provide their weekly golf picks every Wednesday. The purpose of this article is to present you with alternative options to consider and hopefully make your selection a much easier process weekly. With that plan in mind, let's get started!
Alternate - Tommy Fleetwood
In a week that feels full of uncertainty - both on the course and off - the veteran Englishman offers a nice steadying presence. His vast experience on all different types of courses means he should handle the "newness" of Oakdale without issue and it appears to be a terrific fit on paper that suit his old school skill set rather than the modern bomb-and-gouge tactics preferred by the younger generation.
In addition to the presumed course fit, Rose also brings sharp form that can't be ignored in an event that's dotted with so-so performers once we get past a few featured groups. The veteran has rarely set a foot wrong in 2023, grabbing a victory at Pebble Beach early in the year and ripping off top-25 finishes in each of his last four starts thanks to magnificent work with the irons. Though he's 42, Rose reminded us that he can still win at the AT&T Pebble Beach Pro-Am and he's certainly capable of getting it done this week.
Yearly Earnings - $3,415,392
Yearly Cuts Made - 19/20
Alternate - Adam Hadwin
This week is just a week that one player very much stands out and there's really no need to re-think it. Hatton hasn't been outside of the top 20 since the Masters, and even played pretty decently there given he's been outspoken about not liking Augusta. Maybe sneakily, maybe not, one of the most consistent players on Tour this year, in a field full of mostly not great golfers. Great form, gains in all four major strokes gained categories, no need to think about this any further, Hatton has a great chance to win and is a top class player in the field, lock it in (if available)!
Yearly Earnings -$6,304,892
Yearly Cuts Made - 16/20
Did you know RotoBaller has a Premium DFS PGA subscription?
Like what you read today? You can show your support for Spencer by using the promo code TEEOFF when purchasing a PGA Premium Pass. You get 10% off and full access to all of our Premium PGA articles, DFS tools, and Lineup Optimizer! You also get access to weekly betting picks from Spencer Aguiar, one of the top betting minds in the industry. Spencer is absolutely crushing out of the gate in 2022!
Alternate - Tommy Fleetwood
My model noticed a few statistical answers that turned Cameron Young into the best upside option in the field when we ignored his paltry current form. I realize how someone is producing does matter, but I expect Oakdale to play as a different venue than some of these challenging stops that have caused Young issues with his short game.
My numbers made him one of only two players (Sam Burns) in this field to grade inside the top 10 for every statistical metric I ran in my model. That naturally generates a higher floor for this track than we have gotten during his previous four events where he has failed to post a top 50, but the key to this puzzle might end up being his 'Expected Realization Of Opportunities Created.'
That stems from how often someone will generate a birdie look and capitalize on it by making the putt. We don't think of Young as someone that makes a ton of putts on any given week, but my math had him as the 23rd-best putter in this field when given looks from 5-15 feet on similar greens.
I will shoot for all the upside since we know I could use it.
Yearly Earnings - $3,952,104
Yearly Cuts Made - 12/20
"I am tempted to just take a guy who can't putt, that way a poor putting performance won't be a surprise. Naturally, by that logic, we should roll out Scottie Scheffler, which is exactly what we are going to do." - the Memorial OAD article. Guess what folks, Scheffler lead the field in SG ARG, SG APP, and SG OTT while …. and now queue the drumroll pleeeeeaaase … while finishing dead last in putting for the week. He somehow finished third with the largest differential between SG tee-to-green and SG putting … in the SG era!!! We will begrudgingly take our 1 mil that he snagged putting like my dad after 15 Keystones. 
I am going to burn a big name this week as I am hoping he won't be on too many people's radars as his driver took a trip with Charlie to the chocolate factory the last three events, as it has been rather wonky since the Wells Fargo Championship. But, this week Sahith Theegala has the golden ticket to leave that candy crusted mystery stick in the bag and start sugar coating tee shots with that driving iron that got him into the lead at the WMPO in 2021 before a bad bounce on the 2nd-last hole saw his ball plop into the chocolate river alongside 17 green. 
Outside of the driver, Sahith provides nothing but magic in the other areas of his game. If we get a bit of a birdie fest this week on an unknown course, Theegala should be just fine considering he makes the 2nd-most birdies in the field. He is also the most aggressive wedge player on tour, hitting 15% of his shots inside 6 feet from 100-150 yards this year. If we can get an outlier performance from him this week in this department, could we maybe see him knock 1 in every 4 wedges to kick in range? About half the approach shots on this course will come from less than 150 yards.
He also has been putting really well over the last 24 rounds, gaining the 4th-most strokes on the greens over the last two-dozen rounds, making Sahith Theegala our Willy Wonker Won-n-Doner for the week. 
Yearly Earnings - $8,546,420
Yearly Cuts Made - 18/20
Alternate - To Come
Yearly Earnings - $6,328,423
Yearly Cuts Made - 15/20
Mia The Model - Tommy Fleetwood
Alternate - Cameron Young
Byron T20

TeeOff T20
*** All previous picks removed!
Aggregated Results
One of the significant differences you will notice is that I attached the aforementioned percent weight to each player when I randomized the list for the week. That means an option like Cameron Young got rewarded for being a better option for our models (which we see with his 15% chance) all the way down to the bottom of our board in TONS of names receiving 5% of the projected pick equity.
We agreed on randomizing the list five times to settle on the name, and Mia has decided she wants to roll with Tommy Fleetwood this week as the selection and Cameron Young as the alternate.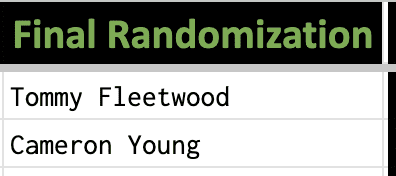 Let us know what you think of her chances this week!
Yearly Earnings - $9,619,198
Yearly Cuts Made - 17/20
Running Totals
Follow along here on the OAD Spreadsheet!
Win Big With RotoBaller
Golf is back, and it's time for you to win big with RotoBaller!
Our PGA DFS Premium Package
 features several savvy analysts and proven DFS winners.
Our very own Joe Nicely recently took down a big DraftKings DFS tournament for the Travelers Championship. And as an encore, RotoBaller subscriber @tenndolly2 won $100K on FanDuel with the help of Joe and the rest of our Premium PGA team:
If you read my articles @RotoBaller or listen to @TheTurnGolfPod I've been telling y'all it was #WinningSeason when golf came back! Shoutout to the entire @RotoBallerPGA squad and all you guys that support my work for all the ❤️ pic.twitter.com/07a4ynvbSU

— Joe Nicely (@JoeNicely) June 28, 2020
Congrats @tenndolly2 ???

Thanks for being a @RotoBaller PGA DFS Premium subscriber & checking out all the amazing golf content that @JoeNicely produces every week! https://t.co/tHKZVsPbbt

— RotoBaller PGA (@RotoBallerPGA) August 10, 2020
Between all the incredible
Premium PGA DFS
content and tools we put out each week, and our Premium Slack Community where we chat with our subscribers before lineups lock, RotoBaller PGA subscribers are armed with the tools, analysis, and advice to win big.
Golf DFS News and Player Outlooks
More PGA Analysis and DFS Lineup Picks