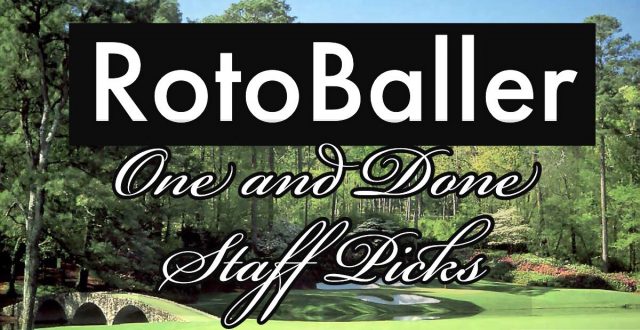 Here at RotoBaller, we are always searching for ways to give our readers the best fantasy sports content possible. With that goal in mind, we are very proud to announce the addition of a weekly PGA "One and Done" column. In this feature, our golf staff of Joe Nicely, Spencer Aguiar and Gianni Magliocco will provide their weekly golf picks every Wednesday. The purpose of this article is to present you with alternative options to consider and hopefully make your selection a much easier process weekly. With that plan in mind, let's get started!
The Arnold Palmer Invitational provided different experiences for all three of us with myself bringing up the rear for the week's earnings. My fate was sealed on day one during the seventh hole when Jason Day called it quits and revealed after the round that he had an MRI before the event which showed he had a torn muscle in his back. For most a severe injury like that would lead to intense rest and treatment, but it was a trip to Disney World for the Aussie post his withdrawal which looks to have done the trick, and he's in this week's field for The Players. While I took home nothing for the week, Spencer didn't fare much better, with a rare poor showing from Justin Rose giving him a payout of just $19,474. It was a different story for Joe though, whose pick of Rory Mcilroy netted him just shy of $300,000 and it gets him a little closer to both myself and Spencer in the leading totals.
Now we move on to one of the most significant events of the year both in the golfer's minds and our competition. The PLAYERS provides the biggest purse of the year, and it will no doubt lead to some aggressive picks with so much at stake.
For an in-depth breakdown of the top DraftKings and Fanduel plays, check out Joe Nicely's weekly Horse For The Course that highlights the best fits for the week's course.
And you can also find out who the smart money is on by checking out Spencer Aguiar's PGA DFS: Vegas Report every week.
Editor's Note: Our friends at Fantasy National have built some incredible DFS Golf lineup tools including a Lineup Optimizer, Stat Engine, Ownership Projections and Course Breakdowns. They are by far the best daily fantasy Golf tools in the industry. Seriously. You can read all about them here and see screenshots. 
2019 The PLAYERS Championship - TPC Sawgrass
7,189 Yards - Par 72 - Greens: Bermuda
With a new slot in the schedule, the TPC Sawgrass which we know so well may play slightly differently this year. The course is expected to play a little longer than usual due to the speed of the track not being so fast in March. As always, however, there will be a massive emphasis on accuracy and ball striking at the tight and quirky layout. Strokes gained approaching the green is the most significant statistic to focus on this week, as in the past it's often been the best ball striker for the week which has reigned supreme at TPC Sawgrass.
Expect for dramatic finishes at the end of each day, as the famous 17th island green and treacherous 18th hole with water down the left have crushed the dreams of many players here in the past.
One and Done Selections
Joe Nicely - Sergio Garcia
Alternate - Ian Poulter
As I write this I'm still trying to recover from my Rory McIlroy "what might have been" at Bay Hill. A McIlroy win would have really put me back in the thick of things, but instead, I was only able to make up some ground. Anyway...we're on to THE PLAYERS, a tournament that is always tough to predict on a maddeningly balanced TPC Sawgrass layout. Obviously the prize money and 'OAD' implications at stake are HUGE, but it also seems like a spot where the ultra-elite guys strikeout a lot. For that reason, I'm going to embrace the volatility this week and go with Sergio Garcia.
We know that Sergio can be unpredictable, but he's actually been very solid at THE PLAYERS throughout his career. He won the title here back in 2008 and has a handful of strong finishes over the years. The course history is nice, but Garcia's current form is especially appealing. Since crossing the Atlantic back in January, the Spaniard has been striping his irons and has averaged a shade over 6.5 Strokes Gained: Approach in his three 2019 starts in North America, good for two top-10 outings. With his game in its current form, Garcia brings true tournament-winning upside to the Stadium Course. Is it possible Sergio puts a few in the water Friday and misses the cut? Sure...but I feel the same thing could be said for basically any player in this field, which makes me inclined to save my 'elite' players for tournaments that are a bit more predictable. - Joe Nicely
Yearly Earnings - $986,238

Yearly Cuts Made - 8/9
Spencer Aguiar - Tiger Woods
Alternate - Brooks Koepka
Last weekend couldn't have gone much worse for me with Justin Rose concluding the Arnold Palmer Invitational in a share of 63rd place. You ideally would like to earn at least a six-figure payday when you burn a top-10 golfer in the world, and Rose's cash of under $20,000 is especially painful when you consider he has been the most consistent golfer in the world for nearly two years. However, what's done is done, and I need to quickly get my head back on straight to avoid another disaster at the Players Championship. This week's selection came down to four players for me. If I had Justin Thomas available, he would have been heavily included in the mix, but Tiger Woods, Jason Day, Brooks Koepka and Ian Poulter were all names I considered going with for one reason or another. I eventually got rid of Poulter because it seemed to be too outside of the box to take the Englishman in the biggest pursed tournament so far this season. And as much as I like Jason Day as an outright bet and GPP selection on DFS sites, it probably doesn't make logical sense to go down that road when nearly two million dollars is up for grabs if you can correctly identify the winner.
An argument could be made that Tiger Woods possesses an equally dangerous likelihood for a catastrophic mid-tournament withdrawal, but I highly doubt we would see the 43-year-old tee it up on Thursday and not make it through four rounds for any other reason than missing the cut. Woods has become a surgical mastermind when the driver is taken out of his hands, and a course like TPC Sawgrass should highlight his immaculate iron play. I will be using Koepka as my alternate selection if something does happen to go wrong with Woods on Thursday, but I think this is an excellent spot to use the 80-time PGA Tour winner, and I am expecting a quality result from him this weekend. - Spencer Aguiar
Yearly Earnings - $2,106,937
Yearly Cuts Made - 8/9
Gianni Magliocco - Rory McIlroy
Alternate - Xander Schauffele
The biggest purse of the year is combined with an event which usually throws a spanner in the works with a surprise package of players at the top of the leaderboard come Sunday. Despite this, I feel with Sawgrass likely to be less dried out at this time of year, thus playing longer, Rory McIlroy fits the bill.
The Ulsterman has been impressive of late until it comes down to crunch time on Sunday. But despite his struggles on Sunday, McIlroy has now recorded five top-six finishes to begin the year. McIlroy has gained strokes for his approach play in his last eight successive events, and at a ball strikers course such as Sawgrass, there's no reason why he can't add to those impressive finishes he's had to start the year. McIlroy has struggled at the tournament over the last couple of years which is a little concerning, but he enters this week in excellent form, and he has also recorded three top-10 finishes here in the past.- Gianni Magliocco
Yearly Earnings - $2,384,118
Yearly Cuts Made - 7/9
Running Totals
Joe Nicely

Spencer Aguiar

Gianni Magliocco

Sony Open

Gary Woodland 

$11,520

Justin Thomas

$99,200

Kevin Kisner

$12,864

Desert Classic

Jon Rahm

$212,400

Jon Rahm

$212,400

Patrick Cantlay

$159,300

Farmers Insurance

Marc Leishman

$21,158

Patrick Cantlay

$0

Charles Howell III

$79,804

Waste Management

Hideki Matsuyama

$113,600

Webb Simpson

$76,917

Justin Thomas

$482,800

Pebble Beach

Chez Reavie

$31,160

Phil Mickelson

$1,368,000

Phil Mickelson

$1,368,000

Genesis Open

Xander Schauffele

$100,788

Hideki Matsuyama

$177,600

Dustin Johnson

$177,600

WGC Mexico Championship

Justin Thomas

$201,000

Xander Schauffele

$128,000

Tommy Fleetwood

$103,750

Honda Classic

Adam Scott

$0

Gary Woodland

$25,346

Adam Scott

$0

Arnold Palmer

Rory McIlroy

$294,613

Justin Rose

$19,474

Jason Day

$0
Golf DFS News and Player Outlooks
Premium DFS Golf Tools and Lineup Optimizer
Our friends at Fantasy National have created some game-changing DFS Golf tools, and you can read all about them here. They are hands-down the best daily fantasy Golf tools in the industry.