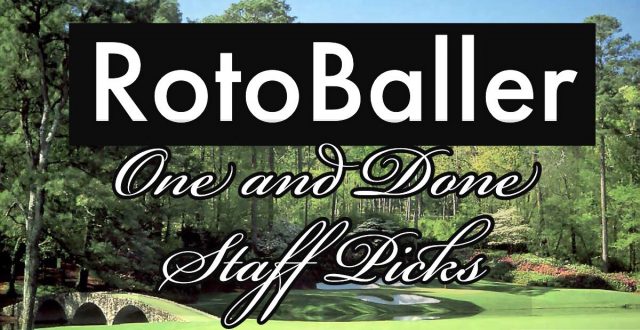 Here at RotoBaller, we are always searching for ways to give our readers the best fantasy sports content possible. With that goal in mind, we are very proud to announce the addition of a weekly PGA "One and Done" column. In this feature, our golf staff of Joe Nicely, Spencer Aguiar and Gianni Magliocco will provide their weekly golf picks every Wednesday. The purpose of this article is to present you with alternative options to consider and hopefully make your selection a much easier process weekly. With that plan in mind, let's get started!
It has been a nice run for Gianni, Joe and I in the past four events. Ten of our 12 combined paydays have resulted in six-figure scores, not to mention the two outright victories at the Pebble Beach Pro-Am for Gianni and myself. Last week at the WGC-Mexico Championship, Joe was the winner with a payout of $201,000 from Justin Thomas, although I am sure he wasn't overly pleased to have made up less than 100k after using one of the premier players in the game. Gianni and I both contributed top-20 finishes, with Xander Schauffele earning me $128,000, and Tommy Fleetwood bringing in Gianni $103,750.
The Honda Classic is the smallest purse we have had in the previous five tournaments, coming in at $3.45 million less than last week's WGC-Mexico Championship, and it is arguably one of the weaker fields we have had this season. Game-theory would most likely suggest taking your foot slightly off the gas this weekend in Florida, but the options start to get a little thin after the first 10 or so names at the top of the board. I am interested to see how the guys decided to approach this week, so without further ado, let's get into the selections for the Honda Classic.
For an in-depth breakdown of the top DraftKings and Fanduel plays, check out Joe Nicely's weekly Horse For The Course that highlights the best fits for the week's course.
And you can also find out who the smart money is on by checking out Spencer Aguiar's PGA DFS: Vegas Report every week.
Editor's Note: Our friends at Fantasy National have built some incredible DFS Golf lineup tools including a Lineup Optimizer, Stat Engine, Ownership Projections and Course Breakdowns. They are by far the best daily fantasy Golf tools in the industry. Seriously. You can read all about them here and see screenshots. 
2019 Honda Classic - PGA National
7,140 Yards - Par 70 - Greens Bermuda
The complexity of PGA National will come down to how extreme the wind conditions are this weekend. In 2018, the course played as the second most difficult on tour, and it has been one of the 10 most demanding tracks nine of the past 12 seasons. Early forecasts have the wind playing less of a factor than usual, but that can turn on a dime in Florida. Twenty-six water hazards are spread throughout the venue, and 13 of the holes have water come into play.
While the 'Bear Trap' holes of 15, 16 and 17 have played as the third hardest three-hole stretch outside of the majors at +0.64, holes five, six and seven are almost equally as challenging, coming in as the fourth most difficult three-hole stretch at +0.618. To make matters worse, 107 sand traps are littered throughout the venue, and golfers can begin to feel trapped by the unforgiving landmines.
The cut line has been +1 or higher in each of the past six years, reaching a high of +6 in 2018. Strategy off the tee will come into play, and players will need to know what holes they can be more aggressive on and when to lay up off the tee. PGA National is a second-shot course, and golfers that can gain strokes with their long irons will have an advantage. Ball striking, par-four scoring and bogey avoidance will also be necessary, and one bad shot can change the entire complexion of the event.
One and Done Selections
Joe Nicely - Adam Scott
Well, I managed to make up a tiny bit of ground on the guys last week, though I was hoping for a little more than a ninth-place finish from Justin Thomas in Mexico. With my J.T. bullet already fired, I'm looking outside of the world's top-five players for this week's Honda Classic.
Once upon a time, Adam Scott was mentioned in that 'top-five player in the world' category. The Aussie has gone through some peaks and valleys with his game over the last few years but seems to have finally come out of the darkness and back into the light. A serious run in last year's PGA Championship seems to have sparked something in Scott and he has looked terrific in 2019, having already logged a second-place finish and a T7 in just four starts.
Scott brings that good form to a golf course that he has dominated. He won the Honda in 2016 and hasn't finished outside of the top-15 since 2014. At just 38-years-old, it's not too late for Scott to put himself back among the world's elite players and I look for him to make a strong statement with his play this week.
- Joe Nicely
Yearly Earnings - $691,626

Yearly Cuts Made - 7/7
Spencer Aguiar - Gary Woodland
Full disclosure, I would have used Webb Simpson if I still had him available. I think PGA National is the perfect venue to emphasize his strengths, but since I don't have him as an option, I will pivot to Gary Woodland. My one concern with Woodland is that he has never performed exceptionally well during the 'Florida Swing,' but the 34-year-old is playing some of the best golf of his career, and it's not like he hasn't provided quality results in the past.
Around three years ago, Woodland moved to Delray Beach, Florida, which is around a 30-minute drive to PGA National. For the first and only time this season, he'll sleep in his own bed the week of a tournament, and while many golfers could say the same thing with Florida being one of the most popular places to reside, few have been as vocal about what this week will mean to them. On Tuesday, Woodland expressed how nice it was to have a "home week" and added that the lure of playing PGA National is one of the main reasons the Honda Classic is on his schedule, stating "I love this golf course for me."
The three-time PGA Tour winner is ranked first in total driving, first in ball striking, fifth in par-four scoring and second in birdie or better percentage compared to the field, and he enters the week having produced three straight top-17 results on the PGA Tour. A second place finish at PGA National in 2017 shows that he does have an eye for the course, and I am hoping that Woodland feels right at home this weekend. -Spencer Aguiar
Yearly Earnings - $2,062,117
Yearly Cuts Made - 6/7
Gianni Magliocco - Adam Scott
Adam Scott and the Honda Classic go hand in hand together. The Australian has excelled here in the past, winning the event back in 2016, and recording top-15 finishes in each of his last four visits. Scott's play at the tournament has been so good that he is the strokes gained total leader for the past five years, despite only appearing four times in that period.
Scott's recent form is also impressive. The former Masters champion has two top-10 finishes in his last three outings and even more encouragingly is that the new flag-stick rule appears to be benefiting him greatly. The Australian has gained strokes on the greens in every event he has played thus far in 2019, and that's an excellent sign ahead of his appearance at a track where he is very comfortable.
In what is, a considerably weaker field than usual at the Honda Classic, it looks an excellent time to chance Adam Scott as a one and done selection, with their being a high chance he doesn't go off at a higher DraftKings price than he is this week for the rest of the year. - Gianni Magliocco
Yearly Earnings - $2,384,118
Yearly Cuts Made - 7/7
Running Totals
Joe Nicely

Spencer Aguiar

Gianni Magliocco

Sony Open

 Gary Woodland 

$11,520

Justin Thomas

$99,200

Kevin Kisner

$12,864

Desert Classic

Jon Rahm

$212,400

Jon Rahm

$212,400

Patrick Cantlay

$159,300

Farmers Insurance

Marc Leishman

$21,158

Patrick Cantlay

$0

Charles Howell III

$79,804

Waste Management

Hideki Matsuyama

$113,600

Webb Simpson

$76,917

Justin Thomas

$482,800

Pebble Beach

Chez Reavie

$31,160

Phil Mickelson

$1,368,000

Phil Mickelson

$1,368,000

Genesis Open

Xander Schauffele

$100,788

Hideki Matsuyama

$177,600

Dustin Johnson

$177,600

WGC Mexico Championship

Justin Thomas

$201,000

Xander Schauffele

$128,000

Tommy Fleetwood

$103,750
Golf DFS News and Player Outlooks
Premium DFS Golf Tools and Lineup Optimizer
Our friends at Fantasy National have created some game-changing DFS Golf tools, and you can read all about them here. They are hands-down the best daily fantasy Golf tools in the industry.