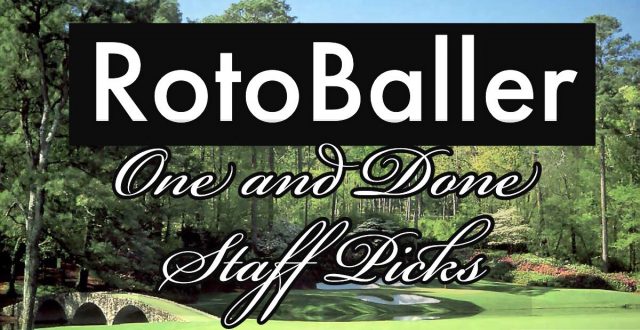 Here at RotoBaller, we are always searching for ways to give our readers the best fantasy sports content possible. With that goal in mind, we are very proud to announce the weekly PGA "One and Done" column will be back for a second season. In this feature, our golf staff of Joe Nicely, Spencer Aguiar and Josh Bennett will provide their weekly golf picks every Wednesday. The purpose of this article is to present you with alternative options to consider and hopefully make your selection a much easier process weekly. With that plan in mind, let's get started!
We are two weeks into the OAD season and things are already off to a fast start in this year's Rotoballer contest. Josh and Joe have taken mirror-imaged routes so far, earning $617,875 with their two top-10 results. As for me, well... I was a week too early on Abraham Ancer at the Sony Open, and the bad luck run continued at the American Express. Paul Casey double-bogeyed the 13th and 14th holes to drop from fourth place to his eventual finish of a share of 21st, and those sorts of collapses have become all too common for my players over the past year. I am going to need to dig deep to get myself back into contention at this week's Farmers Insurance Open, and I am interested to see if the guys will continue their carbon copy approach of making the same selection.
For an in-depth breakdown of the top DraftKings and FanDuel plays, check out Joe Nicely's weekly Horse For The Course that highlights the best fits for the week's course. And you can also find out who the smart money is on by checking out Spencer Aguiar's PGA DFS: Vegas Report every week. Be sure to also read all of our other top-notch weekly PGA DFS and betting articles to help you win big!
Editor's Note: Get our full-season PGA and DFS Premium Pass for 50% off. Our exclusive Lineup Optimizer, DFS Tools, and weekly Premium DFS Research.
Sign Up Now!
One and Done Selections
Alternate -  Tony Finau
This is the first tournament of 2020 that ​feels big​, so I'm going with the man that's still the biggest player in the game, even at 44-years-old. I didn't expect to use Tiger Woods so early in the season, but there are a couple of reasons that I'm on the legend this week.
We know that Tiger is going to play a very limited schedule this season, so we won't really have a ton of opportunities to use him for OAD purposes throughout the year. There's also some legitimate injury and fatigue concerns with him as the season wears on, while right now, he's probably as healthy as he's going to be in 2020.
There's also the fact that Tiger has looked amazing the last couple of times we've seen him in action - a win at the ZOZO and a razor-sharp President's Cup appearance. I love where he is with both his swing and short game - and though it might sound crazy to say - the guy appears to be in some of the best form of his career. Sure, there are some rust concerns with him this week, but I'm comforted by the fact that he's won at Torrey Pines EIGHT TIMES in his career! Tiger has a knack for doing the impossible and unexpected, and I look for an exciting performance from him this week. - Joe Nicely
Yearly Earnings - $617,875
Yearly Cuts Made - 2/2
Alternate - Tony Finau
This is the first tournament where leveraging ownership seems counterintuitive. There are a ton of options to play on this board, and everyone is going to have their fair share of support. If you were looking to go outside the box near the top of the board, Rickie Fowler is going to be barely owned and does bring upside for success, even if his past results at Torrey Pines aren't overly encouraging.
While I did consider it as an intriguing contrarian path to take, I am not going to go that route, as I believe I need to try and get myself back into contention first and stop the early bleeding I have suffered. Rory McIlroy's equipment change would cause me some concern in using him, although I do think he is thoroughly entrenched as an option for those looking to be sly. Other golfers such as Jon Rahm, Xander Schauffele, Tony Finau and Gary Woodland all made my shortlist, and I even contemplated the thought of keeping my rogue mentality going with Byeong Hun An.
But after long deliberation, I've decided to rein in my level of aggressiveness and go with Hideki Matsuyama. I assume he is going to be one of the most popular selections for the event, but the timing of using him could not be more ideal. The Phoenix Open is next weekend - a tournament where Matsuyama has provided five top-15 finishes since 2014, including back-to-back victories in 2016 and 2017 - and I can say unequivocally that most OAD participants will be saving him until then.
There is nothing wrong with that concept, but proper game theory for most participants would indicate needing to go a different route for contrarian purposes, even at this point of the year. I believe there are a lot of quality course history guys playing next week, which makes it even easier to pivot off of Matsuyama in Arizona and onto him this weekend at Torrey Pines. -Spencer Aguiar
Yearly Earnings - $90,789
Yearly Cuts Made - 2/2
Alternate - Brandt Snedeker
At first, I wasn't sure if I wanted to burn one of the big dogs this early into the season, but I'm having a hard time convincing myself Rahm won't win, so I can't pass on this one. For starters, he's already won this event before, and his game definitely fits the course.
You have to be long here, have a good short game and be a good scrambler if you miss these small greens from the long approaches, and Rahm definitely fits both of those categories. He's also in really good form with a 10th and a second-place finish in his last two PGA events, which I like much more over guys that will be coming into this event cold. I especially like him in a tournament like this because he always seems to show up around the top of the leaderboard in stacked events like this one.
His mental game is always the wild card, but I think because this is a non-major that there is a little less pressure on him so it will be a little easier to stay relatively composed for four days. Repeat winners are common here as well. Brandt, Day, and Tiger have all won multiple times, and I think Rahm adds his name to that list this week. – Josh Bennett
Yearly Earnings - $617,875
Yearly Cuts Made - 2/2
Running Totals
| | | |
| --- | --- | --- |
| Joe Nicely | Spencer Aguiar | Josh Bennett |
| Webb Simpson $455,400 | Abraham Ancer $27,390 | Webb Simpson $455,400 |
| Sungjae Im $162,475 | Paul Casey $63,399 | Sungjae Im $162,475 |
Golf DFS News and Player Outlooks