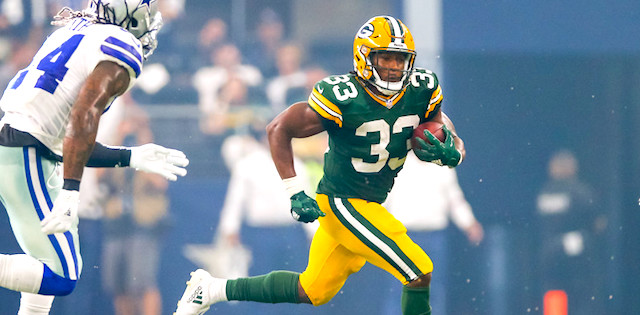 Popular sleepers casually dismissed. No-name rookies selected in the latter stages. Drew Brees available in the 14th round. This must be an expert mock!
The good folks at Fleaflicker recently hosted an expert mock draft including 12 of our finest fantasy football analysts. I have done a couple of early drafts already but much has changed just in the past week, including increased concerns about Melvin Gordon and Ezekiel Elliott, as well as A.J. Green's injury. How soon were our experts willing to take on these players and how would this trickle-down effect play out in the later rounds for their backups?
Let's examine the draft board and see how our writers approached a league with half-PPR scoring. If you want a full video version of this breakdown, click right here for our podcast on Youtube. Disclaimer: Jason Katz wants it to be known that his Watson/Ingram picks in rounds 4/5 were auto-drafted by the system. Blame his dog...
Editor's Note: Get any rest-of-season NFL Premium Pass for 50% off. Our exclusive DFS Tools, Lineup Optimizer and Premium DFS Research through the Super Bowl.
Sign Up Now!
Fleaflicker Expert Mock Results (Half-PPR)
RBs Reign Supreme (Mostly)
It's not unusual that running backs dominated the first two rounds. This will be the case in any draft, expert or not. Seven of the first nine picks were RBs and that extended to 17 of the first 30 overall.
What played out differently in this mock was the order that some of the top backs were selected. Ezekiel Elliott going after David Johnson isn't all that surprising given the holdout news. Aaron Jones going as RB9 is. This isn't a case of a rogue drafter either in Kev either, as our own esteemed Bill Dubiel proclaimed that he was ready to pounce on Jones four picks later but settled for Joe Mixon instead. I'm not sure if I missed some breaking news about the Packers becoming a run-heavy team or Jamaal Williams tearing an ACL (he didn't) but Jones doesn't figure to be a top-10 back in my book. I can understand viewing him as a safer pick than guys like Todd Gurley or Damien Williams but not Mixon.
The starting-caliber RB well mostly dried up after Round Six, when the first 36 players were off the board. After that point, the choices were backs in strict committee situations, rookies, or fliers. Speaking of, my Austin Ekeler in the seventh round might seem bullish but even if Melvin Gordon signs tomorrow, Ekeler will bring value in a half-PPR format. He averaged five yards per carry last season, tied with guys like Saquon Barkley and Christian McCaffrey for eighth among running backs. He also finished 18th in receptions among all RBs. Worst case scenario, he's a flex player each week. Best case (for him and me), Gordon holds stubborn until midway through the season or longer and Ekeler is a fantasy RB2. I'll take that over Peyton Barber any day.
Experts View TE Differently Than You
Travis Kelce will be a first-rounder in most leagues and go no later than the second round anywhere. I typically won't be the guy to target a tight end early. Gronk owners learned that lesson years ago. The gap may be relatively big between he and lower-tier TEs but the ceiling is higher for guys like Julio Jones or Davante Adams, which is who I should have taken. Since I took Kelce, let me explain why I now regret that pick.
After Kelce, you usually see Zach Ertz and George Kittle go shortly thereafter in the first three rounds. In an expert league, things don't play out the same way. Both Ertz and Kittle last until the fourth round, which means that if I really wanted an advantage at the position, I could have started Adams/Evans/Ertz instead of Kelce/Evans/Cooper. I have a strong feeling the difference between Adams and Cooper will be bigger than Kelce and Ertz.
The other issue is that there is hidden value in the middle tiers at tight end. Delanie Walker is 100% and could immediately resume his career as a reliable, productive target for a conservative offense rife with young receivers. Austin Hooper is on a dynamic offense and could be ready to take another step forward in his fourth season after catching 71 of 88 targets last year. Mark Andrews could be the top receiver in Baltimore with a reportedly-improved passer in Lamar Jackson. It just might not make sense to sacrifice a high-end RB or WR in order to have one of the "Big Three" this season unless there is a premium for TE scoring in a league such as an FFPC Best Ball league.
Second-Year Receivers Make Popular Sleepers
Once the fifth round hit, the obvious sophomores like D.J. Moore and Calvin Ridley are gone. In the seventh round, a furious run began that included Christian Kirk, Dante Pettis, James Washington, Courtland Sutton, Keke Coutee, and Marquez Valdes-Scantling within 25 picks. It used to be common knowledge that the third year is when wide receivers broke out but that timeline has been advanced in recent years. These are certainly risk/reward picks, so choosing which young player to hang your WR3 hat on could make a huge difference.
Last year, the second-year WR group drafted in the middle rounds of fantasy leagues included Cooper Kupp, Mike Williams, and Keelan Cole but Kenny Golladay and Dede Westbrook wound up being better values later on. This year, it might be wise to target guys like Michael Gallup, Tre'Quan Smith, or Deon Cain at far lower ADP, who have just as much upside and reside on playoff teams with potent offenses.
Quarterbacks Are a Necessary Evil
It's almost like a game of Texas Hold 'Em when it comes to the QB position in any draft full of fantasy analysts. There's usually one guy who wants the top QB so they can "win the position." That assumes said player, in this case Patrick Mahomes, is going to somehow repeat last year's performance. As we've seen with historically great passing seasons put up by Peyton Manning, Dan Marino and others, it's very unlikely to happen.
After the first QB or two, nobody else wants to be the guy to draft their signal-caller too early. This means a solid starter is available in rounds 10-11. More than half of our experts waited until the ninth round or later to grab their first quarterback. I don't imagine Cam Newton will be available in Round 11 or Drew Brees in Round 14 in the vast majority of fantasy drafts, so this is one large discrepancy to keep in mind.
Aw Dad, Do We Hafta?
To be clear, nobody wanted to draft defense or kickers. I didn't back down because, like it or not, those positions are part of nearly every fantasy draft. One participant nearly went ZeroDST/K, as he prefers to employ a weekly streaming strategy that involves not using any draft picks on either position. I wouldn't be that bold, as a strong weekly DST can be a big benefit, especially in certain formats.
At the end of the day (night), everyone complied and grudgingly burnt their last two picks just to give you, the loyal reader, an idea of how we have them roughly ranked. The only notable item is that the Bills and Browns are being projected as top-10 defenses and apparently Adam Vinatieri still isn't retired.
Building Your Ultimate Team
A quick glance through the columns vertically reveals that many of our experts took very different routes to achieve their roster construction. Jason and Spencer took running backs with their first three picks, whereas Steve Rebeiro and Chris Mangano (a.k.a. Mr. ZeroRB) took the opposite tactic by going WR-heavy. Chris went all in by selecting George Kittle in the fourth round and stealing A.J. Green from under everyone's noses in the fifth. Early projections have him returning around Week 4, which means that he could be gaining a WR1 at a huge discount.
I've already mentioned how I dislike my pick of Kelce in the first round because the RB value falls off so quickly. I opted to forego running back until Round 4 but came away mostly uninspired by the solid but not league-winning potential of Chris Carson and Lamar Miller. I'm not saying Zero RB can't work but you will have to get really lucky with your mid-to-late round RB picks and hope for this year's Phillip Lindsay.
Ultimately, declaring a winner for a mock draft is useless. But I'm going to do it anyway. I like Steve Rebeiro's team because he has a clear strength and extremely high floor at WR with Hopkins/Brown/Allen and two talented running backs that have big-game potential. That said, there is a fair amount of injury risk and shaky depth in the latter portions of his draft. For that reason, I would likely prefer to have Phil Clark's team because it's balanced, has tons of upside, and every round was a good value. He took advantage of slightly depressed ADPs for Zeke, Tyreek Hill, and Julian Edelman. Jameis Winston at QB and Vance McDonald at TE aren't first on anyone's lists but they could each be breakout performers this year. Not quite as great as my Donte Moncrief/Tre'Quan Smith combo but close.
Conclusion
In all, this draft saw a fair amount of variation from expected norms and draft position. It goes to show that no two fantasy drafts are identical. Even when you are drafting with familiar foes, you always have to be prepared for a curveball or two. You can't (and shouldn't) go into any draft with a preconfigured strategy. Simply find where the value lies and adapt as things play out. Oh, and pick good players. That's always helpful.
More Fantasy Football Analysis