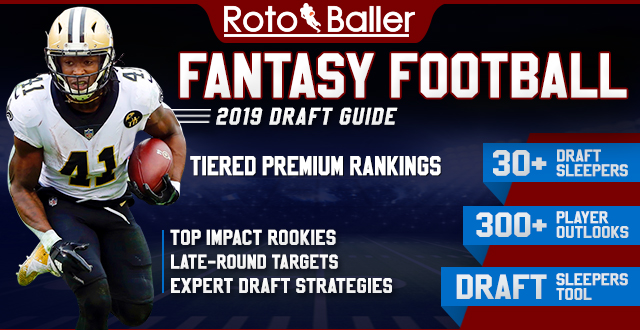 Rookie running backs can be extremely popular. However, while everyone is looking at Josh Jacobs vs. Miles Sanders or David Montgomery, let us instead look at some players further down the line when it comes to your fantasy drafts.
We are all hoping the top guys are going to be great. However, unless you have a top pick, you won't be getting them. Instead, let's see where we can find some possible value in the running back department when it comes to this season's rookies. Both of these names could be interesting if they work out. But just like all players in dynasty, this may or may not pan out. Hey, here's hoping.
Whether it be Justice Hill going to the run-happy Ravens or Damien Harris going to the notoriously running back unfriendly Patriots, both will have a chance to compete. As long as they can compete, they can succeed. So, let us take a look at the tale of the tapes for these two rookies. Before getting into each individual player, we need to first take a quick look at a few commonalities between them.
Editor's Note: Get any rest-of-season NFL Premium Pass for 50% off. Our exclusive DFS Tools, Lineup Optimizer and Premium DFS Research through the Super Bowl.
Sign Up Now!
Different Players with Similar Situations
The easiest and most important is they will not be coming in as the number one back on their team. Damien Harris has Sony Michel in front of him in the run game and also has James White in front of him in the passing game. Both of these players proved worthy of these positions in 2018 and barring injury could prevent Harris from exploding as a rookie in 2019.
In the case of Justice Hill and the Ravens, the team just signed free agent Mark Ingram to a three-year contract. We all know NFL contracts mean basically nothing, but Ingram is still going to be there for a minimum of one and more likely two seasons. Add to the mix Kenneth Dixon. A player who through injury and suspension keeps his job for Baltimore. The team sees something in him to keep giving him the opportunity. Whether we see the talent or not, the team does. And this is what matters.
So, both of these players are dealing with crowded backfields. Backfields in which they may have trouble getting footing unless they prove themselves early in the process. One other thing the players have in common is the team's they are on love to run the ball.
In 2018 the Ravens were far and away the number one run team in the NFL when it came to attempts. Everyone knows this. Whether it was Gus Edwards, Alex Collins, Kenneth Dixon or others the team ran more than Forrest Gump. But what some of you may not realize is the Patriots were up there as well. New England, with Michel, White and for a bit of time Rex Burkhead ran the ball the third-most in the NFL. Tom Brady is the greatest of all-time, but at his age, the team is smartly taking a little off of his plate. This means a growing reliance on the run game and more opportunities for whoever is there.
With these commonalities established we now turn to the case for each of these players so you can make up your mind on who you feel will succeed more.
Damien Harris, New England Patriots
ADP: RB41, Pick 10.9
The 5'11 213 pound running back from Alabama pipeline is the next man up in New England.
The Bromance between Nick Saban and Bill Belichick continues as Harris makes his way to the defending champs in hopes of becoming a fantasy and real-life relevant back in the NFL. While we will have to wait and see if this happens, the sledding may be difficult sitting behind a lot of talent.
Sony Michel and James White are locked down as the starters with the Patriots. White used his pass-catching ability to finish as a top 10 fantasy RB in 2018 and despite missing some time due to another knee injury, Michel came back in time to lead the Patriots to the Super Bowl as the game's MVP.
The real opportunity for Harris comes with the fact he has a bit of both elements in his game. In his career with the Crimson Tide, Harris had 3,040 yards and 23 touchdowns on 477 rushes. Add to this his 407 yards and two touchdowns on 52 receptions and it shows his multi-faceted abilities. The type of player who could take over the full workload if called upon.
Belichick is not known to use a bell cow back and the likelihood of doing so now is slim. This said whereas Michel will be off the field for pass downs and White will be coming off the field for running downs, Harris will be on the field for both. This will help the offense by not allowing the defenses to know exactly what is coming based on the personal being deployed.
Brady and Belichick are the best ever at their professions. They did not get there by being stupid or predictable. We know what the Patriots do best. They find the weakness of the opponent and pounce. Like a lion, they wait until you are at your weakest and make their move. If it happens during the game or the next season, they are always looking ahead. They saw the Bills and Jets improve their front seven in the first round of the draft. So, what did they do? They got a pass-catching, hard-running player to allow them to get the ball out of Tom Brady's hand quicker and allow them to nullify the improved pass rush of the other teams in the division.
Is Damien Harris going to be the best back the Patriots have had since Curtis Martin? Probably not. But he could end up being a very good fantasy piece for a long time. Getting him in the 10th round of a fantasy startup draft is not a lot to pay to find out either. So, he is worth a shot if nothing else.
Justice Hill, Baltimore Ravens
ADP: RB42, Pick 10.11
Speaking of 10th round startup draft picks. Justice Hill, The RB 42 is only going two spots behind the above-mentioned Harris in dynasty leagues. And why not.
He did not have the same career in college as Harris. But he was playing behind the offensive line at Oklahoma State with no NFL Talent. I am not saying they were bad, but Alabama they were not. He also played in a high-flying offense who, in the Big 12 had to throw the ball to account for any semblance of a defense. I know, defense is a curse word in the Big 12. I apologize for the profanity.
Although playing an entire season less than Harris, Hill rushed almost 200 more times than him. On 632 rushes in college, Hill had 30 touchdowns and 3,539 yards and caught only three fewer passes with 49. He was elite in college and he could be the same in Baltimore. A team which wants to run the ball. Lamar Jackson is a runner. He may develop as a thrower but for now, he is a runner first and foremost.
This said, he is not going to continue to run at the pace he did so last season. He has had a full summer to learn the playbook and he was way to prone to fumbles. Both things which make the Ravens want to have him lessen his reliance on the scrambling. Yes, the Ravens did bring in Mark Ingram and they still have Kenneth Dixon. Ingram is a pass-catcher as well as a runner, but he has never been the bell cow. Alvin Kamara the last two seasons and before that a litany of guys like Tim Hightower kept him from having to handle the full load. This again is where Justice Hill comes in. He could easily take the Kamara type role in the offense as Ingram continues to provide his very important complementary role. Dixon is fine. But he is not reliable. Gus Edwards did well last season when he was called upon but as an undrafted player who catches worse than Jordan Howard, he is going to be the odd man out if it comes to it.
Justice Hill at 200 pounds will not hold up to be an every-down back. With Mark Ingram, he won't need to be, and the Ravens won't use him as such. But he is a good back to lean on in the passing game and occasionally in the run game. Whether he turns out to be Alvin Kamara or Tarik Cohen, both were valuable in their own way for your team. And both will continue to have a place on your roster for the coming future seasons. As again, a 10th round pick. You could do a lot worse than either of these guys.
Conclusion
I am not going to try to convince you one way or the other on these players. While I have my preference, it is up to you and the makeup of your team to ultimately decide.
All I can say is both players look to have solid opportunities for success. Both are on offenses who want to run the ball and due so with a lot of success. Both also have the dual-threat abilities in the pass and run games to be an asset without coming off the field. Choosing Hill or Harris is like choosing vanilla or chocolate. Both are good. It is just a matter of which you like better for your tastes.
More Dynasty League Strategy