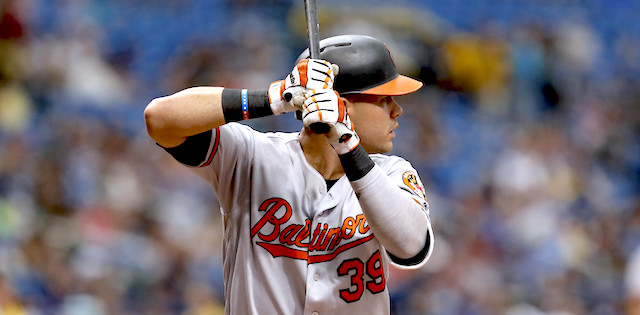 BALLER MOVE: Add in 12+ Team Leagues
OWNED IN: 27% of leagues
ANALYSIS: June has not been kind to Baltimore Orioles infielder, Renato Nunez. Hitting just .197 with two home runs and five RBI over 73 plate appearances, Nunez's underlying numbers aren't much better - only a 66 wRC+ and a .271 wOBA. But prior to his June swoon, Nunez had been a pleasant early-season surprise for the lowly Baltimore Orioles - with a .328 wOBA to back up his 14 home runs, 30 RBI, and 34 runs scored.
Nunez's issue's of late could be improved by a return to his previous approach, as his dip in performance has seemed to parallel a slight change in his swing-profile. Since June 1st, Nunez has been much less aggressive at the plate, as his overall Swing% has dropped by 3% - with swings inside the zone dropping two points, and swings outside the zone dropping over five. This has resulted in a contact-rate on pitches inside and outside the zone dropping by two points each. Over the same period, Nunez has had a season-low 10.4% Barrel-rate - after a 13.2% in April and an outstanding 17.4% in May. Translation? Nunez seems to barrel the ball with more frequency when he's a more aggressive swinger - at balls both inside and outside the zone.
This is a good week to pick up the dual-eligibility infielder, as the Orioles play five games at hitter-haven Camden Yards - and Nunez will get to face two lefties, against whom he has a 126 wRC+ that is 45 points higher than it is against right-handers.
Check out RotoBaller's entire fantasy baseball waiver wire pickups and sleepers list, updated daily!