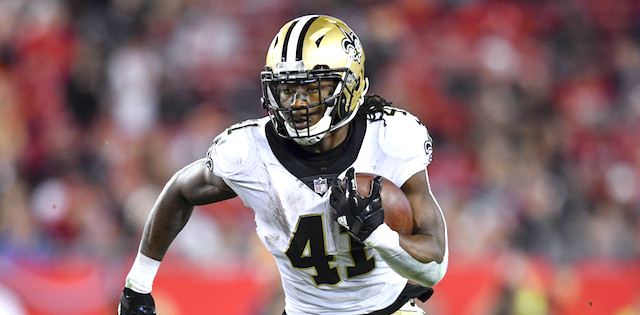 The first three home teams of the weekend all won and covered the spread, and then the final game looked like the Eagles would flip the narrative of the weekend after jumping out to a 14-0 lead. But the Saints would score 20 unanswered points, winning narrowly yet failing to cover.
Now we get the best four teams of the season in their championship games. It's the first time ever the four highest-scoring teams all made it to the championship games. But that may not lead to great games. There has been one blowout in either title game the last four seasons. The NFC Championship game has seen three consecutive routs – all by the home team – while the AFC Championship has had two routs, both by New England at home. So if you're looking to tease the games together, I'd be very wary of that with the trend of a blowout. Another thing to note, not since 2013 has a road team defeated a home team in the conference championships.
In this column, I will be breaking down both championship games including several prop bets for each whether it's a player prop or game prop. Prop odds I used were on FanDuel Sportsbook, Sportsbook.ag, and sportsinteraction.com. These props are not only recommended bets but can also help you gauge a player while making your DFS lineups.
Editor's Note: Get any full-season NFL Premium Pass for 50% off. Our exclusive In-Season Lineup Tools, Lineup Optimizer and over 150 days of Premium DFS Research.
Sign Up Now!
Rams @ Saints (-3.5) | Sunday - 3:30 PM ET
New Orleans's first quarter against the Eagles was sluggish. It was the same way they played their last three weeks of the regular season, but then the rust wore off and they looked like the Saints we've been used to seeing. They only scored 20, but like I said last week, they can win a low-scoring game where their defense steps up. They allowed 151 yards on the first two touchdown drives and only 99 from then on that. That's a championship defense. They made the adjustments and settled down.
The Rams defense knew stopping Ezekiel Elliot last week would be the key to winning and they sold out to stop him allowing 50 team rushing yards. But Dak Prescott had a good night throwing the ball completing 20/32 passes for 266 yards, no picks and an 8.3 yards per attempt line. Problem come Sunday is the Rams can't sell out to stop either the run or the pass because Drew Brees will pick you apart through the air, or Mark Ingram and Alvin Kamara will make you pay on the ground. And then there's also Taysom Hill who can throw it or bulldoze a linebacker.
LA had great success running the ball against the Cowboys gashing them for 273 yards. That may be a little more difficult against the second-ranked rush defense that's allowed 3.2 yards per carry through their last three. I'm not sure how you can trust Jared Goff in this one. Since the game against the Chiefs, he's thrown six touchdowns to six picks (six games). He's just looked shaky. The good news is these teams played in Week 9 and Goff threw for 391 yards, three touchdowns, and one pick. The difference in that game was the Rams were 3-8 on third down, 0-2 on fourth, while the Saints were 7-12 on third down and converted both their fourth downs. I think this is the Saints year. Who on the Rams is stopping Michael Thomas and how are you getting Brees off that field on third down? Every time Brees drops back to throw, you think it's going to be completed. When Goff drops back, it's no sure thing.
Prediction: Saints 34 - Rams 23
Recommended Prop Bets
Shortest touchdown under 1.5 yards (-140) - This trend was 2-2 in the Wild Card round, and 3-1 in the Divisional Round last week. Just think of how many scoring reviews there are where the refs call a touchdown, but then it's called back because the knee was down at the inch-line.
Michael Thomas over 98.5 receiving yards - I know this is a ton of yards, but the Rams defense is not stopping him. Their secondary is not good.
Alvin Kamara over 39.5 receiving yards - I had the over last week and he caught that long touchdown from Taysom Hill only for it to be called back by a hold. I'll go back on this once more.
Saints over 15.5 first-half points - New Orleans averaged 18 first-half points at home during the regular season.
Patriots @ Chiefs (-3) | Sunday - 6:30 PM ET
This is the first AFC Championship game in eight years that will be played outside of Denver or New England (Jets at Steelers in 2010). The Pats are making their eighth consecutive title-game appearance while the Chiefs are making their first since 1993. Kansas City will be looking to make their first Super Bowl since 1969 when they won Super Bowl IV. The Patriots meanwhile, are looking to make back-to-back Super Bowl appearances and the franchises 11th.
Many were doubting New England on Sunday against the Chargers, but they go right out and shut up all the critics scoring touchdowns on their first four drives and taking a 35-7 lead in the half. The Chiefs scored touchdowns on their first two possessions and took a 24-7 lead into the half. Both games were over at the half. That's how both teams played games most of the season, jumping out to early leads. The Chiefs were first in the first quarter and first half scoring while the Pats ranked third and fourth. But when you look at those numbers for New England on the road, they were 13th in first quarter scoring and 11th in the first half. The Chiefs were tops in both.
That just shows how much the Patriots have struggled away from home. They were 3-5, but how much they scored at home vs. on the road is the most telling. They scored 33 at home (third) while only 21.6 on the road (19th). This is a team that got dominated by the Jaguars and Lions (Weeks 2 and 3) soundly beaten by the Titans in Week 10, couldn't stop the Dolphins before losing on a Hail Mary in week 14, and then scored 10 points in Pittsburgh the week after.
New England's home/road splits are also totally different in terms of third-down conversion percentage and red-zone touchdown scoring. At home, the Pats converted 45 percent while on the road, that number dipped to 37 percent. They allow opponents to convert at a 45 percent clip on the road versus a 32 percent rate at home. The red zone numbers show a similar trend; 70 percent at home, 46 percent on the road. On the defensive end, it's 50 percent at home and 67 percent on the road.
While everyone gave the Chiefs defense crap, they really shut everyone up allowing one touchdown, which came on fourth-down late with five minutes to play. It's a defense that since Week 5, was top three in sacks and turnovers. Yes, they struggle to stop the run, but they sure had no issue stopping the Colts who ran for 87 total yards. And this may not be an issue because you guessed it, New England has struggled to run the ball on the road all season. They ranked 25th on the road, rushing for an average of 98 yards per game. Of course, at home, that number jumped to 157 yards, fourth in the league.
Now, this is one game and you can be sure Bill Belichick knows his team plays on the road and will have a game-plan to counteract their road woes. But sometimes you need the players and the Pats don't have that on defense. How are they going to defend Travis Kelce, Tyreek Hill, and the running back screen? Patrick Mahomes has been amazing this season and can beat you with his arms or legs.
These teams played in Week 6 and the Pats won on a last-second field goal 43-40. I don't expect that kind of scoring again, because as mentioned many times above, New England struggles to move the ball on the road. I think the difference in this game comes down to third downs, and four-point plays (scoring touchdowns against kicking field goals in the red zone). Although I think Bill Belichick will have the upper-hand on Andy Reid in terms of coaching, Mahomes is an otherworldly talent and his magic will get the Chiefs to their first Super Bowl since 1970.
Prediction: Chiefs 27 - Patriots 21
Recommended Prop Bets
Shortest touchdown under 1.5 yards (-125) - See above.
Sammy Watkins over 55.5 receiving yards (-110) - Belichick takes away your best player(s). In this case, that'll be Kelce and/or Hill. Watkins should see a lot of targets with the impending double-team on Kelce.
James White over 56.5 receiving yards (-115) - He's gone over this mark eight times this season. Last week he shredded the Chargers for 97 receiving yards. He may need to break one for 15-20 yards to hit this.
Rob Gronkowski over 51.5 receiving yards (-120) - Gronk has only gone over this mark five times and not since Week 14 in Miami. The Pats will need a big Gronk game for them to keep pace with the Chiefs. He's clearly not what he used to be, but he can muster out one more productive game with a trip to the Super Bowl on the line.
Best of luck and be sure to check in two weeks for my preview of the Super Bowl!
More NFL Analysis