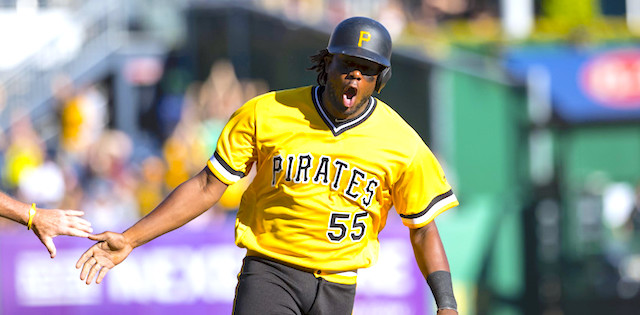 We're finally past the point where we know a team's identity. The All-Star break is the standard time for fans, analysts, and front offices to figure out where the team stands, and what to look forward to.
The Pittsburgh Pirates came into 2019 expecting to have one of the top rotations in baseball, while the lineup and defense were uncertain to say the least. 81+ games in and well, well, well, how the turntables (for you "The Office" fans).
While they're not the sexiest team by any means, the Pirates have quite a few fantasy-relevant players. I'm going to recap who has driven the team through the first half, and what fantasy value they have, if any, in the season's second half.
Editor's Note: Get any full-season MLB Premium Pass for 50% off. Exclusive access to our Draft Kit, premium rankings, projections, player outlooks, top prospects, dynasty rankings, 15 in-season lineup tools, and over 200 days of expert DFS research.
Sign Up Now!
The Pirates' Treasure
Josh Bell - 1B
It's impossible to start with anyone else but Josh Bell. The first baseman is on a historic first-half tear that is making those who predicted him as a "sleeper" look like absolute geniuses. As of July 7, Bell is slashing .308/.381/.654 with 27 home runs and a Major League-leading 84 runs batted in. In total, he has 60 extra-base hits (XBH) before the All-Star break, which is the most in a first half by an NL batter since the All-Star Game began in 1933.
From last night...

Josh Bell found out he'll face Ronald Acuna Jr. to start the HR Derby, says it'll be "a great show." https://t.co/Cv6hovqAy5

Josh Bell broke a National League first-half record previously held by Albert Pujols: https://t.co/zaCzGrLcEE

— Adam Berry (@adamdberry) July 4, 2019
The 26-year-old's play is backed up by Statcast too. A 93.4 mph average exit velocity and a career-high 10.9 launch angle give some insight into the incredible spike in XBH. In all of 2017, Bell hit 58 XBH, while in 2018 he only tagged 47. The best part is that BaseballSavant says that Bell should continue to rake. His .295 xBA ranks fourth among the league's first baseman, while his .592 xSLG pits him third. 
Bell is proving to be one of the elite power hitters in baseball and home run derby worry-warts aside, he doesn't seem to be showing any signs of letting up. If you're lucky enough to have him on your roster, hold onto him and cherish him, while racking up wins in your league.

Starling Marte - OF
The 30-year-old continues to be steady as it gets for Pittsburgh. He's on pace for a career-high in home runs, RBI, and runs, while not sacrificing much in batting average or on-base percentage. His expected stats say he's actually due to perform better than he currently is, with a +.017 xBA differential, +.009 xSLG differential, and a +.150 xwOBA differential. Top it off with 13 steals through the first half and Marte is a very consistent fantasy asset. He's a solid piece to have on your roster and the fact that he is expected to start performing better means that he is someone to target as your league's trade deadline looms.
Rookie Ballers
Bryan Reynolds - OF
Reynolds is still so severely under appreciated on the fantasy circuit despite being one of the hottest hitters in baseball since his April 20 debut. At the time of this writing, his .339 average is the highest for a rookie with 150 plate appearances in the last decade. While he doesn't add a ton of power (6HR, 17 doubles), the 29 RBI, 37 runs, and 24 BB make the 24-year-old a must add. His .302 xBA is 14th in the bigs, and while it points to expected regression, it also shows that Reynolds belongs on the field every day. Despite a plethora of quality outfielders on the Pirates' roster, Reynolds continues to produce, which means he should be on your fantasy roster if he's available.
Kevin Newman - 2B/SS
Newman adds a different dimension to the offense that is not only surprising fantasy owners but the Pirates fan base as well. The 2015 first-round pick began the year as a backup middle infielder. Some injuries and others' poor play aside, Newman was given a shot at an everyday role and has excelled. On the surface, he's hitting .324/.369/.479 with six homers, 32 RBI, 24 runs, and five stolen bases. While he had been serving as the leadoff hitter for about a month, the Pirates shifted him down to the seventh spot but he's still been producing. The 25-year-old is fresh off a 19-game hitting streak, which was the longest by a Pirates rookie since 1900. Newman isn't a world-class talent, but he has shown an ability to get on base and score runs, which is where his ROS value lies.
The Staff is Scuffling
Jameson Taillon - SP
He's made just seven starts this year after an elbow issue landed him on the 60-day injured list. He hasn't pitched since May 1 and at first there was some real concern he may need another Tommy John surgery, however, some recent developments have shown that Taillon's recovery may be able to be made this season. If all works out, there's one key to his success; throw the slider often. Before the injury, he threw it 32% of the time which is almost double his 18.3% from last season. Opponents were hitting just .208 against the pitch and 11 of his 30 strikeouts have been from the slider. If he can get healthy and the Pirates let him free, he will be out to carry the Pirates back to the postseason. However, if the team struggles through July and August, there's a chance they limit him or completely shut him down to save him for the future. 
Chris Archer - SP
This is a sore subject for Pirate fans as Archer hasn't given the team anywhere near what some were expecting when the Pirates traded Tyler Glasnow and Austin Meadows away for him. His 3-6 record with a 5.50 ERA is a sore subject for fantasy owners, and that's before I tell you he's given up 18 homers already, after allowing 19 all of last year. Archer tried to buy into the team's philosophy and utilize a sinker but it failed miserably. He's back to working with a slider and fastball mainly, but even then his expected statistics point to career highs in all the wrong categories, like a .510 xSLG and a .375 xwOBA. If you haven't already dropped him, get whatever you can for him if someone is willing to buy a second-half surge.
Joe Musgrove - SP
Big Joe Musgrove was one of baseball's top starting pitchers through the first month with a 1.64 ERA and a 30/7 K/BB through 33 innings over five starts. He followed it up with a rough May, hosting an 8.10 ERA and a 20/12 K/BB in six starts. The problem was his velocity had disappeared. Through this year, his average fastball velocity sits at 92.4 mph compared to 94 last season. He may have been pitching through an injury; however, as his June provided some positive signs. In five starts he allowed three runs or less in four of them, including two scoreless outings to go with a 23/3 K/BB. While Musgrove is getting hit harder than ever (39.2 Hard Hit %), his .400 xSLG and .253 xBA are hopeful signs that he can be a useful starter in the second half.
Trevor Williams - SP
The righty opened eyes in 2018 with an absolutely historic second half. However, 2019 hasn't been so kind, aside from a handful of starts. He's 3-2 with a 4.54 ERA through 12 outings but has been on a rough stretch since returning from the injured list in June. In his three starts since, he's allowed 16 runs in 17 1/3 innings. The metrics back up his struggles, as his expected stats would all be career highs for Williams, including the .434 xSLG and 34.5 Hard Hit %. While you won't have to worry about walks from the righty, he's still been prone to big innings this season. It's impossible to expect another historic second half and it's especially tough to trust Williams with how he's performed this year. If he's on your roster, hope that the All-Star break does him some good and he can break free from his slump.
Closing Things Out
Felipe Vázquez - RP
The flame-throwing southpaw has asserted himself as one of the top closers in baseball. While he hasn't gotten as many save opportunities as fantasy owners would like, Vázquez has cashed in on 19 of 20 chances this year. He houses a 2.19 ERA in 37 innings with a 37.6 K%, which would finish as a career-high. As the Pirates seems to be heating up into the All-Star break, Vázquez should continue to get ample opportunities in the future. There was some chatter recently that he could be traded to the Dodgers, but the Pirates would likely require quite a haul for his services. He is a top-five fantasy closer ROS and will continue to pile up strikeouts.
More 2019 Fantasy Baseball Advice