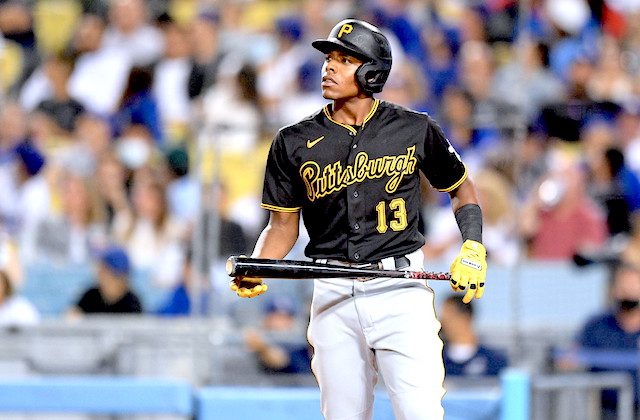 The prime age for baseball seems like it's gotten younger and younger over the last decade or so. The general thought was that a player's prime was close to their 30s. However, a few studies have shown that players can start to decline as early as 28.
According to these studies, the prime age now would lie somewhere between 25-28. Trends show this is when the average major league will produce his best baseball. Of course, there are outliers, especially with the superstars of the game, but most players who will have promising careers are making an impact during these years.
Now, most players who stick around till they're 28 have already made a name for themselves. Some make a name for themselves earlier in their careers and have a longer stretch of sustained success, while others take longer to come into their own. For this list, we will look at some infielders who have yet to come into their own but are sitting in the prime of their careers and ready for a breakout.
Editor's Note: Our incredible team of writers received 13 award nominations by the Fantasy Sports Writers Association including Baseball Writer of the Year, Football Writers of the Year, Golf Writer of the Year and many more! Be sure to follow their analysis, rankings and advice all year long, and win big with RotoBaller!
Read More!
Fantasy Baseball Infielders Set to Break Out in Their Prime 
Tyler Stephenson: Catcher 
Stephenson has been my drafted catcher for most leagues I've done thus far. I believe in his ability that much. Plus, if I can't get a top-three catcher, he has the best value out there. I've written about him before as well, but there weren't any other catchers I liked for this article. The 26-year-old had a small breakout in 2021 before an injury-plagued 2022. While his BB% (6.6%) and K% (25.7%) went in the wrong direction last season, his ISO (.163) and slugging percentage (.482) went up.
If the ISO stays close to last year and the walk and strikeout rates revert a bit, Stephenson could be looking at 15-plus home runs with around a .260 average and about 70 RBI and runs. ATC is on board with this assessment, projecting Stephenson with a .267/.337/.413 slash line and 13 long balls over 509 plate appearances in 2023. He currently has an ADP of 168.3 and is the No. 10 catcher in the latest RotoBaller rankings.

Josh Naylor: First Base 
The former first-round pick, Naylor, has excellent raw power, once graded as a 70 during his days as a prospect. While that hasn't come to fruition yet, Naylor hit 20 home runs last season in 122 games. The 25-year-old walks around league average but doesn't strike out a lot, so his hitting profile should keep him in the lineup till the power hopefully fully arrives.
He had a .196 ISO last season, higher than Texas Rangers slugger Nathaniel Lowe's .191. The lefty raised his barrel %, launch angle, and expected slugging the previous season. Another increase in those numbers in his age-26 season could have him top the 20-21 home runs most projection systems have pegged him for, especially if he's fully healthy this year. His ADP of 267.7 might be a bit low and great value for him.
Jonathan India: Second Base 
India's rookie year may have been his breakout, and he may never top those numbers. At least he didn't look like he could with his play last season. So, this is more of a bounce-back than a valid breakout. My other option was Boston Red Sox utility man Christian Arroyo, but even with the injury to Trevor Story, he's not guaranteed full at-bats this season. I'm entirely buying into an India bounce-back, however.
The 26-year-old may not hit 21 homers or steal a dozen bags like he did his rookie season, but he could at least approach those numbers. India could lead off for the Reds this season, so he may use his legs more and be able to score more than the 48 runs he scored last season. ATC projects a .255/.342/.413 slash line with 16 homers and eight steals.
Ke'Bryan Hayes: Third Base 
After a fantastic 24-game audition in his rookie season, Hayes has been a disappointment with the bat thus far. He has a .261/.326/.386 slash line during his career, far from serviceable, especially from a fantasy standpoint. He has 18 home runs in 256 MLB games.
The 26-year-old has a good career exit velocity of 90.9 and a well above-average hard-hit percentage of 47.2, but his launch angle and barrel percentage are dismal. With a full year finally under his belt, it may be time he learns how to drive the ball in the air more and use his spray chart to create some gap-to-gap power. Don't go reaching for him ahead of his 199.7 ADP, however.
Nico Hoerner: Shortstop 
Like India, Hoerner will get a crack at the leadoff spot to begin the season. The Chicago Cubs have a better lineup than the Reds, which will help Hoerner even more than India. Also, like India, Hoerner doesn't hit the ball hard. Hoerner did some things well last season, however. He was in the 84th percentile for expected batting average and the 98th percentile for strikeout percentage.
He also came in the 92nd percentile for sprint speed, so there's much to like about his game. His 10.6 launch angle wasn't horrible, but below league average. It has gone up each season, however. The soon-to-be 26-year-old could look to lift the ball more in his second entire season, and that will help his fantasy cause. ATC projects a .278/.332/.393 slash line with nine home runs and 20 stolen bases.
Download Our Free News & Alerts Mobile App
Like what you see? Download our updated fantasy baseball app for iPhone and Android with 24x7 player news, injury alerts, sleepers, prospects & more. All free!


More Fantasy Baseball Advice