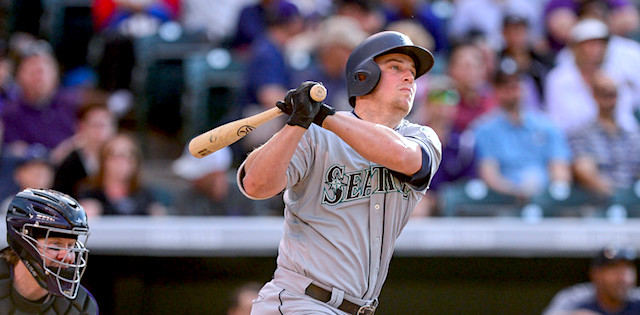 As with last week, the focus will be on the full season numbers. Not much else to say, so let's jump in.
Weekly reminders: EVAB (pronounced ee-vab or ev-ab) is simply exit velocity on "air balls" - meaning fly balls and line drives, as shown on Statcast. Isolated power -- ISO -- is slugging percentage minus batting average, and so xISO is xSLG minus xBA. The Statcast Search feature is used to obtain partial season Statcast numbers. The league-wide ratio of barrels to home runs is historically around 67-70%.
Now, for this week's risers and fallers. Stats are through August 19 unless otherwise noted.
Editor's Note: Get any full-season MLB Premium Pass for 50% off. Exclusive access to our Draft Kit, premium rankings, projections, player outlooks, top prospects, dynasty rankings, 15 in-season lineup tools, and over 200 days of expert DFS research.
Sign Up Now!
Power Risers
There was a beer commercial several years back where a tailgating cook threw a quinoa burger on the grill for good luck. Asked what it was, and having only seen the name of the grain on the package, he thought to himself: "it's a queen-o." I think of this commercial every time I see the name Aristides Aquino. (It's Aquino!)
Aquino has been no dirty old tree branch (how our ad's hero described the taste of a quinoa burger), with 19 hits in 18 games and a whopping 11 of them being homers, producing a .317/.388/.883 slash line. With 16 strikeouts in 67 plate appearances, his 23.9% K rate suggests more sustainability than was enjoyed by fellow rookie Austin Riley earlier this season. He has managed a .668 xSLG despite an average exit velocity of just 86.5 mph.
What has helped is an average elevation of 19.0 degrees and 10 barreled baseballs. So while Aquino's contact hasn't quite been as good as the numbers would suggest, it's been plenty fine. The relatively low strikeout rate is a reason for optimism as well. No one hits a home run in 60% of their games, and the sample size is still very small, but the early returns on Aquino are good.
The three home runs that Son of Son of Carl hit on August 16 gave him six in nine days, 11 since the All-Star Break, and brought his season home run total to 16. Not bad for a lefty who calls AT&T Oracle Park home; since Barry Bonds retired after the 2007 season, no left-handed Giant has hit more than 26 home runs in a season (Aubrey Huff in 2010). Yastrzemski will need to stay really hot to break that mark, but only four more homers would make him just the third Giants' lefty to hit 20 homers in that period (Brandon Crawford, with 21 in 2015, is the only other one so far). Of Yastrzemski's 16 homers, 10 have come on the road.
Yastrzemski makes okay power contact: 88.6 mph at 17.8 degrees for 20 barrels and a .478 xSLG. That is still well short of his .548 SLG. In the second half alone, he has slugged .662 on a .574 xSLG. It has not been the result of a significantly changed launch angle -- 18.5 degrees -- and so whether the newfound success continues will be interesting to see.
San Francisco has a fairly balanced remaining home/road schedule, so the conclusion to Yastrzemski's season will be largely up to him. He looks to have the makings of a surprisingly solid power hitter, but not a revolutionary one unless this second half run continues. It's up to the pitchers to figure him out because what he's doing right now is working.
Soler has become a truly dangerous hitter, with a double-digit walk rate and now 35 home runs in 522 plate appearances this season. With six of them from August 6-11, he had Yastrzemski's homer spate beat by three days.
The contact has been no fluke. Soler has cracked a 90 mph exit velocity for the first time since 2019, doing so with a 92.7 average on a 14.5 degree launch angle. He has 52 barrels with a 96.9 mph EVAB. His .557 xSLG is actually a few points above his .545 SLG. All of these except the launch angle make for easy career highs.
Not only is Soler outperforming his past self, but he's also outperforming most MLB hitters, tied with Cody Bellinger for the fifth-most barrels in the Majors. Soler hasn't homered since August 11, but these things always come in bunches and lulls. He's one of the premier power hitters today.
Seager followed up his three-homer game on August 13 with another home run on the 17th and 18th. A .327/.393/.745 August has seen his season slash line rise.
Unfortunately, it's been a relatively weak hot month thanks to a .508 xSLG and just four barrels to support the seven home runs. He's also hit the ball less hard (85.7 mph) and less high (14.6 degrees) in August than on the season as a whole (89.7 mph at 19.7 degrees).
So it appears that despite the strong three weeks to begin August, Seager is mostly the same hitter he always has been, the type who ends up with 20-some home runs every year rather than the one on a 162-game pace of 39 this season.
Juan Soto was having a solid sophomore campaign, which at age 20 was already impressive enough. But he's gone nuts lately, with 11 home runs in his last 19 games, bringing his season total to 28.
The effect this has had on his overall season is dramatic. He is now producing a .543 xSLG on average contact of 90.6 mph at 12.1 degrees. All three of those numbers are improvements on his rookie campaign, as are 38 barrels.
Like other former Washington teenage phenom Bryce Harper, Soto has only improved in his second season. Unlike Harper (even when he was 20), Soto has shown an ability to stay healthy. Even if he just plateaus from here, he will be a reliable 30 home run hitter for years to come.
Power Fallers
Tim Anderson returned from a sprained right ankle on July 29. Despite hitting .369 since, he has only homered once (until Tuesday), coming on August 4. He has also cut down on his strikeout rate, at 17.0% in 88 PA since his return, although he still doesn't walk.
From July 29-August 19, Anderson averaged 89.3 mph at 6.2 degrees. The launch angle helps to explain the lack of home runs, although on the season Anderson's mark is 8.5 degrees. It's part of the reason he only had 14 barrels to support the 13 home runs through Monday. And when Anderson does elevate, his 91.3 mph EVAB is nothing to write home about.
It's still a breakout year for Anderson, with a career-high .444 xSLG. But that pales in comparison to his .504 SLG. Although Anderson has set a 162-game pace of 22 home runs, he should not be expected to keep that up in 2020.
Machado has had one of the streakier seasons this year, making several appearances in both sections of this column. He is currently on a downswing, going all of August so far without a home run while hitting a putrid .186/.240/.214.
Strikeouts continue to be a problem with a 21.3% rate in the month that is pretty good for a lot of players in 2019, but not the fellow with a 16.8% career rate. As a result, Machado's xSLG continues to lag. It currently sits at .444, his lowest ever after three straight seasons above .500. It doesn't help that when he does make contact, the 90.8 mph at 13.2 degrees are both slight declines from last season.
If this weren't Manny Machado, you'd take the 26 home runs and be happy. Since it is Manny Machado, the inconsistency is maddening. But there is no choice but to keep using him and hope the next positive streak is coming soon.
Murphy's no-homer streak dates back to July 27, and he's hitting .250/.297/.309 in that time. It's been somewhat of a lost season for the 34-year-old, whose .282/.331/.457 line is good only for an 87 wRC+ thanks to Coors Field. Only two of his home runs have come at Coors, although his batting average is 107 points higher at home.
Statcast-wise, everything is going badly. Murphy, whose 2015 postseason performance was in a way the start of the launch angle revolution, still hits the ball at a good angle, 15.3 degrees. But his exit velocity is just 86.3 mph, his xSLG is a rough .348, and perhaps most concerning, he has only barreled up eight baseballs this season.
Given the barrel rate and xSLG, Murphy's 11 home runs and .457 SLG are a fluke -- they should probably be lower based on his contact quality. It's difficult to foresee a turnaround at Murphy's age and considering just how hard a time he's had making good contact as it is.
Remember Travis d'Arnaud's three-home run game against the Yankees? It occurred on July 15. They weren't the flukiest home runs, but none were no-doubters, with hit probabilities of 70, 70, and 16 percent. D'Arnaud hit three more home runs to round out his July, but has been ice cold in August: .191/.291/.234 and no bombs.
Despite the fluke-ish three-homer day and the struggles in August, it's been relatively solid contact backing the 13-home run campaign for d'Arnaud, a .451 xSLG behind the .476 SLG, 89.7 mph average exit velocity at 13.5 degrees. You will take this from a catcher.
Given the currency of his slump, he's not completely out of the woods, but there are worse backstops out there. Like the next one.
Severino was a nice surprise for most of the season, hitting .279/.345/.477 as recently as July 27. Since then, he's hitting just .140/.260/.163. He is hitting the ball extremely high during this period, 23.8 degrees on average, and that combined with 16 strikeouts in 50 PA is not helping his cause.
One would guess that pitchers have simply adjusted, but Severino's six walks in 50 PA in this rut are somewhat interesting. They are counterbalanced by the 16 strikeouts, but it's not as if Severino is just swinging at everything pitchers offer and coming up empty.
Nonetheless, Severino entered this season a career .187/.273/.287 hitter, so it shouldn't be shocking to see his carriage turn into an Oriole-colored pumpkin. It will be difficult to rely on him even in two-catcher leagues at this point in the season.
Last Week's Risers
| | |
| --- | --- |
| Player | Last Week Update (8/6-12) |
| Giovanny Urshela | .333/.333/.333 is no cause for concern yet |
| Mike Tauchman | Unsurprising slowdown in form of .143/.200/.143 |
| Ronald Acuna | .222/.300/.389 with another HR |
| Hunter Dozier | Still hot .412/.450/.529 but no HR |
| Carlos Correa | 2-for-17 but they were both HR; unfortunately, another injury may put him back on shelf |
Last Week's Fallers
| | |
| --- | --- |
| Player | Last Week Update (8/6-12) |
| Buster Posey | .308/.400/.385, 0 HR, 1 K, 2 BB is the kind of hitting Posey will give you now |
| Christian Walker | .100/.182/.250 with another HR |
| Corey Seager | Bat has woken up, .250/.318/.650 with 2 HR |
| Aaron Judge | .235/.278/.353 with 50% strikeouts is hopefully not pressing |
| Mark Canha | .412/.444/.588 and another HR (then another Tuesday) |
More 2019 Fantasy Baseball Advice