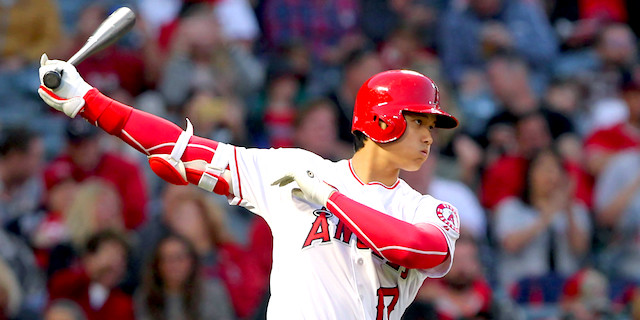 Welcome to this week's Power Hitting Risers & Fallers. All stats are full season through Monday, June 17 (unless otherwise noted). Today's analysis mostly revolves around xSLG-SLG differential during hot and cold streaks.
Your weekly reminders: EVAB (pronounced ee-vab or ev-ab) is simply exit velocity on "air balls" - meaning fly balls and line drives, as shown on Statcast. Isolated power -- ISO -- is slugging percentage minus batting average, and so xISO is xSLG minus xBA. The Statcast Search feature is used to obtain partial season Statcast numbers. Lastly, a new reminder: the league-wide ratio of barrels to home runs is historically around 67-70%.
Read on for this week's risers and fallers.
Editor's Note: Get any full-season MLB Premium Pass for 50% off. Exclusive access to our Draft Kit, premium rankings, projections, player outlooks, top prospects, dynasty rankings, 15 in-season lineup tools, and over 200 days of expert DFS research.
Sign Up Now!
Power Risers
It took a little while for Ohtani to get going this season, which is justifiable coming off Tommy John surgery. He was activated from the IL on May 7 and homered on May 13 and 18, but by May 29, still had just two homers for a .237/.322/.316 line. Since then? Seven bombs in 69 PA of a .339/.391/.758 slash line.
Ohtani still isn't lofting the ball like he should, with a 2.5-degree average launch angle on the year and 2.3 during the hot streak. Perhaps the loft will come with time given the 12.3 angle he posted last season. The low 2019 angle is the likely culprit for a drop in barrel rate, 9.8% of plate appearances last season and 7.7% this season.
As with most hot streaks, Ohtani is getting a little lucky, with a .575 xSLG to support his .758 SLG since May 30. Clearly, however, he needed some time to readjust to MLB pitching. Even with the bit of luck, he's proving his 2018 rookie campaign as a hitter was no fluke.
Bradley may only be hitting .208/.304/.370, but that's a far cry from .144/.245/.176 with nary a bomb, which is where he was at after an 0-for-3 on May 19. Since then, we're looking at a flaming .297/.385/.637 with seven homers in 104 plate appearances. However, he's hit more like a .483 slugger in that time.
Bradley is worth a standard league roster spot again, which he was not in the middle of May, but it would be easier to believe in a permanent turnaround with a more Ohtani-esque xSLG during the hot streak. A .483 SLG going forward would however be about what Bradley produced in his 2016 All-Star season.
One thing that hasn't changed much over the course of the season for Bradley is the K-BB ratio: 43-16 before the run and 27-9 during it. Bradley is hitting the ball better the last four weeks, but not crushing it Statcast-wise, and not while necessarily seeing the ball better. As stated above, he's worth a roster spot now, but a big return to the mid-20's in home runs (26 in 2016) is probably not in the cards.
Jimenez hit .381/.458/1.190 for a six-game mini-surge from June 8-14, culminating with a 2-HR, 6-RBI game on the 14th. Go back to May 22 to incorporate another mini-streak, and he's slugged .274/.330/.607 since then. He now sits at a .247/.301/.476 line on the year, which Statcast finds to be fairly deserved given a .245 xBA and .455 xSLG.
Of Ohtani, Bradley, and Jimenez, Jimenez's recent run is the most sustainable by xSLG-SLG, with a 58 point gap. Another thing that differentiates Jimenez from the other two is his rookie status. This being his first look at MLB pitching, it's easy to think that he's suddenly figured something out. Those two differentiators make this breakout more believable than Bradley's. Also, Jimenez's 25-7 K-BB ratio since May 22 isn't great, but it's better than the 29-5 he began his MLB career with.
Jimenez's career sample is still just 183 plate appearances. There is a lot we don't know. But his talent is obvious, he's still extremely young, and he's hitting the ball well lately. Even in redraft leagues, it's time to see where this goes.
Tommy "The Star" entered 2019 with 10 career home runs in 947 plate appearances over four seasons. As you may know, he now has 15 this season. He's done it with just 22 strikeouts (8.5% of PA), and during the April 8-June 9 time frame in which he hit those 15 bombs, he struck out just 16 times. La Stella had a 12.6 career K% entering the year, but he has gone from a light-hitting contact hitter to a heavy-hitting even better contact hitter.
Statcast mostly bears out the switch from light- to heavy-hitting. La Stella barreled up only two baseballs all of last season and 12 combined from 2015-18, but already has 16 of them this year. His .479 xSLG is a bit lower than his .515 rate, but would still be a career-high xSLG by 54 points as well as a 106-point improvement on last season. A 14.8-degree launch angle is solid.
La Stella hasn't homered since June 9, and while he's struggled with a left forearm issue, in that time, he could also be regressing somewhat independent of any injury. Nonetheless, he's become a fantasy asset for the first time in his career, not just because of the newfound power but also because he's getting much more playing time with the Angels than he did with the Cubs.
Last time, we concluded risers with the NL's best hitter, Christian Yelich; this week, the AL's. Unbelievably (and unlike Yelich), Trout has under-performed as a slugger this season, deserving closer to a .668 by Statcast than his actual .635. He's already barreled up a ridiculous 38 baseballs and has "only" 20 home runs to show for it.
There's not much to say about Trout. A 12.3% barrel/PA rate ranks seventh in baseball while only Jose Abreu has more total barrels. Only Cody Bellinger has a better xwOBA.
Trout isn't the best home run hitter, but he doesn't have to be. It'll be a long time before he's not the consensus #1 player in MLB.
Power Fallers
Matt Chapman, he of 16 home runs this season, hasn't hit one since June 2. He's slugged .269 in 59 plate appearances in that time, with an xSLG of .346. He's had a 13-degree launch angle during the still-short slump, only a tick lower than his 13.5 throughout 2019. Most of what's gone wrong is contact: he had 41 strikeouts at a 16.0% clip through June 2, but that has doubled to 32.2% with 19 K's in 59 PA since.
Full season, Chapman's .504 SLG and .246 ISO fit his .501 xSLG and .237 xISO. The x-stats are a significant improvement on 2018, too, helped by a modest EVAB gain from 95.9 to 96.8 mph. Chapman just needs to get back to making contact and he should be fine. The walks have held at just about 10% both before and after the slump, (which again, is still relatively short), so it's not an eye problem.
It's been a slow June for Meadows, who homered three straight games from May 26-28 and has not since. He's hitting .240/.321/.347 since the 29th despite a .346 BABIP (can't be good when your BABIP nearly exceeds your slugging). The slump can't really be blamed on his thumb -- he returned from that injury on May 10 -- unless he re-aggravated it and no one knows. And at least he's still reaching base.
It's hard to hit .356/.428/.696, Meadows' slash line before the slump, and Meadows was never likely to be that good in a full season. He's also not likely to be as bad as the past couple weeks have indicated. It can get boring to argue for the not-that-good, not-this-bad construct, but it's almost always true. And in Meadows' case, his xSLG since May 29 is .455. If .240/.321/.347 is Meadows' floor, he'll ultimately be more than fine, including in the home run department.
Robles hit homers on both May 14 and May 15, bringing his season total to eight. Since then: one, on June 4, as he's hit .195/.301/.276. Not unexpectedly, his xSLG is better, at .353. Gaps of roughly 50-150 points during these partial season slices -- both the good ones and the bad ones -- are par for the course, as you've probably deciphered by now. It's rare to find a completely deserved hot streak or slump.
Full season, however, Robles has an 89.8 mph EVAB and just nine barrels, so nine total homers is actually a bit high. He's gone pretty much in the opposite direction as Jimenez, and it's hard to see what a turnaround might look like. Fortunately for Robles, with the Nationals struggling and fourth outfielder Michael A. Taylor being even worse, Robles will probably get some time to figure things out. That's no guarantee given the team quickly sent down Carter Kieboom, but Robles does have the benefit of still being on the roster and playing almost every day. But it may be 2020 before Robles' power becomes worthy of respect.
Frazier homered 10 times in 113 games last year but is stuck on three in 65 games this season, with none coming since May 26. He's done okay since May 27 anyway: .295/.377/.443 (albeit with four of the six walks intentional). And by Statcast, that's only a slight over-performance with a .390 xSLG in the stretch. Nonetheless, zero homers and three RBI is essentially no fantasy production for over three weeks.
Frazier's launch angle is actually up from last season to 11.7 degrees instead of 10.0, but his EVAB (90.2 to 89.8 mph) and barrel rate (3.1% to 1.5%) are down. Frazier was never going to provide more than NL-only power, but he won't return to the double digits without adding some exit velocity oomph, which seems like the most unlikely of all mid-season adjustments, for any player.
We could talk about Jose Ramirez every week until he becomes the 2017-18 version of Jose Ramirez, but that would be cruel, so instead we'll conclude with, effectively, another NL-only player (following Frazier, not Ramirez! Ramirez plays in the AL). From April 20 to May 12, Tapia homered five times in 59 plate appearances. Hitting that well for long enough could have broadened Tapia's relevance playing for the Rockies, but since then he has no homers in 116 PA of a .218/.259/.282 slash.
It's come with a .314 xSLG, a smaller gap than usually comes up for a cold spell, which is another bad sign. Tapia is not hitting the ball well at all, even by Statcast slump standards. After he posted a 14.9-degree average launch angle in 2018, Tapia has fallen to 9.7 this year and 7.6 during the slump. Single-digit launch angles at Coors Field are a disappointment at best and a tragedy at worst. If Tapia is to have consistent success, he needs to either build up the launch angle -- his exit velocity is already up to 88.7 mph this year after 82.6 mph last year -- or do better in the plate discipline department. For now, he's not hitting like someone who can leave Coors, which you don't need me to tell you is bad on a scale of good to bad.
Last Week's Risers
| | |
| --- | --- |
| Player | Last Week Update |
| Matt Olson | Another homer as he goes to 11 |
| Edwin Encarnacion | Trade to Yankees more important than week of stats; even better times could be ahead |
| Colin Moran | Only a .222/.222/.389 week, but another bomb |
| Scott Kingery | .500/.533/.929, homer eight (no stopping a .750 BABIP) |
| Christian Yelich | Ho-hum, just a .304/.360/.565 week with homer #26? |
Last Week's Fallers
| | |
| --- | --- |
| Player | Last Week Update |
| Rougned Odor | Back on the board with #8 but, predictably, only a .182/.308/.364 week |
| Michael Brantley | Still waiting for the next homer, and .158/.304/.211 is a regression |
| Nick Senzel | Two bombs and .643 SLG the past week, returning with a vengeance despite .214/.267 BA/OBP |
| Yadier Molina | .174 .208 .217 not the most surprising for a first week back from an injury |
| Lorenzo Cain | .190/.190/.190 feels like an icky enough week that it may as well have gone .000/.000/.000 |
More 2019 Fantasy Baseball Advice