We'll be doing this roundup of points leagues every week here at RotoBaller, with waiver wire targets and streaming pitchers being evaluated in terms of the different scoring systems of ESPN, Yahoo!, CBS, and Fantrax.
Player values can vary wildly from platform to platform, so we'll make sure to highlight where players are the best and worst fits. We know points league players get neglected and we're here to help with all of the best streams for the week.
These fantasy baseball waiver wire pickups are for the week of May 2 - May 8, looking at players below ~50% rostered for ESPN, Yahoo!, or Fantrax. Rankings are calculated using games through Saturday, May 1.
Featured Promo: Get your 2023 MLB Premium Pass for 50% off. Exclusive access to our preseason Draft Kit, #1 accuracy rankings, #1 ATC projections, Team Sync platform, Live Draft Assistant, 15 in-season lineup tools, customized rankings and much more!
Sign Up Now!
Know Your System
You know what I'm going to say, right?  You must account for, as precisely as possible, how a player performs under your particular scoring system. Don't be fooled into believing you can just make rough adjustments in your head, bumping up guys with high on-base percentages and low strikeout rates. Every point, in every category, counts.
For example, ESPN and Fantrax are virtually identical in their scoring for hitters and roster size. The only difference is that stolen bases are worth one more point on Fantrax and ESPN subtracts one point per strikeout. That's the difference between Trea Turner being a top-five hitter versus a top-25 hitter.
If your league uses standard settings, then great! Turn to page 94 and you can skip ahead to the leaderboards. If you play with custom settings, it'll still be fine. Go back to page 43 and look below at the scoring systems of the four major platforms. I bet there's a chance that you'll find that your league's scoring is very similar to one of the four (well, not Yahoo!'s), even if it's not the platform you actually play on.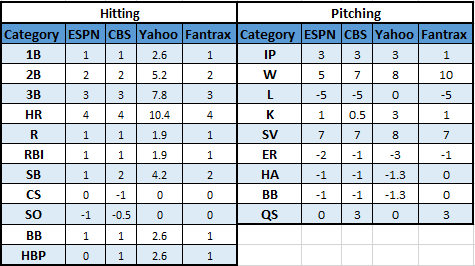 If you look above, you'll likely find a suitable mirror to your own system. While every point counts, as long as they aren't seismic changes, you can get away with some "close enough" calls. IE. If everything is the same except for HBP (or something similar), you're probably fine.
Waiver Wire Leaderboards
In addition to our overall waiver wire leaderboards, once we're deep enough into the season, we'll also start doing a 21-day leaderboard as well, giving us a window into recent production. All charts are updated prior to Saturday's games, on stats and ownerships, and clicking on a chart will open a new page with a magnified version.
*APR = Average Platform Ranking - the average platform ranking between ESPN, CBS, Yahoo, and Fantrax (standard point settings)
Two-Start Pitcher Waiver Wire Options
Steven Matz, NYM (vs KC, at SF)
Chris Paddack, MIN (at BAL, vs OAK)
Chris Flexen, SEA (at HOU, vs TB)
Marco Gonzales, SEA (at HOU, vs TB)
Drew Rasmussen, TB (at OAK, at SEA)
Michael Pineda, DET (vs PIT, at HOU)
Dakota Hudson, STL (at KC, at SF)
Daulton Jefferies, OAK (vs TB, at MIN)
Jake Odorizzi, HOU (vs SEA, vs DET)
Erick Fedde, WSH (at COL, at LAA)
Ross Stripling, TOR (vs NYY, at CLE)
Tyler Wells, BAL (vs MIN, vs KC)
Vladimir Gutierrez, CIN (at MIL)
Starting Pitcher Waiver Wire - The Great
Chad Kuhl, COL at Arizona
Paul Blackburn, OAK vs Tampa Bay
Bruce Zimmerman, BAL vs Minnesota, vs Kansas City
Corey Kluber, TB at Oakland
Drew Rasmussen, TB at Oakland, at Seattle
Jakob Junis, SF vs St. Louis
Starting Pitcher Waiver Wire - The Good
Tyler Anderson, LAD at Chicago Cubs
Adrian Houser, MIL vs Cincinnati
Chris Paddack, MIN at Baltimore
Brad Keller, KC vs St. Louis
Daniel Lynch, KC at Baltimore
Michael Lorenzen, LAA vs Washington
Michael Pineda, DET vs Pittsburgh
Mitch Keller, PIT at Cincinnati
Starting Pitcher Waiver Wire - The Meh
Steven Matz, STL vs Kansas City, at San Francisco
Reid Detmers, LAA at Boston
Michael Wacha, BOS vs Los Angeles Angels, vs Chicago White Sox
Madison Bumgarner, ARI at Miami
Drew Smyly, CHC vs Chicago White Sox
Chris Archer, MIN at Baltimore
Taijuan Walker, NYM at Philadelphia
Zach Thompson, PIT at Cincinnati
Kyle Freeland, COL at Arizona
Starting Pitcher Waiver Wire - The Ugly
Dakota Hudson, STL at Kansas City, at San Francisco
Martin Perez, TEX at Philadelphia
Marco Gonzales, SEA at Houston, vs Tampa Bay
Reiver Sanmartin, CIN vs Pittsburgh
J.T. Brubaker, PIT at Cincinnati
Relief Pitchers Waiver Wire
Unless you're in a very deep league and/or have a lot of dedicated RP-only slots, most of the relievers you're going to want are the ones who are closers, have a chance to close, or elite setup guys. But I do mean elite because most scoring structures are weighted in a way that relievers almost necessarily have to get saves in order to be valuable. Although, long relievers whose usage you can reliably predict, can be useful in leagues with daily moves. But for a majority of leagues, sticking to closers is the way to go.
With that in mind, here are the best relievers on the wire for Week 4, ordered by Yahoo roster%:
Notable IL
Closers on the Wire
Tanner Rainey, WSH - Rainey has the job all to himself but Washington isn't good enough to give him many opportunities. He pitched only once last week, picking up a Save on Friday.
Dany Jimenez, OAK - It's Jimenez's job (although Domingo Acevado blew an opportunity on Friday) but the presumption is that it'll go back to Lou Trivino as soon as he returns from the COVID-IL. I'd tell you when that's going to be but we've had zero information about where he currently stands.
Anthony Bender, MIA - The Marlins inexplicably had five Save chances last week, with all but one going to Bender, who converted all four. Miami is hot and Bender is the guy at the back - it's a good time to snag him.
Emilio Pagan, MIN - Pagan blew Minnesota's only Save chance last week and Jhoan Duran (he of the 102 mph four-seamer/99 mph splitter combo) lurks off stage.
Committees on the Wire
Cincinnati Reds - Lucas Sims got a chance immediately upon returning from the IL but both of Cincinnati's Save chances this week went to others. But Tony Santillan and Art Warren blew their chances so I guess we'll just have to see how things shake out this week. I'm still betting on Sims.
Seattle Mariners - There isn't any more clarity after Seattle failed to generate a Save opportunity last week.
Boston Red Sox - Matt Barnes and Jake Diekman both blew their Save opportunities last week, with Matt Strahm converting one on Friday. Avoid.
Kansas City Royals - The Royals had one Save opportunity last week - Josh Staumont blew it, Scott Barlow picked up the pieces (and the Win), while Taylor Clarke picked up his first Save.
Pittsburgh Pirates - David Bednar might be the most talented (and rostered) but the Pirates two Save opportunities last week went to Wil Crowe and Chris Stratton. They both blew it.
Texas Rangers - Don't mess with Texas. Or their bullpen.
Download Our Free News & Alerts Mobile App
Like what you see? Download our updated fantasy baseball app for iPhone and Android with 24x7 player news, injury alerts, sleepers, prospects & more. All free!


More Fantasy Baseball Waiver Wire Advice