Welcome to Week 25 and our fantasy baseball waiver wire pitchers. We'll be doing this roundup of points leagues every week here at RotoBaller, with waiver wire targets and streaming pitchers being evaluated in terms of the different scoring systems of ESPN, Yahoo!, CBS, and Fantrax.
Player values can vary wildly from platform to platform, so we'll make sure to highlight where players are the best and worst fits. We know points league players get neglected and we're here to help with all of the best streams for the week.
These fantasy baseball waiver wire pickups are for the week of September 26 – October 2, looking at players below ~50% rostered for ESPN, Yahoo!, or Fantrax. Rankings are calculated using games through Saturday, September 24.
Featured Promo: Want a free RotoBaller Premium Pass? Check out these sports betting promo offers from the top sportsbooks! All new sign-ups get a free bonus offer on their first deposit, and a free year of RotoBaller's Premium Pass for all sports ($450 value)!
Sign Up Now!
Know Your Scoring System
You know what I'm going to say, right?  You must account for, as precisely as possible, how a player performs under your particular scoring system. Don't be fooled into believing you can just make rough adjustments in your head, bumping up guys with high on-base percentages and low strikeout rates. Every point, in every category, counts.
For example, ESPN and Fantrax are virtually identical in their scoring for hitters and roster size. The only difference is that stolen bases are worth one more point on Fantrax and ESPN subtracts one point per strikeout. That's the difference between Trea Turner being a top-five hitter versus a top-25 hitter.
If your league uses standard settings, then great! Turn to page 94 and you can skip ahead to the leaderboards. If you play with custom settings, it'll still be fine. Go back to page 43 and look below at the scoring systems of the four major platforms. I bet there's a chance that you'll find that your league's scoring is very similar to one of the four (well, not Yahoo!'s), even if it's not the platform you actually play on.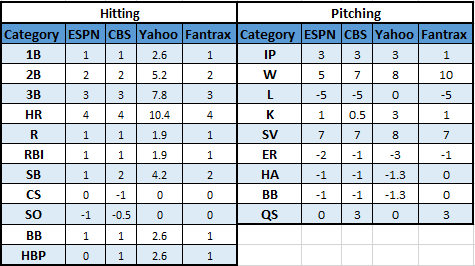 You'll likely find a suitable mirror to your own system if you look above. While every point counts, as long as they aren't seismic changes, you can get away with some "close enough" calls, i.e. If everything is the same except for HBP (or something similar), you're probably fine.
Week 25: Waiver Wire Leaderboards
All charts are updated before Sunday's games, on stats and ownerships, and clicking on a chart will open a new page with a magnified version. Players on overall leaderboards are ordered according to their current Roster% on ESPN.
*APR = Average Platform Ranking - the average platform ranking between ESPN, CBS, Yahoo, and Fantrax (standard point settings)
The 21-Day Leaderboard, Presented by Hansel
Overall Leaderboards
Starting Pitcher Waiver Wire - Best Choices
Hunter Greene, CIN (@ PIT) - Greene has come back from the injured list with an absolute vengeance, posting a 1.64 ERA over 11 IP against the Brewers and Cardinals, while striking out 19 batters. The Pirates, as you may have guessed, are nowhere close to the offenses in Milwaulkee and St. Louis. Pittsburgh is 28th in wOBA, 27th in xwOBA, and 29th in K% vs RHP in 2022. And against right-handed sliders, the Pirates rank 27th in wOBA, 30th in xwOBA, and 28th in Whiff%.
Bailey Ober, MIN (vs CHW, @ DET) - A matchup with a spiraling White Sox team certainly isn't a bad thing but a start against the Tigers (IE. one of baseball's worst offenses) is an absolutely great thing.
Jose Quintana, STL (vs PIT) - The Quintana looks to strike back, getting a great matchup against his former team, with the Pirates ranking 29th in K% and BB% vs LHP, 30th in xwOBA, and 28th in wOBA.
Braxton Garrett, MIA (@ MIL) - My guy Braxton has returned from the IL sooner than expected, and in his second start back gets a matchup that looks a lot scarier on paper than it actually is, considering how bad Milwaukee has been vs LHP (26th in wOBA, 30th in xwOBA, 29th in SwStr%).
Kyle Bradish, BAL (@ BOS, @ NYY) - Bradish returned in the second half throwing his slider way more and the results have been hard to argue, with the rookie posting a 2.67 ERA in 11 starts in the second half. And in his most recent start, Bradish dominated the Houston Astros for 8.2 IP, allowing just two hits while striking out 10. And honestly, as impressive as Bradish's numbers have been, the competition he's done it against makes it that much more so. In those 11 starts, Bradish has faced HOU (2x), TOR (4x), and BOS (2x).
Mitch Keller, PIT (vs CIN) - Mitch Keller and his fancy, new sinker continue to impress, most recently striking out seven Cubs over six innings and allowing two runs. But since he plays for the Pirates, that performance obviously led to a loss.
James Kaprielian, OAK (@ LAA, @ SEA) - Outside of an 8 ER blowup against the Yankees on August 25, followed by a 5 ER outing against the Nationals, Kaprielian has been fairly solid, albeit without a very high ceiling, given a low strikeout rate and lower chances of earning wins. The Angels are fairly terrible vs RHP (23rd in wOBA, 25th in xwOBA, 30th in K%) and while Seattle has been better, Kaprielian has handled them well most of the season. Since allowing 5 ER in 5 IP on May 24, Kaprielian has posted a 1.59 ERA over four starts, going 2-1 and striking out 20 batters.
Joey Wentz, DET (vs KC, vs MIN) - Wentz now has a 1.10 ERA over 16.1 IP in his three starts since returning to Detroit's rotation, most recently shutting out the Orioles for 5.2 IP and striking out four batters in a win. Kansas City has been above average vs LHP but Minnesota has been on a surprising downswing in the second half, ranking 25th in wOBA and 22nd in K% since the start of August.
Starting Pitcher Waiver Wire - Next Choices
Drey Jameson, ARI (@ SF) - Sampson has looked good in his first two starts (vs SD, @ LAD), working with an excellent fastball and solid slider/changeup mix. The San Francisco offense has been mediocre, at best, vs RHP all season, and ranks 20th in wOBA and 27th in K% against them since August 1st.
Adrian Sampson, CHC (vs CIN) - Considering he's posted a 1.00 ERA over his past three starts and will face a Reds offense that has ranked in the bottom-three all season, let me talk to Sampson.
Roansy Contreras, PIT (vs CIN, @ STL) - The line was ugly in his last start but after allowing 6 ER (and a grand slam) early, Contreras settled down, ending up with 10 K. A matchup with St. Louis is tough but Cincinnati remains a softie and is a team that even the Pirates might be able to earn a win against. Maybe.
Rich Hill, BOS (vs BAL) - In four of his past five starts, Hill has allowed at least 4 ER. In the fifth, he pitched five shutout innings, while striking out seven in a win. The opponent? Baltimore.
Eric Lauer, MIL (vs MIA) - Lauer looked shaky in his return from the IL but faces a Miami offense that is 30th in wOBA, 27th in xwOBA, and 30th in K% vs LHP in 2022.
Adrian Houser, MIL (vs STL, vs MIA) - I'll start just about anyone with a pulse against Miami.
Cody Morris, CLE (vs TB) - Morris has curbed the walks in his past two starts, walking three batters over 11 IP vs Texas and Minnesota, posting a 1.64 ERA and striking out 11 batters. But while Tampa Bay ranks 20th in wOBA for the season, they are 14th since the start of August vs RHP and are 9th in BB%.
Starting Pitcher Waiver Wire - Desperate Choices
Dylan Bundy, MIN (@ DET) - For those most likely to shoot NOS straight into their eyeball, just to "feel alive".
Aaron Civale, CLE (vs KC) - Given the dips in performance and constant shuttling to and from the IL, it's really hard to trust Civale, even in a soft matchup with Kansas City. But it went well the last time Civale face the Royals on July 8, allowing just 1 ER over 7 IP, while striking out six.
Matt Manning, DET (vs KC) - Manning lost control in his last start against Baltimore, walking five batters in 5.1 IP, and allowing five runs (3 ER) in a loss. But while Kansas City is stingy with the strikeouts, they've been a bottom-five offense vs RHP all season.
Reid Detmers, LAA (vs TEX) - Detmers has been getting roughed up lately, allowing 4 ER in three of his last four starts, and Texas has excelled vs LHP, ranking 8th in wOBA, 10th in xwOBA, and 12th in K% since the start of August.
Michael Lorenzen, LAA (vs OAK) - Lorenzen has a 4.02 ERA in his three starts since returning from the IL but will face an Oakland offense that 29th in wOBA and xwOBA vs LHP in 2022.
Luis Cessa, CIN (@ PIT) - Cessa only has a 3.94 ERA over his seven starts since joining the rotation but most of that is carried by a 5 ER outing against these same Pirates on September 13.
Cole Irvin, OAK (@ LAA) - The Angels are a soft matchup but Irvin has been getting absolutely hammered for most of the second half. In eight starts since August 14, Irvin has posted a 7.17 ERA, allowing at least 4 ER in six of the outings.
Relief Pitchers Waiver Wire
Unless you're in a very deep league and/or have a lot of dedicated RP-only slots, most of the relievers you're going to want are the ones who are closers, have a chance to close, or are elite setup guys. I do mean elite because most scoring structures are weighted in a way that relievers almost necessarily have to get saves to be valuable. Although, long relievers whose usage you can reliably predict, can be useful in leagues with daily moves. But for a majority of leagues, sticking to closers is the way to go.
With that in mind, here are the best relievers on the wire for Week 25, ordered by Yahoo roster%:
Closers (and co-Closers) on the Wire
Cincinnati Reds - Alexis Diaz (1 appearance, 1 Save)/Hunter Strickland (3 appearances)
Miami Marlins - Dylan Floro (4 appearances, 2 Saves, 1 Blown Save)
Oakland Athletics - Domingo Acevedo (2 appearances, 2 Saves)
Tampa Bay Rays - Jason Adam (1 appearance, 1 Blown Save)
Texas Rangers - Jose Leclerc (2 appearances, 1 Save)
Washington Nationals - Kyle Finnegan (2 appearances, 1 Save)
Minnesota Twins - Jhoan Duran (1 appearance)
Committees on the Wire
Arizona Diamondbacks - Ian Kennedy (1 appearance)/Reyes Moronta (3 appearances, 2 Saves 1 Hold, 1 Loss)
Boston Red Sox - John Schreiber (3 appearances, 1 Save, 1 Loss, 1 Hold)/Matt Barnes (2 appearances, 1 Hold)/Matt Strahm (2 appearance, 1 Loss)
Los Angeles Angels - Jimmy Herget (2 appearances, 1 Save, 1 Hold)/Ryan Tepera (1 appearance, 1 Save)/Aaron Loup (3 Appearances, 1 Blown Save, 2 Holds)/Jose Quijada (1 appearance, 1 Loss)
Los Angeles Dodgers - Evan Phillips (3 appearances)/Alex Vesia (2 appearances)/Brusdar Graterol (1 appearance)/Chris Martin (2 appearances, 1 Save)
Download Our Free News & Alerts Mobile App
Like what you see? Download our updated fantasy baseball app for iPhone and Android with 24x7 player news, injury alerts, sleepers, prospects & more. All free!


More Fantasy Baseball Waiver Wire Advice