Welcome to Week 19 and our fantasy baseball waiver wire pitchers. We'll be doing this roundup of points leagues every week here at RotoBaller, with waiver wire targets and streaming pitchers being evaluated in terms of the different scoring systems of ESPN, Yahoo!, CBS, and Fantrax.
Player values can vary wildly from platform to platform, so we'll make sure to highlight where players are the best and worst fits. We know points league players get neglected and we're here to help with all of the best streams for the week.
These fantasy baseball waiver wire pickups are for the week of August 15 – August 21, looking at players below ~50% rostered for ESPN, Yahoo!, or Fantrax. Rankings are calculated using games through Saturday, August 13.
Featured Promo: Get any full-season MLB and DFS Premium Pass for 50% off. Exclusive access to our Team Sync platform, Premium articles, daily Matchup Rating projections, 15 lineup tools, DFS cheat sheets, Research Stations, Lineup Optimizers and much more!
Sign Up Now!
Know Your Scoring System
You know what I'm going to say, right?  You must account for, as precisely as possible, how a player performs under your particular scoring system. Don't be fooled into believing you can just make rough adjustments in your head, bumping up guys with high on-base percentages and low strikeout rates. Every point, in every category, counts.
For example, ESPN and Fantrax are virtually identical in their scoring for hitters and roster size. The only difference is that stolen bases are worth one more point on Fantrax and ESPN subtracts one point per strikeout. That's the difference between Trea Turner being a top-five hitter versus a top-25 hitter.
If your league uses standard settings, then great! Turn to page 94 and you can skip ahead to the leaderboards. If you play with custom settings, it'll still be fine. Go back to page 43 and look below at the scoring systems of the four major platforms. I bet there's a chance that you'll find that your league's scoring is very similar to one of the four (well, not Yahoo!'s), even if it's not the platform you actually play on.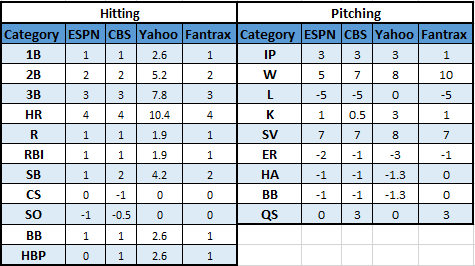 You'll likely find a suitable mirror to your own system if you look above. While every point counts, as long as they aren't seismic changes, you can get away with some "close enough" calls, i.e. If everything is the same except for HBP (or something similar), you're probably fine.
Week 19: Waiver Wire Leaderboards
All charts are updated before Sunday's games, on stats and ownerships, and clicking on a chart will open a new page with a magnified version. Players on overall leaderboards are ordered according to their current Roster% on Yahoo.
*APR = Average Platform Ranking - the average platform ranking between ESPN, CBS, Yahoo, and Fantrax (standard point settings)
The 21-Day Leaderboard, Presented by Hansel
Overall Leaderboards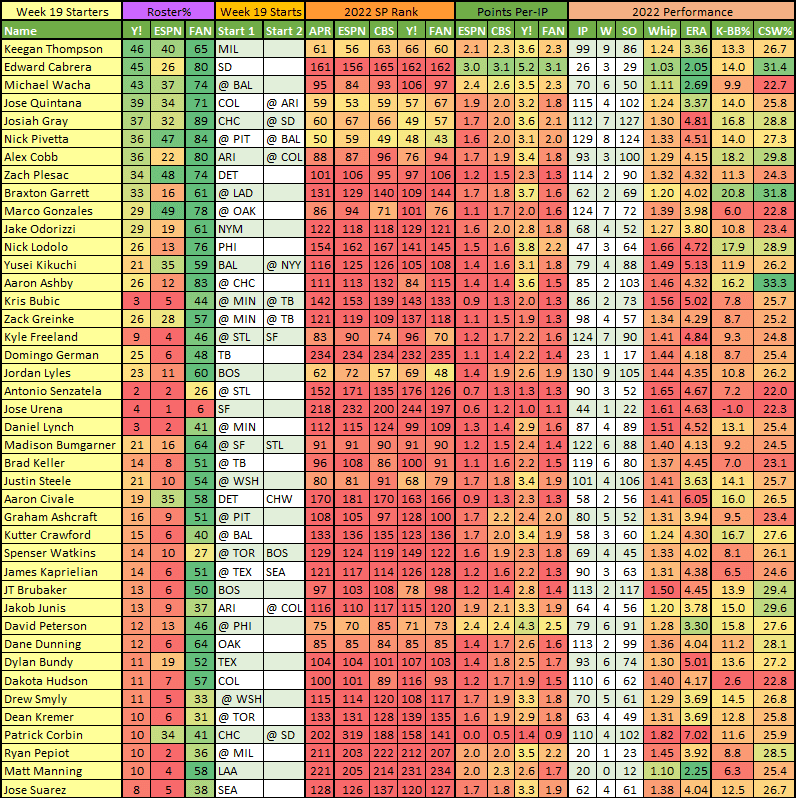 Starting Pitcher Waiver Wire - Best Choices
Mitch Keller, PIT (vs BOS, vs CIN) - Mitch Keller and his fancy, new sinker continue to rewrite his story and he's now posted a 2.23 ERA over his past six starts. Boston has been middling, overall, but is particularly bad against right-handed sinkers, with the 28th wOBA against them. But Cincinnati seems particularly primed to get diced by Keller, as the Reds are 29th in wOBA and 28th in xwOBA against right-handed sinkers.
Dane Dunning, TEX (vs OAK) - Dunning has peeled off three quality starts in a row, posting a 2.00 ERA over 18 IP, striking out 15 but walking seven. Starts against Oakland are great but right-handed starters with a decent slider make them even better, as the A's are 30th in wOBA, 29th in xwOBA, and 26th in both SwStr% and Whiff%. Just when you think he's rolling, Dunning has a bad habit of dropping a bomb but I'm going to have his back one more time.
Zach Plesac, CLE (vs DET) - Somebody better call Slater, Kelly K., and the rest of the gang because the Zack Attack is back, baby! Ok, well let's no get carried away but this matchup (again) is juicy for Plesac, as he most recently dominated them for 6.1 IP, striking out seven and allowing just one earned run. In fact, that makes three solid starts against the Tigers this season, for a total of 16 IP, 13 K, and a 2.81 ERA. And while Detroit is fairly terrible against most pitchers, Plesac and his (getting nasty again) slider is set up extra special, as the Tigers are 30th in SwStr% and Whiff% vs sliders from right-handed pitchers.
Drew Smyly, CHC (@ WSH) - Smyly has turned in back-to-back quality starts and has allowed 1 ER or less in four of his past five starts since the All-Star Break (2.42 ERA, 9.0 K/9). The Soto/Bell-less Nationals are even worse than before - and they weren't great with them (20th in wOBA, 16th in xwOBA since June 1).
Jose Suarez, LAA (vs SEA) - Suarez is on a three-start scoreless streak, striking out 16 batters over 17.1 IP and picking up three wins. Granted, facing Kansas City and Oakland (twice) isn't the hardest path. But while Seattle is obviously a better offense than those two, Suarez dominated the Mariners in back-to-back starts in late June, allowing just 1 ER over 10.1 IP and striking out 15.
Nick Pivetta, BOS (@ PIT, @ BAL) - Things have been rough for my fellow Nick, as Pivetta has rolled a 7.36 ERA over his last six starts. But the last one was decent (if ho-hum) against a really good Atlanta offense (6 IP - 3 ER - 5 K) and Pivetta has a great two-fer on tap. The Orioles are the better of the two but are still average vs RHP and Pittsburgh, well, is Pittsburgh. The Pirates are 28th in wOBA, 27th in xwOBA, and 27th in K% vs RHP and do particularly poorly vs Pivetta's pitch mix of four-seamers, sliders, and curveballs.
Edward Cabrera, MIA (vs SD) - A matchup with San Diego isn't generally a good idea (7th in wOBA, 7th in xwOBA vs RHP since June 1st) but like we talked about last week, Cabrera's talent is entering him into a new level of trust. Especially coming off of a tough matchup in Philadelphia that saw the rookie pick up a win after striking out six over 5.2 scoreless innings.
Aaron Civale, CLE (vs DET, vs CHW) - A start against the White Sox isn't superb (since June 1 vs RHP: 16th in wOBA/xwOBA, 4th in K%) but Civale will have another crack against a Tigers team that he just faced in his return from the IL, allowing 2 ER over 4 IP and striking out four. Considering the Tigers are bottom-two in virtually every category vs RHP, I'll take my chances rolling with Civale again.
Starting Pitcher Waiver Wire - Next Choices
Marco Gonzales, SEA (@ OAK) - What do we do against Oakland? We stream it! Gonzales might have a 5.40 ERA over his last three starts but Oakland is a bottom-three team vs LHP and should be attacked liberally.
Jose Quintana, STL (vs COL, @ ARI) - Welp, we gotta give some credit to ol' Mr. Crafty going into Colorado and escaping with a quality start, allowing 2 ER over 6 IP, striking out six and picking up the win. He'll get the Rockies again (at home this time) and a matchup on the road against the Diamondbacks, who have been much improved vs LHP over the summer. Arizona is 2oth in wOBA and 17th in K% vs LHP for the year but is 9th in wOBA and K% since the start of June.
Alex Cobb, SF (vs ARI, @ COL) - The Diamondbacks remain fairly inept vs RHP (21st in wOBA, 22nd in xwOBA) but have severely cut down on strikeouts, with the 3rd-lowest K% since the start of June. But they're still a full-go for Cobb...Colorado, on the other hand? The last time Cobb pitched at Coors, he allowed 7 ER in 5.1 IP - no thank you.
Matt Manning, DET (vs LAA) - Manning has reintroduced himself in his past three starts, posting a 3.71 ERA over 17 IP, including a dominant performance over the Rays (7 IP - 0 ER - 7 K). The Angels are bad against both hands but since the start of June are 29th in wOBA, 26th in xwOBA, and 30th in K%.
Tyler Alexander, DET (vs LAA) - Since returning to the Tigers on June 14, Alexander has a 2.19 ERA (3.31 FIP) across 37 IP, but only moved to the rotation for his last three games. The strikeouts have been light (8 K in 16 IP) but a 3.38 ERA has been pretty decent, particularly since two of the starts came in Toronto and Minnesota. And in his last start (at home vs CLE), Alexander had his best start, allowing 2 ER over 7 IP, striking out two. Betting on the Tigers to back him up is never easy but the Angels have been particularly bad vs left-handers since the start of June (30th in wOBA/xwOBA, 26th in K%).
Domingo German, NYY (vs TB) - Since allowing 5 ER to the Yankees in his season debut, German has a 2.61 ERA over 20.2 IP and four starts but a 3.94 FIP (and velocity that still isn't what it used to be) makes it still hard to trust him.
JP Sears, OAK (@ TEX, @ SEA) - His outings have been solid (if short) but rolling with Sears is more about the matchups, as Seattle and Texas are both middling offenses vs RHP, with above-average strikeout rates.
Justin Steele, CHC (@ WSH) - He can still be really inconsistent but also totally nasty, on occasion. For example, in his last start against these same Nationals, in which he struck out nine batters of 6 IP, allowing 2 ER.
Glenn Otto, TEX (vs OAK, @ MIN) - Avoid the start in Minnesota but a stream against Oakland is almost always playable.
Kris Bubic, KC (@ MIN, @ TB) - Yeah, so Bubic has been really good since the All-Star break, rocking a 2.27 ERA over five starts, with 26 K in 31.2 IP. But more impressively, is that four of those starts came on a tour of the AL East, facing every team but Baltimore. Minnesota has struggled vs LHP since the start of June (22nd in wOBA) but still has top-10 rates in xwOBA, K%, and BB%. Tampa Bay, however, has been a bottom-10ish team vs LHP all season. But even with decent matchups, you know you're playing with fire, right?
Starting Pitcher Waiver Wire - Desperate Choices
Aaron Ashby, MIL (@ CHC) - We tried to avoid Ashby last week when he was scheduled to face the Cardinals but things still went poorly when his schedule switched to face the Reds, allowing 4 ER over 4.2 IP. I'll say it again; it seems clear that Ashby hasn't been the same pitcher since dealing with forearm irritation in June. In April/May, Ashby had a 2.70 ERA over 40 IP, with a 0.7 HR/9. Since then, he has a 5.76 ERA over 45.1 IP, with a gaudy 1.6 HR/9. But luckily for him, the Cubs are mostly terrible vs LHP, with bottom-six rates against them since June in wOBA, xwOBA, and K%.
James Kaprielian, OAK (@ TEX, vs SEA) - The results have been better for Kaprielian and a matchup with Texas isn't too shabby. But the stuff isn't special and just remains too hittable to trust.
Zack Greinke, KC (@ MIN, @ TB) - Greinke shouldn't be started against Minnesota, who are a top-five offense vs RHP, but Tampa Bay could be tried, in a pinch, as the Rays continue to be worse vs RHP than you might expect. Counterpoint: Greinke pitches for the Royals and pumps 88-poo fastballs.
Justin Dunn, CIN (@ PIT) - Justin Dunn is not a great pitcher but, as covered ad nauseam, Pittsburgh is not very good at baseball...Especially hitting baseballs...And especially against right-handers. Plus, they love whiffing against righty curveballs, which Dunn uses ~25% and had a 25% SwStr% in his season debut against the Mets.
Madison Bumgarner, ARI (@ SF, vs STL) - Mr. FIP-Magic is running out of steam, posting a 5.58 ERA (4.23 FIP) over his past five starts, including getting lit up for 5 ER in 6 IP vs the Pirates in his last time out. Against two teams that are actually good, things might get ugly.
Keegan Thompson, CHC (vs MIL) - Thompson continues to be excellent (3.06 ERA over the last three weeks) but a matchup with Milwaukee could be tough sledding. The Brewers are 4th in wOBA vs RHP, 7th in xwOBA, and with the 5th-highest BB%.
Touki Touissant, LAA (vs SEA) - Toussaint has looked fairly brilliant in a three-start renaissance for the Angels, posting a 2.70 ERA, 1.13 WHIP, and 30% K% over 13.1 IP. And while a 6.1 BB/9 is untenable, five of his nine walks came in his second start against Oakland. If he keeps the walks in check against a much better offense, Toussaint should again grab 5-6 strikeouts but with an unlikely chance of getting a Win bonus (because Oakland), he'll have to ride a really thin line to be worth chancing in points.
Tyler Beede, PIT (vs CIN) - Beede has a solid matchup against the Tigers but probably won't go much more than 4 IP, and is extremely unlikely to pick up a Win bonus while being backed by the Pirates.
Kutter Crawford, BOS (@ BAL) - Crawford has good stuff but also just got blasted by the Royals, allowing 5 ER over 5 IP and striking out four. And his pitch mix doesn't line up great with Orioles, who have top-5 numbers vs right-handed curveballs, and top-10 numbers vs cutters.
Graham Ashcraft, CIN (@ PIT) - Matchups with the Pirates are almost always a go but this one feels shaky. Ashcraft has a 1.74 ERA over his last three stars but that's backed by a 3.94 FIP and leads with a cutter and slider that both have sub-7% SwStr%.
Relief Pitchers Waiver Wire
Unless you're in a very deep league and/or have a lot of dedicated RP-only slots, most of the relievers you're going to want are the ones who are closers, have a chance to close, or are elite setup guys. I do mean elite because most scoring structures are weighted in a way that relievers almost necessarily have to get saves to be valuable. Although, long relievers whose usage you can reliably predict, can be useful in leagues with daily moves. But for a majority of leagues, sticking to closers is the way to go.
With that in mind, here are the best relievers on the wire for Week 19, ordered by Yahoo roster%:
Closers (and co-Closers) on the Wire
Tanner Scott, MIA
Kyle Finnegan, WSH
Rowan Wick, CHC
Wil Crowe, PIT
Jonathan Hernandez, TEX
John Schreiber, BOS
Alexis Diaz/Hunter Strickland, CIN
Committees on the Wire
Ian Kennedy/Joe Mantiply, Arizona
Ryan Tepera/Jose Quidjada/Jimmy Herget, LAA
Dany Jimenez/A.J. Puk/Zach Jackson, OAK
Jason Adam/Colin Poche/Brooks Raley/Pete Fairbanks, TB
Random Save Chances O' the Week
All of the players who got a Save opportunity in Week 18 but aren't regular closers.
Tyler Matzek, ATL- Save on Tuesday
Raisel Iglesias, ATL - Blew a Save on Tuesday, got a Save on Saturday
Bryan Baker, BAL - Blew a Save on Tuesday
Matt Barnes, BOS - Blew a Save on Tuesday
Mark Leiter, CHC - Blew a Save on Tuesday
Bryan Shaw, CLE - Save on Thursday
Enyel De Los Santos, CLE - Blew a Save on Thursday
Carlos Estevez, COL - Save on Friday
Hector Neris, HOU - Save on Friday
Jesse Chavez, LAA - Blew a Save on Wednesday
Jaime Barria, LAA - Blew a Save on Wednesday
Matt Bush, MIL - Save on Tuesday, Save on Saturday
Scott Effross, NYY - Save on Saturday
Eric Stout, PIT - Save on Wednesday
Chase De Jong, PIT - Blew a save on Thursday
Nabil Crismatt, SD - Blew a Save on Wednesday
Brock Burke, TEX - Blew a Save on Wednesday
Yimi Garcia, TOR - Blew a Save on Tuesday
Steve Cishek, WSH - Blew a Save on Wednesday
Carl Edwards Jr., WSH - Save on Tuesday, Save on Saturday
Download Our Free News & Alerts Mobile App
Like what you see? Download our updated fantasy baseball app for iPhone and Android with 24x7 player news, injury alerts, sleepers, prospects & more. All free!


More Fantasy Baseball Waiver Wire Advice