We'll be doing this roundup of points leagues every week here at RotoBaller, with waiver wire targets and streaming pitchers being evaluated in terms of the different scoring systems of ESPN, Yahoo!, CBS, and Fantrax.
Player values can vary wildly from platform to platform, so we'll make sure to highlight where players are the best and worst fits. We know points league players get neglected and we're here to help with all of the best streams for the week.
These fantasy baseball waiver wire pickups are for the week of June 13 - June 19, looking at players below ~50% rostered for ESPN, Yahoo!, or Fantrax. Rankings are calculated using games through Friday, June 10.
Featured Promo: Get any full-season MLB and DFS Premium Pass for 50% off. Exclusive access to our Team Sync platform, Premium articles, daily Matchup Rating projections, 15 lineup tools, DFS cheat sheets, Research Stations, Lineup Optimizers and much more!
Sign Up Now!
Know Your Scoring System
You know what I'm going to say, right?  You must account for, as precisely as possible, how a player performs under your particular scoring system. Don't be fooled into believing you can just make rough adjustments in your head, bumping up guys with high on-base percentages and low strikeout rates. Every point, in every category, counts.
For example, ESPN and Fantrax are virtually identical in their scoring for hitters and roster size. The only difference is that stolen bases are worth one more point on Fantrax and ESPN subtracts one point per strikeout. That's the difference between Trea Turner being a top-five hitter versus a top-25 hitter.
If your league uses standard settings, then great! Turn to page 94 and you can skip ahead to the leaderboards. If you play with custom settings, it'll still be fine. Go back to page 43 and look below at the scoring systems of the four major platforms. I bet there's a chance that you'll find that your league's scoring is very similar to one of the four (well, not Yahoo!'s), even if it's not the platform you actually play on.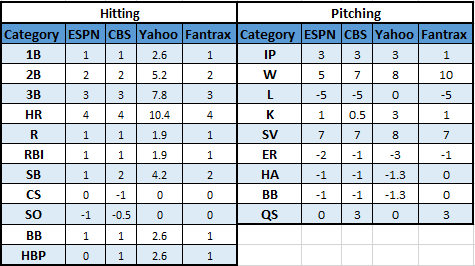 You'll likely find a suitable mirror to your own system if you look above. While every point counts, as long as they aren't seismic changes, you can get away with some "close enough" calls. IE. If everything is the same except for HBP (or something similar), you're probably fine.
Waiver Wire Leaderboards
In addition to our overall waiver wire leaderboards, once we're deep enough into the season, we'll also start doing a 21-day leaderboard as well, giving us a window into recent production. All charts are updated prior to Saturday's games, on stats and ownerships, and clicking on a chart will open a new page with a magnified version.
*APR = Average Platform Ranking - the average platform ranking between ESPN, CBS, Yahoo, and Fantrax (standard point settings)
Two-Start Pitcher Waiver Wire Options
Starting Pitcher Waiver Wire - Best Choices
Spencer Strider, ATL (@ WSH) - Our cover boy from last week delivered against the Pirates, striking out eight batters and earning the win after allowing zero earned runs over 5.2 IP. The Nationals have the 5th-lowest K% vs RHP, so perhaps the strikeouts won't be as plentiful for Strider but Washington is only 17th in wOBA and have bottom-10 marks in xwOBA and BB%. Full stache ahead.
George Kirby, SEA (vs LAA) - Kirby's Roster% dropped after back-to-back duds but the rookie has turned it right back around in his last two starts, allowing a total of 2 ER over 12 IP, striking out 11 batters. He'll get a reeling (and Maddon-free) Angels offense that has lost 15 of their last 16 games and has the 2nd-highest K% vs RHP.
Rich Hill, BOS (vs OAK) - Sometimes Rich Hill is very good at baseball, and sometimes Rich Hill is very bad. Luckily for him, he'll get to face an Oakland team that is almost always bad - the A's are bottom-five in wOBA and xwOBA vs LHP, with the 9th-highest K%.
Jakob Junis, SF (vs KC) - Karma rewarded me for not trusting my guy in his last start against a Dodgers offense that is one of the best in baseball, with Junis earning the win after allowing 2 ER over 5 IP, striking out five. But you better believe I'm going back to the well in a matchup against a Royals offense that is 23rd in wOBA vs RHP. *Update - Junis, unfortunately, hit the IL on Saturday night - He is no longer a best choice. But depending on your league size, he might be still be worth stashing during what is expected to be a minimum stay...Seriously, pitching is getting dicier and dicier and the waiver wire will only get grosser as the league-wide offense continues to heat up. Prepare for a cold summer, young grasshoppers.*
Roansy Contreras, PIT (@ STL) - Contreras allowed 3 ER over 5.2 IP in a loss to Atlanta but was as whiffy as ever, striking out seven batters and walking just one. St. Louis is stingy vs RHP (4th-lowest) but also done a lot less damage, posting the 16th-highest wOBA but 25th-highest xwOBA.
Michael Wacha, BOS (vs STL) - After a complete-game shutout against the Angels in his last time out, Michael Wacha has now allowed two or fewer earned runs in eight of his nine starts and is now rolling out a 1.99 ERA and 0.91 WHIP. His ceiling is limited by a 17.4% K%, and this will probably continue against a St. Louis team that has the 4th-lowest K% vs RHP but the Cardinals can also sputter, posting the 16th-highest wOBA but 5th-lowest xwOBA.
Jon Gray, TEX (@ DET) - Gray got roughed up by Cleveland in his last start, walking four and allowing 5 ER over 5 IP. But what do we do when faced with a start against Detroit (29th in wOBA/xwOBA, 26th in K% vs RHP)? We stream them!
Starting Pitcher Waiver Wire - Next Choices
Dane Dunning, TEX (HOU, @ DET) - Dunning got knocked around by the Guardians (4 IP, 4 ER, 1 K) but we warned you last week that Cleveland is sneaky-good vs RHP. Dunning should be rostered but only one of his starts this week needs to be messed with, as the Astros are 8th in wOBA and 2nd in xwOBA vs RHP. But going to Detroit is often a good idea for righties, as the Tigers are 29th in wOBA and xwOBA vs RHP, with the fifth-highest K%.
Corey Kluber, TB (@ NYY, @ BAL) - On tap for a double-start week, Kluber has a 3.15 ERA and 29.1% CSW% over his past four starts. The matchup with Baltimore (21st in wOBA vs RHP) looks a lot better on paper than against the Yankees (2nd in wOBA, 1st in xwOBA vs RHP) but Kluber didn't have any problems when he faced them on May 28, allowing 1 ER on three hits over 6 IP, striking out five.
Dakota Hudson, STL (@ BOS) - Boston is 15th vs wOBA and 7th in xwOBA vs RHP but we can't ignore Hudson's recent successes. Hudson has only allowed 2 ER total in his last three starts and has back-to-back performances where he allowed 1 ER in 7 IP against the Rays and Padres.
Merrill Kelly, ARI (vs CIN, @ MIN) - Kelly gets another crack at a Cincinnati team that he just shut out for six innings in his last start, earning the win and striking out five. But a start against the Twins won't be nearly as easy, as Minnesota is top-five in wOBA and xwOBA vs RHP.
David Peterson, NYM (vs MIL, vs MIA) - He hasn't completed four innings in either of his last two starts but he's also only allowed 2 ER in 6.1 IP, striking out nine. Given the recent usage, it's hard to project him to go deep this week but he'll get two shots to do it against two offenses that are subpar vs LHP.
Edward Cabrera, MIA (@ NYM) - The rookie has been excellent through his first two starts of 2022, most recently locking up Washington for six innings, allowing just one run and striking out four in a Marlins victory. But a matchup with the Mets (4th in wOBA, 2nd in K% vs RHP) could prove dicier.
Alex Faedo, DET (vs CHW, vs TEX) - Faedo has been one of the few bright spots in Detroit and now has a 2.92 ERA over his first four starts. A 3.92 FIP/4.39 xFIP are saying there is pain on the way, as does his 6.81 K/9. But he'll have two soft matchups to try and keep the train moving in Week 10, facing Chicago and Texas teams that have both been bottom-10 offenses vs RHP. Plus, the White Sox are also first in the league for making terrible decisions about mid-at-bat intentional walks. Which is nice, if it happens to come up. Wink.
Josiah Gray, WSH (vs ATL, vs PHI) - Gray would be an all-star if he could only face the Marlins (3 GS, 16.2 IP, 23 K) but he'll be back to reality in a double-start week. Philadelphia is top-10 in wOBA/xwOBA vs RHP but Atlanta is a more favorable matchup, ranking last in K%, with the 19th-highest wOBA.
Hunter Greene, CIN (vs MIL) - Greene keeps pumping that gas, most recently locking up the Diamondbacks for seven shutout innings and striking out eight while picking up the win. But a matchup with Milwaukee won't likely be as easy, as the Brewers are top-10 in wOBA vs RHP - but also bottom-seven in K%.
Johnny Cueto, CHW (@ DET, @ HOU) - The great thing about using Cueto in points, is that at least you know he's getting you six innings of accumulation. We all know what to do against a Detroit offense that is one of baseball's worst vs RHP (or anyone, really) but tread real carefully against a Houston team that is top-10 vs RHP in wOBA and K%, with the 2nd-highest xwOBA.
Graham Ashcraft, CIN (vs MIL) - Hunter Greene is getting most of the rookie love in Cincinnati but Ashcraft has come out firing too. He had a 1.65 ERA over his first 32.2 IP in the minors this year and has now posted a 1.14 ERA and 0.85 WHIP over his first four starts. However, his 3.34 FIP says that some corrections could be coming and Milwaukee has excellent numbers vs RHP. And without the high-K ways of his teammate Greene, Ashcraft doesn't have nearly as high of a margin for error.
Brad Keller, KC (@ OAK) - Like a bizarro Johnny Cueto, Keller gonna get you six. Whether he gives up 2 ER or 5 ER, now that is the question. Fortunately for Keller, he'll face an Oakland offense that rarely has the answer for how to score more than a few runs, posting a wOBA and xwOBA vs RHP that is last in baseball.
Starting Pitcher Waiver Wire - Desperate Choices
Adrian Houser, MIL (@ NYM, @ CIN) - Houser continued his downward slide against the Phillies in his last start, allowing five earned runs for the second time in three starts. Starts against Cincinnati (22nd in wOBA, 27th in xwOBA vs RHP) are almost always a good idea but I'm not touching against the Mets, who are 4th in wOBA vs RHP, with the 2nd-lowest K%.
Chris Archer, MIN (@ SEA, ARI) - The renaissance continued in Week 9, with Archer earning the win against a really tough Yankees offense, allowing just one run over five innings. But he also walked a dangerous tight rope, walking four batters but only striking out two. A start against Seattle also seems dangerous, as the Mariners are top-10 in both wOBA and xwOBA vs RHP. But Arizona is bottom-10 in both and has the 2nd-highest K% vs RHP (and Archer needs every strikeout he can get) but while playable, be conscious of the ceiling - five innings, a few strikeouts, and maybe a win. And we all know the floor, right? One inning, infinite runs.
Taijuan Walker, NYM (vs MIA) - Walker laid a dud against a mediocre San Diego offense in his last start, lasting six innings but allowing four earned runs while only striking out four. It's nice that he's actually healthy (and lasting 5-6 IP) but Walker has limited usefulness if the strikeouts are no longer coming. Walker has just a 5.2% K-BB% and 23.9% CSW% on the season and he'll face a Marlins team with the 10th-lowest K% vs RHP.
Cole Irvin, OAK (vs KC) - Since allowing a total of 7 ER over his first two starts of the season, Irvin has now posted a 2.29 ERA over his past seven starts. Yes, Cole Irvin. Plus, Irvin will also get a start against a substandard Royals offense. But be careful because he also doesn't strike anyone out (6.0 K/9) and is backed by a surrounding cast that is unlikely to set him up for many wins.
Zach Eflin, PHI (vs MIA, @ WSH) - Eflin has a 3.60 ERA over his past four starts but a 4.37 FIP isn't as shiny. He'll get a playable start against the Nationals (17th in wOBA, 20th in xwOBA, but 5th in K% vs RHP) but don't get carried away and underestimate the Marlins offense - Miami is third in wOBA and 10th in xwOBA vs RHP.
Devin Smeltzer, MIN (@ ARI) - Smeltzer has a 2.38 ERA and 0.97 WHIP over 34 IP this season and sets up for a super soft matchup with a Diamondbacks offense that is 29th in wOBA against LHP, 30th in xwOBA, and 28th in K%. That's all good! The trouble is that there isn't much telling us that the successes will continue. The 2.38 ERA is backed by a 4.90 FIP, 4.90 xFIP, and 5.12 SIERA, while his league-losing 12.5% K% is fairly deserved, as it has a bottom tier 6.9% SwStr% and 25.9% CSW%. He also doesn't generate groundballs (45.6% GB%) and gives up a lot of home runs (1.32 HR/9). But hey, anything can happen against Arizona's offense, so feel free to try and ride the lightning one more time.
Mitch Keller, PIT (@ STL, SF) - Have you heard the one about Mitch Keller tricking a bunch of fantasy players by being good for a few starts before getting blown up after turning right back into the same, old Mitch Keller? No, not that one. No, not that one, either...The new one. Amazing setup, better punchline.
Starting Pitcher Waiver Wire - McMahon Choices
No chance. No chance in hell I'm rolling out these starting pitchers who are at the higher end of the Roster% threshold or may be tempting because of a two-start week.
Yusei Kikuchi, TOR (BAL, NYY) - Welp, that was a mess. Kikuchi didn't even get out of the first innings against a hapless Kansas City offense, walking four of the eight batters he faced and allowing 3 ER, getting the hook after recording just two outs. But hey, they were both K's! Mediocre pitchers should be avoided vs NYY but Baltimore is a bottom-five offense vs RHP, with the second-highest K%. But until Kikuchi shows signs of life, only the desperate should be testing him out.
Ross Stripling, TOR (vs NYY) - Sliding into the rotation for a great two-step last week earned Stripling plenty of love but don't get all crazy and try him against a Yankees offense that is currently cooking with gas. New York is 2nd in wOBA and 1st in xwOBA vs RHP.
Patrick Corbin, WSH (vs PHI) - Why is Patrick Corbin still rostered ~40%? He was serviceable last week (6 IP, 3 ER, 5 K) after a schedule change put him up against the Reds instead of the Brewers but rolling the dice against the Phillies (4th in wOBA/xwOBA vs LHP) is a terrible idea.
Madison Bumgarner, ARI (vs MIN) - If 4 ER in five or six innings is your jam, then feel free.
Marco Gonzales, SEA (vs MIN) - Gonzales somehow danced his way out of trouble against a dangerous Boston team, allowing just two earned runs after walking six batters in 4.1 IP. He'll face a Twins team with a mediocre 14th-highest wOBA vs LHP but the 2nd-highest xwOBA says more pain could be coming in the future.
Antonio Senzatela, COL (CLE, SD) - Seriously, how hard would you laugh if you saw your opponent using Senzatela (4.83 ERA, 5.56 FIP) for two starts at home this week?
Relief Pitchers Waiver Wire
Unless you're in a very deep league and/or have a lot of dedicated RP-only slots, most of the relievers you're going to want are the ones who are closers, have a chance to close, or elite setup guys. But I do mean elite because most scoring structures are weighted in a way that relievers almost necessarily have to get saves in order to be valuable. Although, long relievers whose usage you can reliably predict, can be useful in leagues with daily moves. But for a majority of leagues, sticking to closers is the way to go.
With that in mind, here are the best relievers on the wire for Week 10, ordered by Yahoo roster%:
Closers (and co-Closers) on the Wire
Tanner Scott, MIA - The Marlins have a mess of messy options (Cole Sulser, Anthony Bass, and Dylan Floro) but it's Scott that has separated himself, getting Miami's last three Save opportunities and converting all of them. Since allowing 3 ER in 1 IP in Colorado on May 30, Scott has been absolutely dominant - over five appearances and 5 IP, he has a 0.0o ERA, with two hits and nine strikeouts.
Tanner Rainey, WSH - Continuing our Tanner streak, Rainey is the only other "true" closer sitting on most waiver wires. He's been excellent as of late but got back to his no-save ways this past week, blowing his one opportunity.
Committees on the Wire
Boston Red Sox - The Boston bullpen remains a quagmire of fantasy destruction and no one should bother trying to navigate through it. Tanner Houck, Jake Diekman, John Schreiber, and Hansel Robles are all possible options but Matt Strahm got (and converted) two opportunities last week, with Houck picking up the Save on Friday.
Cincinnati Reds - Tony Santillan has gotten but then blown the Reds past two Save opportunities. It's probably Alexis Diaz's turn on the merry-go-round next.
Miami Marlins - The Marlins have a mess of messy options (Cole Sulser, Anthony Bass, and Dylan Floro) but it's Tanner Scott that has started separating himself. Scott has picked up two wins in the past six days but also received (and converted) Miami's only opportunity. Since allowing 3 ER in 1 IP in Colorado on May 30, Scott has been absolutely dominant - over four appearances he has a 0.0o ERA, with two hits and eight strikeouts.
Tampa Bay Rays - The Rays hijinx continues, with Jason Adam picking up Tampa Bay's only Save opportunity this past week.
Seattle Mariners - Seattle continues to have no interest in using a traditional closer, with Paul Sewald picking up the Save on Monday after Castillo came on before him to ultimately earn the Win. But it was Castillo ending with the Save on Tuesday and Thursday, with Sewald earning the Hold on the latter.
Random Save Chances O' the Week
Jimmy Herget, LAA - Blown Save on Sunday
Ryan Tepera, LAA - Blown Save on Tuesday
Brusdar Graterol, LAD - Blown Save on Sunday
Daniel Hudson, LAD - Save on Wednesday
Jovani Moran, MIN - Save on Sunday
Joe Smith, MIN - Save on Thursday
Sam Moll, OAK - Blown Save on Thursday
Steve Cishek, WSH - Save on Sunday
Ian Kennedy, ARI - Save on Thursday
Rowan Wick, CHC - Blown Save on Sunday
Kendall Graveman, CHW - Blown Save on Friday (earned Win)
Alex Colome, COL - Save on Thursday
Rafael Montero, HOU - Save on Sunday
Seth Lugo, NYM - Blown Save on Sunday (earned Win)
Miguel Castro, NYY - Blown Save on Sunday
Matt Bush, TEX - Blown Save on Sunday
More Fantasy Baseball Waiver Wire Advice