Editor's Note: Our Partner DraftKings is hosting a HUGE Fantasy Golf tournament this weekend . The PGA Travelers Championship will pay $300K in prizes with $100K to first place, and best of all it's just $3 to enter! 
If you Sign up and make a deposit now, you'll get a 100% bonus on your first DraftKings deposit. We'll also give you free access to RotoBaller's Premium MLB DFS Lineup Picks and Tools (a $29.99 monthly value).
Following a classic United States Open finish featuring Jordan Spieth outlasting Dustin Johnson to win his second consecutive major, the PGA Tour moves to Cromwell, Connecticut for the Travelers Championship. Kevin Streelman will be looking to defend his championship on this par 70, 6,841-yard course; the winner of the tournament will receive a $1.152 million payout and an additional 500 FedEx Cup Points.
The course is described, per the Travelers Championship site, as "a well-balanced golf test with a mixture of long and short holes." The most notable stretch is Nos. 15-17, which play around a four-acre lake. When you include the home hole, the four-hole collection is, according to Stewart Cink, "four of the most exciting finishing holes in a group anywhere in the world."
There will be a lot more scoring at TPC River Highlands this week than there was last weekend at Chambers Bay. The last four wining scores were minus 15, 12, 14, and 20. The player field is 156 players deep, although many notable names have decided to take the week off after the grueling test at Chambers Bay.
Here are a couple of my selections for this upcoming DraftKings pool.
PGA DFS High-Priced DraftKings Picks ($9,000-$11,800)
Patrick Reed ($11,300 Vegas 16-1)
Reed just tied for 14th at the U.S. Open where he finished at two over and scored 78.5 fantasy points. Reed's two previous tournaments before the U.S. Open saw him score 77 and 76 fantasy points. He finished the Masters at two under, tied for 22nd, and The Players tied for fifth at five under. He has been in the mix throughout the season, but has yet to come out on top this year. His best finish thus far was tied for second at the Valspar Championship. Reed ranks fifth in putting and is 11th in made birdies per round with 3.94. He will want to avenge his performance last year at this tournament, where he was cut. Look for Reed to be in the mix late Sunday afternoon while he goes for his first win on tour this season.
Sergio Garcia ($10,400 Vegas 17-1)
I picked him for the U.S. Open last week, and he turned in a solid performance, scoring 59 fantasy points. Garcia has made every cut this year, and he should continue that streak this week. That being said, he will definitely give you great stability in your lineup. Garcia finished tied for second at this tournament last year, and he should be in the mix to win this time around. He is one of the most seasoned veterans in this field, and will give you your money's worth.
Kevin Na ($9,500 Vegas 40-1)
Last week I put Na in the considered list for players to choose from, and after starting with an even par, he flamed out. He finished last week at eight over, scoring 49.5 fantasy points. He had a streak of eight consecutive top 20s finishes before tying for 46th at the U.S. Open. Na has not won on the tour since 2011, and will have a great chance this weekend due to an overall lighter competition.
PGA DFS Mid-Priced DraftKings Picks ($7,000-$8,900)
Francesco Molinari ($8,700 Vegas 45-1)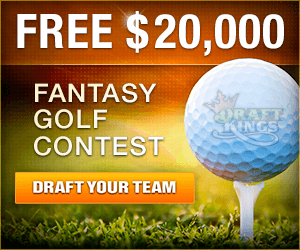 Molinari shot an opening round two under 68 at the U.S. Open. However, he was unable to continue his success, finishing with a combined seven over in the ensuing three rounds and tying for 27th, scoring 47.5 fantasy points. Molinari ranks first in driving accuracy (79.3%) and fourth in greens hits in regulations (72.1 %). He will be able to reach the green and have a great number of birdie opportunities, but will he be able to convert those? He ranks 155th in putting, and 132nd in birdies per round. If Molinari can turn around his putting game this weekend, he will be right atop of the leaderboard. I like his chances at converting those putts, and therefore I think he can put up great numbers.
Brendon de Jonge ($7,800 Vegas 95-1)
De Jonge did not play in the U.S. Open last week, but in his last tournament at the St. Jude Classic he scored 82.5 fantasy points, finishing 37th in that tournament. He is a great all-around player, something that will suit him very nicely in the Travelers. He is 23rd in driving, 39th in green hit in regulation, 24th in putting, and 23rd in birdies. De Jonge finished five under here last year and should do a bit better this time with the added rest and weaker field.
Ernie Els (7,100 Vegas 150-1)
Two years ago, then 44-year-old Ken Duke won the Travelers. In 2011, then 50-year-old Kenny Perry broke the tournament aggregate score, 258, to win the Travelers. Old players have won this tournament in the past, so don't count out the 45-year-old Els. He is a four-time major champion and knows what it will take to finish on top here. If Els is to have any chance, he will need to shoot well in the first round to get himself and his confidence going.
PGA DFS Low-Priced DraftKings Picks ($5,300- $6,900)
Vijay Singh ($6,600 Vegas 220-1)
The same applies here from Els' section. The Big Fijian is 52 years old, but still can strike the ball well at his age. He ranks 96th in average driving distance (288.8 yards), which is very impressive for a man his age. In his last tournament, the Memorial, he tied for 11th at 10 under. He finished better than Dustin Johnson and three strokes behind Jordan Spieth. He finished the Travelers last season at six under, tied for 31st. While he may not win, he is still a very good price for where I expect him to finish, which is in the mid-thirties again.
Erik Compton ($6,300 Vegas 240-1)
I picked him last week for my lineup, and he completely blew up. He shot a 10 over and was cut at the U.S. Open, finishing with a mere 13.5 fantasy points. This could either get ugly very fast, or he can play pretty well like when he scored 83.5 fantasy points at the Memorial two weeks ago. I'll give him one more chance this weekend to play well, as he should be able to put up some satisfactory numbers for his price.
Chad Collins ($5,700 Vegas 450-1)
He is a cheap player that has made 13 of 17 cuts this year. His best finish this season was tied for 11th at the Houston Open. Don't expect Collins to be near the top of the leaderboard, but he should make the cut, and that's about all you can ask for when choosing a player priced this cheap.
Quick Hitters
Bubba Watson ($11,800 Vegas 12-1) won this tournament in 2010 and could very well be in the mix late into the tournament, but I don't like the idea of choosing the favorites. I would rather choose Reed and spend the $500 elsewhere.
Keegan Bradley ($9,800 Vegas 35-1) would be a very nice alternative if you don't like Garcia or Na.
Aaron Baddeley ($7,000 Vegas 180-1) finished fourth last year at this tournament, two strokes behind the winner. Look for him to make some noise again.
Defending champions have not repeated here since Phil Mickelson repeated in 2002, so be wary of picking Kevin Streelman ($9,600 Vegas 45-1).
DFS & Fantasy Golf Chat Room
Premium DFS Golf Tools and Lineup Optimizer
Our friends at Fantasy National have created some game-changing DFS Golf tools, and you can 
read all about them here
. They are hands-down the best daily fantasy Golf tools in the industry.
Sign Up Now!