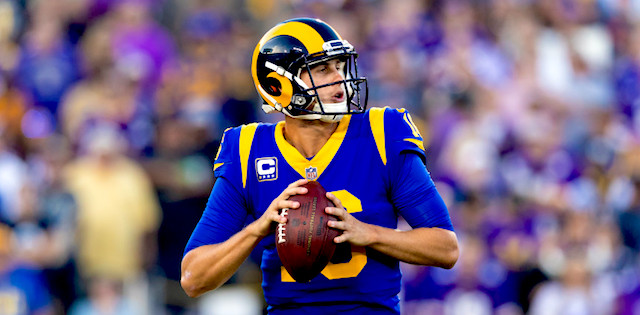 It's Week 7 and the injuries just keep piling up. Heading into this week, six different teams will be starting quarterbacks that were not their opening-day starters, and that doesn't take into account teams like the Indianapolis Colts or Kansas City Chiefs, who just lost quarterback Patrick Mahomes (knee) for at least three weeks.
To try and keep these quarterbacks healthy, it's up to the offensive linemen down in the trenches to get their jobs done, and we've seen some units massively outperform others. This week, we're getting some tantalizing matchups against opposing defensive lines for quarterbacks which could see them explode.
Once again we have four teams on byes this week, but it's very possible that you were starting a some of those players on a bye, and perhaps even a QB or two across your leagues. If you need a fill-in, you better scour the waiver wire, because there aren't a ton of healthy options available to you.
Editor's Note: Get any full-season NFL Premium Pass for 50% off. Our exclusive In-Season Lineup Tools, Lineup Optimizer and over 150 days of Premium DFS Research.
Sign Up Now!
Look Away Before It Gets Ugly
Sam Darnold vs New England Patriots
New York Jets quarterback Sam Darnold looked like his mono only made him better last week against the Dallas Cowboys. This week, he's going to have a much more difficult time. The New England Patriots Defense has allowed no more than 14 points in any week. They've held four opponents to a combined 20 points, and, while the entire defense has been outstanding, it has all started up for them with how they've gotten pressure on the quarterback.
Through six weeks, they're second in the NFL with 25 sacks, and their adjusted sack rate of 10.0% is also second to only the San Francisco 49ers. In the first matchup between these two teams, the Patriots totaled five sacks, and they should add to that this week. The Jets are tied for 31st in the league offensively with 25 sacks allowed this season despite only playing five games. This offensive line won't be able to keep Darnold clean, and it's going to be detrimental to his fantasy day as a result.
Andy Dalton vs Jacksonville Jaguars
The Jacksonville Jaguars just traded away All-Pro cornerback Jalen Ramsey, but that doesn't matter with how good their pass rushers have been. They've racked up 19 sacks thus far, and they have their full complement of pass rushers available against a depleted Cincinnati Bengals offensive line. The Bengals are without tackles Cordy Glenn and Andre Smith this week, and the Jaguars Defense is going to be able to tee off.
Bengals quarterback Andy Dalton, behind this patchwork offensive line, has been harassed every week he steps onto the field. Through six games, he's been sacked 22 times, and that rate is unlikely to decrease this week. He's never been the most mobile quarterback which allows edge rushers to harass him while he's in the pocket rather than chasing him around the field.
Case Keenum vs San Francisco 49ers
The Washington Redskins have done an average job of protecting their quarterbacks this season, as they've allowed 15 sacks thus far. However, this week is going to be easily their most difficult challenge of the year. The San Francisco 49ers Defense has been laying waste to offensive lines week-in week-out. With tackle Trent Williams still holding out for a trade, quarterback Case Keenum will be either running or finding himself on the ground a lot.
The 49ers defense is tied for sixth in the NFL with 16 sacks on the season, but they're pressuring quarterbacks an NFL best 10.8% of the time. They make quarterbacks feel uneasy, and it makes life easier on their back seven. Offseason acquisitions Dee Ford and Nick Bosa have 3.5 and 3.0 sacks respectively in what has been a team effort. For Keenum, his life will feature a lot of those two on Sunday afternoon.
That's More Like It
Aaron Rodgers vs Oakland Raiders
This is a good spot for Green Bay Packers quarterback Aaron Rodgers for a few different reasons. For one, he's playing at home where he is 67-18-1 in his career. His offensive line is also healthy, and they are playing some of the league's best football because opposing defenses have to respect the team's running game, which gives Rodgers more time in the pocket. He's been sacked just 11 times on the year, and five of those sacks came back in Week 1.
The Oakland Raiders Defense has been one of the bigger surprises of the NFL thus far. After largely being picked to finish at the bottom of their division, they're now 3-2 with wins over the Indianapolis Colts and Chicago Bears. Despite all of that, it hasn't been because of their pass rush. They've sacked opposing quarterbacks just nine times this season, and they could be without first-round pick Clelin Ferrell (concussion) while edge rusher Arden Key has already been ruled out. Rodgers has depleted weapons, but he usually finds ways to make plays.
Tom Brady @ New York Jets
While Darnold will be under pressure quite a bit, the same cannot be said for New England Patriots quarterback Tom Brady. Brady gets the ball out of his hands fast, and the pass rushers are unable to get to him as a result. He's been sacked just 10 times this season, and the Patriots have an adjusted sack rate of 5.8% which puts them at 13th league-wide. This group knows how to keep Brady upright, and they do it consistently.
The Jets Defense has just seven sacks on the season, which is tied for the second-worst mark behind only the Atlanta Falcons and Miami Dolphins. This group just doesn't generate a ton of pressure, and that's unlikely to increase against Brady. They'll likely be playing up for this game after last week's big win, but it's still unlikely to expect them to take him down more than twice if he's on his game.
Jared Goff @ Atlanta Falcons
Despite the struggles of Los Angeles Rams quarterback Jared Goff and his offensive woes, he's in a great matchup this week. The Rams haven't given Goff a ton of time to throw, but he's only been sacked 12 times on the year. His adjusted sack rate of 4.5% is the sixth-best mark in the NFL. This Atlanta defense can be had, and Goff is going to have the time to pick them apart.
Remember when I said only two teams were worse at sacking the quarterback than the Jets? The Falcons were one of those teams with just five sacks, and they're now shopping outside linebacker Vic Beasley Jr., who led the NFL in sacks three years ago. This team is spiraling slowly, and it's a ticking time-bomb as to when head coach Dan Quinn is fired unless he miraculously lights a fire under this team to go on a run. I don't see that happening this week or any time soon, and Goff should be the beneficiary
More Weekly Lineup Prep