There are two playoff series with crucial Game Four matchups Thursday night, chances for the Boston Bruins and Colorado Avalanche to get back to even, or to fall down into a daunting 3-1 hole in their respective series.
The Bruins and the Columbus Blue Jackets have gone to overtime in two of three games in this series, so they are obviously closely matched right now, but that still leaves the Bruins desperate for a win in Game Four before heading home.
The San Jose Sharks appear to have an edge on the Colorado Avalanche, but if the Avalanche could squeeze out another win before going back to San Jose for Game Five, the series would be reduced to a best-of-three. For a team looking to pull off a second straight upset, that's not the worst place to be. But they need to get the job done tonight.
Here are some angles to consider before getting in on Thursday's Stanley Cup playoff action.
Editor's Note: Our friends at Monkey Knife Fight have released the best, most fun, fastest growing DFS props game! It's super simple to play and win real money. Just choose your NBA, NHL or PGA game, and make your picks! Get a 100% instant deposit bonus up to $50 using promo code: BALLER. That's $50 for free - don't miss out!
BOSTON-COLUMBUS
OVER/UNDERS
Seth Jones OVER 4.5 SHOTS + BLOCKS – Columbus' star defenseman wasn't terribly productive in this regard until busting out the past couple of games, putting up five and then nine combined shots plus blocks in the past two games. He's capable of controlling the game at both ends and he's averaging more than 28 minutes per game in the playoffs so there will be opportunities for Jones to compile these stats.
David Pastrnak OVER 0.5 GOALS – Zig when the rest are zagging. Pasta is in a well-documented slump, with one goal in the past six games, but he's also generated 21 shots on goal in that time. If he can continue to get shots, the puck will start to go in. Well, that or the Bruins' season will be over in short order.
RAPID FIRE
Sergei Bobrovsky -2.5 saves vs. Tuukka Rask – It's not as though Rask is playing poorly, he isn't, but Bobrovsky has been outstanding, with a .937 save percentage in the postseason – some rare playoff success for the two-time Vezina Trophy winner. Part of the reason to take Bobrovsky, though, is that the Blue Jackets are giving up 35 shots per game in the series, compared to the 32.3 per game surrendered by the Bruins. Close, but ride Bob while he's on a hot streak.
SAN JOSE-COLORADO
OVER/UNDERS
Brent Burns OVER 5.5 SHOTS + BLOCKS – There was a stretch in the Vegas series where Burns was held to five combined shots plus blocks in four straight games, but he's gone for six-plus in each of the past five games and has eight or more in three of the past four games.
Nathan MacKinnon OVER 0.5 GOALS – It might be a tad optimistic to project any player to score a goal in a given game, because it's really hard, but MacKinnon is just generating so many chances in the postseason and has scored a goal in four of eight games. If the Avalanche are going to tie up this series they probably need MacKinnon to turn on the red light for the third straight game.
Erik Johnson UNDER 3.5 SHOTS + BLOCKS – The veteran Avalanche defenseman isn't the one creating chances offensively – that's more the domain of Tyson Barrie, Samuel Girard and rookie Cale Makar –  and Johnson has just three shots on goal in the past four games, so it's not easy to get to four combined shots plus blocks and Johnson has just once in the past five games.
Joe Thornton OVER 0.5 ASSISTS – Not so long ago, this would be an automatic selection, but Thornton is a member of the Sharks' supporting cast now, and while he played big minutes at the end of the Vegas series, he's averaging 14:28 of ice time per game against Colorado. Nevertheless, he's gone without an assist for a couple of games in a row, which might make him due to pick one up in Game Four.
RAPID FIRE
Brent Burns -1.5 shots + blocks vs. Erik Karlsson – The Sharks effectively have two rovers lined up on defense and Burns is the safer pick to accumulate shots and blocks, in part because Karlsson is more about distributing the puck. They can both be difference-makers, but Burns is more appealing in this category.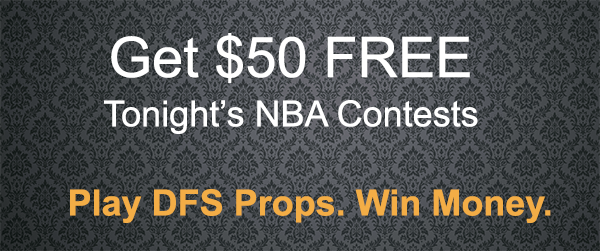 More Fantasy Hockey Analysis