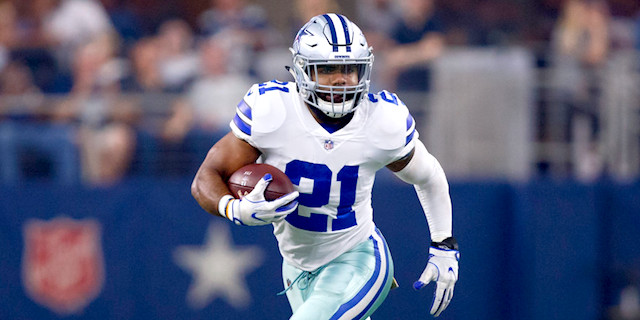 Week 8 was one for the favorites, as only two underdogs won outright, the Chargers and the Eagles. This means that only a scant number of entrants were knocked out of survivor pools. And of course, you had those fools who forgot to submit an entry and were eliminated. How can someone still be alive this far in, but forget to submit their pick?!
As I said last week, it's getting much more difficult to make these decisions, and this week is one of the hardest all season. There are only three teams favored by seven or more; Bills -10 vs. Redskins, 49ers -9.5 @ Cardinals, and Cowboys -7 @ Giants. Odds are you've already used all those teams to get to this point. But there is one other play this week, as well as one of the best gambling trends that does not arise all that often.
If you are reading this article on Thursday or later, the lines below are correct as of Wednesday. The teams I like against the spread will be italicized, with my three best bets against the spread able to be found on the bottom of the column. Teams on bye this week are the Bengals, Falcons, Rams, and Saints.
Editor's Note: Get any rest-of-season NFL Premium Pass for 50% off. Our exclusive DFS Tools, Lineup Optimizer and Premium DFS Research through the Super Bowl.
Sign Up Now!
Top Survivor Picks for Week 9
Bills -10 vs. Redskins
You've probably used Buffalo two weeks ago against Miami -- but in case you haven't, fire them up here because luckily for them:
The Bills are now 0-8 the last two years against teams with NFL-average or better offenses.

They allow 29 ppg and lose by an average score of 29-9.

— Warren Sharp (@SharpFootball) October 28, 2019
Washington does not have an above-average offense but rather are the 28th-ranked team in terms of yards per play. However, the Bills are also offensively challenged, and only average 19.1 points per game while the Skins average 14 points on the road. That is why I like Washington with the points.
Bills 20 - Redskins 13
49ers -9.5 @ Cardinals
It's tough to not have the Niners as one of the top plays. San Fran is vastly better than Arizona, but this is a divisional game on Thursday Night Football so crazy things can happen. Arizona is off a pretty big loss against Saints while the Niners are undefeated. This game will come down to red-zone scoring. The Cards are dead last in scoring touchdowns in the red zone while San Fran has the second-best red-zone defense. They also have the best defense in terms of yards per play as well as one of the best pass-rush groups in the league. That will be enough to get them the win.
49ers 23 - Cardinals 19
Cowboys -7 @ Giants
This game fits in to one of the greatest gambling trends of all time; road favorite off a bye are 62-25 against the spread (71 percent) since 2002. RJ Bell was on the Against All Odds podcast with Cousin Sal several years ago and explained this trend at the 47:35 mark.
"The team that's traveling is clearly better. Because you can't be favored on the road unless you're clearly better. But because you're clearly better, you have the distractions on the road. You might be looking ahead. You might be a little beat up from last week. Whatever it is, it's going to cause you not to play your best game; you're more susceptible to a team you think you should easily beat, even more susceptible on the road. That's why road favorites are so dangerous. Well, when you have a bye, all that stuff goes out the window. If you haven't played for two weeks, you're not going to look ahead. You're going to be focused on that team. You're not going to be tired. All the things that make traveling tough, you have that total focus."
Dallas is also number one in yards per play, first in third-down conversion percentage, and ninth in scoring touchdowns in the red zone. Their defense is also second in getting off the field on third-downs. The Cowboys beat up on bad teams and struggle against good ones and the Giants are a bad one.
Cowboys 31 - Giants 13
Jets -3 @ Dolphins
You may think I'm crazy for putting the Jets in this section, but Miami is on a short week, and well it is Miami. The Jets really are not that horrible of a team. Their head coach, Adam Gase, used to coach the Dolphins so you would expect he knows that team inside-out.
Miami's defense ranks in the bottom-five of the stats I use to make these decisions. They can't protect their quarterback allowing the most quarterback hits allowed this season. Keep fading those Fins!
Jets 23 - Dolphins 13
Top Survivor Picks to Avoid
Seahawks -6.5 vs. Bucs
I'm still alive in a loser pool and I'm highly considering taking the Bucs but this game terrifies me. For one, it's in the teaser zone. Every amateur gambler will have the Seahawks in a teaser. Vegas wants you to put Seattle in a 6.5-point teaser which tells me they may just very well win outright.
So let's delve into the stats. I always look at yards per play, touchdown percentage in the red zone, and third-down conversions. Those are the three-plus a small glance at sacks and turnovers. Seattle is a shocking 30th in opponent yards per play and they don't get to the quarterback much either as they have fifth-fewest sacks. Jameis Winston, who is a turnover machine, should have ample time to survey the field to find the open receiver.
Seattle will have a major advantage in the red zone, they rank second to Tampa's 25th-ranked red zone defense. Everywhere else they're pretty even. We must factor in Seattle's home field, but I feel like Winston loves playing in front of a raucous crowd. I keep thinking of Week 11, 2016 when the Bucs defeated the Chiefs in Arrowhead behind Winston's 335 yards (8.5 yards per attempt) and an interception-free game to win.
Another factor I like here is Bruce Arians. He beat the Seahawks several times in Seattle when he was the coach of the Cardinals as hefty underdogs. I originally had this game in top survivor play sections, and now I've talked myself out of picking the Bucs in my loser pool. This line should be around Seahawks by four.
Bucs 34 - Seahawks 30
Eagles -5 vs. Bears
I have no faith in either team. Mitchell Trubisky is just a bad quarterback and their head coach Matt Nagy is afraid to open it up and risk losing it because of that. On the other side, you have a good quarterback in Carson Wentz and a head coach who goes for it on fourth down and takes chances all the time. But the great equalizer in this one is the Bears pass rush. When Wentz is pressured, he gets happy feet and makes mistakes. The Bears Defense will have to win this game for them and even though I think they keep this low-scoring, I expect the Eagles to just eke it out.
Eagles 20 - Bears 17
Steelers -1 vs. Colts
So the Colts are 5-2, have played really solid football and are a one-point underdog in Pittsburgh? Vegas is trying to tell you something here because this line doesn't make sense.
The Colts offense is average but they protect the ball well, only turning it over seven times, fifth-fewest in the league. However, they aren't explosive. They are tied for 27th in passing plays of 20+ yards and have only one play of 40+ yards. The Steelers Defense is also continuing to improve. They're allowing 5.1 yards per play on the season, but over the last three, that number has dipped to 4.5. The defensive line constantly pressures the quarterback without blitzing, as they are ranked joint sixth in sacks. They also have the second-most takeaways, which is a major plus.
Pittsburgh's defense will win this game.
Steelers 24 - Colts 17
The Rest
Jaguars +2 vs. Texans (London) - It's so hard to bet a London game and this is one I want zero part in. There is one bet I'd considering playing; first quarter under. There have been a combined 13 total points in the first quarter of the three London games this year.
Vikings +2.5 @ Chiefs - This game depends on if Patrick Mahomes will be playing or not. With or without Mahomes though, the Vikings have the formula to beat KC and give the Chiefs their fourth straight loss at home. They can run the ball effectively with Dalvin Cook and Alexander Mattison providing the work in their third-ranked rushing attack.
Panthers -3.5 vs. Titans - What do you make of the Titans? They are so up and down and are average at best. The difference in this one is the Panthers pass rush. They have the second most sacks while the Titans offensive line has allowed the most sacks and fourth-most quarterback hits.
Raiders -2 vs. Lions - Oakland is a lot better than their record is. They've played really well in their last three games and now they finally return home for their first home game since Sept. 15. Detroit should have won by 30 last week but let the Giants hang around and hang around. I'll take Oakland.
Broncos +3 vs. Browns - Joe Flacco will not be playing due to injury. Brandon Allen will be starting and I expect them to open up the offense a little after Flacco called out the offensive play-calling.
Packers -3.5 @ Chargers - This is going to be played in Los Angeles, but it's really a Packers home game with all the Green Bay fans that will be there. Yet, the line is only three. So essentially, you're getting Green Bay as a standard three-point favorite in a "home" game. Sign me up.
Patriots -3.5 @ Ravens - This is a pros vs. joe's game. This line opened at 6.5 and despite 69 percent of the bets being on the Patriots, the line has dropped three points. Even so, I'll be a joe in this one and take New England. Bill Belichick owns quarterbacks under the age of 25 (Lamar Jackson is 22). I think he dares Jackson to beat them with his arm and stuffs the box. The Ravens are also 29th in opponent yards per play so New England should have no problem moving the ball.
Best Bets for Week 9
Cowboys -7
Steelers -1
Panthers -3.5
Last week: 1-2
Season total: 12-12
More Football Analysis