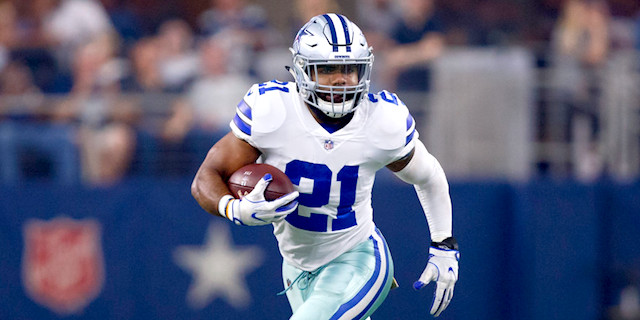 The Patriots look unstoppable, the Steelers look like toast, and the Ravens look like they'll control the AFC North. I gave out the Pats and Ravens, got burned on Pitt, but wisely avoided the Panthers. 
Like I wrote last week, don't overreact just yet. It's only two games. I understand it's already an eighth of the way through the season, but much will be different come Week 9, maybe even Week 5. Many are counting the Steelers out without Ben Roethlisberger, but their brass is not. They just traded their first-round pick for Dolphins safety Minkah Fitzpatrick. I'm not ecstatic about ripping up my futures on Steelers over 9 wins, division winners, Super Bowl winners, and most passing yards just yet, so let's pray Mason Rudolph can play. 
I've historically had very strong Week 3 performances. There are some teams that are so overvalued in the market at this point, and the public just looks blindly at records and scores without remembering their thoughts prior to Week 1. It's only two games so don't let that sway your opinion. There are also some massive point spreads this week.
Editor's Note: Get any rest-of-season NFL Premium Pass for 50% off. Our exclusive DFS Tools, Lineup Optimizer and Premium DFS Research through the Super Bowl.
Sign Up Now!
Survivor League Strategy
For those of you unfamiliar with survivor pools, it's very simple: pick a team to win each week; if they win, you move on to the next week. But you can't use that team ever again. There's no point spread involved.
Try to save the top teams for the end of the season. You don't want to be alive in Week 10 choosing between the Dolphins and Cardinals. Try to pick teams you won't use later.
Avoid divisional rivalries (generally), although in some weeks, it'll be pretty hard due to lack of options. Anything can happen in a divisional game.
Point spreads are crucial in reading games. Vegas knows a lot more than you do, so respect their outlook.
Teams favored by seven or more in Week 3 per The Action Network: Patriots - 22.5 Jets, Cowboys -21 vs. Dolphins, Packers -8 vs. Broncos, Vikings -8 vs. Raiders, Eagles -7 vs. Lions.
If you're reading this article on Thursday or later, these lines are from Tuesday. Check the current spreads and see how the line moved.
With gambling now legal for some of you, I'm going to be giving out my three top plays against the spread. I will italicize the team I like. It will look like this: Patriots -7 vs. Jets.
Top Survivor Picks for Week 3
Cowboys -21 vs. Dolphins
Going against Miami is becoming the easy play now. Dallas is a top-five team with a really good defense and an offense that is clicking.
Cowboys 38 - Dolphins 13
Patriots -22.5 vs. Jets
In terms of who wins this game, nothing needs to be said. For the point spread, Bill Belichick historically owns young quarterbacks.
Patriots 34 - Jets 10
Vikings -8 vs. Raiders
Uh oh. I'm really going to go with the Vikings after they burned me last year as 18-point home favorites to the lousy Bills? This will feel like an 11 a.m. game on Oakland's body clocks. Kirk Cousins threw Sunday's game away, but Minnesota will run the ball, opening up the deep ball for Cousins. The Vikings also have an elite defense.
Vikings 27 - Raiders 13
Bucs -6.5 vs. Giants
Normally I'd be scared of taking the Bucs because Jameis Winston can literally hand the game away like he did in Week 1, but head coach Bruce Arians will have them ready for this one. The defense is coached by old Jets head coach Todd Bowles and has only allowed one offensive touchdown thus far. The Giants have had their first drive perfectly scripted in the two games and then their offense stalls. Daniel Jones is playing, but a rookie in his first game against a good defense isn't a formula for success.
Bucs 26 - Giants 16
Top Survivor Picks to Avoid 
49ers -7 vs. Steelers
This is the quintessential fool's gold game. The 2-0 Niners, who just scored 41, head home for their opener against the depleted 0-2 Steelers without Ben Roethlisberger. The public will be all over the Niners because an unknown quarterback Mason Rudolph will be starting behind center. There are several things of notes here, the first being the point spread. After the news of Big Ben being lost to the season, Jeff Davis, the director of trading at Caesars Palace, tweeted the line out.
Seahawks -4 Saints
49ers -3 Steelers

— Jeff Davis (@The_Junkyard) September 16, 2019
Wait, what? These teams would be equal on a neutral field?
I hope you're right ... bettors are telling me quickly that SF -3 v Pitt was not the right number haha https://t.co/hqx5BW2XA4

— Jeff Davis (@The_Junkyard) September 16, 2019
The line has since moved but I expect wiseguy buyback on Pittsburgh.
As for the Niners defense, know that Jameis Winston threw three pick-sixes in Week 1. The Bucs then stayed on the East Coast between Weeks 1 and 2, a genius idea, and routed the Bengals who were receiving so much unwarranted love. Cincy isn't a good team and San Fran simply exploited that.
Vegas is begging you to tease the Niners here because the line is seven and public bettors say to themselves, 'On a 6.5 point tease, all the Niners need to do is win and I win that leg.' Wrong. I've been burned plenty of times by thinking that and it just shows Vegas is suckering you in.
Pittsburgh has the nobody believes in us factor going for them. They fully believe in Mason Rudolph because they wouldn't have traded a first-round pick for Minkah Fitzpatrick. Rudolph isn't a rookie. He sat behind Roethlisberger all of last season and will have a complete grasp of this offense. Let's take a shot.
Steelers 27 - 49ers 23
Packers -8 vs. Broncos
Green Bay looked like they were rolling Sunday after three touchdowns on three possessions and then this.
Let's check in on the Packers offense, which opened the day with 3 straight TD drives.

Since then they've... uhh.... eek. pic.twitter.com/O0oMzpTEqh

— Football Perspective (@fbgchase) September 15, 2019
What happened? Green Bay is a paltry 30th in yards per play at 4.3. Even Denver who has looked horrific is 22nd, 5.4. Are we sure Aaron Rodgers is alright? In his first game, he averaged 6.8 yards per attempt and 6.1 Sunday. He may be spinning the ball but I don't think he's completely comfortable in the new offense yet. A big reason Green Bay has won has been their defense who've come up with five turnovers.
Denver's defense is really phenomenal. That last drive of Chicago was completely garbage. First this abhorrent roughing call,
This was called roughing the passer on Bradley Chubb. pic.twitter.com/EA20wdl3gi

— NFL Update (@MySportsUpdate) September 15, 2019
and then the clock not running out and the refs letting Chicago kick the field goal. Many will count out Denver in this game because it's the 2-0 Packers in Lambeau against the 0-2 Broncos.
Broncos 23 - Packers 21
Bills -6 vs. Bengals
I'm not buying the Bills. They beat the Jets and Giants who are both in the bottom ten of the league. The Bengals hung with Seattle and then got blown out to the Niners. There are too many question marks with these teams and six points is based off records and a blowout of the Giants.
Bengals 19 - Bills 18
Eagles -7 vs. Lions
Philly should win this game but they have too many injuries. Detroit is average at best. The Eagles injuries are the one thing not allowing me to take them in survivor.
Eagles 24 - Lions 19
The Rest
Jaguars +1.5 vs. Titans - This is the Thursday night doozy. A lot of Vegas sharps use the stat yards per play to handicap the games. It's only two games but the Jags are 5th and Titans 24th. Despite scoring 12 points Sunday, Jacksonville had 4.8 yards per play to Tennessee's 4.1. The Jags defense will stifle Marcus Mariota and that mediocre offense.
Colts -2.5 vs. Falcons - This is a ridiculous line. The Colts are a really underrated team and this will be their season opener. Atlanta narrowly got by Philly and the Eagles were without Alshon Jeffrey, DeSean Jackson, Dallas Goedert, and Corey Clement. Carson Wentz was also banged up. And Atlanta needed a fourth-down conversion to win. Matt Ryan is a surprisingly 9-12 on the road in domes.
Chiefs -6.5 vs. Ravens - This is the game of the week. These are two hottest teams with the two hottest quarterbacks. The Ravens are second in yards per play and Chiefs are three. Now we really find out if the Ravens are for real because they crushed Miami and just got by the Cardinals.
Cardinals +2.5 vs. Panthers - The Panthers would really be a nine-point favorite if this were in Carolina? I find this line really troubling. My best friend who doesn't watch football anymore because it's too violent happened to catch a glimpse of last Thursday's game and even said, something is really wrong with Cam Newton. I'd much rather bet the young, athletic, electric Kyler Murray at home.
I wrote the above before the news of Cam Newton (he may not play Sunday).  I liked Arizona before and like them more now.
Chargers -3 vs. Texans - Bill O'Brien is such a bad coach. I've been saying that for years and maybe people are starting to realize that. The Texans have such a bad offensive line and Joey Bosa and Melvin Ingram will feast.
Saints +4.5 @ Seahawks - So the 2-0 Seahawks only get 1.5 points extra at home against Teddy Bridgewater. Many will discount the Saints because of how Bridgewater looked Sunday, but there's a reason they paid him around $7 million because he's a reliable backup.  Vegas wants you to take Seattle so that means you take the Saints.
Rams -3 @ Browns - Cleveland's offensive line is so bad. Baker Mayfield is continually pressured and sacked eight times already. Now they have to find a way to block Aaron Donald? The Browns are also the most undisciplined team. They have 27 penalties, seven more than the next team. Freddie Kitchens has no control of this team.
Redskins +4 vs. Bears - I think the Bears will win but how can you trust Mitch Trubisky especially on the road in a Monday night game?
Best Bets for Week 3
Steelers +7
Broncos +8
Colts -2.5
Last week: 1-2
Season total: 1-5
More Week 3 Lineup Prep