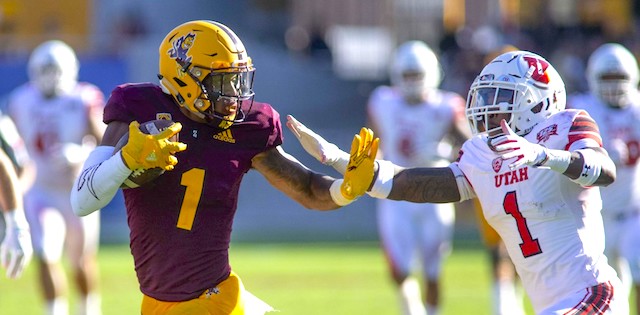 The 2019 wide receiver draft class may not be stockpiled with potential studs at the NFL level, but it could be one of the deeper positions this year. You may not see many of these receivers make an immediate impact in the league but odds are a few of these names will be making spot appearances in fantasy starting lineups later in 2019.
History has not been kind to rookie receivers in terms of fantasy production. Many owners are blinded by the allure of a bright new shiny toy that they jump at the chance to roster them. But outside of the rare occurrence of a Randy Moss or Odell Beckham, you have countless others that disappoint and fail to live up to the hype early on. The three-year rule at receiver for fantasy value is something that gets talked about quite a bit. It's certainly a rule to go by when you gauge a players value in re-draft or dynasty formats.
Heading into the upcoming Scouting Combine, the receivers will be a group with a lot of eyes on them. Draft values will be all over the board based on what we see during the testing process. As it stands now, I have my Top 10 set. Here is how they shake out heading into this next week.
Editor's Note: Get any rest-of-season NFL Premium Pass for 50% off. Our exclusive DFS Tools, Lineup Optimizer and Premium DFS Research through the Super Bowl.
Sign Up Now!
1. N'Keal Harry, Arizona State
My top prospect heading into the combine, Harry is fresh off a very productive college career at Arizona State. Back to back 1,000-yard seasons and a consistent scoring threat, he was a key cog in an offense that was middle of the road in scoring (55th in the nation). This shows that he can handle the workload as a primary threat on a team.
Harry brings the prototypical size (6'3, 213lbs) and speed that a team can salivate over. He has the best hands in this class and the ability to beat any type of coverage. He is physical enough to get off of press coverage and the speed to outrun corners on the outside. His run-after-the-catch ability makes him a weapon at any level on the field and the biggest reason he tops my rankings.
Fantasy Spin: Harry will be a Day 1 pick in the NFL Draft and a player that will come off the board very early in dynasty formats. I envision him as a potential WR1 by his third season, but when it comes to 2019, he could still make some noise. He could become a player that sees potential as a low-end WR3/Flex later on in the season.
2. A.J. Brown, Ole Miss
Coming off a very impressive season at Ole Miss (85 catches for 1,320 yards and six scores), Brown heads to the combine with a lot to prove. The Rebels boasted perhaps the deepest set of receivers in the country and many see Brown as a beneficiary of soft coverage. But from what I saw in his game, he could translate to the NFL quicker than his counterparts.
Playing primarily in the slot, Brown is a savvy route runner that can separate from a defender with a slew of moves. Coupled with a quick first step, he uses his big body to shield defenders in contested catch situations. He has tremendous run after the catch speed for a player of his size. Brown also has the ability to make the difficult catch at any point of the field. How he tests at the combine could be a big boom for his draft stock.
Fantasy Spin: I have Brown slotted as a mid-first round pick in dynasty formats. His transition to the pros could be seamless if drafted in the right situation. He has the skills to make a JuJu Smith-Schuster type of impact in his rookie season under the right circumstances and may be a factor as a high-end WR2 in dynasty for a number of seasons.
3. Kelvin Harmon, N.C. State
Coming off back to back 1,000-yard seasons, Harmon finds himself as one of the more talked about prospects heading into the combine. He was the top receiving threat of one of the nation's pass-happiest offenses (10th in passing yards). His reliability as a true WR1 and the consistency he plays with is what has scouts excited heading into the combine.
Harmon is a physical receiver that has a great burst off the line of scrimmage. He may not blow you away with his speed but can get plenty of separation in the early stages of a route. His size and ball skills make him an ideal candidate to be a scoring threat in the red zone. Playing against press coverage a majority of his time in college will ease the move to the pros for him. The question will be how he responds to more variety in coverages in the NFL.
Fantasy Spin: Harmon will be another receiver to come off the board early in rookie drafts. He will likely find the going somewhat tough early on, but could factor in as a high-end WR4 by season's end. But come his third season, I expect to see Harmon as a WR1 on a team and a steady contributor in fantasy.
4. D.K. Metcalf, Ole Miss
D.K. Metcalf may be the most talked-about receiving prospect heading into the combine. His career at Ole Miss was full of highlights but limited on production due to injuries. He is built like a linebacker but has the play speed of someone with a smaller frame. Built the way he is, it likely led to the injuries he's sustained so far.
He has all the physical traits that you'd want in a top-tier receiver in the pros. His size, hands, and release off the ball are all parts of his game that has him at the top of this class. But a knock I have on him is his one-dimensional route skills. Primarily an outside receiver that stretches the field, I would like to see more short to intermediate routes added to his game.
Fantasy Spin: Based on his testing at the combine, Metcalf is a player that could move all around draft boards in the coming weeks. I have him as a mid-to-late first rounder currently. He could be a project early on, so don't expect a big impact in 2019. But going forward, Metcalf projects to be a true WR1 in the NFL. For fantasy purposes, his ceiling is WR1 potential, but the floor could be quite low and crippling in PPR formats.
5. Deebo Samuel- South Carolina
Coming off a productive senior season, Samuel saw his stock rise after a great performance during Senior Bowl week. He showed the versatility he has as a receiver where he can line up anywhere in the formation and not miss a beat. Samuel also benefitted from a South Carolina offense that was 28th in the nation in passing yardage.
He is likely the best pure route runner in the class and a RAC beast due to his athleticism. He may not has the size of an ideal outside receiver, but he can easily fill in that spot on any roster in the NFL. He can release off the ball and find an open area against any type of coverage. He also has the ball skills that many quarterbacks will gravitate to and trust. One knock on him is his ability to take the top off a defense. But that is overlooked due to the skills he shows in the open field with the ball in his hands.
Fantasy Spin: Samuel is an intriguing prospect for me as a low-end 1st round pick that could also fall into the second in many dynasty drafts. His skills warrant that he could find immediate work in the NFL as a slot receiver. Making him an intriguing option in 2019 in PPR formats as well. But he likely will file in as a low-end WR2/high-end WR3 for fantasy for much of his career.
6. J.J. Arcega-Whiteside, Stanford
Arcega-Whiteside is a player that has been garnering some attention as of late. Fresh off a solid career in college in which he improved in all the key areas each season, his stock is on an upward trend. Playing in the balanced, pro-style offense at Standford, the scoring chances were limited but he made the most of them (14 TDs his senior season).
He has the ideal size for the position (6'3, 225lbs) but lacks the speed of a true outside receiver. What he does best is attack the ball. He is a jump-ball specialist that will be a red-zone scoring threat in the pros. His route running is crisp as he releases off the line well to create separation. But he does not have the burst to truly get away from defenders. He'll be trusted more as a chain-moving option in the NFL.
Fantasy Spin: I see Arcega-Whiteside as a low-end second-round pick in rookie drafts. He will never be a true WR1 on a team which will limit his upside as a fantasy producer. With a few seasons under his belt, he may develop into a reliable WR3 in any format, but he could be destined as a bye-week fill-in type.
7. Hakeem Butler, Iowa State
Another prospect that improved during his college career, Butler capped it off with a tremendous junior season (60 catches for 1,318 yards and nine scores). His draft stock is being viewed as a player that could be one of the best in this class and also one that could bust. Count me as one that believes the former. His tests at the combine will likely vault him up more consistently in the discussions.
His size, speed, and hands are freakish for the position and all things that could likely have teams jumping at the chance to bring him into the fold. He is physical from the word go with defenders and uses his athleticism to break away and provide the quarterback with a solid window to throw to. He high points the ball as well as any other receiver in this class, making him a threat to score in close. He will need to polish his route running in the pros, something that could limit him early on.
Fantasy Spin: I have him currently neck and neck with Arcega-Whiteside as players to look at towards the end of the second round in drafts. Butler may not see steady enough snaps in year one but should garner the playing time worthy of being a WR3 as early as his sophomore season.
8. Riley Ridley, Georgia
Riley is a prospect that won't jump off the page at you with his production in college. In fact, he was largely invisible in the Georgia offense until this past season. But even still, his 43 catches (nine for TDs) and 559 yards doesn't scream otherworldly talent. He is a name to watch at the combine because if he does not test well, his stock will continue to fall.
Ridley's slender frame (6'2, 200lbs) could be an issue in the NFL. Against press coverage from more physical corners, he could get shut down early in routes and taken out of plays. He's a player that does just about everything well, but nothing at an elite level. His route running is above average, speed is above average as well as his hands. He will just need to bulk up to really succeed at the next level.
Fantasy Spin: Ridley's dynasty draft stock could be all over the place. You could have an owner that views him as a second round pick, while others could have him as a third-rounder. For me, he is a third-round guy. I don't view him as a team's top pass-catching option, and he will have to benefit by playing with a better WR1. If he lands in the right spot, Ridley projects out as a player you can use as a matchup play in fantasy.
9. Marquise Brown, Oklahoma
Entering the 2018 season, Brown was a sure-fire first-round pick in this year's draft. He was finishing off an impressive junior season (75 catches for 1,318 yards and 10 TDs) before the injury bug hit. Now, stricken with the dreaded Lisfranc foot injury, his value has taken a major hit. He will be missing the combine and perhaps even his Pro-Day to showcase his skills. Teams will have to gauge his talent on game film and go with doctor's reports to truly determine where he should be selected.
"Hollywood" is a high impact player whose best trait will be his game-breaking speed as a Z-receiver. His ability as a route runner is top notch as well. He can take advantage of a defense at any level of the field. Remains to be seen how much he could be bothered by press coverage in the NFL with stronger corners playing against him. But a player of his caliber will need just that one or two targets a game to make a difference.
Fantasy Spin: If not for the injury, I would have Brown listed much higher in the ranks and even as a first-round pick in dynasty formats. As it stands now, you could perhaps snag him in the third round. He has the ceiling of a WR2 in standard scoring leagues but may not be the steady producer you want him to be in PPR.
10. Andy Isabella, UMass
Possibly one of the more intriguing prospects among fantasy analysts, Isabella was a stat machine at UMass. He stuffed the stat boxes with catches, yards, as well as scores during his career (231 catches for 3,526 yards and 30 TD). He runs primarily out of the slot and figures to be a highly sought draft pick for a team in need of such. The combine will be just another step in proving that he belongs with the higher profile players in this class.
Isabella is a receiver that thrives on the separation he gets off the line of scrimmage. If given a clean break, he can easily fit through holes in a defense and then utilize his RAC ability. His polished route-running ability is among the tops in this class. He also has great hands that can make tough catches look simple. But obviously, his size will be an issue in terms of scoring potential at the next level. Overall, he could be a sneaky pickup by a team that utilizes quick and timely passes to receivers in open space.
Fantasy Spin: I see Isabella as a player that many owners will sleep on in rookie drafts because he doesn't have the eye-popping size of some of the other receivers in this class. But in the latter parts of the third round, you can't go wrong with a player with solid upside in PPR formats. He has perhaps the quickest route to solid playing time in the league and could be someone plucked off the waiver wire in re-draft formats in 2019.
More NCAA Football Analysis