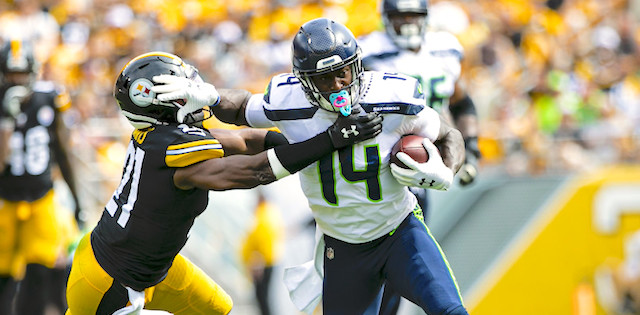 In Week 11, several of the wide receivers recommended in last week's column came through with solid performances. On the high-end, Michael Thomas came through as the No. 5 receiver on the week, while Mike Evans and Chris Godwin both came up rather small against a Saints Defense that was without Marshon Lattimore. John Brown exploded against a shaky Dolphins secondary for two touchdowns, finishing as the No. 1 receiver on the week. Deebo Samuel came through as expected, seeing an increase in targets with George Kittle out of the lineup, finishing as the No. 10 receiver in Week 11. On the week, four of the seven receivers that were recommended finished in the top-15. Here is a complete statistical recap of the Week 11 recommendations:
Now, let's move onto the current week and find the best matchups to exploit for DFS tournaments and cash games. On the high-end, Michael Thomas is a little hard to trust this week as he came up small against the Panthers in both of his 2018 matchups, but in 2017, he went off against them twice. Julio Jones ($8,400 Fanduel / $8,000 DraftKings) is the high-end wide receiver play to make this week. Jones could have a huge week against a Buccaneers Defense that's struggling against the pass, giving up 290.9 passing yards-per-game which is second-worst in the NFL. Jones has not scored a touchdown since Week 3 so it feels like he's due, and in two games against the Buccaneers in 2018, he was targeted 27 times, coming down with 19 catches for 282 yards and one touchdown.
Mike Evans and Chris Godwin have great matchups, by the numbers, against the Falcons Defense, but the Falcons have been playing so well lately, Evans and Godwin will be a little difficult to trust at their high prices. Needless to say, Odell Beckham Jr. ($7,000 Fanduel / $7,000 DraftKings) has underwhelmed this season, but he has a great matchup against a Dolphins Defense that's given up the 12th-most fantasy points to opposing wide receivers, and are fresh off surrendering 137 yards and two touchdowns to the Bills No. 1 wide receiver John Brown. If the Browns don't get out to a big lead early in this game, Beckham could be in for a huge week. As detailed below, similar to last week, this weekend's main slate is packed with mid-tier wide receivers that have great matchups.
Editor's Note: Get any rest-of-season NFL Premium Pass for 50% off. Our exclusive DFS Tools, Lineup Optimizer and Premium DFS Research through the Super Bowl.
Sign Up Now!
Week 12 WR/CB Matchups to Exploit
D.J. Moore ($6,400 FanDuel / $6,400 DraftKings) vs PJ Williams
Over the last three weeks, DJ Moore has been targeted a whopping 36 times by Kyle Allen and was able to haul in 24 balls for 316-scoreless yards. If Marshon Lattimore is out due to injury for the second week in a row, Moore will see a lot of PJ Williams in coverage which is a matchup that Moore can definitely exploit. Even if Lattimore plays, it will be his first game back from a hamstring injury, and the Panthers may look to test him out early to see if he's fully recovered and can run.
D.J. Chark ($7,000 FanDuel / $6,400 DraftKings) vs Adoree Jackson
Adoree Jackson is one of the fastest cornerbacks in the league, but he surrenders five inches of height to DJ Chark. The Titans are very good against the run, giving up just 4.0 yards-per-carry and 102.5 yards-per-game, so the Jaguars will likely need to throw the ball a lot against a banged up Titans secondary to move the ball. Chark is clearly the No. 1 receiving target in Jacksonville with 85 on the season, and with Chris Conley nursing an injury and Dede Westbrook sick this week, things are setting up well for Chark to have a big game.
Jarvis Landry ($6,900 FanDuel / $6,300 DraftKings) vs Jomal Wiltz
On the season, the Dolphins are giving up 8.1 pass yards-per-play which is fifth-worst in the league. Lately, the Dolphins have been more competitive in games and teams have needed to throw more against them. Odell Beckham Jr. is a great play this week, but Jarvis Landry is the (barely) the leading wide receiver for the Browns and has nearly identical stats to Beckham. It's possible that both Landry and Beckham go off in this game.
Pivot: Calvin Ridley ($6,700 FanDuel / $6,500 DraftKings) vs Sean Murphy-Bunting
The Falcons have struggled rushing the ball this year and Devonta Freeman being on the shelf certainly doesn't help matters. The Falcons weakness on offense is rushing the ball, and the Buccaneers rush defense appears to be their strength, as they're giving up just 3.5 yards-per-rush this year. That being said, the Falcons running game may be a zero this week. There's definitely room for both Julio Jones and Calvin Ridley to come through against a Buccaneers defense that's surrendering 290.0 yards-per-game through the air, especially with Austin Hooper banged up.
Golden Tate ($6,400 FanDuel / $5,700 DraftKings) vs Buster Skrine
It's difficult to run the ball on the Bears Defense as they're giving up just 3.6 yards-per-carry which means Daniel Jones will have to throw it a lot in this one. Darius Slayton will be covered by Kyle Fuller for most of the day and although Fuller has given up the most yards of any Bears cornerback this year, he also leads the Bears in interceptions. Fuller takes risks in the Bears secondary, and for Slayton, that could be a very good or a very bad thing, it's risky. Golden Tate is the play this week, as he's only been held under 80 yards once over his last five games, and that was against a tough Cowboys Defense that controlled the game. Tate is primed for a big game out of the slot, likely matched up against a sub-par Buster Skrine.
Pivot: D.K. Metcalf ($6,700 FanDuel / $6,300 DraftKings) vs Ronald Darby
The Eagles have given up the 4th-most fantasy points to opposing wide receivers on the year but their secondary is starting to get healthy and improve. Regardless, DK Metcalf has a four-inch height advantage over Darby, and he's been targeted heavily in the end-zone by Russell Wilson this season. Tyler Lockett also has a decent matchup in this game, but he's a little scary to trust after experiencing that odd leg issue in Week 10. The bottom line is the Seahawks are going to need to throw the ball to win, and Metcalf is a safer option than Lockett at this point.
Allen Robinson ($7,500 FanDuel / $6,500 DraftKings) vs DeAndre Baker
The Giants have been absolutely terrible against outside receivers this year. Allen Robinson has a four-inch height advantage on DeAndre Baker, and to make matters worse for the Giants, Baker gives up 2.01 yards-per-route covered on the season which is the second-worst mark in the NFL. If you can stomach the thought of playing a Chicago Bears wide receiver that will have Mitch Trubisky throwing him the ball, Robinson is a great play this week.
Pivot: Tyrell Williams ($6,400 FanDuel / $5,900 DraftKings) vs Blessuan Austin
I have to be honest, I don't know who Blessuan Austin is, but apparently "BLESS ISLAND" may be an emerging thing. Regardless, teams simply aren't running the ball against the Jets this season, as they are giving up an NFL-best 3.0 yards-per-carry on the ground. Austin may have had a decent game against the Redskins last week, but facing Derek Carr at quarterback is going to be a much stiffer challenge than Dwayne Haskins. The Jets are giving up the 3rd-most fantasy points to wide receivers this season, and it makes sense to get the Raiders No. 1 passing target in your lineups.
More Fantasy Football Analysis