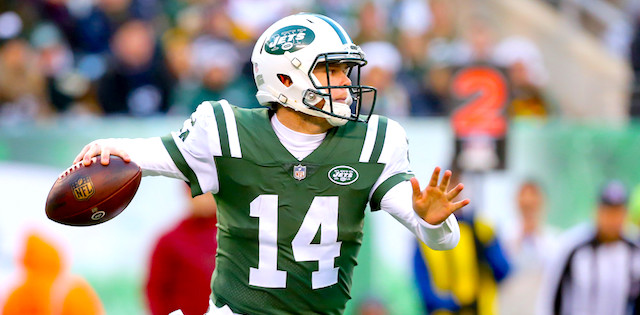 Yesterday was a tough day for New York Jets fans. Actually, it's not been a good week overall, even less if we account for what happened on Sunday when the team fell to Buffalo to start the season on the losing column.
The past few days have brought news of multiple injuries and problems to different Jets players, from QB Sam Darnold to WR Quincy Enunwa and other important pieces of the roster. With all of those reports coming our way in a hurry, it is time to asses how they can potentially impact your fantasy league and what can you expect to happen in the near and long term future.
Here is a quick recap of what has already taken place and what is set to come next.
Editor's Note: Get any rest-of-season NFL Premium Pass for 50% off. Our exclusive DFS Tools, Lineup Optimizer and Premium DFS Research through the Super Bowl.
Sign Up Now!
QB Sam Darnold Out With Illness
Adam Gase brought the news to the world yesterday in unenthusiastic fashion. Sam Darnold is dealing with mononucleosis and could be out until October (Week 5). People started talking about this being just a one-week issue, but things don't look that bright for the QB, who could be on the verge of losing ample playing time.
Darnold was by no means an elite-level quarterback entering the season, mind you. He's not a great loss to the field of quarterbacks league-wide, and there are probably multiple options available in your league's waiver wire that brought higher upside to the table. Darnold never held an ADP higher than 100 in redraft leagues this summer, and that was at his peak-hype moment in early July.
In the silly-small sample that is Week 1 alone, Darnold completed 28 of 41 passes for 175 yards. Carson Wentz, also on 28 completions, racked up 313 yards. You get the idea of what Darnold offers: a safe-to-the-extreme game based on short passes (he had the lowest Yards per Pass Attempt last week at 4.3), along with little upside and small chances of a booming outcome.
His injury will put Trevor Siemian at the starting position. Drafted in 2015 by the Broncos and penciled in as the future of the franchise at QB, he played 14 and 11 games in 2016 and 2017 respectively but never did that much. His numbers are a little scary: 18 TD and 10 INT in 2016, 12 TD and 14 INT (!) in 2017. He hasn't thrown a pass since December of 2017.
Fantasy Impact: If for some reason you drafted Darnold (maybe you are in a 2QB league, or a super-large one, or have data no other human being has access to), you can drop him now without any kind of doubt. He wasn't that valuable before, and with all of the time he will miss, he is not valuable going forward nor when he's back leading New York. Siemian is even a worse proposition than Darnold, so don't even bother giving him a chance.
Darnold's illness will impact Jamison Crowder most of all. The slot receiver was targeted 17 times and caught 14 passes on Week 1. He was heavily involved in the offense, led the league in targets, and perfectly suited Darnold's short-passer profile. It is not that Siemian is a gunslinger (he averaged 6.55 Y/A in 2017), so Crowder could still feature prominently, but Siemian doesn't bring Darnold's potential nor abilities.
We will have to wait to see how the offense reshapes under Siemian, but you can move on from Jets' quarterbacks and lower your expectations for their receiving corps.
RB Le'Veon Bell Undergoes MRI On His Shoulder
This came out of nowhere. Just when we were all still processing Darnold's illness news, a report came out stating that Bell had a sore shoulder. There was never a lot of concern and it looks like Bell is on his way to start Week 2 game against Cleveland. Bell didn't practice at all Thursday, but the MRI came back clear and revealed no damage.
Although Bell himself has said he's good to go, it is still reasonable that New York gives the situation some pause and thought given they have already lost his QB1 and that it's still early in the season. The Jets can't afford to lose Bell at all given what they invested in him.
Fantasy Impact: This may end being nothing at all, perhaps just a cautionary move other than anything. Again, the Jets are already short on the passing game with Darnold out so if they also miss on the running game they could be in for a long season. Don't overreact to Bell's injury potential issues. Keep him in your roster, and monitor his status up until the lineup submission close on Sunday. Even limited, everything points to Bell starting the game against the Browns. For the rest of the season, though, don't expect Bell to have an outstanding year. He will need to carry the offense as much as anyone and even while he's got good PPR-league upside he won't have a lot of great games in his surroundings.
Something you should consider before other GM in your league does is to add Ty Montgomery if you can still find him for free in the waiver wire. Of course, Ty won't be anything remotely close to a bell cow with Bell in New York, but if for any reason his shoulder becomes an actual issue down the line you'll have a great backup ready to put in your lineup (and don't forget Adam Gase didn't want to bring Bell to the team in the first place, so the slightest of issues with him can open the door to Montgomery).
WR Quincy Enunwa Out For Season, WR Demaryius Thomas Acquired
The news came in reverse order, but it looks more and more like the Jets new about Enunwa's injury before snatching Thomas from the Patriots. The Jets put Enunwa on Injured Reserve this past Wednesday and he will be out for the whole season with another neck injury.
With Enunwa opening a hole in the Jets lineup, Thomas is expected to fill it straight away, although he didn't practice Thursday. He may see the field in Week 2 (Adam Gase said so), but he would probably be limited if he finally makes it.
Fantasy Impact: On a longer-term perspective, Thomas is as good a bet to put up points as Enunwa was just seven days ago. The latter projected to around 70 PPR points while the former was at around 60 for the season. Not a huge difference, although given how the Jets offense looked with Darnold at the helm, I'm not sure either of them was or is worth rostering, let alone featuring in your weekly lineup. There is no chance he sees a high volume of targets, and when Robby Anderson gets back to being fully healthy, Thomas' impact will take a big hit.
LB CJ Mosley & DL Quinnen Williams Miss Practice
Although, probably, individual defensive players are not part of your league, losing those two for this week's game against Cleveland could be more than enough for the Jets to end on the losing side for the second consecutive week.
Both Mosley and Williams are expected to return soon without long-term injuries, and they play on Monday's night slate instead of Sunday, making a comeback more probable. Even with that, as they have not practiced on Thursday at all, count them out for the Week 2 matchup.
Fantasy Impact: I wasn't thinking about picking/streaming the Jets Defense against the Browns, and I'm much less inclined to do it now. Pass on it and start every Browns player you can in Week 2.
More Fantasy Football Analysis