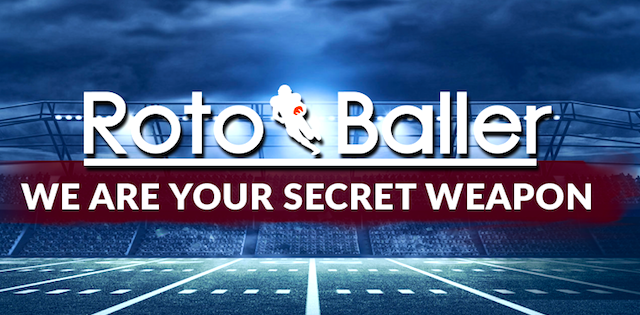 A few weeks ago we began looking at a different fantasy position and highlighting some of the key future fantasy stars to watch on Saturday. In order to give dynasty owners and owners in larger leagues a leg up, we're not solely focusing on the likely first-round picks but also players who could be drafted later in the NFL Draft but emerge as impactful fantasy stars.
This is especially true of the wide receiver position which is among the deepest in recent memory. Since there are many prospects who might be first-round talents in other drafts that will hear their name called late on day two and tons of good prospects who won't go until day three, I decided to split up the position into two articles.
That means today we'll only be focusing on potential fantasy-relevant receivers who likely won't go until day three. Now, this doesn't mean that these guys will only be deep-league targets. In recent years day three has seen many talented wide receivers selected, like Darius Slayton (2019), Keke Coutee (2018), Marquez Valdes-Scantling (2018), Auden Tate (2018), Dede Westbrook (2017), Tyreek Hill (2016), Jamison Crowder (2015), and Stefon Diggs (2015).
Editor's Note: Get any rest-of-season NFL Premium Pass for 50% off. Our exclusive DFS Tools, Lineup Optimizer and Premium DFS Research through the Super Bowl.
Sign Up Now!
For this piece, we'll look at some wide receivers playing this weekend who will likely be taken in the last three rounds this year but could grow into fantasy assets. First, let's look at how last week's featured players performed.
Week 13's Featured Players
Jerry Jeudy, Alabama – Projection: Top 15 Pick – Alabama beat Western Carolina in a 66-3 laugher, so Jeudy played very little, finishing with two catches for 66 yards. He's an elite talent, and it will be fun to watch him versus Auburn this weekend.
Henry Ruggs III, Alabama - Projection: 1st Round Pick - See above. Ruggs didn't play much at all in a game Alabama always had in hand.
Tyler Johnson, Minnesota - Projection: Late 1st Round Pick – Johnson paced Minnesota with seven catches for 125 yards and a touchdown. He gets a much sterner test this weekend against Wisconsin, but he's proving he's a consistent target who can win all over the field. Perhaps no receiver has helped their draft stock more this season.
KJ Hamler, Penn State – Projection: 2nd Round Pick – Hamler was going to need to come up big for Penn State to beat Ohio State. He didn't. He finished the day with three catches for 45 yards, wasn't given a rushing attempt, and was corraled in the return game. Hamler is still an explosive talent, but there will always be games where that one big play doesn't come.
Collin Johnson, Texas - Projection: 3rd Round Pick – Johnson's hamstring prevented him from playing and sounds like it will keep him out until the bowl game, which is a shame.
Denzel Mims, Baylor - Projection: Late 2nd or early 3rd Round Pick – Mims had an identical statline to Tyler Johnson, which means nothing but is just kinda cool. He also made more toe-tapping catches that showed great body control. The kid is going to be a stud.
Donovan Peoples-Jones, Michigan - Projection: 3rd Round Pick – DPJ showed what he can do when the offense actually tries to get him the ball. He hauled in five passes for 73 yards and an impressive touchdown in which he went full extension backward to snare a fade. If Michigan keeps playing at this uptempo pace and using their wide receivers, he could show enough to push into the second round.
Justin Jefferson, LSU – Projection: 3rd Round Pick – Jefferson wasn't involved much in LSU's blowout win over Arkansas. He caught four passes for 27 yards and a touchdown, but the game was never in doubt, so it's hard to judge his NFL future on a performance where he wasn't really used or needed.
CeeDee Lamb, Oklahoma – Projection: Top 10 Pick - CeeDee Lamb was back from injury but clearly not 100%. He secured a touchdown on one of his two catches, but his burst and explosiveness didn't seem fully there after missing the last game with an injury. Hopefully, he takes time to heal up so that he doesn't aggravate the injury heading into the offseason.
Jalen Reagor, TCU – Projection: 2nd or 3rd Round Pick - On the other side of the ball, Reagor was killed by poor quarterback play. The dynamic receiver finished with one catch for nine yards and one rush for 16 yards. If poor quarterback play drops him down the draft, some team is going to get very lucky late on day two when they select Reagor.
This series covers players featured in nationally televised games who could likely emerge as fantasy assets after next year's NFL draft.
Week 14 Matchup to Watch: Friday Games
Texas - Texas Tech 12:00 PM ET
Devin Duvernay, Texas – Projection: Fifth Round Pick
Since Collin Johnson has missed games with a hamstring injury, Duvernay has really stepped up and improved his own draft stock. Coming into the season, the senior's best year ended with 546 yards and four touchdowns; not exactly numbers that jump out to NFL teams. However, Duvernay has begun to live up to his lofty prospect pedigree by becoming a reliable slot receiver. Texas seems to only have the 5'11" receiver running routes across the middle or screens, and while he doesn't have the deep speed to burn past defenders, he has enough vision and power to make defenders miss and get chunks of yards. Slot receivers are never sexy come draft time, but they can be endlessly valuable during fantasy seasons. Just ask Jamison Crowder owners.
Devin Duvernay got snubbed and isn't among the Biletnikoff semifinalists.

Here's every catch of his that I could squeeze into 2 minutes. pic.twitter.com/kDNSg3G6Un

— Jake García (@Jake_M_Garcia) November 19, 2019
Boise State - Colorado State 3:30 PM ET
John Hightower, Boise State - Projection: Fifth Round Pick
Hightower is a lean wide receiver who loves to hit on the big play. With 40 receptions this year, his 20.3 yards per catch clip is downright ridiculous. The former JUCO star as sub-4.4 speed and good height and solid hands to pluck those deep balls over a defender's head. He's also been used more as a runner for Boise State this year, with 13 carries already after last year's eight. He needs to add more nuance to his routes that aren't go routes or screens but the athleticism can't be denied. In the right offense, Hightower as the one-play game-changing ability of a Mecole Hardman - just much taller.
One HAND, one SHOE and one CATCH for John Hightower! My goodness. pic.twitter.com/A527KsBWeo

— CBS Sports (@CBSSports) September 30, 2018
Memphis- Cincinnati 3:30 PM ET
Damonte Coxie, Memphis - Projection: Fourth - Fifth Round Pick
Coxie is another forgotten name is in a deep class of receivers. What I love about this receiver class is just how many of these guys love being physical at the point of contact. Coxie is another one. He rarely goes down on the first contact and will take every yard he can manage. However, he also possesses a deep speed and wiggle in space that a lot of more physical wide receivers don't. He needs to add some weight to his 6'3" 195-pound frame, but the foundational skills are there for Coxie to emerge as one of the best day three wide receivers in this draft.
Damonte Coxie has a wide array of techniques in his release toolbox. Does a great job varying his pace to keep the defender guessing and pairs quick hands with timely burst to create the separation. pic.twitter.com/Xnd3hzBgZs

— JetPack Galileo (@JetPackGalileo) November 26, 2019
Central Florida - South Florida 8:00 PM ET
Gabriel Davis, UCF – Projection: Fifth Round Pick
Davis is another receiver who is likely to get overlooked because he is not a fast-twitch athlete or at an elite school. However, all Davis has done is produce, regardless of who's throwing him the ball. He has great size for the position at 6'3" 215 pounds and has proven he can gain consistent separation with strong route running. He's never going to take the top off of the defense of leave defenders in his dust with a quick change of direction on his routes, but he has the ability to be an Anquan Boldin type of physical wide receiver who always seems to be open and can pull down the tough catches in traffic.
Love this by Gabriel Davis:

- Eats up all cushion, gets on WRs toes, dictates direction and leverage

- Bats jam hand away as he breaks outside

- Stacks CB

- Tracks football through the catch point

- Secures away from his frame, tucks into body to secure it pic.twitter.com/Ieean8IPKJ

— Nick Farabaugh (@FarabaughFB) November 2, 2019
Week 14 Matchup to Watch - Saturday Early Games
Wake Forest - Syracuse 12:00 PM ET
Sage Surratt, Wake Forest – Projection: Fourth Round Pick (OUT FOR THE YEAR BUT DESERVES A MENTION)
At 6'3" 215 pounds, Surratt plays wide receiver like the former basketball star he is. He loves to win contested catches and knows how to use his body to shield off defenders. This gives him the ability to put his strong hands to work in coming down with tough passes. He brings the same physicality once the ball is in his hands, almost never going down on first contact. He likely won't run very fast at the combine, but he's a good route runner who uses his technique, and the aforementioned strength, to create consistent separation. If he can add a little more weight to hold up against NFL hits with the style he likes to play, then Surratt will likely become a quarterback's best chain-moving friend and a fan favorite with his style of play.
WOW. So much concentration on display.

Unbelievable one-handed catch from Sage Surratt of @WakeFB. pic.twitter.com/Wprnqs7yNn

— CBS Sports Network (@CBSSportsNet) August 31, 2018
Michigan - Ohio State 12:00 PM ET
Nico Collins, Michigan - Projection: Fourth Round Pick 
Donovan Peoples-Jones wasn't the only receiver to benefit from the Wolverines' up-tempo offensive shift. Nico Collins blew up against Indiana and showed his intriguing blend of size and (solid) speed. He's not going to consistently burn defenses deep, but he has enough speed to take it to the house, as he did on Saturday. However, his calling card is his physicality and the ability to win contested catches. He may never emerge as a true NFL WR1, but he has the physicality of trendy players like D.K. Metcalf, just without the elite straight-line speed.
.@UMichFootball's WRs are playing on All-Star Mode today. 🎮

This time it's Nico Collins with the TD reception: pic.twitter.com/BEbUjsk52o

— Big Ten Network (@BigTenNetwork) November 23, 2019
Liberty - New Mexico State 2:00 PM ET
Antonio Gandy-Golden, Liberty - Projection: Fifth Round Pick
I love reading about small school players I'd never heard about. Truth be told, I've never been able to watch Gandy-Golden in a live game, but I'm intrigued by what I've seen on tape. The senior is a big wide receiver at 6'4" 220 pounds and shows the desire to play with the physicality of his size, boxing out defenders and fighting through contact. He has natural hands and has put together a number of highlight-reel catches that show good catching technique and impressive catch radius. Where he struggles is in his route-running. He seems clunky in and out of breaks and doesn't do well in press-man coverage. However, I believe he has a baseline of physical traits that suggest a good NFL WR2 if he can be coached up on his routes. At worse, he will be a dynamic red-zone threat.
Catch of the Day candidate from @LibertyFootball 👀 pic.twitter.com/Iki6klouci

— FOX Sports South (@FOXSportsSouth) November 23, 2019
Week 14 Matchups to Watch: Late Games
Colorado  - Utah 7:30 PM ET
Laviska Shenault Jr., Colorado – Projection: Second Round Pick (COLORADO DIDN'T PLAY LAST WEEK SO HE WASN'T FEATURED)
It's been a relatively disappointing year for a prospect who came into the season with potential top-15 value. Part of that has to do with defenses scheming to stop him and fellow draft prospect Steven Montez also seeming to take a step backward. Through 10 games, Shenault Jr. has 52 catches after hauing in 86 in only nine games last year. The results are disappointing, but the raw talent is there. Shenault is a physical 6'2" 220-pound receiver who possesses elite speed for a player of his size. He can secure contested catches but is also used as a runner out of the backfield almost every single game. While his inability to overcome defensive attention this year will likely drop him out of the first round, he's still a tremendous talent who can help a real and fantasy team in a number of different ways.
Laviska Shenault Jr. does incredible things every game pic.twitter.com/LwZxPT12we

— CJ Fogler (@cjzero) November 24, 2019
Florida State - Florida 7:30 PM ET
Tamorrion Terry, Florida State – Projection: Unlikely to come out this year
As just a redshirt-sophomore, Terry seems unlikely to come out this year in such a deep wide receiver class, but he's a name to watch for the future. He's a little thin at 6'4" 200 pounds, but he can absolutely go up and get it. Despite good speed in the open field (as evidenced by the video below), he loves a jump ball and makes his hay on deep passes down the field (21.3 and 20.3 yards per catch over the last two seasons). He likely needs to add more weight and routes to his game, but he's a fun player to watch.
Tamorrion Terry with the slick footwork for the house call! 🏠

(Via @accnetwork)pic.twitter.com/zKIWIAR2Wn

— PFF College (@PFF_College) August 31, 2019
Arizona - Arizona State 1o:o0 PM ET
Brandon Aiyuk– Projection: Third or Fourth Round Pick
If you search Aiyuk's name on Twitter, you'll find some people comparing him to another late-round wide receiver: Tyreek Hill. Now, I won't go that far, but I do agree that Aiyuk has a similar ability to win in a number of different ways. He's proven to be an effective slot receiver who isn't afraid to go over the middle and has the lateral quickness to make defenders miss in short areas. He's also shown the ability to line up outside and simply beat defenders with deep speed. His growth from last year to this year suggests that there may be even more upside, which makes him perhaps the highest ceiling day three wide receiver on the board. In any other year, he would likely be a second-round pick.
Brandon Aiyuk with the little hesi and then 💨

my god pic.twitter.com/lD1TaAHIST

— Cam Mellor (@PFF_Cam) November 24, 2019
More NCAA Football Analysis