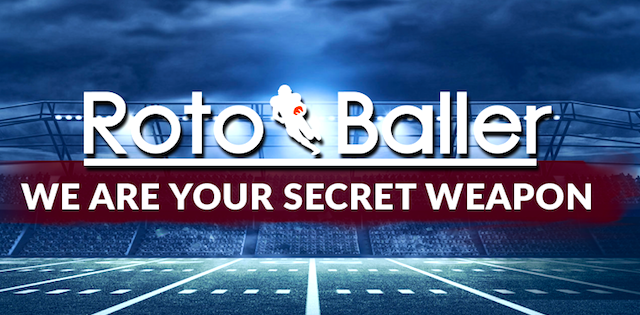 A few weeks ago we began looking at different fantasy positions each edition and highlighting some of the key future fantasy stars to watch on that specific Saturday.
With the bowl games now all that's left, we're not going to take it week by week, but I'll separate this into three sections: Before Christmas, Before New Years, and Post New Years.
My hope is to give you as many potential fantasy assets to watch as possible, so I don't want to overload you with each article.
Editor's Note: Get any rest-of-season NFL Premium Pass for 50% off. Our exclusive DFS Tools, Lineup Optimizer and Premium DFS Research through the Super Bowl.
Sign Up Now!
Bowl Week 1 - Matchups to Watch
In order to give dynasty owners and owners in larger leagues a leg up, we're not solely focusing on the likely first-round picks but also players who could be drafted later in the NFL Draft but emerge as impactful fantasy stars.
Friday, December 20th
Buffalo - Charlotte, 2:00 PM ET
Benny LeMay, RB Charlotte
Projection: Sixth Round Pick
LeMay is a squat, stoutly-built running back at 5'8" 215 pounds. He runs with a low center of gravity and understands how to create good angles and find holes in the defense. He doesn't have the long speed to consistently take it to the house, but he can rip off chunks of yards and isn't likely to be taken down for a loss. Although he's only caught 19 passes out of the backfield this year, he shows good receiving skills and solid ability as a pass protector. He's likely just going to be a rotation back at the next level, but he possesses the skills to remain in on all three downs if he were given the chance.
We are on the board first! Jonathan Cruz nails a 31-yard FG with Benny LeMay setting us up on this 48-yard run!

𝘾𝙃𝘼𝙍𝙇𝙊𝙏𝙏𝙀 3
FIU 0

1Q | 10:56 pic.twitter.com/tAU0KE69lO

— 𝘾𝙃𝘼𝙍𝙇𝙊𝙏𝙏𝙀 𝙁𝙊𝙊𝙏𝘽𝘼𝙇𝙇 🤙 (@CharlotteFTBL) October 12, 2019
Utah State - Kent State, 7:30 PM ET
Jordan Love, QB Utah State
Projection: Second to Third Round Pick
Listen, we've been through this so many times this year in this space with Jordan Love. His raw tools are tantalizing. He has a smooth delivery, a strong arm, and intriguing athleticism. After last year, he seemed like a lock to be a lottery pick. But in a new system, under a new head coach, Love has looked lost at times this year. He seems to lock on defenders and not go through his progressions, often forcing throws. It's led to a clear backslide in his performance and has (likely) dropped him out of the first-round conversation. However, tools seem to always win out when it comes to quarterbacks in the NFL Draft, so it would be shocking if Love was not drafted on the second day by a team that thinks it can mold his raw talent. If he winds up in the right situation, he could be fantasy gold, but it likely won't happen for two or three years.
Jordan Love gets Utah State on the board with this TD pass. pic.twitter.com/KT4yIgWaUz

— Jake Schyvinck (@FS_NFLDraft) November 30, 2019
Gerold Bright, RB Utah State
Projection: Seventh Round Pick
At 5'9" 195 pounds, Bright's future is as a change of pace back. However, change of pace backs have proven to be incredibly effective in fantasy leagues if put into the right system. Just think about the ways in which Tarik Cohen, Chris Thompson or Giovani Bernard have helped fantasy teams over the years. Now, Bright may never reach those heights, but he uses his lower center of gravity to good effect in short-yardage situations, often serving as the goalline back for the Aggies, which enables him to stay on the field more often. He shows solid hands in the passing game and is expected to run in the low 4.4s in the 40, all of which makes him an intriguing talent in deep fantasy leagues in case he latches on with a team that likes to use multiple backs.
Gerold Bright continues to be a state treasure #AggiesAllTheWay pic.twitter.com/tkfNDkuJZV

— Matthew L Glade (@matthewLksl) October 20, 2019
Saturday, December 21st
Central Michigan - San Diego State, 2:00 PM ET
Jonathan Ward, RB Central Michigan
Projection: Sixth Round Pick
After an explosive sophomore year, Ward was injured last year and unable to build on his success. However, he seems to have come back with a vengeance this year, rushing for 1,082 yards and 15 touchdowns. What's more intriguing as far as his NFL projection is how valuable he's been as a receiver, catching 33 passes for 322 yards after hauling in 48 passes as a sophomore. He's not the biggest back, at 6'0" 200 pounds, but he takes contact well and is a surprisingly explosive player in the open field. Ward jumps off the screen when you watch the Chippewas, and he could have a coming-out party on national television. In a less talented class, a good performance might help him rise in the draft ranks, but I see him likely being a late-round pick who could emerge as an asset if injuries strike ahead of him on the depth chart, much like we're currently seeing from Mike Boone.
Just a little bit of daylight and @CMU_Football takes the lead on this quick cutback run. pic.twitter.com/LLeKnWD9oB

— CBS Sports Network (@CBSSportsNet) November 24, 2017
Tony Poljan, TE Central Michigan
Projection: 2021 Draft
Poljan likely won't declare this year, but he's a guy to watch in this game. He's a 6'7" 255-pound former quarterback who was impressive in his first year at tight end. He has (obviously) great size, but he's also a relatively fluid athlete who possesses solid hands and seems like a natural receiver. He needs to learn the nuances of the position and get stronger as a blocker, but he could be an intriguing prospect come next year (plus, he looks like Dolph Lundgren, which can't be bad).
Morris goes back shoulder to Tony Poljan. What a catch. pic.twitter.com/s0UsXuNENM

— Andy Backstrom (@AndyHeights) September 30, 2017
Liberty - Georgia Southern, 2:30 PM ET
Antonio Gandy-Golden, WR Liberty
Projection: Fourth - Fifth Round Pick
Gandy-Golden was featured in the last regular-season edition of this column and has emerged as one of the top small-school prospects in this draft. The senior is a big wide receiver at 6'4" 220 pounds and shows the desire to play with the physicality you'd expect of his size, boxing out defenders and fighting through contact. He has natural hands and has put together a number of highlight-reel catches that show good technique and impressive catch radius. He does struggle a bit in the lack of suddenness in his route-running and doesn't do well in press-man coverage; however, he has a baseline of physical traits that suggest a good NFL WR2 if he can be coached up on his routes. At worse, he will be a dynamic red-zone threat.
Les traigo un sueño:

Antonio Gandy Golden - WR - Senior - Liberty LU

"Remember this name" pic.twitter.com/F376lYv9Ww

— Mauro Jiménez (@maurojimenez87) December 17, 2019
SMU - Florida Atlantic, 3:30 PM ET
James Proche, SMU
Projection: Fourth - Fifth Round Pick
Proche is a favorite of mine. He's 6'0" but plays bigger than his size, consistently going up to win jump balls and hold off defenders for contested catches. He has some of the best hands in the draft and is a threat whether in the red zone or on a deep route. He's hauled in 14 touchdowns this year after 12 last year, and they've all come on a variety of different routes and situations. His lack of size and deep speed will likely turn some teams off, as they prioritize the "explosive" athletes, but that will be a mistake. Proche is quick and creative in his routes and when he has the ball in his hands, and he catches pretty much anything that's thrown at him. He could have a Stevie Johnson-type of impact in the NFL.
Southern Methodist WR James Proche (#3) vs. Memphis (11/02/19). #NFLDraft pic.twitter.com/FoUQ8IXsRj

— PFDZ (@PFDZ44) December 13, 2019
Xavier Jones, SMU
Projection: Sixth Round Pick
Proche's teammate burst onto the scene this year, rushing for 1,249 yards and 21 touchdowns. His 19 receptions for 85 yards are not impressive, but he does have a baseline of ability in the passing game that can be tapped into at the next level. Jones has good straight-line speed and can plant his foot in the ground and take-off. He is, however, a little limited in his ability to play through contact. He has the size - 5'11" 210 pounds -  to take hits, but he doesn't have the low power in his running stance to withstand hits right now. It makes him less likely to become an every-down option at the next level, but he could certainly be a guy that can break a game open with one play.
Xavier Jones with an electric touchdown run 🙌pic.twitter.com/I6gmzEy9Vk

— Def Pen Sports (@DefPenSports) October 25, 2019
Harrison Bryant, Florida Atlantic
Projection: Fifth - Sixth Round Pick
Harrison Bryant is not you're average move tight end or a wide receiver moonlighting as a tight end. At 6'5" 245 pounds, Bryant is a big boy and an imposing figure when he lines up in the slot, as he often does. His long arms create an impressive catch radius, and he has the juice to outrun linebackers in coverage once he has the ball in his hands, which is part of the reason he averages 15.4 yards per catch on 65 receptions this year. Bryant has the size to be an effective blocker against blitzing linebackers, but he struggles against bigger lineman. He's willing, but you rarely see him lineup on the line of scrimmage because it's simply not his strength. It may limit his snaps if his NFL team is looking to give the illusion of a run, but there is a place in this league for a long-armed receiver like Bryant. There may even wind up being a place on your fantasy roster.
Harrison Bryant muscles his way past defenders for another @FAU_Football touchdown! pic.twitter.com/ZfWFjATBN3

— Conference USA (@ConferenceUSA) October 26, 2019
Arkansas State - Florida International, 5:30 PM ET
Omar Bayless, Arkansas State
Projection: Fifth - Sixth Round Pick
Bayless is another exciting small-school prospect in this early slate of games. After never topping 566 yards in any of his previous three seasons, the senior has exploded for 1,473 yards and 16 touchdowns in 12 games this year. It's not a fluke. Bayless showcases impressive footwork and head fakes in his route running, which often leaves him wide open. Those gaps can close frequently because Bayless doesn't have great speed, but he has true strength in his 6'3" 210-pound frame and wins contested catches with seeming regularity. He looks like a chain-mover and goalline threat at the next level, not unlike what Anquan Boldin and Donald Driver used to do.
An FBS-leading 1457 yards.
16 receiving touchdowns.
122.8 yards per game.
2 blocked punts.
Ridiculous catch after ridiculous catch after ridiculous catch.

Arkansas State's Omar Bayless is the Sun Belt Conference Player of the Year. pic.twitter.com/8cvcoTbBzx

— Kara Richey (@Kara_Richey) December 4, 2019
James Morgan, QB Florida International
Projection: Sixth to Seventh Round Pick
James Morgan took a statistical step back this year in his second season since transferring from Bowling Green, and many people stopped talking about him. That may be short-sighted. While Morgan hasn't played against the best competition, he has the makings of an intelligent player with a strong arm and NFL size at 6'4" 225 pounds; he's thrown only three interceptions on the year because he doesn't take bad chances. He's not going to make many plays with his legs, but he can keep plays alive in the pocket and could really improve his stock with a good game against Arkansas State and maybe some postseason bowl game work. He'll likely latch-on as a back-up, but as we've seen this year, every back-up could get a chance to be a league-winner with some injuries.
James Morgan & the @FIUFootball pass attack want in on the fun too! The #FIU signal caller finds Sterling Palmer in the back of the end zone for the first passing TD of the night. @UMassFootball now trails the Panthers 28-10 at Riccardo Silva Stadium. #CUSAFB #TheCUSAWay #UMASS pic.twitter.com/EZz6oeLa2i

— beIN COLLEGE SPORTS (@beINCOLLEGE) September 16, 2018
Boise State - Washington, 7:30 PM ET
Jacob Eason, QB Washington
Projection: Third Round Pick
Eason cooled off a little bit since his hot start had people re-living his days as a hyped prep-school quarterback, but the tools are still there for him to be successful in the NFL. At 6'6" 230 pounds, he has great size and solid athleticism to pair with it. He's not the athlete and runner Josh Allen is, but he's no slouch for a man that big. He also possesses one of the strongest arms in the draft class and shows flashes of solid footwork in the pocket to buy time for his receivers to get open. However, he also sometimes moves off of his reads too early and clears the pocket, which causes him to miss on big plays. He's raw, but the upside is certainly there if he declares; I just wouldn't expect him to win an NFL job right away.
Jacob Eason aka Rocket (Arm) Man

Eason will go high in the draft, assuming he declares, just off his physical tools and arm talent alone. pic.twitter.com/03udblTjDb

— Jared Feinberg (@JrodDraftScout) December 17, 2019
John Hightower, Boise State
Projection: Fourth Round Pick
John Hightower is a burner. His name gets lost in the shuffle because this draft class is so deep and he often plays his games after 10 pm on the East Coast, but the lanky receiver can make some big plays, as evidenced by his 19.2 yards per catch this year. He has the straight-line speed to simply run right by cornerbacks but also possesses solid lateral agility, which is why Boise State has also had him carry the ball 14 times this season. He is certainly a little thin - 6'2" 172 pounds - so he will need to add weight in order to be more effective catching balls in traffic, but his height and deep speed will make him an intriguing prospect if he goes to a team that likes to push the ball down the field.
Good look at the explosiveness of Boise State WR John Hightower (#16) here. #NFLDraft2020 pic.twitter.com/Z0k5Aa4g7k

— Kevin Brown (@KevinBrownNFL) May 3, 2019
Appalachian State - UAB, 9:00 PM ET
Darrynton Evans, Appalachian State
Projection: 2021 NFL Draft (or 6th Round this year)
Evans is rumored to be declaring for the draft, but wouldn't be a surprise if he doesn't come out this year due to the depth of this class. Evans has legit speed, like 4.3 speed, which has made him a game-breaking return man for Appalachian State. However, he has also continued to evolve as a runner. He has 1,516 total yards from scrimmage this year and 22 touchdowns, showcasing some hard-nosed running and shiftiness in the open field as a receiver. He may lack the size to be a true three-down threat in the NFL, but he could be a fantasy-viable member of a committee if he's put in a position to get the ball in space and make a play.
No one was catching him 💨 pic.twitter.com/GEGKYFYVVy

— ESPN College Football (@ESPNCFB) December 7, 2019
Monday, December 23rd
Central Florida - Marshall, 2:30 PM ET
Gabriel Davis, Central Florida
Projection: Third Round Pick
Davis was another player featured in this column during the year and will likely declare early after his draft stock has begun to soar. He has great height for the position at 6'3" 212 pounds; although, he could use his size to better use by playing more physical. As a counter to physicality, Davis has tremendous deep speed, rare for his size, and moves fluidly on his routes to create some separation. He's not as natural of an athlete as some of the top-tier talents at the wide receiver position this year, but he has the intelligence and raw ability to suggest continued improvement and potential blossoming into a truly dynamic player, much like we saw Courtland Sutton do this year. (I'm saying that he could blossom in the way Sutton has, not that he will become the level of talent Sutton is; although, it's not out of the realm of possibility).
Brandon Wimbush to Gabriel Davis for the UCF TOUCHDOWN!!!!!!!!!!! pic.twitter.com/c4vIO4s4Z2

— NCAAF Nation (@NCAAFNation247) August 29, 2019
Tuesday, December 24th
Hawaii - BYU, 8:00 PM ET
Matt Bushman, BYU
Projection: Fourth Round Pick
Matt Bushman is not a player that excites me. I know many people think that he will be an early Day Three pick and have a chance to stick as a starting tight end at the next level, but I see a stiff athlete who won't be able to separate from NFL linebackers and safeties. He has great size, long arms, and can reach up for balls in traffic, but he has little nuance or change of pace in his route running and is a poor blocker for his size. I kind of see him as the current version of Kyle Rudolph, but without the blocking chops.
Here is my view from the 1st of 2 Matt Bushman touchdowns. Love the low fake by Baylor Romney to freeze the defense. Bushmans swim move to get to the next level is epic. #BYUFOOTBALL #GoCougs pic.twitter.com/xv5OXAi8Vo

— Brandon Despain (@despainb) October 22, 2019
Cedric Byrd, Hawaii
Projection: Sixth Round Pick
Cedric Byrd is an intriguing slot wide receiver with 4.4 speed and good hands. He has good shiftiness in his routes, which allows him to get solid separation and make plays underneath. That athleticism and change-of-pace ability are crucial because he doesn't quite have the size at 5'9" 175 pounds to take a beating in the NFL. Byrd may never be a game-changer, but he could become a Taylor Gabriel or Danny Amendola type that has value on the right team in the right matchup.
Cedric Byrd racked up 122 yards on 8 catches with a TD in the Rainbow Warriors' 52-31 senior night win over Army. @cb4six on his last regular season game: pic.twitter.com/7rDI2VHQnf

— Ren Clayton (@Ren_Clayton) December 1, 2019
More NCAA Football Analysis