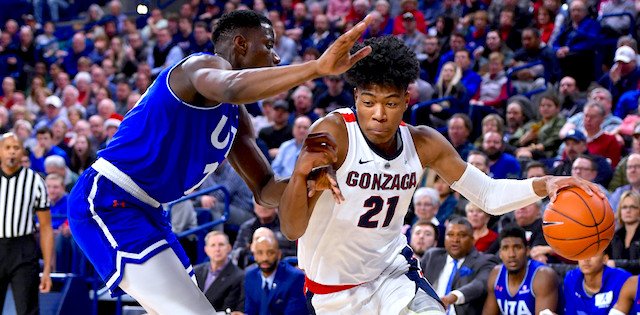 Welcome to the RotoBaller NCAA March Madness 'Full Bracket Prediction'. The 68-team field is officially set, and I hope you were lucky enough to have your favorite school make it. However, if you solely root for a single university, as I do with UNLV, you will be watching the tournament with no real dog in the fight. Do not worry though! March Madness provides you with an opportunity to fill out a bracket and compete against both friends and strangers in your quest for perfection.
Before I lead you as the conductor on this journey, let's make one thing abundantly clear. Your odds of producing a perfect bracket are 9.2 quintillion to 1. To put that number into perspective, you are just about as likely to have all of these things happen during your lifetime. Want to be president? One in 10 million. Think you are the next great actor? One in 1.5 million. Consider yourself a future medal-winning Olympic athlete? One in 662,000. While this is discouraging news for anyone trying to make history, there are ways to increase your odds if you stick to a perfect strategy. Look at Ronald Reagan. He found a way to achieve two of the three situations mentioned above. If only he were a slightly better swimmer, Reagan could have accomplished the impossible.
There are a few things you should actively be looking into when breaking down your bracket. For starters, Vegas is usually right. That doesn't mean to take all the favorites, but if you start selecting too many underdogs in the opening round -- especially ones that the public bettors have grown an affinity towards, your bracket can start dismantling itself right away. I've always found it to be successful to look for a few vital statistics when it comes to both mid-major programs and your perennial top-seeded teams. Underdogs that can spring upsets usually specialize in a few of the same characteristics every season. You don't need to do all of these, but the ability to not turn the ball over, prevent offensive rebounds, force steals and shoot a high three-point percentage will be critical. The idea is that if you can limit possessions for your opponent, you can neutralize some of the skill discrepancies that you may face. Vice versa, higher-seed teams (your top programs) need to avoid being three-point dependant, must use their size to create offensive boards and need to figure out a way to either force turnovers or not turn the basketball over. It essentially is the exact opposite strategy of the mid-majors. If the powerhouse teams can create extra possessions for themselves, it is going to be extremely difficult for inferior programs to continue dancing in March. Without further ado, let's dive into this bracket and simulate this thing from start to finish.
Editor's Note: Be sure to check out the rest of our NCAA Tournament articles and analysis, including a guide on how to fill out your brackets. Read our March Madness picks, sleepers, busts and predictions for the East, West, South and Midwest regions.
East Region First Round 
1. Duke vs. 16. Play-In Winner
With UMBC knocking Virginia off last season, nothing can be considered a foregone conclusion, but let's not get caught up on the first game. Duke advances.
8. VCU vs. 9. Central Florida
VCU's depth can be considered a massive strength. The Rams play 11 players, which helps to fuel the fifth-ranked defense in the country. UCF is also a defensive-oriented team that ranks in the top-40 in the nation in defensive efficiency.
Points should be at a premium in this contest, and VCU only ranks 331st in the country when it comes to three-point percentage. However, their ability to change up the tempo will cause the Knights havoc and should be enough to advance. It must be noted that VCUs best player Marcus Evans hyperextended his knee in the A-10 quarterfinal loss to Rhode Island and is considered questionable for the game. His absence could prove to be costly, but the Rams have enough depth to survive over an inexperienced Knights team. VCU moves on to the next round. 
5. Mississippi State vs. 12. Liberty
It is an interesting stylistic contest between the Mississippi State Bulldogs and Liberty Flames. Mississippi State wants to get out in transition and score often, as where Liberty would prefer to play a ball-controlled style that forces their opponent to hit perimeters shots.
There is a realistic scenario where Liberty makes shots early, builds a lead and avoids mistakes down the stretch to spring an upset, but they have also struggled against some of the more athletic and powerful foes they have faced this season. It is not an unwinnable game for the Flames, but Mississippi State should have too much offense at the end of the day, and it won't hurt that they shoot 37.6 percent from three-point land. The Bulldogs only play seven players and could find themselves in a situation where they run into foul trouble at some point in this tournament, but Liberty won't be that opponent since they just rank 323rd in the nation in free throw attempted per field goal attempted. Mississippi State survives and advances. 
4. Virginia Tech vs. 13. Saint Louis
Virginia Tech will be getting back starting point guard Justin Robinson for their March Madness run. The senior was lost in January due to a foot injury, but the team got some good news during Selection Sunday that he would be returning for the 'Big Dance.'
Saint Louis is led by their vigorous defense, which ranks inside the top-30 in points per possession, effective field goal percentage and opponent offensive rebound percentage. Guard Javon Bess leads the way and makes field goals inside the paint very difficult, but their two downsides are that they lack depth and struggle from an offensive perspective, ranking 205th in offensive efficiency and 310th in three-point percentage.
Virginia Tech would prefer to play a four-guard lineup, and the way to beat them is to hit them on the inside and on the glass. Saint Louis ranks 11th in the nation in offensive rebound percentage and could be able to find success against a smaller Hokies lineup. The one issue is that for as great as the Billikens are on the defensive side of the ball, they have major issues defending ball screens and dribble penetrations. Virginia Tech has carved teams up this season with drives to the basket and kick-outs to three-point shooters. Despite having an edge on the boards, I think Saint Louis doesn't have enough offense and will have some of their advantage neutralized with Virginia Tech's ability to force turnovers. Virginia Tech on to the next round. 
6. Maryland vs. 11. Play-In Winner
For the sake of discussion, let's slot Belmont in as the play-in winner to face Maryland. I will update this selection if Temple finds their way past the Bruins.
A matchup between Maryland and Belmont already feels like a potential landmine waiting to happen. In one corner, you have a supremely talented Terrapins squad that has elite-eight upside but could also be bumped early because of their youth. On the other end, you have a Belmont unit that personifies quality shot selection and offensive efficiency. However, they struggle defensively, do not force turnovers and rank outside the top-200 when it comes to offensive rebound percentage.
I think we are looking at about a five-point spread between these two teams, which means you shouldn't let the seed difference alter your judgment. If we are trying to find a spot where one side could gain extra possessions, Belmont ranks 23rd in turnover percentage, and Maryland is 352nd in forcing mistakes. Vice versa, the Terrapins rank 33rd in offensive rebound percentage, but the Bruins are 43rd in opponent offensive rebound percentage. All statistics point towards a dogfight till the finish, and this is one of the most difficult selections of the opening round. At the end of the day, I will roll with Belmont's poise on the offensive end and assume that despite Maryland's talent, they will come up short because of their youth. Belmont advances and I wouldn't be surprised to see Temple advance over Maryland if that is instead the matchup. 
#3 LSU vs. #14 Yale
How will LSU handle all the turmoil surrounding their program entering the tournament? Head coach Will Wade was suspended on March 8th for comments reportedly made on a wiretapped phone call as part of the FBI's investigation into college basketball, and the team stumbled with a 76-73 loss in the quarterfinals of the SEC tournament to Florida.
Yale enters the tournament off of a win over Harvard in the Ivy League finals and is led by Miye Oni, who has size and athleticism at 6-foot-6. The Bulldogs would prefer to play quickly but do lack the ability to turn opponents over, which could be their undoing in March.
While it may seem like a spot to easily advance LSU into the next round, this is another brawl in the South Region between David and Goliath. The Tigers will attempt to use their strength to get to the foul line, but if they don't find easy points in that fashion, it could turn into a long night for a team that shoots just 276th in the nation in three-point percentage and 325th in the relation of total points that come from beyond the arc. However, the upset has become a little too trendy for my liking and I think we see LSU survive an early first-round scare. LSU moves into round two. 
#7 Louisville vs. #10 Minnesota 
There is no way that this matchup was by mistake, right? The seventh-seeded Louisville Cardinals will be taking on Richard Pitino's 10th-seeded Minnesota Gophers. There is no need to get into the publicized situation between Louisville and Richard's father Rick Pitino, who led the Cardinals to the NCAA title in 2013, but it makes for a much more exciting contest than this would otherwise have been.
Louisville struggled down the stretch of the season, recording a 3-7 record in its final 10 games. However, all but one of those losses came to teams inside the field of 68. Minnesota features a tantalizing duo in Amir Coffey and Jordan Murphy, and the group can outgun a squad that isn't ready for a track meet. While both teams are going to attempt to get up and down the floor in their opening round matchup, Louisville's defensive prowess is the most stable quality that either school possesses. The Gophers may be active, but they are inefficient offensively and questionable on the defensive side of the ball. The NCAA should get the last laugh in this contest. Louisville defeats the Pitino clan to move onto the second round.
#2 Michigan State vs. #15 Bradley
Michigan State is impatient with the basketball, and Bradley wants to slow things down. One of those two states will have to win out in the opening round. Bradley should put up a fight, but the Spartans will force a quicker tempo than the Braves would care to see. It is not impossible that Michigan State could struggle early, but Tom Izzo's squad will have too much firepower at the end of the day. Michigan State advances. 
West Region First Round 
#1 Gonzaga vs. Play-In Winner
Gonzaga pulls away in the second half for a double-digit victory over either Farleigh Dickinson or Prairie View. Safely move Gonzaga into the next round 
#8 Syracuse vs. #9 Baylor
It is a virtual coin-flip game between the Syracuse Orange and the Baylor Bears. Both schools will have a substantial advantage at their disposal and will need to capitalize on what they do best.
Baylor ranks fourth in the nation when it comes to offensive rebounding percentage, which is a defensive statistic that Syracuse struggles to defend, ranking 309th in the country. As for the Orange, they are 14th on defense in opponent turnover percentage, with the Bears rank 204th in handling the basketball. If Baylor can knock down some perimeter shots, it is difficult for me to see them losing. Nearly 67 percent of brackets have taken Syracuse so far, and I am going to pivot to Baylor, who I believe holds nearly a 45 percent probability of pulling the slight upset. Sometimes brackets come down to math, and it is a unique spot to be different. Baylor advances. 
#5 Marquette vs. #12 Murray State
Get ready for an old western firefight in the West region. NBA prospect Ja Morant will lead his Murray State squad to take on Markus Howard and the Marquette Golden Eagles.
Both players are prolific offensively and will have the offenses go as they do. Howard is a likely All-American and one of the most dangerous scorers in college basketball. He has recorded three 50-point games in his collegiate career and posted more than 25 points in 16 games this season. As for Morant, he has transformed himself into a consensus top-three pick in this year's NBA draft and should be a selected as a first-team All-American.
The game is intriguing because despite being a marginal interior team on defense, Murray State is calculated with their defensive approach. The force universities to score from the inside and rank fourth in the nation when it comes to three-point defense. Marquette comes into the tournament ranked 10th in three-point shooting percentage, so something is going to have to give in the opening round. It is such a challenging game to call because the winner can wreak havoc on the West region, and if you select the wrong team, your bracket could be destroyed early. Marquette has a chance to make the final four with Markus Howard leading the way, but Murray State is tough if they generate offense around Morant, and I think we see the Racers spring an upset late. Murray State moves into the second round.
#4 Florida State vs. #13 Vermont
It is not all sunshine and roses when it comes to Florida State's opening round matchup against Vermont. The Catamounts feature one of the better defensive units in the nation and are ranked third in securing defensive rebounds. However, some of those statistics could be slightly skewed given the quality of opposition they face inside the America East conference. Only one player taller than 6-foot-6 plays over 10 minutes per game for Vermont, and the lack of size was noticeable against Kansas and Louisville earlier in the year.
The Seminoles are deep, athletic and should be able to take advantage against an undermanned Vermont squad. It's not an impossible game for them to lose, but they are playing some of their best basketball all season and should find a way to get out of round one. With all that being said, don't be surprised if the upset does happen, but let's move Florida State into the second round.
#6 Buffalo vs. #11 Play-In Winner
Once again, let's give the play-in game to Arizona State since they are currently a one-point favorite, but I think St. John's might get out of that contest instead. I don't know if my opinion will change regardless of who advances to face Buffalo, but I have already handicapped the game from the perspective of it being Buffalo versus Arizona State. If St John's wins, I will go back and reassess the matchup from that point of view.
If nothing else, Buffalo versus either of the two teams should result in a fast-paced contest. Neither side is particularly adept in knocking down threes, but it should be a fun game that highlights Buffalo's ability to compete against more heralded programs. The Bulls have the profile of a bracket-busting school, but they will enter the tournament as a somewhat respected seed at number six. Buffalo didn't draw the easiest bracket imaginable but should survive to live another day. Buffalo advances.
#3 Texas Tech vs. #14 Northern Kentucky
Texas Tech ranks number one in defense and are a productive squad from beyond the arc, connecting on 36.9 percent of attempts. They don't feature too many weaknesses, but they can be handled on the defensive glass to physical teams.
Northern Kentucky's goal will be to play at 100 MPH all game, forcing turnovers and scoring at a high rate. That might work against a lot of teams in this tournament, but the Red Raiders are one of the worst stylistic matchups that they could have drawn. Texas Tech's stout defense shouldn't give the Norse much breathing room on the perimeter and will most likely suffocate their opponent with their on-ball pressure. Texas Tech is onto the second round.
#7 Nevada vs. #10 Florida
Perhaps no team slipped more in the final month of the season than Nevada. The Wolf Pack turned a potential top-four seed in the NCAA tournament into seventh overall after losing three of their last eight games of the year. Florida, on the other hand, closed the season losing four of their final six games to land as the 10th seed.
The Gators are built on defense and hound opponents with four perimeter players, creating a 19.4 percent opposition turnover percentage (20th in the nation). Their presence on the three-point boundary limits competitors to just 31.6 percent from behind the arc. The one issue is that Nevada isn't a team that will settle for jumpers and will attack the basket to create opportunities at the charity stripe. It remains to be seen if Nevada will be able to turn back on the switch after cruising over the previous month, but Florida's offensive woes are pronounced, and we should see UNRs ability to handle the basketball and win individual one-on-one matchups prevail. Nevada advances.
Michigan #2 vs. Montana #15
Ahmaad Rorie and Michael Oguine lead Montana's backcourt. The duo has helped the Grizzlies rank inside the top-10 in effective field goal percentage in the nation, but the team only features one top-100 win, according to the BPI. Montana is a better team than some may realize, but they struggle with their transition defense and have been vulnerable to isolation situations.
Michigan won't be a team that tries to beat you playing isolation basketball, but they do occupy the ability to run and will be too much for Montana to handle. Michigan to the second round.
South Region First Round 
#1 Virginia vs. #16 Gardner Webb
There is not much to discuss here. Virginia's stay is going to be longer this season than it was last year. Pencil Virginia into the next round.
#8 Mississippi vs. Oklahoma
Ole Miss and Oklahoma feature two teams that are spiraling coming into the tournament. The Sooners have lost eight of their previous 12 games, and the Rebels have not fared much better by dropping five of their last seven.
Oklahoma does their best work on the defensive side of the ball, finishing the season ranked second in the Big 12 in field goal percentage defense, which allowed them to keep games close with strong play on that end. Mississippi is the opposite. They are polished offensively and emphasize a dangerous lineup and high-scoring backcourt. It is conceivable that Mississippi plays right into Oklahoma's gameplan and become smothered by OUs half-court defense, but I think it is much more likely that we see Ole Miss end up being too much to manage on the offensive side of the ball. Mississippi to round two.
#5 Wisconsin vs. #12 Oregon
Can we say that the first to 50 wins this game? That might be a slight exaggeration, but if you like offensive basketball, tune into one of the other games going on at the time.
Wisconsin's style is like watching paint dry. You know it will eventually happen, but it's not something that you necessarily want to be around for from start to finish. Ethan Happ, who is their best player and seems to have been on the team since 1999, will need to be double teamed but could become as much of a disadvantage as he is a service. Happ shot 46.8 percent from the line as a senior, and teams may choose to put him to the charity stripe towards the end of games.
With four starters for Oregon over 6-foot-9, the Ducks are long and athletic. Only Arizona State scored more than 61 points against them in the final eight games, and Oregon ranked 12th in block percentage, 20th in steal percentage and 18th in overall defensive efficiency. They have also allowed only 29.4 percent shooting on three-point attempts. Head coach Dana Altman has preached that the team needs to start being more aggressive on the offensive side of the ball if they want to win games, and they seem to be listening. I think this is one of those situations that if you reversed the seeding between these two schools, it might actually make more sense. With all that being said, the public bettors have taken a similar mentality and square dogs usually get fleas. I think Wisconsin finds a way to survive a low-scoring slugfest. Wisconsin to the next round. 
#4 Kansas State vs. #13 UC Irvine
The South region is notably strange this year. A plethora of defensive teams have been placed in this territory, and that should only emphasize Virginia's advantage.
The Anteaters rank inside the top-15 when it comes to opponents points per possession and are especially active in defending the paint. UC Irvine allowed the lowest field goal percentage on two-point baskets in the nation, coming in at slightly over 40 percent. While they will shut you down, their offense leaves a lot to be desired. Their three-guard lineup can become dribble-heavy, and they don't exhibit enough aggressiveness in attacking the basket.
Kansas State limits possessions by playing a systematic approach, but their offense can't always be counted on for production either. Dean Wade is dealing with a foot injury that would further affect their scoring ability, but early reports have indicated that Wade may be able to make it back for the opening game. If he isn't ready to go, that would be a massive loss for the Wildcats and would ultimately limit what they can do offensively.
With both schools trying to win on the defensive side of the ball, I think it comes down to which unit can provide more offensively. The key for UC Irvine will be preventing turnovers, and if they can hold onto the basketball, this game has all the makings of an upset. The Anteaters are ranked 52nd in the nation in offensive turnover percentage, which I think will be steady enough to spring the upset. UC Irvine advances to face the winner of Wisconsin and Oregon.
#6 Villanova vs. #11 St. Marys
The Villanova Wildcats and St. Marys Gaels have similar gameplans for how they run their offenses. Both teams are slow and methodical, attacking their opponents with precision and a barrage of three-point attempts.
While that style usually works for the Gaels, there is a reason that they needed to win the WCC tournament to gain an automatic bid in the dance. Living and dying by the three will be dangerous for both universities, but Villanova is more battle-tested to win tournament games with that strategy. St. Marys would have been better served against many other schools, and this is a matchup that could turn into a blowout. Villanova advances.
#3 Purdue vs. #14 Old Dominion 
Old Dominion should prove to be a pesky foe for Purdue in the opening round. The Monarchs defend wire-to-wire and enter the tournament with one of the 50 most efficient defenses in the nation. But for all the good that they do on the defensive side of the ball, their offense leaves a lot to be desired.
They rank 301st in effective field goal percentage and only have one player on the active roster that shoots above 70 percent from the foul line. Purdue will have its handsful in their first game but should have enough firepower to overcome a troublesome Monarchs squad. Purdue wins. 
#7 Cincinnati vs. #10 Iowa
The Cincinnati Bearcats versus Iowa Hawkeyes offers another superb stylistic matchup. Cincinnati is built around defense, and they want to use their physicality down low to outwork you and slow a game down. And then you have Iowa, who is at a track meet at all times. They want to get up and down the court, scoring as quickly as possible.
These sorts of games are intriguing because each has a distinctive trait to how they can win, and we can see these contests turn into blowouts or fights to the death. While I do think Iowa has a legit punchers chance to pull the mini-upset, Cincinnati is physical, and the Hawkeyes are susceptible to allowing their fair share of offensive rebounds. The Bearcats rank sixth in the nation in attacking the glass, and Iowa won't be able to get enough stops to advance. Cincinnati advances due to sheer physicality.
#2 Tennessee vs. #15 Colgate
Colgate comes in with 10 consecutive wins and has the right combination of size and scoring to make their opening round game against Tennessee awkward. However, they have only played three teams inside the KenPom top-100 and lost handily in all three. Tennessee pulls away in the second half for a double-digit victory.
Midwest Region First Round 
#1 North Carolina vs. #16 Iona
The MAAC was an underwhelming conference this season, which saw Iona lose six regular season games within their conference. The Gaels should be proud of their season, but they will be no match for North Carolina. UNC easily advances. 
#8 Utah State vs. #9 Washington
Utah State has won 17 of 18 games entering March Madness and might be the hottest team in America. The Aggies space the floor well and move the ball with rhythm. Utah State plays no starter that is less than 6-foot-3, and their length will prove to be an issue for teams in the tournament.
Washington is a great defensive squad that can stay in games because of their ability to generate steals and stops, but Utah State is too poised, and Washington doesn't have enough on the offensive end to match the Aggies. Utah State wins.
#5 Auburn vs. #12 New Mexico State
New Mexico State rides a 19 game winning streak into their opening round matchup against Auburn and should give the Tigers all they can handle in round one. But similarly to the last few seasons, the Aggies aren't doing themselves any favors by playing in a weak WAC conference.
New Mexico States path to victory is playing an up-tempo game and connecting on three-point baskets, but if that route fails, they are susceptible to being blown out. Auburn struggles against teams that can pound it into the paint, but New Mexico State attempts over 46 percent of their shots from beyond the arc. The Aggies would have been better suited against other five seeds and will ultimately come up short -Auburn into round two.
#4 Kansas vs. #13 Northeastern
How weird it is to see Kansas as the fourth seed in the NCAA tournament and perhaps even stranger that they probably aren't deserving of being that high. If you can stop Dedric Lawson, you can end the Jayhawks' stay in March early.
Northeastern plays efficient offensive basketball and feature three of their four leading scorers as marksmen behind the arc, making over 40 percent of their attempts each. Kansas' struggles have been pronounced for the last few years, and their most significant liability has been defending longe range baskets. I think Northeastern would be clever to implement a zone defense against Kansas and force them to hit perimeter jump shots. If Kansas goes cold and the Huskies heat up, this matchup has all the makings of an upset. It remains to be seen if Northeastern has enough firepower to get it done, but there is enough there to go out on a limb. Northeastern shocks the Jayhawks and move into the second round.
#6 Iowa State vs. #11 Ohio State
Iowa State plays as if they are a premier mid-major program, even though they are in the Big 12. They rely on three-point shooting, get quality looks, don't turn it over but struggle to create second opportunities from rebounds or steals. Ohio State is a well-coached team that will be getting back center Kaleb Wesson after he served his three-game suspension. It remains to be seen if they have enough firepower to survive the opening weekend, but their defensive chops can cause fits.
Iowa State captured the Big 12 tournament title and should become a popular selection to advance deep into the bracket, but the issue is that they will be playing their fourth game in the past week and only feature one starter that is over 6-foot-5. I think this is a great spot to select a contrarian option on your bracket and will be picking Ohio State in a slight upset.
#3. Houston vs. #14 Georgia State
Georgia State has been on this stage before and shocked the college basketball world. Sadly, though, Houston will be too much for them to handle.
#7 Wofford vs. #10 Seton Hall
One thing is for sure, Seton Hall will not be an easy out for any team in this NCAA tournament. They are active and aggressive on defense and held Big East teams to just a 43 percent field goal percentage. While they don't force a ton of steals, they make ball-handlers uncomfortable and force bad shots.
Wofford is one of the better stories in the nation, winning 20 consecutive games and rolling through the Southern Conference unbeaten. Fletcher Magee attempted 31 percent of the Terriers shots when he was on the floor and hit 48 percent of two-point baskets and 41 percent of his threes.
The recipe to beat Seton Hall is to patience on the offensive end. Wofford ranks third in the country in points per possession and fourth in effective field goal percentage. It won't be an easy game, but I don't think Seton Hall has enough offense to survive. Wofford moves on.
#2 Kentucky vs. Abilene Christian 
Abilene Christian will be a small fish in a big pond this weekend. They don't have a single starter over 6-foot-7 and have a point guard that is 5-foot-7. Their lack of size will shrink their potential for an upset. Kentucky advances.
East Region Second Round 
#1 Duke vs. #8 VCU
VCU is a quality defensive team that might be a year away from making serious noise in the NCAA tournament. Unfortunately, their inability to score the basketball will be their undoing, as they rank as one of the worst three-point shooting teams in the nation. Duke is superb with their length at defending threes and will be too much for the Rams to handle down low. Duke moves onto their 31st Sweet Sixteen. 
#4 Virginia Tech vs. #5 Mississippi State
It is an unlucky draw for both schools, as each can find an edge of their own. Mississippi State will look to dominate the offensive glass to move onto the Sweet Sixteen, and Virginia Tech will attempt to cause mistakes from a turnover-prone Bulldogs squad.
It is a coin-flip sort of game that could go either way, but at the end of the day, the Hokies of Virginia Tech are too efficient on the offensive end, and the return of guard Justin Robinson will be the difference. Virginia Tech will advance to set up an ACC battle in the Sweet Sixteen.
#3 LSU vs. #11 Belmont 
Belmont might not be the best defensive team in the nation, but they rank inside the top-45 when it comes to collecting defensive rebounds and not fouling opponents. LSU does most of their dirty work on offense by either getting to the free throw line or grabbing offensive boards. If Belmont can limit those two things like they have done all season, we could see the Bruins spring another upset. I think they will get the job done, and Belmont continues dancing.
#2 Michigan State vs. #7 Louisville
In a rematch of an early-season contest that saw Louisville upset ninth-ranked Michigan State in November, the two teams will square off again with a berth to the Sweet Sixteen on the line.
Louisville's Jordan Nwora is a difference maker, but if you can shut down the 6-foot-7 forward, the Cardinals lack elite-level shooting and toughness at times. Michigan State's physicality will be too much to handle, and Tom Izzo's experienced squad will find a way into the Sweet Sixteen. Michigan State advances. 
West Region Second Round 
#1 Gonzaga vs. #9 Baylor 
Gonzaga has the best offense in all of college basketball, ranking first in offensive efficiency, effective field goal percentage and points per game. The Bulldogs have a variety of ways to score, which includes three-point snipers, slashers and paint producers.
If you are looking for a way to beat them, you need to get them into foul trouble, which is not something that Baylor does well. Baylor will have an edge on the glass but won't have enough offensive firepower to keep up. Gonzaga moves onto the Sweet Sixteen.
#4 Florida State vs. #12 Murray State
Murray States Ja Morant could be this year's second pick in the NBA draft. He is explosive, attacks the basket and assists on more than half the Racers made shots. The issue is that Murray State isn't particularly tall or deep in the frontcourt.
Florida State has the depth to wear opponents down and athleticism to outmatch smaller combatants. Florida State will move onto the Sweet Sixteen but not without an early challenge from Morant and the Racers.
#3 Texas Tech vs. #6 Buffalo
The Buffalo Bulls are really good. They average 85 points per game in their high-octane offense and feature experience and grit. Head coach Nate Oats will want to speed up the tempo against Texas Tech, but that could lead to ill-advised shots against the number one ranked defense in the nation.
Texas Tech doesn't have too many weaknesses, but they can be had on the glass by more physical teams down low. Buffalo is aggressive in trying to grab offensive boards but only rank 59th in the nation when it comes to offensive rebound percentage. Texas Tech's strong half-court sets usually end up forcing their opponents into mistakes that they generally would not make, and Buffalo will need to be precise, accurate and reliable with the ball if they want to advance to their first Sweet Sixteen showing ever. I think they fall short, but Oats should be proud of his team and what they accomplished this season. Texas Tech is Sweet Sixteen bound.
#2 Michigan vs. #7 Nevada
Nevada's Sweet Sixteen run last season has earned head coach Eric Musselman's squad more publicity than they probably deserve. If they happen to survive Florida in the opening round, it would arguably be their best win of the season, and I am not so sure that we even see them escape the Gators.
It is hard to advance a team into the Sweet Sixteen that you don't trust, and the run will come to an end against Michigan - which is assuming we even see them survive Florida in the first game. Michigan moves on.
South Region Second Round 
#1 Virginia vs. #8 Mississippi
Virginia's deliberate style will always increase the likelihood that they could be upset in any contest, but the Ole Miss Rebels struggle defending three-pointers, ranking 321st in the nation in three-point percentage defense this season.
The Cavaliers might be a team that can go hot or cold from the perimeter, but their 41.4 percent rate from deep was fourth best in the nation, and you still need to present a defensive quirk to take Virginia out of their comfort zone. Ole Miss doesn't do that and are hit-and-miss offensively. That doesn't bode well for their chances. Virginia advances. 
#5 Wisconsin vs. #13 UC Irvine
UC Irvine will have their work cut out for them whether they face Oregon or Wisconsin. From a stylistic point-of-view, Wisconsin would be a more ideal matchup for the Anteaters because of Oregon's length at four positions on the floor, but even the Badgers aren't a perfect pairing.
Ethan Happ would be nearly impossible for UC Irvine to defend, and the senior has the talent to lead his squad into the Sweet Sixteen, despite the team not being as offensively skilled as they have been in years past. UC Irvine has a punchers chance against Wisconsin but would probably be dead on arrival against Oregon. Most brackets won't have Wisconsin making it this far, and I think it is a unique spot to be contrarian while still being prudent mathematically. Wisconsin moves on to face Virginia. 
#3 Purdue vs. #6 Villanova
Villanova versus Purdue is one of your classic situations where most of the public will back the higher-seed Boilermakers, but we most likely are only looking at about a two-point spread if we get this pairing in the second round. These two schools are nearly mirror-images of one another, but the one substantial difference is Purdue's ability to take over on the offensive glass. They rank 14th in the nation in offensive rebounding percentage and will look to use the size of Matt Haarms to create second chances.
When you deal with programs that live and die by the three - which both of these do - it always leaves you susceptible to picking the wrong side. I don't think the committee did Purdue any favors by placing this game in Hartford, Connecticut, and the Boilermakers will be forced to play in a road environment to advance. It is a coin-flip contest that could go either way, but I will take Villanova to pull off the marginal upset.
#2 Tennessee vs. #7 Cincinnati
Similar to Villanova and Purdue, the committee didn't do Tennessee any favors by scheduling the first two games in Columbus, Ohio. Cincinnati is far from a lock to survive Iowa in the opening contest, but if they do make it to Tennessee in the second round, things could get interesting.
The Volunteers thrive on making two-point baskets but are ripe for the picking if they are turned into a three-point shooting unit. Cincinnati uses their big, athletic bodies to hold opponents under 60 points a game and field goals inside the arc are challenging to come by for their opponents. That leaves them susceptible to long-range shooting, but Tennessee isn't comfortable knocking down deep shots consistently and only rank 131st in three-point percentage. If you mix in the fact that the Volunteers struggle to gain defensive rebounds and the Bearcats' thrive in crashing the glass, there is a potential upset brewing. Head coach Mick Cronin will try to make it as ugly as possible, and Cincinnati will advance to the Sweet 16.
Midwest Region Second Round 
#1 North Carolina vs. #8 Utah State
Utah State has the talent to remove the first number one seed from the tournament this season. The Aggies are ranked fourth in the country in two-point field goal percentage and lead the nation in defensive rebounding percentage. The combination of those two things have led them to 17 wins in their last 18 games, but at the end of the day, North Carolina has the speed to make Utah State uncomfortable and control the tempo.
I'd imagine the spread will end up being somewhere around 12 points and could see taking the Aggies plus the number, but North Carolina is national title good, and they feature the perfect mixture of youth and experience. UNC will advance but look for Utah State to give them all they can handle.
#5 Auburn vs. #13 Northeastern
It was a good run for Northeastern, but their quest to keep dancing will end against Auburn. Northeastern's lack of perimeter quickness will be exposed against an Auburn team that will be stealing, blocking and frenetically pushing the pace, and all the reasons that they were able to upset Kansas will be irrelevant against a lethal Auburn side. Auburn advances.
#3 Houston vs. #11 Ohio State
It is difficult to win a game against a stout defensive squad when you can't score the basketball. That is the uphill battle that Ohio State will face, and Houston's first ranked squad in effective field goal percentage on defense will shut down Ohio State's run. Buckeyes head coach Chris Holtmann would be thrilled to get into the round of 32, and there is name shame in being outgunned across the board. Houston makes the Sweet Sixteen. 
#2 Kentucky vs. #7 Wofford
Kentucky's inability to guard the three or shoot the three has been the same for John Calipari led squads almost every season. Wofford enters the tournament ranked second in three-point percentage and 78th in three-point defense. The combination might sound fitting for an upset, but it appears to be fools gold. While Fletcher Magee could transform into Stephen Curry and lead the Terriers to a deep run, Kentucky's length and athleticism will more likely spell inevitable doom for head coach Mike Young and his team.
Wofford sported an 0-4 record against top-50 teams in the nation and lost the four contests by an average of 14.5 points per game. Each side scored at least 1.05 points per possession, and Wofford couldn't force turnovers or stop the inside barrage. If nothing else, Kentucky will always be long and athletic, which means the Terriers would need to have the night of their lives from deep. Is it possible? Sure. But it seems rather unlikely. Kentucky moves into the next round.
Sweet Sixteen
#1 Duke vs. #4 Virginia Tech
Virginia Tech has a real shot at springing an upset over #1 Duke. Will it happen? Perhaps. These two teams faced off on February 26th in a game where Duke didn't have Zion Williamson, and Virginia Tech didn't have Justin Robinson. Virginia Tech won 77-72 at home and have proven that they have enough firepower to dethrone the Blue Devils.
The one thing that caught my eye from their first meeting was the fact that the Hokies attempted 29 free throw attempts. Virginia Tech only ranks 228th in the nation when it comes to free throws attempted per field goals attempted, and that number feels like an outlier that could have stemmed from having the game in their building. It is difficult to beat a team twice in one season and will be even more challenging to do so with Williamson back in the mix. Duke will survive and advance, but the upset potential is there.
#2 Michigan State vs. #11 Belmont
Belmont's defense struggles to defend the three, allowing nearly 35 percent of three-point baskets to be successful. Not pursuing offensive rebounds allowed the Bruins to play solid transition defense but found themselves vulnerable to half-court sets.
Michigan State is accurate from deep, shooting 38.1 percent on the year and methodical with their offensive sets. The Spartans feature balanced scoring and a positive 9.1 rebound margin over opponents. Belmont's run was Cinderella-worthy, but they will be out of their league against Michigan State. The Spartans set up the clash we all want to see against Duke in the Elite Eight.
#1 Gonzaga vs. #4 Florida State
Gonzaga and Florida State is a rematch of last year's Sweet Sixteen matchup that saw head coach Leonard Hamilton and his Seminoles pull off the shocker over the favored Bulldogs.
Florida State's roster is deep, playing 10 players and averaging 75.8 points per game. They are long, athletic and play with a tempo that can be difficult to match. If you don't equal their intensity level, you could be in for a long night, especially on the backboards. Florida State is dangerous, and they showed that by winning 14 of their last 16 games, including victories over Virginia, Virginia Tech twice and Louisville, but I don't believe they are as complete as they were last season, and their failure to score effectively will come back to bite them. Gonzaga advances.
#2 Michigan vs. #3 Texas Tech
While I don't believe Michigan will go from being the number one team in the nation in ball-handling to dead last, Texas Tech forces you to produce mistakes that you aren't accustomed to making, and a team like Michigan can't afford to give up extra possessions.
The Wolverines don't create second opportunities on the offensive glass or through steals, nor do they get themselves to the foul line, ranking 311th in the country in free throws attempted per field goals attempted. Losing out on a handful of possessions will prove to be costly, and the Red Raiders will make their second straight Elite Eight showing. Texas Tech advances.
#1 Virginia vs. #5 Wisconsin 
Never has there been a number one seed as contrarian as Virginia. I get they lost to a 16-seed last season, but Virginia is good and could be the most likely top seed to advance to the Final Four.
A matchup between Virginia and Wisconsin does have the makings of a 47-35 sort of game, but the Cavaliers do everything better on the defensive end and are a superior offensive unit. Virginia advances one step closer to their first Final Four since 1984.
#6 Villanova vs. #7  Cincinnati 
We have mentioned previously how Cincinnati is built around defense and how difficult field goals are to come by inside the arc against them, but because they put so much focus on the interior, they're often susceptible to long nights of giving up threes.
Villanova has attempted the sixth-most threes in college basketball this season, with just two teams making a higher percentage of their shots from behind the arc. The Wildcats are good enough on the defensive boards to keep the Bearcats at bay, and Cincinnati allows 39 percent of opponents points to come from three-point territory. Jay Wright has become a mastermind in March and will continue their run into the Elite Eight with a victory over Mick Cronin's squad. Villanova keeps dancing.
#1 North Carolina vs. #5 Auburn
If some of these other games have been first to 50 points, UNC and Auburn might be first to 100. I can't even imagine the tempo we would see with these two teams, and It could be the game of the tournament.
Auburn is incredibly feast or famine, which isn't necessarily a deterrent in this situation. It wouldn't shock me to see them falter against New Mexico State in the opening round, but they do have the potential to be a Cinderella Final Four team. Coby White is the star for North Carolina at the point guard position, but he doesn't always have the best shot selection and was forced into a ton of mistakes versus a stout Virginia squad.
If there are two ways that a team will beat Tarheels in the tournament, it will come from forcing White into bad decision-making and their inability to guard the three-point line. Opponents generate 36 percent of their points from deep, and Auburn shoots fast and often. The Tigers also rank first in the nation in defensive turnover percentage, and as mentioned above, you never know how a freshman will handle pressure in a big situation. Auburn causes our first number one seed to fall and will make their first Elite Eight since 1986.
#2 Kentucky vs. #3 Houston
I know I have been redundant when discussing teams outside of the Power Five conferences, but Houston is exceptionally talented. They are efficient at both ends of the court and grind out possessions to get the best possible shot they can.
However, in the Cougars losses to Temple and UCF, opponents used athletic guards to give Houston fits. They allowed 20-plus trips to the free throw line in each game and Kentucky is athletic and rank ninth in the nation in free throws attempted per field goals attempted. Houston had a magnificent run this season, but Kentucky's athleticism will be too much for them to handle. Kentucky completes the last of our Elite Eight.
Elite Eight
#1 Duke vs. #2 Michigan State
With a trip to the Final Four on the line, Duke and Michigan State will square off to see who comes out of the East. The Duke Blue Devils have only lost once this season at full strength and the team features three lottery selections in Zion Williamson, Cam Reddish and RJ Barrett. There are very few weaknesses to mention, but they have struggled behind the arc and aren't the most efficient at the charity stripe.
Michigan State is led by Cassius Winston, who is one of the best players in the nation and has transformed himself from an afterthought in his freshmen season to an All-American as a junior. Winston has averaged 7.6 assists per game and connects on 41.3 percent of his shots from long-range.
Both teams are inside the top-10 in offensive and defensive efficiency, and each squad features physicality down low. Duke will be the favorites given their three-headed monster of Williamson, Reddish and Barrett, but I believe Michigan State will actually pull a small upset and knock off the Blue Devils one step before the Final Four. Duke ranks just 330th in three-point percentage and won't have the luxury they are used to on the glass. Michigan State has enough bulk to grab offensive boards of their own, and they not only defend the three-point shot as a top-50 team in the nation but also shoot it at 38.1 percent - good for 25th best in the land. Duke's historical season will have a disappointing conclusion at the hands of Sparty. Izzo and the Spartans advance to the Final Four.
#1 Gonzaga vs. #3 Texas Tech
The best offensive and defensive teams will square off with a spot to the Final Four on the line. Texas Tech doesn't have too many weaknesses, but if you can find a hole in their defensive designs, they allow too many offensives boards. Their top rebounder is 6-foot-6 Jarrett Culver, who is also their best player, but it is far from ideal to have your two-guard as your best performer on the boards, and his lack of size helps to explain the nearly 10 offensive boards they give up per game. The defensive pressure they play with can usually neutralize that by creating turnovers and extra shots of their own, but Gonzaga doesn't make mistakes and has multiple options they can use to beat you. Their best player is Rui Hachimura, who likely will finish as a first-team All-American and is a potential top-five selection in next year's draft. Gonzaga's ability to win any game type will be vital, and the Bulldogs will make their second trip in three seasons to the Final Four. Gonzaga advances.
#1 Virginia vs. #6 Villanova
With the way the bottom of the South bracket was blown up, this is just about the best possible matchup that Virginia could have drawn. Virginia ranks first in three-point defense, and while Villanova shoots the sixth-most threes in college, they only hit them at a 35.5 rate, ranking them 114th in the nation. Virginia will finally get themselves over the hump and avenge last year's epic meltdown to UMBC. Virginia advances.
#2 Kentucky vs. #5 Auburn
SEC rivals will square off with a spot to the Final Four on the line in the Midwest Region. Kentucky won the first meeting in Auburn by a score of 82-80. The game featured Kentucky being up by 17 points before the Tigers made a late run to take the lead with 32 seconds left but ultimately fell short after Tyler Herro sunk two free throws with 24 seconds left to seal the game.
The second meeting in Lexington, Kentucky wasn't as tight, with Kentucky trouncing Auburn 80-53. It is difficult to beat a team three times in one season, but a lot of what Auburn does that makes them unique won't be a surprise to Kentucky. John Calipari and his squad will book another trip into the Final Four, this time to take on the Virginia Cavaliers. Kentucky moves on. 
Final Four
#1 Gonzaga vs. #2 Michigan State
Michigan State has one slight edge that they will need to exploit if they want to earn a trip to the National Championship. While Gonzaga isn't terrible by any means on the defensive glass, ranking 63rd in the nation in opponents offensive rebound percentage, Michigan State will have an edge on the glass with Kenny Goins and Nick Ward down low. Ward is returning to the lineup after suffering a broken hand in mid-February, and the return of Ward gives the Spartans the firepower that they need to win the title.
Ward was only forced to miss three weeks of action and returned during the Big Ten tournament. The issue is that he can be foul-prone, and Gonzaga's big man Brandon Clarke is a force to be reckoned with down low. Clarke average 16.5 points and 8.4 rebounds per game this season The team also got Killian Tillie back for the WCC tournament, and his presence will add an extra dynamic. This might be the best Gonzaga squad we have seen, and they have the right mixture of All-Americans, veterans and athletes to win the school their first title. Gonzaga makes the second championship game in their school's history.
#1 Virginia vs. #2 Kentucky
Kentucky faced three ACC opponents this season. They lost their opening game of the year to Duke 118-84, beat UNC 80-72 and won on the road against Louisville 71-58. That doesn't tell us very much, but it is interesting to see how Kentucky fared against similar opponents. All the games - specifically the Duke contest - came too early in the season for it to mean much, but styles make fights, and we could be looking at an intriguing matchup to decide the final spot in the National Championship.
Kentucky's biggest weakness is their three-point shot, hitting 35.9 percent, which is slightly better than Division I average, but the deep ball is still not their specialty. Only 23.6 percent of their points come from beyond the arc (340th in the nation), although they do have two players that shoot above 40 percent from deep (PJ Washington and Keldon Johnson.)
The Wildcats are long and athletic but do struggle to maintain three-point shooters, ranking 189th in three-point defensive percentage. Virginia hits 41.4 percent of their long-distance jumpers, which could cause Kentucky issues. Virginia also features the first ranked three-point defense and have the ability to change up the pace on a Kentucky squad that might be forced into some youthful mistakes. 2019 is the year of Virginia's redemption, and they will advance to take on Gonzaga in the National Championship game.
National Title Game
#1 Virginia vs. #1 Gonzaga
Will it be Virginia or Gonzaga that captures their first-ever National Championship?
It is difficult to find many imperfections with either side, and I believe that these are the two best schools in the tournament this season. Gonzaga runs a balanced offense that succeeds inside and out. Whether it is from a screen-and-roll, dribble-handoff or the ability to generate their own shots, Gonzaga can beat you every way imaginable. The Zags are dangerous in transition and are athletic enough to shut down their opposition.
Virginia uses its defense to suffocate opponents. Foes only make 19.7 field goals per game and shoot just 37.4 percent from the field. The Cavaliers like to slow things down, so for all the talk about how it can be difficult for them to come back if they find themselves behind, it is even more challenging for opponents to claw back against a team that precisely moves the ball throughout the entire shot clock.
This game could not be any closer in my eyes. We probably are looking at a 1-point edge towards Virginia, but you could virtually flip a coin to decide the winner. The Final Four will be played inside a dome in Minneapolis, Minnesota, and we always see shooting woes take place in the bigger arenas. There is no evidence that this should affect anything, but it is consistently a point of discussion. I believe there may be a shooting-background effect, not to mention the court's configuration, the tightness of the rims, the lighting, the proximity of the fans and the pressure over anything else.
The reason I bring this up is that Virginia has never been shy when it comes to living and dying by the three, and a cold shooting night could put the Cavaliers into an early deficit that proves to be insurmountable. Gonzaga has done something that Virginia failed at doing twice this season, and that is beat Zion Williamson and the Duke Blue Devils. The Bulldogs have more ways to score, and their defense is always trying to move opponents off the three-point line and into their rim-protecting big men. If Virginia starts panicking, their quality of possession will go down, and their mistakes will increase. Gonzaga has been knocking on the door for far too long, and it's time for them to crash the dance entirely. Gonzaga will be your 2019 NCAA tournament champion.
More March Madness Brackets Advice