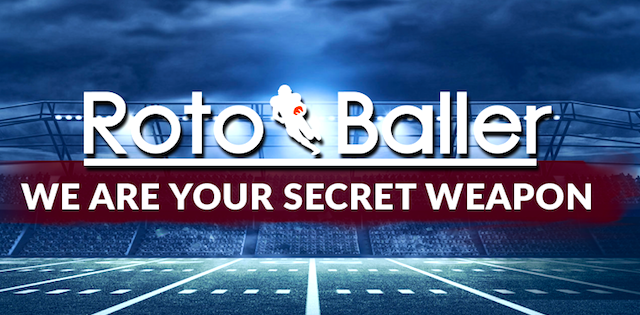 Another Saturday means another chance to check out the next crop of potential fantasy football stars.
Some of the top teams have already started mixing in bye weeks, but there are a few interesting games throughout the day that intrepid fantasy football fans will want to tune into.
This series will cover players featured in nationally televised games who could likely emerge as fantasy assets after next year's draft.
Editor's Note: Get any rest-of-season NFL Premium Pass for 50% off. Our exclusive DFS Tools, Lineup Optimizer and Premium DFS Research through the Super Bowl.
Sign Up Now!
Week 3 Recap
 First, let's look at how last week's featured players performed:
Anthony McFarland, Maryland – McFarland had a good game with 26 carries for 132 yards and a touchdown. He still wasn't targeted in the passing game, which raises concerns about his potential for three down usage at the next level.
Eno Benjamin, Arizona State – Benjamin had a rough day, totaling 38 yards on 11 carries. This was his chance to make a statement against a good defense and prove he could be one of the top backs drafted.
Cody White, Michigan State – White caught five balls for 39 yards. He wasn't able to make any big plays and failed to distance himself from a massive pack of potential day three wide receivers.
Brian Lewerke, Michigan State – Lewerke was 24-38 for 291 yards with no TDs or INTs. He rushed 10 times for 25 yards. He didn't make any mistakes, which is a positive sign after last year, but he also didn't make many plays. He still projects as a back-up at the next level.
Lamichal Perine, Florida – Perine had only 27 yards on 14 carries, while adding 23 yards on three catches. Seeing him in the passing game is nice, but the rushing total leaves a lot to be desired and suggests he might not be a starting running back in the NFL.
Van Jefferson, Florida – Jefferson had seven catches for 93 yards, totaling over 13 yards per pass. He seemed able to get open regularly and is proving himself to be a consistent receiving option and a possible mid-day pick.
Lynn Bowden Jr., Kentucky – Bowden caught seven passes for 70 yards and rushed twice for one yard. While he didn't break any big plays, he was used all over the field and was a chain-moving passing option against a good defense. Overall, a solid day.
Michigan - Wisconsin
Saturday 12PM ET on FOX
Shea Patterson – Senior, Quarterback, Michigan – Patterson supporters have long praised his high-level athleticism and strong arm. From an ability standpoint, there's not much Patterson can't do; he can make all of the throws you want from an NFL quarterback and his ability to make plays with his legs adds to his dynamic upside. The issue for him has always been consistency. Sometimes he makes bad decisions trying to find the bigger play, as evidenced by the fact that he's already fumbled four times in Michigan's first two games. If he can help Michigan's offense move the ball while avoiding any turnovers, he could help assure scouts that he's an NFL starting quarterback.
Nico Collins – Junior, Wide Receiver, Michigan – Collins is a dominating physical presence. At 6'4" 220 pounds, he has impressive strength and physicality to beat defenders to the ball. While not a dynamic athlete, he shows good ability as a route runner and a red zone threat. If Collins can continue to show growth on his route tree, and the ability to gain separation from consistent defensive backs, he has a chance to be a day two pick as a team's physical chain-mover.
Jonathan Taylor – Junior, Running Back, Wisconsin – Taylor looks to be next in the line of impressive Wisconsin running backs. A powerful runner with an NFL frame and 4.4 speed, there isn't much that Taylor can't do. Perhaps most interestingly, he already has five catches on the season, after totaling eight in each other of his last two seasons. If Taylor can continue to show that he can carry the load and also help in the passing game, he could find himself in the first-round discussion come April.
Washington - BYU
3:30 PM ET on ABC
Jacob Eason – Senior, Quarterback, Washington – A Georgia transfer, Eason is an imposing 6'6" 225-pound specimen. A high-level high school recruit, Eason has great awareness and anticipation and get good drive on his passes. In his first year as a starter at Washington, Eason has begun to show the touch people wanted from him for years; a trait that could make him an elite prospect if it becomes consistent. If he can continue to deliver on his raw tools, Eason could work his way into the first-round conversation, but it seems highly likely some NFL team gives him a chance to be its quarterback of the future.
Aaron Fuller – Senior, Wide Receiver, Washington – Fuller is the type of wide receiver who gets overlooked in the draft process but becomes a key cog in an NFL team's offense. He is a strong route runner, who uses unique foot placement to throw cornerbacks off. He won't wow anybody with his size, at 5'10" 190, but he can make catches in traffic; he won't run a ridiculously fast time, but he's still explosive with the ball in his hands. I expect Fuller to be a late day two or early day three pick who will over-produce his draft slot.
Ty'son Williams – Senior, Running Back, BYU – The well-traveled running back is an extremely intriguing player. A high-level recruit, Williams played for UNC and South Carolina before transferring to BYU this year. When he's on the field, Williams has shown strong ability as a rusher and effective hands as a receiver. We always hear about how good he is as an athlete, but the consistent results have never been there. If he can establish regular playing time with the Cougars, this might be the year we see that talent in action, and he could rocket into early day three conversations with not a lot of mileage on his legs. It wouldn't surprise me if he had a Chris Carson-style trajectory of a transfer-heavy back who was never a full-time starter but finds an NFL situation where his raw talent can flourish.
Notre Dame - Georgia
8:00 PM ET on CBS
Chase Claypool – Senior, Wide Receiver, Notre Dame – At 6'4" 230 pounds, Claypool is a huge wide receiver. As one would expect, he's very physical in his routes and is dominant on jump balls. He's shown good hands and the ability to make big plays when quarterbacks trust him to go up and win a ball up top. The concern is that he doesn't have the speed to be a more well-rounded receiver. Georgia is loaded with NFL talent on defense, so if he can show the ability to gain separation against elite-level athletes, it could go a long way to answering those questions and moving him up from his current late-round conversation.
Ian Book – RS-Junior, Quarterback, Notre Dame – Ian Book came into this year as a possible draft pick with a future as an NFL back-up. At 6'1" 210 pounds he was simply thought of as being too small and average-armed to play quarterback at the next level. But the kid can play. He's a strong athlete, who can extend plays with his legs and has shown enough arm to hit big plays. Book will be fighting an uphill battle because of his size, but this will be a good test to see if he can rise from the future back-up ranks into the conversation as a possible developmental starting quarterback.
Jake Fromm – Junior, Quarterback, Georgia – Despite his big name, there are similar questions being asked of Jake Fromm. At 6'2" Fromm is also on the shorter side for a quarterback, but he also possesses the athleticism and pocket awareness to keep plays alive and set himself up to go through multiple reads. He has good arm strength and thrives in the middle of the field, but he has never shown consistency on the deep ball and has some scouts worried he's more of a smart game-manager and natural leader than a quarterback who can sling the ball over the field in the modern NFL. He's starting to push the ball downfield more early this season, so if he can connect on some deep balls against Notre Dame, he may show that he has the overall resume to be a first-round pick.
D'Andre Swift – Junior, Running back, Georgia – Swift is clearly the top offensive talent in this game. An aggressive runner with tremendous vision, Swift is simply fun to watch. He can make defenders miss, catch passes out of the backfield, lower his shoulder and run through somebody, or crack a linebacker on a blocking assignment. All of this puts him in the conversation to be the first running back drafted despite never carrying to full starter load at Georgia. He doesn't likely have the speed to be a true home run threat, but he's a talented all-around back who will likely go within the top 15 picks and could easily emerge as a fantasy star in today's NFL.
Andrew Thomas – Junior, Offensive Tackle Georgia - This is just a public service announcement to keep an eye on Thomas. He's a likely top 10 pick with the versatility to play tackle or guard. He will immediately improve the line on whatever team drafts him and consequently improve the quarterback protection or running lanes for said team.
More NCAA Football Analysis