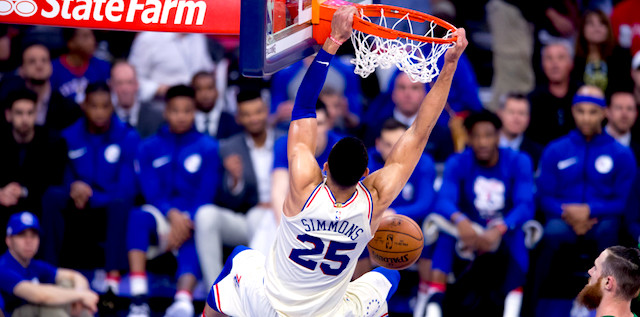 Playoff basketball has a harsh way of exposing NBA players. Guys who might be very productive over the course of an 82-game schedule suddenly find that they can't get their shots in the half-court offense or, worse, they can get the shots but can't make any.
As a result, when the grind of the playoffs forces teams into do-or-die situations, the tendency is to lean on the most valuable players and forgo the players who aren't pulling their weight, because there is no time to waste waiting for a slumping player to get right.
When it comes to the Philadelphia 76ers, then, Ben Simmons is the poster child for the struggling star. He can't shoot from beyond 10 feet – making just 25.7% from that distance in the regular season – and he basically doesn't take those shots in the playoffs. It's near the rim or nothing, which means that the 76ers have to turn to Joel Embiid, Jimmy Butler and even Tobias Harris for more scoring.
That brings its own set of problems, as Harris is shooting 36.5% from the field against the Raptors, just 26.7% on threes.
On the other hand, the Denver Nuggets are getting a bigger contribution out of power forward Paul Millsap, who is averaging 19.0 points per game on 54.5% shooting (46.2% on threes) against Portland.
The nature of the playoffs is such that players that are making shots are needed to keep making shots for a team to advance and those that aren't tend to fall by the wayside.
Here are some plays to consider before making your NBA picks for Thursday.
Editor's Note: Our friends at Monkey Knife Fight have released the best, most fun, fastest growing DFS props game! It's super simple to play and win real money. Just choose your NBA, NHL, MLB or PGA game, and make your picks! Get a 100% instant deposit bonus up to $50 using promo code: BALLER. That's $50 for free - don't miss out!
TORONTO-PHILADELPHIA
OVER/UNDERS
Kawhi Leonard OVER 31.5 POINTS – He's coming off a Game Five when he scored just 21 points, but that ended a streak of four straight games of 30-plus, and he has scored at least 33 points in three of four road games in the playoffs. If the Raptors are going to finish off the Sixers, they need another big game from Kawhi.
Jimmy Butler OVER 21.5 – After a brutal five-game stretch following his 36-point opener to the postseason, Butler has been much better lately against the Raptors, scoring at least 22 points in each of the past four games. With Ben Simmons drifting out of the offense, Philadelphia is leaning more on Butler at the offensive end.
Pascal Siakam OVER 17.5 POINTS – The Raptors' rising star has had a monstrous breakout season and it has carried over into the playoffs, where he has been a strong complementary scorer alongside Kawhi Leonard. In the past six games, Siakam has scored at least 20 points five times and the only game that he didn't hit that threshold was Game Four, when he finished with nine points, but was also considered doubtful to play because of a calf injury.
RAPID FIRE
Kyle Lowry +0.5 assists vs. Ben Simmons – It's bizarre that Lowry's 6.0 assists per game in this series would give him a head-to-head advantage on Simmons, who is averaging just 4.6 assists per game in the second round of the playoffs. Both players have some consistency issues that are a cause for concern, so all the more reason to take the underdog Lowry plus a half assist.
DENVER-PORTLAND
OVER/UNDERS
Damian Lillard OVER 28.5 POINTS – Although it has been four straight games since Lillard scored at least 29 in a game, he's been money at home in the playoffs, scoring 29 or more in three of five games and the two in which he came short he finished with 28.
Nikola Jokic UNDER 24.5 POINTS – The Nuggets star center has scored 25 or more points five times in a dozen playoff games (three times in five road games in the postseason), but it's easier for Jokic to have a huge impact on the game without putting up huge scoring numbers because he does so many other things, including averaging 13.1 rebounds and 9.0 assists per game in the playoffs.
Jamal Murray OVER 21.5 POINTS – The notion that he's already the best Canadian basketball player is a tad optimistic, but the pride of Kitchener, Ontario is breaking out in the playoffs, averaging 23.3 points per game in the past nine, including back-to-back 34-point efforts in Games Three and Four in Portland.
RAPID FIRE
Damian Lillard -4.5 points vs. Nikola Jokic – This is doubling down on the over/under picks, but Lillard is more scoring dependent to have a major impact and he's scored at least 28 points in every home game this postseason, which gives him a good baseline for a head-to-head matchup.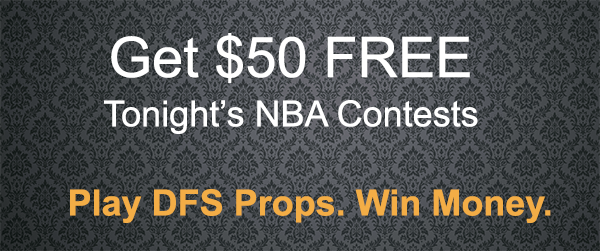 More Fantasy Basketball Analysis