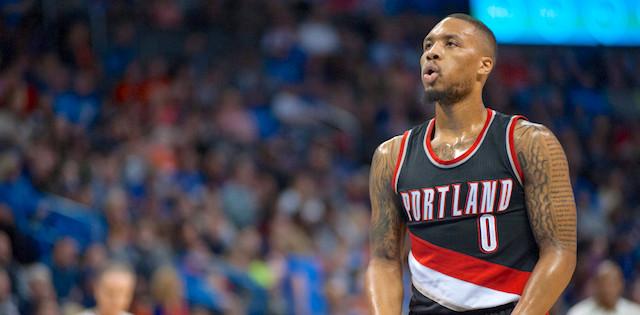 Out of Friday's eight games, five have point-totals surpassing 230. Luckily, other three offer some positive variance since not one of those six teams is playing particularly well right now. The Suns-Celtics, Rockets-Raptors, and Magic-Timberwolves might not be at the top of everyone watch-list, but there is money to be won within each game based directly on matchups.
This doesn't mean you should be looking to invest in those games forthwith, but Paolo Banchero versus a Rudy Gobert-led defense and the Celtics starters taking on a dilapidated Suns team are two areas that you can easily build around. The Rockets offense can still function without Jalen Green so there's upside there, but the Raptors?…I would recommend just avoiding the Raptors by any means possible.
MonkeyKnifeFight.com is always ahead of the curve with their canceling of contests amid postponements, so don't worry about wasting money on a player or game that might not play. As always, you can find me in the NBA Chat Room or @HalfCourtJester on Twitter with any questions, especially since lines and players are subject to change throughout the day.
Featured Promo: Our friends at Monkey Knife Fight are hooking you up. Get a 100% instant deposit match up to $100 using promo code BALLER with your first deposit, and also a free year of RotoBaller Premium access ($99 value)! Claim your 100% instant deposit match now, and use our prop picks to get off on a winning foot! 
CHA @ DET
LaMelo Ball (CHA) MORE 24.5 Points ‒ Jalen Duren (DET) MORE 9.5 Rebs
Scroll slightly and you'll find this rather than being stuck betting on Bojan Bogdanovic. If you feel compelled to roll the dice on either player here, this is just slightly better than a pick-your-poison situation. Where LaMelo Ball has almost no downside here, the Pistons upside is dependent on how well they are playing at that particular moment.
Bogdanovic has been scoring in bunches, but 23-points on any given night from him might be the least-guarantee-able bet coming out of this game. Granted, Jalen Duren has struggled to grab over seven rebounds in his last three contests, we at least know he's out there to do two things. Play semi-terrible defense and grab rebounds. There's no confidence he will put up a double-double tonight, but the Hornets frontcourt is absolutely a team he could do it against.
Play the Contest Now on Monkey Knife Fight
POR @ WAS
Damian Lillard (POR) MORE 34.5 Points – Kyle Kuzma (WAS) MORE 23.5 Points
You know someone is playing some amazing basketball when their projected line is 35-points and you are still unsure the under is reasonable. That's how good Lillard has been and the books know it. The Wizards are a team that rarely struggles to find offense, so there's no reason for the Trail Blazers to just cake-walk through this game and Lillard will likely have to shoulder most of the weight again.
The Wizards are lucky to have two quality frontcourt players that demand a lot of attention from opposing defenses. Kyle Kuzma playing well frees up Kristaps Porzingis and Porzingis playing well frees up everyone else. Add in a healthy Bradley Beal and the Wizards are actually a decent team, as long as we aren't talking about defense. Regardless, based on pure usage and demand, if there is someone worth betting on in this offense, it's Kuzma.
Play the Contest Now on Monkey Knife Fight
ORL @ MIN
Anthony Edwards (MIN) MORE 27.5 Points – Paolo Banchero (ORL) MORE 20.5 Points
If the Warriors only held Anthony Edwards to 27-points, the Magic aren't going to fare any better. Minnesota has won eight of their last 10 home games with Orlando losing six of their last nine away games. Banchero and Edwards are pivotal to their team's success so there's no downside here unless both just play terribly. Looking at the Magic defense, it'll be hard for Edwards to be inefficient with the looks he'll be getting.
Banchero holds most of the risk here since he's a rookie that's prone to bad games, but those single-digit games are few and far-between. He will put up points tonight around the rim and if anything, Rudy Gobert sitting in the paint will be seen as a challenge rather than a deterrent.
Play the Contest Now on Monkey Knife Fight
ATL @ UTA
Trae Young (ATL) MORE 28.5 Points – Lauri Markkanen (UTA) MORE 26.5 Points
Rightfully so, this game has the most upside out of any tonight. Two teams that are playing extremely fast and offenses that thrive moving downhill. Shots will fly and when it's all said and done, both teams' top option should be leading their team's scoring columns. Trae Young has had a much stronger focus on conducting the offense and distributing the ball, so while his assists numbers are up, the scoring ability is just not as prominent as it once was. Against teams that play into his strengths, however, he should see extra shot attempts that corelate directly to this specific wager.
For Lauri Markkanen, there are few players putting up more consistent numbers. Averaging 28-points over the last week, hasn't scored under 20-points in a game since early-December, and continues to do so on some fairly impressive efficiency. Even if this point-total jumps up relative to this high-scoring potential of this game, it's hard to take Markkanen for under 30-points tonight.
Play the Contest Now on Monkey Knife Fight

Download Our Free News & Alerts Mobile App
Like what you see? Download our updated fantasy basketball mobile app for
iPhone
and
Android
with 24x7 player news, injury alerts, lineup notifications & DFS articles. All free!
NBA DFS News and Injury Alerts
[jiffyNews category_include='9958' headline='More DFS Lineup Picks an