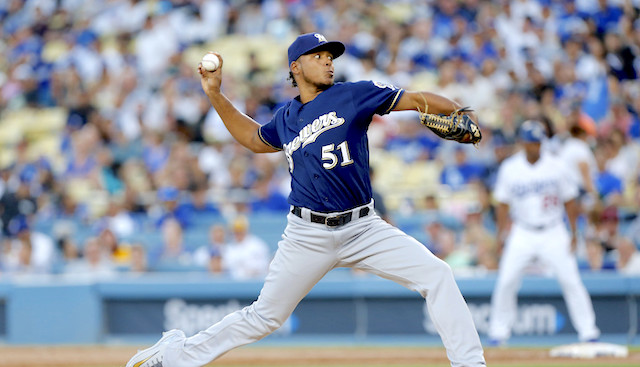 Welcome back to the final edition of RotoBaller's Statcast Pitcher Studs and Duds article series! Each week, I have selected one advanced metric, chosen two pitchers with strong values and two with poor values, and analyzed what those values may mean for future performance.
Sadly, we have come to the end of another fantasy baseball season and the end of this season's series. I have covered plenty of interesting players, stats, and trends, which hopefully helped some of you throughout the season.
Rather than choose a final metric, I am going to review the entire series and highlight some fantasy takeaways and players who exemplified them. It has been fun diving into pitching metrics for another season to help inform fantasy decisions. Thanks to everyone who followed throughout, and I'll see you all in 2024!
Featured Promo: Get any full-season MLB and DFS Premium Pass for 50% off. Exclusive access to our Team Sync platform, Premium articles, daily Matchup Rating projections, 15 lineup tools, DFS cheat sheets, Research Stations, Lineup Optimizers and much more!
Go Premium, Win More!
Fantasy Baseball Pitcher Takeaways
All stats are current as of Sunday morning, September 24, 2023.
Underlying Metrics Can't Always Tell Us Everything
The first takeaway is that, while analyzing underlying metrics definitely gives fantasy managers the upper hand, there are still situations that cannot really be explained by them.
Our first example is Lance Lynn. I wrote about him in the Week 6, Second-Half Preview, Trade Deadline Edition, and Week 26 editions of the series. The overall theme was always the same: nothing really changed in his underlying profile, but his home run spike killed him.
Lynn's pitch arsenal and batted-ball profile mirrored his previous seasons in which he was highly successful. Despite this, he allowed a career-high 2.20 HR/9 rate and a 19.5% HR/FB rate. Nothing under the hood explains this, and I wouldn't bet on it occurring next season. Unfortunately, I said this throughout the season and did not end up seeing a reversion.
Another example is Zack Wheeler, who appeared in Week 3, Week 13, and Week 26. Everything across the board suggested that Wheeler was a top-tier starter. He had a strong Statcast profile and WAR with pretty good ERA estimators. None of this necessarily aligns with an ERA of 3.64, his highest since 2019. While it isn't bad, it would have been reasonable for fantasy managers to expect more.
Fantasy analysis can still be frustrating even with an additional layer of metrics. Often times they can point to expected changes in future performance, but sometimes outcomes occur that are seemingly independent of them. Hopefully, these disparate trends will re-align in 2024.
Regression and Volatility Can Occur Together
The second takeaway is that pitching was more volatile across the board this season than it has been in some time. Consequently, even when pitchers were experiencing expected positive regression, it was not uncommon to see dud performances in between. This makes it harder to trust in the regression trends.
One example of this is Pablo Lopez. I wrote about him in Week 15, suggesting that his high-end zone swing and miss % would eventually help lower his then 4.24 ERA. I revisited him in Week 20 to compare his 3.22 xERA to his 4.01 ERA. His current ERA now sits at 3.61, which is what his underlying numbers indicated.
However, between Week 15 and now, he had three starts in which he allowed five runs and one in which he allowed seven. Even though his ERA was a solid 3.04 in that period, he may have cost fantasy managers in four separate weekly matchups.
Another example of this is Freddy Peralta. I wrote about Peralta in Week 13 as a WAR Dud but a buy-low candidate given his strong underlying numbers. By Week 24, his 4.73 ERA had improved to 3.85 and he was highlighted as a SIERA Stud.
His current ERA is even better at 3.71. While fantasy managers should be happy overall if they had bought low on him, they would have had to endure a few short starts and some poor starts. These included a 4.50 ERA outing, three 5.06 ERA outings, a 5.40 ERA outing, and a 10.80 ERA outing.
These two examples highlight the nature of regression, particularly this season. Regression usually occurs over time, but this season, it was not necessarily linear. General trends were often temporarily disrupted, creating potentially frustrating situations. Sticking with patterns seems to work out more often than not, but this season offered more deceiving blips in between trends.
Fantasy Value Was More Distributed This Season
The final takeaway of this season is that the tiers of fantasy value among starting pitchers were much less defined than they have been in recent seasons. Many fantasy managers will leave this season disappointed with their top-tier pitcher picks, while many others could have been very well off relying mostly on the waiver wire. This phenomenon may be the most impactful in terms of preparing for drafts for next season.
Some of the Dud examples of this include: Corbin Burnes (3.46 ERA, 1.06 WHIP, 25.6% strikeout rate) didn't make the Stud series until Week 23, Sandy Alcantara (forearm) (4.14 ERA, 1.21 WHIP, 19.8% strikeout rate) failing to make the Stud list after Week 9, and Cristian Javier (4.64 ERA, 1.28 WHIP, 23.1% strikeout rate) making the Dud list for both Week 14 and the Second-Half Preview.
On the other hand, unexpected Studs include: Eury Perez (SI joint) (3.15 ERA, 1.13 WHIP, 28.9% strikeout rate) and Tanner Bibee (hip) (2.98 ERA, 1.18 WHIP, 24.1% strikeout rate) showing up as a spin rate Stud in Week 21, Kyle Bradish (3.01 ERA, 1.07 WHIP, 25.0% strikeout rate) making the Week 15 zone swing and miss % Stud list, and Justin Steele (3.00 ERA, 1.17 WHIP, 24.5% strikeout rate) making the Stud list in Week 6, the Second-Half Preview, and Week 26.
Many top starters disappointed this season, while many young pitchers came into fantasy prominence. While this happens to a degree every season, 2023 was particularly apparent. We will see how willing fantasy managers are to invest in starting pitching early next season versus piling up on the position in the middle of drafts.
Download Our Free News & Alerts Mobile App
Like what you see? Download our updated fantasy baseball app for
iPhone
and
Android
with 24x7 player news, injury alerts, sleepers, prospects & more. All free!
More Sabermetrics and Statcast Analysis