A baseball season is a grind, at times appearing like a war of attrition, as teams must persevere through injuries. That can be especially notable when it comes to a pitching staff, in part because those injuries seem to happen every season.
Looking at Monday's eight-game MLB schedule, there are a number of pitchers in play that didn't even have big league jobs in April, or some veterans whose value has shifted over the course of the campaign.
The key, as always, is finding value and the lack of notoriety for some pitchers is part of the appeal when trying to make your best selections.
Here are some angles to consider for Monday's baseball schedule on Monkey Knife Fight.
Editor's Note: Our friends at Monkey Knife Fight have released the best, most fun, fastest growing DFS props game! It's super simple to play and win real money. Just choose your MLB, NBA, NHL or PGA game, and make your picks! Get a 100% instant deposit bonus up to $50 using promo code: BALLER. That's $50 for free - don't miss out!
ATLANTA-COLORADO
OVER/UNDERS
Tim Melville UNDER 4.5 STRIKEOUTS – A 29-year-old journeyman who has made four starts in his entire major league career, Melville recorded five strikeouts in his first ever start, back in 2016, and that was the only time he recorded that many strikeouts in a big league game. Facing the red-hot Braves does not appear to be a recipe for more swings and misses.
ST. LOUIS-MILWAUKEE
OVER/UNDERS
Gio Gonzalez OVER 4.5 STRIKEOUTS – The 33-year-old southpaw signed late and didn't make his Brewers debut until April 28. In five home starts, though, he is averaging 5.6 strikeouts per start and struck out six Cardinals in St. Louis last week.
PITTSBURGH-PHILADELPHIA
RAPID FIRE
Joe Musgrove -0.5 strikeouts vs. Jason Vargas – Musgrove has made a career-high 26 starts for the Pirates this season and had been improving his strikeout rate, with 5.7 strikeouts per start over an 11-game stretch, before managing just one strikeout in his last start against Washington. Vargas has been effective enough in four starts since joining the Phillies, but he's averaging just 2.8 strikeouts per start with his new club.
CINCINNATI-MIAMI
OVER/UNDERS
Sonny Gray OVER 7.5 STRIKEOUTS – It has been a tremendous bounce-back season for Gray, and he's increased his strikeout rate to 10.6 K/9, easily the best rate of his career. That includes averaging 8.1 strikeouts per game in his past nine starts and Gray goes up against a Marlins lineup that has the second highest home strikeout rate (24.1%) in the National League.
OAKLAND-KANSAS CITY
OVER/UNDERS
Brad Keller OVER 4.5 STRIKEOUTS – Since the All-Star break, Keller has been really effective for the Royals, averaging 5.5 strikeouts per start while posting a 2.87 ERA and 1.09 WHIP.
Homer Bailey UNDER 4.5 STRIKEOUTS – Traded from the Royals to the Athletics before the trade deadline, Bailey does have 15 strikeouts in his past two starts, but is averaging 5.0 strikeouts per start since joining the A's and the Royals make contact, striking out just 20.2% of the time at home.
ARIZONA-SAN FRANCISCO
OVER/UNDERS
Alex Young UNDER 4.5 STRIKEOUTS – As effective as the 25-year-old southpaw has been for the Diamondbacks, he's managed five strikeouts once in five road starts. It was against the Giants in San Francisco, in late June, but odds are against Young doing it again.
N.Y. YANKEES-SEATTLE
OVER/UNDERS
J.A. Happ OVER 4.5 STRIKEOUTS – Although the veteran lefty has struggled this season posting a 5.58 ERA, with a declining strikeout rate that includes just 4.3 strikeouts per road start, it's not a bad match-up for him in this game, facing a Mariners lineup that has the highest home strikeout rate (26.9%) in all of Major League Baseball.
L.A. DODGERS-SAN DIEGO
OVER/UNDERS
Dustin May OVER 5.5 STRIKEOUTS – The lanky 21-year-old has recorded 15 strikeouts in his first three big league starts and faces a Padres lineup that is missing star rookie Fernando Tatis Jr. and has the highest home strikeout rate (25.7%) in the National League.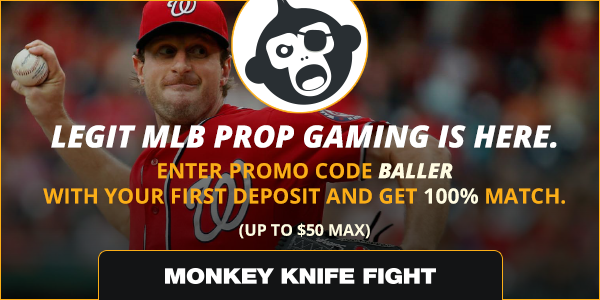 More 2019 Fantasy Baseball Advice