One of the more compelling parts of playing Monkey Knife Fight's Star Shootout games is that there are some bigger numbers and more challenging matchups involved.
By bringing the stars head to head, we get to look at some lofty over/under totals for starting pitchers. Lance Lynn, Matthew Boyd, Chris Sale, Mike Clevinger, and Jack Flaherty are some of the serious strikeout pitchers on display tonight.
There is value to be found but a lot goes into the calculation. Home and road splits are part of it, as are recent performances. A pitcher who was on a big strikeout run in May might not be having that same kind of success in mid-August and that ought to be taken into consideration when determining relative value.
Here are some angles to consider when making your MLB prop picks Tuesday on Monkey Knife Fight.
Editor's Note: Our friends at Monkey Knife Fight have released the best, most fun, fastest growing DFS props game! It's super simple to play and win real money. Just choose your MLB, NBA, NHL or PGA game, and make your picks! Get a 100% instant deposit bonus up to $50 using promo code: BALLER. That's $50 for free - don't miss out!
STAR SHOOTOUT - MAIN
OVER/UNDERS
Lance Lynn UNDER 8.5 STRIKEOUTS – As great as Lynn has been for the Rangers this season, this is a big number and the Blue Jays lineup is no easy touch these days. Even with a higher strikeout rate (11.1 K/9) on the road, Lynn is still averaging 7.9 strikeouts per road start which makes nine or more a big ask.
Matthew Boyd UNDER 8.5 STRIKEOUTS – Again, this is a large number to cover and for as many strikeouts as Boyd has recorded this season, he has put up nine or more in just two of 11 home starts. The Seattle lineup isn't great, but it's not bad enough to assume that Boyd will go for at least nine strikeouts.
Joey Votto UNDER 1.5 HITS + WALKS – While there are some more positive signs for the veteran first baseman, including reaching base four times Monday at Washington, Votto still has a .325 on-base percentage on the road this season so it's difficult to count on him reaching multiple times, something he has done just twice in his past nine games.
RAPID FIRE
Javier Baez +0.5 total bases vs. Christian Yelich – Even though Baez is much better at home (slugging .632 at Wrigley Field and .477 on the road), he's still the play here because Yelich is dealing with a back injury that has kept him out of the starting lineup for more than a week (he did pinch-hit Sunday).
Mike Clevinger +0.5 strikeouts vs. Chris Sale – Sale has been wildly inconsistent this season, even though he's able to rack up strikeouts even in starts in which he gets pounded. Nevertheless, he's averaging 7.6 strikeouts per road start while Clevinger, who missed time with injury, has been very effective, and that includes averaging 9.6 strikeouts per home start so getting Clevinger as the underdog is a nice bit of business.
Juan Soto +0.5 hits + walks vs. Jesse Winker – The emerging Nationals star, Soto, has a .413 on-base percentage at home, compared to Winker's modest .313 mark on the road. There is some argument to make that Reds starting pitcher Alex Wood is more formidable than Nationals starter Joe Ross, but not enough to flip the preference in this matchup when Soto is getting the extra half.
STAR SHOOTOUT - LATE
OVER/UNDERS
Brendan McKay OVER 5.5 STRIKEOUTS – The 23-year-old southpaw, who was originally drafted by San Diego, gets to face the Padres and has quickly become a potent strikeout pitcher, recording at least seven in three of his past four starts and 33 in 29 1/3 innings through his first six major league starts.
Jon Gray UNDER 5.5 STRIKEOUTS – It's difficult to trust any pitcher in Colorado, even one like Gray who has made 54 starts at Coors Field. His strikeout rate has been dipping, he's recorded five or fewer strikeouts in four of his past five starts, and the Diamondbacks have the second-lowest road strikeout rate (21.3%) in the National League.
Mike Trout OVER 1.5 HITS + WALKS – The Angels superstar center fielder has a .434 on-base percentage at home and has not reached base in 10 plate appearances over the past two games. Count on Trout to get back on track against the Pirates.
Jesus Aguilar UNDER 1.5 runs + RBI – The recently-acquired Rays first baseman has started strong, hitting .387 with a .928 OPS for Tampa Bay, but he's recorded multiple runs plus RBI in just three of 10 games.
RAPID FIRE
Jack Flaherty -1.5 strikeouts vs. Madison Bumgarner – While Bumgarner has had some solid strikeout performances this season, he's faded recently, with five strikeouts total in his past two starts. Flaherty, on the other hand, has recorded seven or more strikeouts in six of his past seven starts (and had six in the other start).
Charlie Blackmon -0.5 total bases Avisail Garcia – I'll continue to side with the guy who is slugging .818 at home this season, Blackmon, when it comes to total base competitions.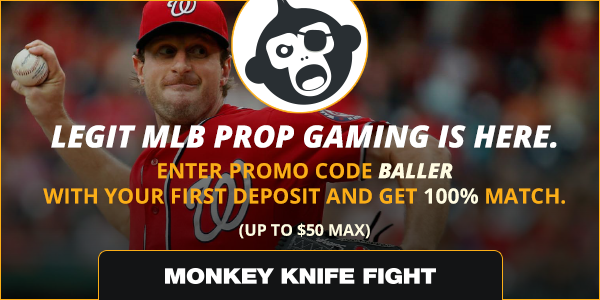 More 2019 Fantasy Baseball Advice