We are at the stage of the baseball season in which some players are getting opportunities that weren't necessarily there for them early in the season.
No player in baseball has responded to a brief trip to the minors like Lourdes Gurriel Jr. who is slugging .681 with 17 home runs in 46 games since getting recalled from Triple-A Buffalo. It's not longer a question of whether he can find a spot in the lineup – he's a fixture
Tyler O'Neill, Nate Lowe, Keston Hiura, and Alex Dickerson are some others in action today that are taking advantage of recent opportunities to play regularly. Small sample success may be harder to evaluate but it warrants keeping a closer eye on these players.
Here are some more angles to consider for Friday's MLB schedule.
Editor's Note: Our friends at Monkey Knife Fight have released the best, most fun, fastest growing DFS props game! It's super simple to play and win real money. Just choose your MLB, NBA, NHL or PGA game, and make your picks! Get a 100% instant deposit bonus up to $50 using promo code: BALLER. That's $50 for free - don't miss out!
SAN DIEGO-CHICAGO CUBS
OVER/UNDERS
Jon Lester OVER 5.5 STRIKEOUTS – The Cubs' veteran lefty has averaged 5.7 strikeouts per home start this season and has at least six strikeouts in seven of his past eight starts. The Padres also own the second-highest road strikeout rate (26.6%) in the National League.
PHILADELPHIA-PITTSBURGH
OVER/UNDERS
Jake Arrieta UNDER 4.5 STRIKEOUTS – Although Arrieta has a better strikeout rate on the road, he has had four or fewer strikeouts in six of his past eight starts and the Pirates have the lowest home strikeout rate in the National League (18.9%).
BOSTON-BALTIMORE
RAPID FIRE
John Means +2.5 strikeouts vs. David Price – The underrated Orioles starting pitcher has at least five strikeouts in five of his past seven starts overall and, as good as Price is, he is averaging 5.1 strikeouts per road start this season. Price should get more strikeouts but Means has ways to keep it close.
COLORADO-N.Y. YANKEES
RAPID FIRE
Nolan Arenado +0.5 runs + RBI vs. Aaron Judge – There is little difference between Judge at home and Arenado on the road when it comes to runs plus RBI. At home, Judge has 0.28 runs plus RBI per plate appearance, while Arenado has 0.27 runs plus RBI per plate appearance on the road. Add in the fact that Arenado faces a left-handed starter (J.A. Happ) and Judge gets a right-handed starter (Kyle Freeland) and the needle turns towards the underdog plus a half.
KANSAS CITY-CLEVELAND
OVER/UNDERS
Shane Bieber OVER 6.5 STRIKEOUTS – The rising star in the Indians rotation has 12.2 K/9 at home, resulting in an average of 7.7 strikeouts per home start while the Royals, not surprisingly, have trouble making contact with the sixth-highest road strikeout rate (25.4%) in MLB.
ST. LOUIS-CINCINNATI
OVER/UNDERS
Tyler O'Neill OVER 1.5 TOTAL BASES – The Canadian outfielder has been a reserve for most of the season but injuries opened the door to regular playing time and in 11 games this month, he's slugging .775, recording at least two total bases in each of his past five games.
CHICAGO WHITE SOX-TAMPA BAY
RAPID FIRE
Austin Meadows +0.5 total bases vs. Nate Lowe – Although Lowe has more impressive numbers in a smaller sample of games, including five home runs in eight games this month, Meadows is emerging from a slump, currently on a seven-game hitting streak with home runs in back-to-back games which is good enough to be a lively 'dog.
TORONTO-DETROIT
RAPID FIRE
Lourdes Gurriel Jr. -0.5 total bases vs. Randal Grichuk – Not only is Gurriel Jr. an emerging star, he's slugging .564 on the road which is dramatically better than Grichuk, who struggles away from The Dome, slugging just .346 on the road this season.
WASHINGTON-ATLANTA
OVER/UNDERS
Patrick Corbin OVER 6.5 STRIKEOUTS – There is some risk here, as Corbin is much better at home, but his road strikeout rate (11.0 K/9) is still impressive and he is averaging 6.8 strikeouts per road start. He has also struck out at least seven in each of his past five starts.
TEXAS-HOUSTON
OVER/UNDERS
Justin Verlander UNDER 9.5 STRIKEOUTS – This is a huge number to cover. As great as Verlander is, and the Rangers do have the worst road strikeout rate (28.1%), he is still averaging 8.3 strikeouts per home start and has hit double digits in strikeouts just twice in eight home starts.
OAKLAND-MINNESOTA
OVER/UNDERS
Jake Odorizzi OVER 5.5 STRIKEOUTS – Just as hitters can have dramatically different results depending on venue, the same goes for pitchers. Odorizzi has been fine away from home this season, posting a 3.88 ERA and 1.30 WHIP with 8.4 K/9. At home, though, he's a beast, with a 2.27 ERA, 0.92 WHIP, and 10.4 K/9, averaging 6.9 strikeouts per home start.
MILWAUKEE-ARIZONA
RAPID FIRE
Keston Hiura +0.5 total bases vs. Christian Yelich – The highly-touted Brewers second baseman has been great in his first 33 major league games and is slugging .513 on the road. That's not quite as good as Yelich, who is slugging .559 away from home, but close enough to take the extra half base as an underdog.
L.A. ANGELS-SEATTLE
OVER/UNDER
Shohei Ohtani OVER 1.5 TOTAL BASES – Although Ohtani is better at home, he's still slugging .517 on the road and going up against Mariners starter Mike Leake is not enough reason to feel like Ohtani can't put up a couple of bases, as he has in his past six road starts.
MIAMI-L.A. DODGERS
RAPID FIRE
Cody Bellinger +0.5 runs + RBI – They keep making Bellinger an underdog even though he is averaging a higher per-plate appearance rate of runs + RBI (0.38 vs. 0.36 for Pederson). Any time you can take Bellinger as an underdog, it's a gift.
N.Y. METS-SAN FRANCISCO
RAPID FIRE
Jeff McNeil +0.5 total bases vs. Alex Dickerson – Since joining the Giants, Dickerson has been great, slugging .787 in 20 games but McNeil is slugging .559 on the road and doesn't have to go up against Mets ace Jacob de Grom.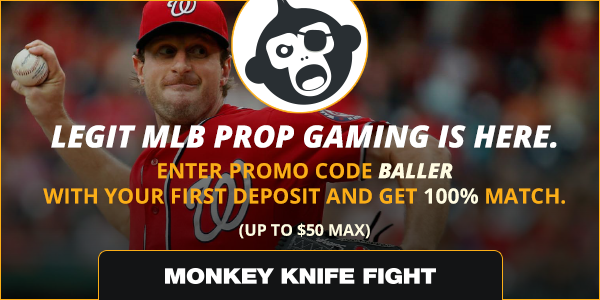 More 2019 Fantasy Baseball Advice