Friday brings a 15-game Major League Baseball schedule and with the full schedule there are some trends in play. The notable one for me is that there could be some value to be found among left-handed starters.
From an ace like Chris Sale, to underrated options like Matthew Boyd and Martin Perez to a veteran making his first start (Dallas Keuchel) there are some southpaws that offer interesting potential when it comes to strikeouts.
Also, star hitters like Christian Yelich and Cody Bellinger might be boring to play, but being consistently great comes with its own price, apparently.
Here are some other angles to consider when making your picks for Friday's MLB games.
Editor's Note: Our friends at Monkey Knife Fight have released the best, most fun, fastest growing DFS props game! It's super simple to play and win real money. Just choose your MLB, NBA, NHL or PGA game, and make your picks! Get a 100% instant deposit bonus up to $50 using promo code: BALLER. That's $50 for free - don't miss out!
N.Y. METS-CHICAGO CUBS
OVER/UNDERS
Yu Darvish UNDER 6.5 STRIKEOUTS – The Cubs starter has potential for big strikeout numbers – he has seven or more strikeouts in seven of 15 starts this season and had 10 against the Dodgers in his last start – but he had also been held to six or fewer in four straight before that.
MIAMI-PHILADELPHIA
OVER/UNDERS
Bryce Harper OVER 1.5 HITS + WALKS – The Nationals slugger has been relatively underwhelming this season yet has combined for multiple hits plus walks in nine of the past 14 games. A home game going up against Miami's starting pitcher Sandy Alcantara seems like an opportunity for Harper to get on base.
ATLANTA-WASHINGTON
OVER/UNDERS
Dallas Keuchel OVER 3.5 STRIKEOUTS – Making his season debut, the Braves' 31-year-old lefty may be playing a bit of catch-up and big strikeout numbers aren't really his thing, but he did record at least four in 23 of his 34 starts last season.
SAN DIEGO-PITTSBURGH
OVER/UNDERS
Joe Musgrove UNDER 5.5 STRIKEOUTS – Musgrove has recorded six or more strikeouts just twice in his past 11 starts and struck out four in 6 1/3 innings when he faced the Padres a little over a month ago in San Diego.
HOUSTON-N.Y. YANKEES
RAPID FIRE
Gary Sanchez +0.5 runs + RBI vs. Alex Bregman – As good as Bregman is, he's averaging 1.36 runs plus RBI per game this season and Sanchez is producing more, averaging 1.56 per game, so getting the extra half on behalf of Sanchez for a home game at The Stadium is well worth it.
TORONTO-BOSTON
OVER/UNDERS
Chris Sale OVER 9.5 STRIKEOUTS – Boston's ace southpaw has been great after a tough first month of the season, and that includes double-digit strikeouts in eight of his past nine starts. Getting the hapless Blue Jays lineup doesn't hurt his odds either.
DETROIT-CLEVELAND
OVER/UNDERS
Matthew Boyd OVER 5.5 STRIKEOUTS – He doesn't get enough support from a meagre Tigers lineup but the lefty has been consistently excellent this season and that includes recording at least six strikeouts in nine of his past 10 starts.
CHICAGO WHITE SOX-TEXAS
OVER/UNDERS
Delino DeShields OVER 1.5 HITS + WALKS – At first glance this might seem like too much for DeShields, but when he's starting the numbers start to look more favorable and he has multiple hits plus walks in nine of the past 14 games in which he has started.
CINCINNATI-MILWAUKEE
RAPID FIRE
Christian Yelich -0.5 total bases vs. Yasiel Puig – Putting money on Yelich has paid off nicely this season because he's consistently great. He's averaging 2.79 total bases per game, compared to 1.65 per game for Puig, so Yelich clearly has an advantage that warrants giving at least a half base as the price for taking the favorite.
MINNESOTA-KANSAS CITY
OVER/UNDERS
Martin Perez OVER 4.5 STRIKEOUTS – Even when he was a top prospect for the Texas Rangers, Perez wasn't much of a strikeout pitcher, averaging 5.5 K/9 in seven seasons with the Rangers, but now everyone is a strikeout pitcher and Perez sits at 8.6 K/9 this season. The risk in this one is that Perez has thrown four or fewer strikeouts in seven starts this year, including six on the road.
L.A. ANGELS-ST. LOUIS
OVER/UNDERS
Justin Upton OVER 1.5 TOTAL BASES – Upton returned to the Angels lineup this week and has played just four games this season, but is averaging 2.3 total bases per game, enough to give him a shot against Cardinals starter Michael Wacha.
SAN FRANCISCO-ARIZONA
OVER/UNDERS
Joe Panik UNDER 1.5 HITS + WALKS – The Giants second baseman is rocking a .316 on-base percentage and has one or fewer hits plus walks in seven of his past 10 starts.
TAMPA BAY-OAKLAND
OVER/UNDERS
Matt Chapman OVER 1.5 TOTAL BASES – The A's third baseman is averaging nearly two total bases per game, which is enough clearance to make the over the smart play here.
BALTIMORE-SEATTLE
RAPID FIRE
Domingo Santana +0.5 total bases vs. Trey Mancini – Mancini has been a rare bright spot for the Orioles, slugging .558, but Santana has been good enough, slugging .498 that the edge of a home game against Baltimore's pitching works in the underdog's favor.
COLORADO-L.A. DODGERS
RAPID FIRE
Cody Bellinger -0.5 total bases vs. Charlie Blackmon – At home there is little chance Blackmon would be an underdog, because he's slugging an absurd .983 at Coors. On the road, however, his .382 slugging percentage is nothing special and he needs to be special to keep pace with Bellinger.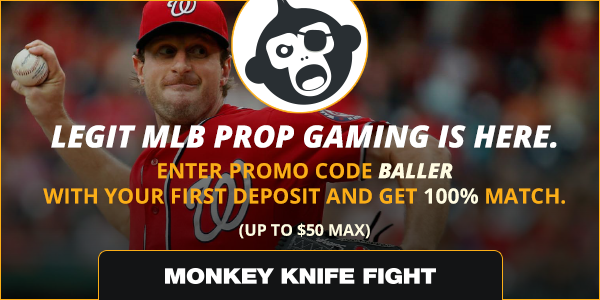 More 2019 Fantasy Baseball Advice