We are far enough into the Major League Baseball season that some of the top performers shouldn't come as a surprise but they still present value opportunities in some cases when making prop picks on Monkey Knife Fight.
For example, Dodgers right fielder Cody Bellinger has been a terror, hitting .355 with a 1.153 OPS, and yet he's an underdog against teammate Max Muncy in a game against San Francisco.
Christian Yelich, the reigning MVP who plays for the Milwaukee Brewers has been a value play all season, because he hasn't let up from last season's wild pace.
There are a dozen games on the schedule tonight, so there are plenty of opportunities to find value, but there's nothing wrong with taking guys who can rake, game in and game out.
Here are some angles to consider when making your picks for Monday's MLB schedule.
Editor's Note: Our friends at Monkey Knife Fight have released the best, most fun, fastest growing DFS props game! It's super simple to play and win real money. Just choose your MLB, NBA, NHL or PGA game, and make your picks! Get a 100% instant deposit bonus up to $50 using promo code: BALLER. That's $50 for free - don't miss out!
TAMPA BAY-N.Y. YANKEES
OVER/UNDERS
Tommy Pham OVER 1.5 TOTAL BASES – The Rays outfielder is riding a hot streak, going for multiple total bases in six consecutive games. Yankees starter Masahiro Tanaka has had a tough time lately, posting a 5.79 ERA in his past three starts.
PHILADELPHIA-WASHINGTON
OVER/UNDERS
Trea Turner OVER 1.5 TOTAL BASES – The Nationals shortstop is slugging .533 and has multiple total bases in 11 of the past 17 games.
L.A. ANGELS-TORONTO
RAPID FIRE
Lourdes Gurriel Jr. +0.5 total bases vs. Shohei Ohtani – Since coming back from a stint in Triple-A Buffalo, Gurriel Jr. is slugging .684 in 21 games. Ohtani is great, and heating up too, slugging .657 in his past 17 games, but the relative closeness of their recent performance makes it worthwhile to take Gurriel Jr.
HOUSTON-CINCINNATI
OVER/UNDERS
Luis Castillo UNDER 6.5 STRIKEOUTS – Early in the season, Castillo was mowing down opposing hitters at a phenomenal rate but it has slowed recently, with six or fewer whiffs in four of his past five starts. That Houston lineup is no joke, either.
N.Y. METS-ATLANTA
OVER/UNDERS
Mike Soroka OVER 4.5 STRIKEOUTS – The Canadian rookie has been dominant for the Braves, posting a 1.92 ERA and 0.97 WHIP in 11 starts and he has recorded at least five strikeouts in eight of those 11 starts this season.
CLEVELAND-TEXAS
OVER/UNDERS
Francisco Lindor OVER 1.5 TOTAL BASES – The Indians star has a .525 slugging percentage this season, which is better than he has had in the past couple of seasons when he was one of the most productive position players in the game. Rangers starter Lance Lynn has been strong recently, with a 3.45 ERA and 44 strikeouts in 31 1/3 innings over his past five starts, but the edge still goes to Lindor.
BOSTON-MINNESOTA
OVER/UNDERS
Mookie Betts UNDER 1.5 HITS + WALKS – After a slow start, Betts went on a tear but has slumped more recently. In his past 20 games he has multiple hits plus walks in 10 of them, so it's a 50-50 proposition over that time and Twins starter Jose Berrios is good enough to push it closer to the under.
MIAMI-ST. LOUIS
OVER/UNDERS
Miles Mikolas UNDER 4.5 STRIKEOUTS – A wonderful story for the Cardinals last season, MIkolas' performance has dropped off this year and he's not a big strikeout pitcher anyway. As a result, he has managed to record five or more strikeouts just three times in 11 starts.
BALTIMORE-OAKLAND
OVER/UNDERS
Khris Davis OVER 1.5 TOTAL BASES – Although the A's designated hitter isn't slugging as consistently as he has in previous seasons, with a .470 slugging percentage, he's still mashed 15 home runs in 58 games and a home date against Baltimore is a primo matchup.
KANSAS CITY-SEATTLE
RAPID FIRE
Whit Merrifield +0.5 runs + RBI vs. Kyle Seager – Seager got a late start to the season and has 23 runs plus RBI in 22 games while Merrifield is averaging 1.16 runs plus RBI per game, an advantage that is enough to like the underdog plus a half.
SAN FRANCICO-L.A. DODGERS
RAPID FIRE
Cody Bellinger +0.5 total bases vs. Max Muncy – As good as Muncy has been, and he's slugging .538 this season, it's seems absurd to have Bellinger as an underdog in any offensive categories. He's slugging .702!
MILWAUKEE-SAN DIEGO
OVER/UNDERS
Christian Yelich OVER 1.5 HITS + WALKS – Last season's National League MVP has a 1.189 OPS this season and has multiple hits plus walks in 13 straight games. Might as well keep it going.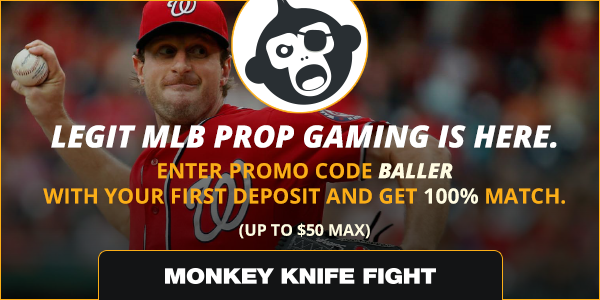 More 2019 Fantasy Baseball Advice