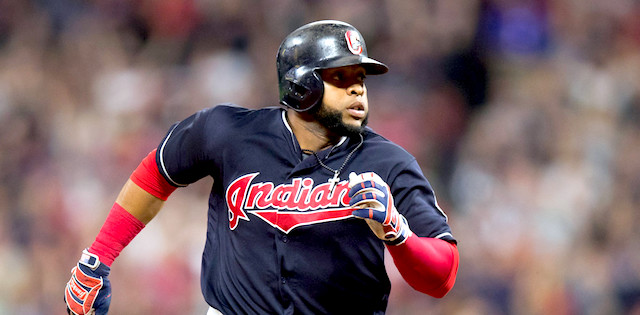 Once you reach the middle-to-late rounds of drafts, it would be smart to consider drafting some upside fliers that can provide a great return on value. You can take a risk or two on a variety of different players, including a prospect, forgotten veterans, players returning from injuries, or even players with skills but have playing time concerns. It is essential to know the player pool so you can take a chance at a spot in the draft that you're comfortable without deviating from your overall strategy.
Today we are looking at some mid-round first basemen for you to consider. Do we think they are draft targets or players to avoid? Are their ADPs undervalued? Will they make significant fantasy contributions and be one of your later-round draft sleepers? Read on to see our take.
Our editors have hand-picked these specific MLB players for your draft prep enjoyment. Normally only available to Premium subscribers, the five outlooks below are meant to give you a taste of the in-depth analysis you receive with our industry-leading 2020 Draft Kit. Be sure to subscribe today and start reading all 400+ of our 2020 player outlooks, and many other premium articles and tools, available exclusively in our 2020 Draft Kit.
Featured Promo: Want a free RotoBaller Premium Pass? Check out these sports betting promo offers from the top sportsbooks! All new sign-ups get a free bonus offer on their first deposit, and a free year of RotoBaller's Premium Pass for all sports ($450 value)!
Sign Up Now!
Santana had an outstanding 2019 in his return to the Indians by hitting .281/.397/.515 with 34 HR, 93 RBI, 110 R, and 108 BB. He set career highs in a number of categories including average and runs, and tied his career high in home runs. Santana provides a ton of value at first base because he is able to produce in so many categories. He has been an on-base machine throughout his entire career by never finishing with less than 93 walks in a season. He has also hit at least 20 or more home runs in seven seasons to go along with at least 75 RBI eight times. Last year, he finished as a top-three first baseman overall.
While it may be slightly lofty to expect Santana to equal his numbers from a season ago, his home run and RBI totals should certainly fall within the 25-30 and 75-90 marks, respectively. He is a consistent producer in walks and can certainly be counted on for close to 100 in 2020. He currently has an ADP of 102 and is being drafted as the 10th first baseman off the board. He is an absolute steal at this spot and owners should feel comfortable drafting him here as their top overall first baseman while they add at other more sparse positions earlier in the draft.
He did not make his season debut until mid-May because of a foot injury during the offseason, but Sano had a career year in 2019. He smashed a career-high 34 home runs and drove in 79 runs in only 439 plate appearances. Due to his high amount of strikeouts (36.3 K% for his career), he will never be a BA asset; however, his double-digit walk rates make him a must draft in OBP leagues. At 6'4" 272 lbs., Sano is a destroyer of baseballs. His average exit velocities (94.4 MPH) and hard% (57.2%) are consistently in the top 1% of the league. If he can stay healthy, 40+ home run seasons are in his future.
With the Twins signing Josh Donaldson, Sano will move to the other side of the diamond, so he should be 1B/3B eligible early in the 2020 season. The Twins lineup is stacked, so expect the 26-year-old to drive in many runs this year. He is currently selected with the 129 overall pick and 19th third baseman off the board, which makes him an absolute steal.
Gurriel had his best overall year in 2019 by a wide margin. He hit 31 home runs and tallied 104 RBI and 85 runs, all topping previous career-bests of 18 home runs, 85 RBI and 70 runs. He hit all those new career-best marks while still maintaining the assets that had previously made him a solid fantasy contributor: batting average and low strikeouts. Gurriel has ranked amongst the top three percent of the league in strikeout rate each of the past three years. He's a career .293 hitter and maintained a .298 average last year.
Gurriel's 2019 power increases were certainly unprecedented before last year. His 1.9% barrel rate in 2018 ranked amongst the bottom five percent of the league, yet he doubled that mark to reach a 3.8% barrel rate in 2019. He also increased his launch angle from 11.5 in 2018 to 14.5 in 2019 and increased his airborne exit velocity from 89.7 in 2018 to 91.4 in 2019. Gurriel will almost certainly give you a steady boost in batting average throughout the year, but his 2019 power numbers are risky to chase given his lack of consistent power production before last year.
Gurriel hits amongst a potent Astros lineup, so run and RBI opportunities should be aplenty, but it's more reasonable to expect something in between his 2018 production (13 home runs, 85 RBI, 70 runs in 136 games) and his production last year. He has an ADP of about 114 right now, which is a bit high. Take him if he falls to the 130s.
After finishing 2018 with 34 home runs and a .246 batting average, many were expecting further growth from Hoskins. Instead, his peripherals stayed relatively the same, while his average and home runs dropped, causing him to finish 2019 with a line of .226-29-85-86-2. Some are still calling for growth from the 26-year-old slugger, but his underlying metrics suggest that this might be it.
Hoskins' wxOBA was 118th in the league and lower than his xOBA. His xBA was in the fourth percentile, while his xSLG was in the 36th and Hard Hit % was in the 48th. He did experience a three-point jump in his BB%, but his barrel% dropped and pop-up% increased.Overall, there's not a whole lot to be excited about other than the pop and counting stats. He should finish with a line close to .230-30-90-85, but in a league with power aplenty, Hoskins' is too rich at his current ADP of 115. He's more fitting around 130-140 range if you're desperate for power late.
Texas Rangers outfielder Danny Santana had a breakout season in 2019. He hit .283/.324/.534 over 511 plate appearances in 130 games. He had 81 runs, 28 homers, 81 RBI, and was 21-for-28 on stolen base attempts. Santana can play all over the diamond, and his versatility will make him a desirable player on draft day. His wOBA was only .014 points above his xwOBA and ranked him outside the top 50 in over-performers last season. What prospective owners of Danny Santana should look out for is how opposing pitchers attack him in 2020.
Santana saw a fastball on 52.9% of his pitches and hit .300 and slugged .641 off them last year, but saw his numbers dramatically drop when he saw a breaking or off-speed pitch. Against breaking balls, Santana struck out 37.1% of the time, and against off-speed pitches, he hit .268 but only slugged .348. These are potential weaknesses that Santana will have to overcome to remain a great fantasy asset. He is ranked outside the top 120 players right now, but that matches up with his current ADP of 125. Expect another 20/20 season from the utility man and 170 combined runs and RBI. Those results will make him a value on draft day and a desirable target for managers looking to have some versatility in their lineups.
More Fantasy Baseball Analysis