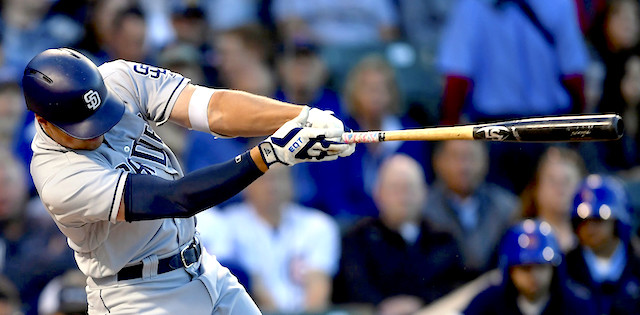 What Appears In This Article?
hide
We all want to find the next breakout player that can serve as that hidden gem in the later rounds of fantasy drafts. Sometimes a look at the second half of last season can provide us with valuable hints as to who is ready to take a big step forward.
I already looked at three hot September hitters that may be worth targeting in the mid-to-late rounds of your drafts. Now, it is the turn of two hitters who you will find going slightly later in your 2019 drafts but could both be incredible values if things fall their way.
Let's examine two outfielders who you should get to know ahead of the 2019 MLB season. When you're done, check right here for more sleepers and draft values.
Featured Promo: Get any full-season MLB and DFS Premium Pass for 50% off. Exclusive access to our Team Sync platform, Premium articles, daily Matchup Rating projections, 15 lineup tools, DFS cheat sheets, Research Stations, Lineup Optimizers and much more!
Go Premium, Win More!
A mixed 2018 season for Renfroe ended in spectacular style. In some ways he isn't really eligible for this article because his hot stretch was actually two months, through August and September. However, it is difficult for me to discount someone who actually surged over a longer sample size than just a single month. In those final two months of the season, Renfroe hit an impressive 18 home runs (nine in each month), with a batting average of .265.
Over the course of the season on a home run-per-plate appearance-basis, Renfroe was actually more successful in 2018 than 2017, 0.059 versus 0.054. That is in part thanks to an increased launch angle and higher average exit velocity in 2018 than 2017. However, over the final two months of the season, his HR/PA rate was a staggering 0.081. In those two months, his average exit velocity on fly balls and line drives increased from eighth best in the majors of 97.4 MPH to 98.0 MPH, which would have been the third best value if he had done it across an entire season.
The issue for Renfroe is that the San Diego outfield is a crowded market place. The Padres have so many options in their outfield that they could easily just move to another option if Renfroe struggles. However, the other real positive from Renfroe's 2018 performance is the increase in batting average. In 2018, Renfroe had a .248 batting average, but perhaps more crucially, his expected batting average based on Statcast data was also .242, demonstrating that the .248 was not a fluke but a deserved line. Even more optimistically the .265 line across the final two months of the season came with an expected batting average of .262. Granted we are talking a small sample size but a hitter who could exceed 30 home runs and return a .250 or above batting average in 2019 is a very valuable commodity.
Greg Allen (OF, CLE) - ADP: 338.81
This is another hitter who we're cheating on a little as his hot streak really came in the final two months of the season. Across those final two months, Allen stole a total of 15 bases on 19 attempts. In the entirety of the 2018 season, Allen stole just 21 bases, despite seeing similar PA splits across the first and second half of the season. Over the course of the season, Allen was in the 90th percentile when it came to sprint speed, so if he can see more than last year's 291 PA he could be a candidate to steal 30 or more bases in 2019.
The reason that his September stands out, in particular, is that not only did he steal seven bases but he also hit for a .310 batting average. That number includes an impressive .469 slugging percentage, thanks to five doubles and a triple. When you then look at the expected numbers by Statcast, the SLG may have been somewhat of an inflated number, as his xSLG in September was just .355. The same can be said of his batting average as his expected batting average was just .278 for the month of September. However, speed can often lead to those numbers getting distorted as faster runners on the base paths can turn expected outs into singles, singles into doubles and doubles into triples.
The biggest issue right now is that Allen is projected to open the season in the minor leagues according to Roster Resource. However, there is not a huge amount of competition ahead of Allen for a couple of outfield spots, and Hanley Ramirez is currently projected as the DH. Therefore, a strong finish to spring and we could see Allen make a strong case for the Indians starting lineup. If he does then he could realistically be a 30-stolen base threat who will not kill you in batting average. For a last-round pick gamble in many leagues that is upside worth taking a risk on.